If you are looking for a badass patch to add to your collection, you can't go wrong with a skull patch. There are all sorts of different skull patches available, from embroidered and woven skulls to PVC and glow in the dark skulls. No matter what your style is, there is sure to be a skull patch that fits your needs. In this article, we will take a look at 10 different kinds of skull patches we have made for our customers at Sienna Pacific. So whether you are looking for an iron on skull patch or a PVC skull patch, we have you covered!
Top 10 Custom Made Skull Patches – Embroidered, Woven and PVC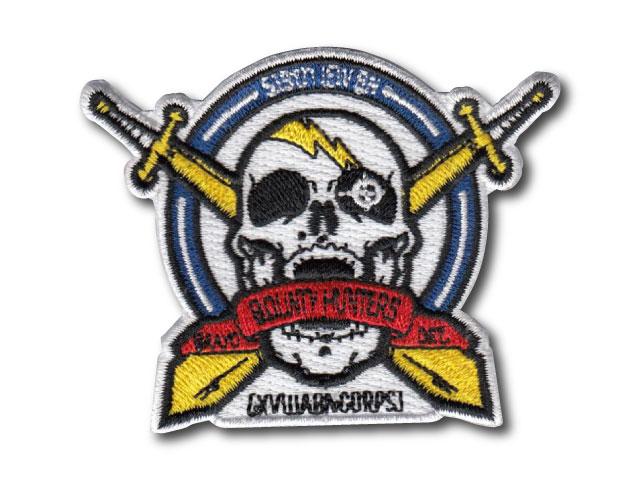 1. Custom Iron On Skull Patch
At Sienna Pacific, we pride ourselves on creating high-quality custom patches for our customers. This particular patch, made for one of our satisfied clients, is a perfect example of our attention to detail and skilled craftsmanship. The embroidered design features 100% coverag, 5 different thread colors, and the laser cut border adds an extra touch of finesse.
With iron on backing, this 3-inch round patch can easily be attached to any fabric surface. And with three different text placements included in the design, there's plenty of room to showcase a brand or message.
As with all embroidered patches, however, it's important to note that small lettering may not be clearly visible due to the nature of jump stitching. But rest assured, our team will work with you to create the best possible design for your custom patch.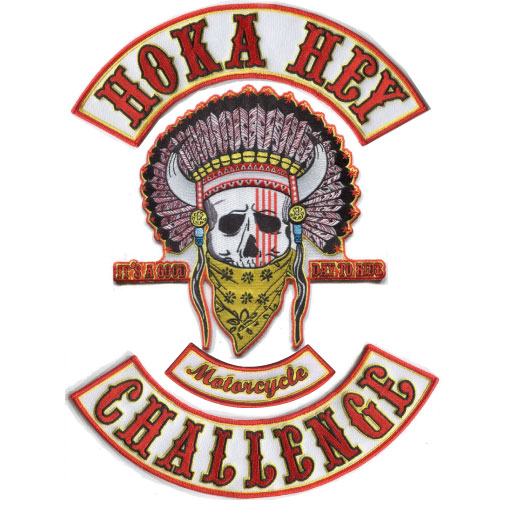 2. Large Skull Patches for Jackets
These larger patches are often attached to the backs of biker jackets or vests, ensuring that your club's logo is seen by all. Don't blend into the crowd with a small patch – make a statement with one of Sienna Pacific's large skull patches and show off your club loyalty in style.
Plus, with our high-quality materials and meticulous craftsmanship, you can be sure that your patch will last through numerous rides and adventures. Contact us today to start designing your custom large skull patch.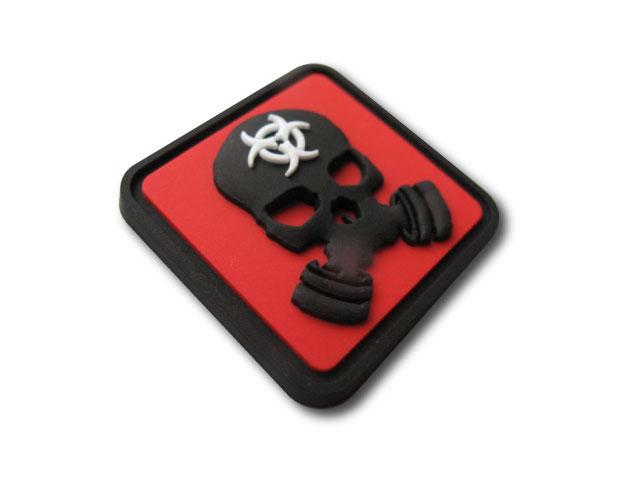 3. Small Skull Patch
The "Small Skull" PVC patch, designed by Sienna Pacific, features a three-dimensional skull with a white logo on its forehead. Surrounding the skull is a black border frame.
The patch has a red background and includes both sewing channels and hook and loop backing for easy attachment. Measuring 1.1 inches by 1.1 inches, this patch is the perfect size for any backpack, jacket, or hat. Its bold colors and unique design make it the perfect way to add some personality to your gear. Trust Sienna Pacific to design and create a custom patch that perfectly fits your style and needs.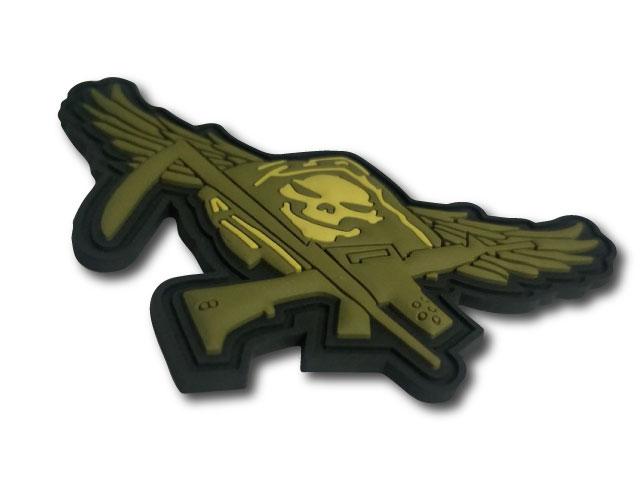 4. Hook and Loop Skull Patch
This Hook and Loop Skull Patch is made out of soft rubber PVC. It features a 3D design with three ACU colors (black, green and yellow) and a sewing channel for easy application. The patch size is 3.5″ x 2.117″, making it the perfect addition to any jacket or bag.
Perhaps the most convenient aspect of this PVC patch is its hook and loop backing, allowing for easy removal and attachment. We store your mold for two years. This means that if in that time frame you need more patches of the same design, no matter if you change colors, you won't have to pay again for the mold. The design presents a startling image of a grim reaper wielding a machine gun and an oz in green, black, and yellow colors.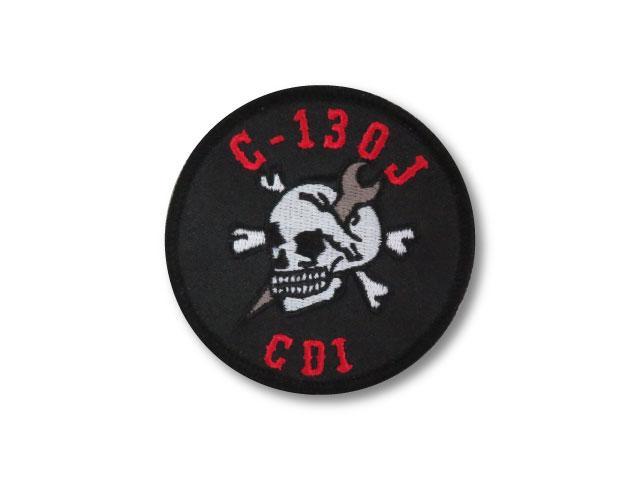 5. Skull Patches for Leather Vest
This patch features a bold design of a white skull on a black twill background, complemented by upper and lower rockers in red displaying the information of the military unit. With 75% embroidered coverage, this patch boasts impressive attention to detail.
The back is fitted with 2-sided hook and loop for easy application to any leather vest or other garment. The border is finished off with a merrow stitching for added durability. At 3″ round, it offers an eye-catching size as well. Originally made in bulk for the US Marine Corps this kind of patches will stand out in any leather vest.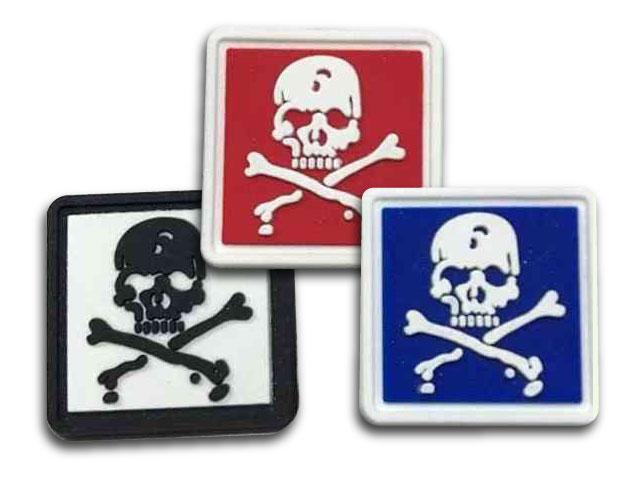 6. Ranger Eye Skull Patches
The ranger eye skull patches with crossbonds are made with soft rubber PVC and feature a bold white design on black, red, or blue backgrounds. The patches come with a hook and loop backing for easy attachment to uniforms.
These make for a great way to quickly identify teams during training exercises. With a production time of just 16 working days after sample approval, these patches can easily be added to enhance team cohesion and identification. These patches also feature a durable sewing channel and 2D design with two colors, making them a sturdy and long-lasting addition to any uniform.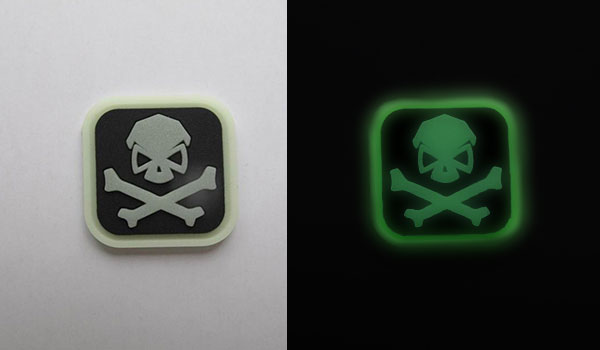 7. Glow in the Dark Skull Patches
Sienna Pacific's Glow in the Dark Skull Patch offers a unique twist on traditional patches. Made of PVC, this 2-dimensional design features two colors with one glow in the dark for added excitement in low light situations.
The patch also comes with a sewing channel for easy attachment to clothing or gear and a hook and loop backing for easy removal and reattachment. Measuring just under an inch, this small but mighty patch is sure to catch attention whether it's day or night. Perfect for personalizing jackets, bags, hats, or any other accessory.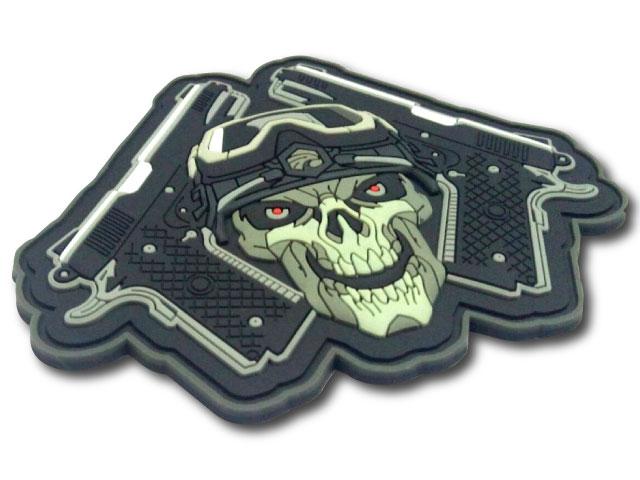 8. Skull Back Patches
Wearing a skull back patch on your jacket or backpack may seem like a cool rebellious statement, but it actually has origins rooted in motorcycle culture. In 1940s America, the concept of motorcycle clubs emerged, with each club having its own territory, symbols, and rules.
Wearing a skull patch indicated that a rider belonged to a certain club, and it also served as a warning to outsiders to not mess with them. Today, the skull back patch is still seen as a symbol of belonging and toughness in biker culture. However, it has also become popular among non-motorcyclists as an edgy fashion statement.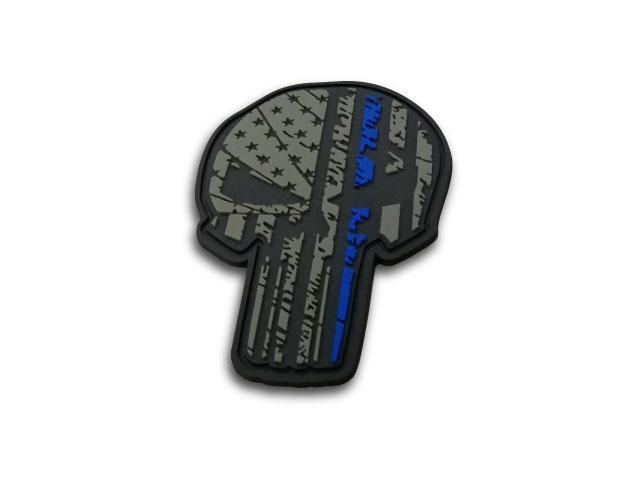 9. Punisher Skull Patches
One of our recent projects was for a customer who requested a Punisher Skull Patch with TGL and TBL elements. The patch features a grey Punisher skull set against a black background and incorporates the American flag as well as the thin blue line, which represents police officers who protect and serve their communities. Our skilled team created the design in 2D with three colors and added a sewing channel and hook and loop backing for easy attachment. The shade of blue used was PMS 293C, matching the customer's specifications.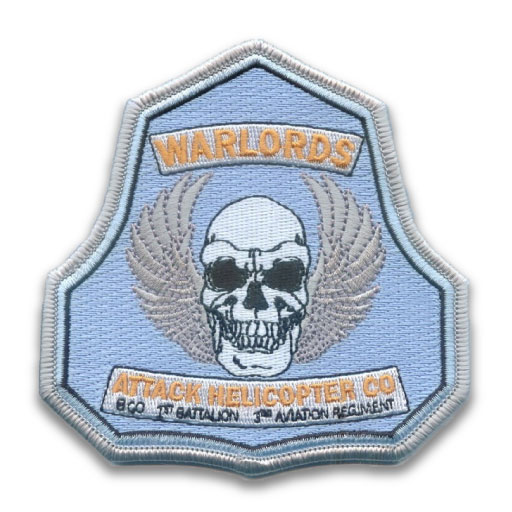 10. Biker Skull Patches / Skull motorcyle patches
Our expert embroiderers recently crafted a custom biker skull patch for one of our clients. The design features a gritty human skull with wings, as well as upper and lower rockers. The patch also includes intricate details like six thread colors and merrow border stitching. This patch even has the added convenience of hook and loop backing and is completely-covered for maximum durability. Whether worn on a motorcycle jacket or backpack, this patch is sure to impress any biker gang. Thanks to Sienna Pacific's skilled team, our client now has the perfect addition to their riding attire.
Custom Skull Patches Sample Gallery