Custom Embroidered Patches with Your Company Logo – Made Easy!
Let's take your custom embroidered patches to the next level. We are a US based Custom Patch Maker with over 20 Years of experience and the best online customer service.
Our production process allows us to turn your logo into a beautiful custom patch, using high quality twill and colored threads, making your logo stand out. Your options are truly custom!
For Law Enforcement
For Teams & Sports
Embroidered Patches Design & Logo Options
Learn to Design your Own Patch: You can customize the size, shape, number of colors, border (edge)… almost ANYTHING IS IMPORTANT To make your embroidered patches truly custom!
The Best Logo Patch Maker
Send us your custom artwork or logo, select your options of backing, border and coverage, and we will build your top quality patch. Easy Online Order Process!

Advantages of Working with Us
Customer Reviews
4.8 / 5 out of 1524 reviews
PVC Patch


5 out of 5 stars

02/20/2020

"Great quality and excellent customer service. Patches were produced and mailed quickly."

Brian Luedtke - LEAD Task Force

Woven Patch


5 out of 5 stars

10/30/2019

"Our patches came exactly as promised."

Deena Ford - The Salvation Army

Embroidered -
100% coverage


5 out of 5 stars

10/02/2019

" I appreciated the ease of the order process. Everything was done via email, attachments and prompt correspondence. The product was exactly what I asked for. Thank you."

Christopher Carney - GHCA
PVC Patch


5 out of 5 stars

08/20/2019

"Easy to work with!"

N David Gregory - c/o PSIA - RM

Woven Labels - Damask 100% Polyester Threads


5 out of 5 stars

05/28/2019

"Good customer service. Very responsive and informative."

Embroidered 100% coverage


5 out of 5 stars

05/31/2017

"Extremely good customer service and wonderful product."


DIGITAL SAMPLE
3 business days

4 Easy Steps
Decide on a Size

Anywhere between 1/2″ and 12″.

Choose the Coverage

Do you want your patch to be fully covered with threads? Or do you like the look and feel of your logo raised, and the material behind it?

Choose the Shape

From a Standard Circle or Square, or a Custom to the Shape of your logo.

Choose the Backing

Sew-on, Iron on, Velcro or Adhesive Backing.
FAQs
How much embroidery coverage should I use?
Simply compare it to the examples in the image below and find the one that looks closest. It is not an exact science and we are always here to help you and answer any questions. The dark or shaded areas are stitched and the white area represents the underlying twill.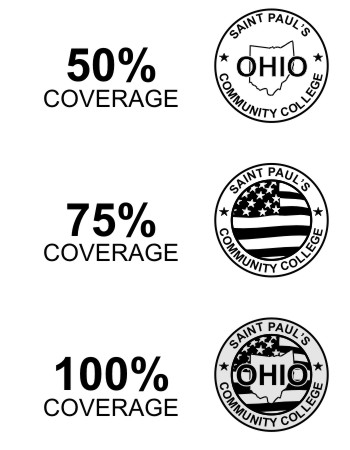 How to calculate the cost according to the embroidery coverage?
Most embroidered patches run between 50% and 80% of coverage. And that makes it simple for you to closely estimate your price per patch. Setup for custom patches varies from $0 to $40. Setup cost doesn't change if you buy 99,49 or 39 (although the price for 99 is way better than the price for 39!).
Do you color match my company logo to the thread colors available?
Yes! We make a great effort matching your logo colors in RGB, CMYK, PMS or just by name (such as "Kelly Green").

Color is subjective to each person's eye, computer resolutions and calibrations, ink in your favorite printer and so forth.

We use the Pantone Matching System (PMS)  to match the specified colors and then match them for free to the closest thread/twill color charts available to us.
What types of stitching do offer?
1. Satin Stitch: Minimum thickness: 1mm (about 3/64″ ~ 2.8pt)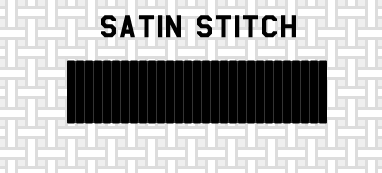 2. Running Stitch: Minimum thickness: 0.5mm (about 3/128″ ~ 1.4pt)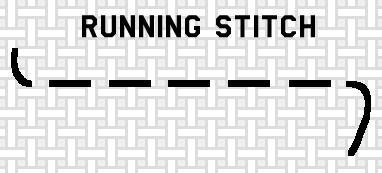 What's the smallest embroidered patch you can make?
The smallest patch we have made to date is 7/8″ ( 0.875″ – 22mm). See the image below. These patches are laser cut, with adhesive backing, the white circle is the sticker paper we supply for easy peel'n stick.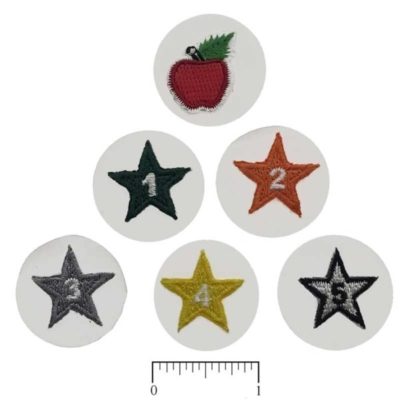 Let's Get Started!
If you are thinking about placing an order of custom patches, you just have to fill a simple free quote form and our expert Sales Reps will get back to you within 24 business hours. We will guide you through every step of the process.