Designing your Embroidered Patches
We can provide you with a custom design for your embroidered patch at no cost. In order to help you decide on the elements involved in an embroidered patch order, please follow the following links:
The illustrations on this page can serve as a guide to the percentage of embroidery coverage on your custom patches.
Consider the embroidery patch samples illustrated with the understanding that the dark or shaded
areas are embroidered and the white area represents the unembroidered underlying twill.
How much coverage does your patch embroidery design have?
Simply compare it to the examples and find the one that looks closest – it is not an exact science
and we are always here to help you and answer any questions.
Most custom embroidered patches run between 50% and 80% of coverage
And that makes it simple for you to closely estimate your price per patch.
Since very few embroidered patches fall in the category below 50% embroidered coverage, and the cost of setting up the machines and designing the patch is virtually the same for all designs, we start our pricing with the 50% category.
Embroidered patches are composed at least of two elements: The base fabric material (Twill) and the threads that stitch the design together (Threads).
There are many different twill and thread suppliers and the colors and shades vary, and althought we make a great effort matching your specificed colors RGB, CMYK, PMS or just by name (such as "Kelly Green"), color is subjective to each person's eye, computer resolutions and calibrations, ink in your favorite printer and so forth.
The most common standarized color system in the world is the Pantone Matching System (PMS) widley used in the printing business, which produces chips and booklets made to match your colors to one of their own. We use one of these booklets to match the specified colors and then match to the closest thread/twill color available to us, therefore we cannot guarantee 100% color matching, we can just give you our own closest match.
Click on the pictures on the right to browse our Thread and Twill Charts.
Rockers
Tabs (Squares & Rectangles)
Shields
Tombstones
Wedges
We have options to choose from for all your patch needs. The type of backing you choose for your custom patch order can contribute to the overall cost.
Your patch has two options for border type. Depending on the shape your art is will determine what type of border is possible.
A Merrow Border is typical on simple shapes such as round, shield, square or rectangles. This type of border seals the edges of your patch with actual thread by stitching around the edge of the patch from front to back until the entire outer edge has been finished.
The thinnest Merrow Border possible is 3mm (~1/8″)
Laser Cut Border is used if you design is geometric or has a complex shape with sharp edges to it. This type of border seals the edges by "heat sealing the patch threads so they are sealed to prevent thread fray. This melted edge is not clear to the naked eye.
The thinnest Laser Cut Border is 1mm (~3/64″)
In order to determine your project's pricing , you will need both the quantity and the size of your patch.
The larger the patch, the more material and workmanship your order will require. Therefore there is no average patch sizes since every patch we create is custom made to order. Our sales reps can offer popular sizes of patches done in the past.  Many times we let the artwork or design idea dictate the size that will work best for your custom embroidered patch.
To determine your patch size please use our calculator shown to the right >>.
If you are still not sure what size you need below is a list of common standard patch sizes we have made in the past:
Military Patch
Shoulder Shield: 3.5-4"
Chest Shield 3-3.5"
Rectangle Tab: 3"x1" or 3"x2"
Circle: 3" round
Fonts for Small & Medium Size Patches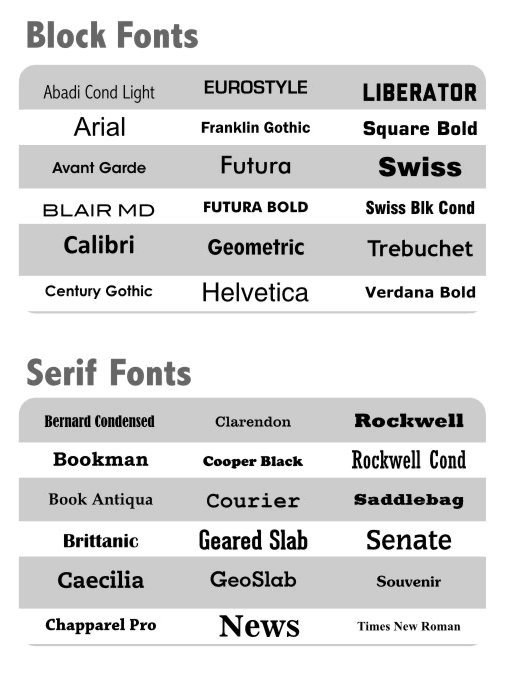 ---
Satin Stitch
Satin Stitch: Minimum thickness: 1mm (about 3/64″ ~ 2.8pt)
Running Stitch
Running Stitch: Minimum thickness: 0.5mm (about 3/128″ ~ 1.4pt)
Img from: https://commons.wikimedia.org/
---
We have designed custom embroidered patches, all around the United States.
Our experienced team will help you create a great looking custom designed patch.
Just send us your logo and we will work with you until you are satisfied with the look of you custom designed patch.
We can design a beautiful patch from your logo at no extra cost. Just give us a call, our expert patch designers are waiting to help you