Custom Soft Enamel Pins
Custom Soft Enamel Pins are the most popular pin types of the enamel custom lapel pins selection. The textured feeling between the raised and recessed areas gives them that unique touch.
Soft enamel pins are made by struck your design into bronze or copper and filled with soft enamel allowing for contrast between the metal and enamel then polished.
There are various types of metal plating available for this process. A thin coat of epoxy photo dome is an option to be be considered depending on your design and needs.
Ordering Your Soft Enamel Lapel Pins From Start To Finish

1 Quote Request. Submit your project's details: your logo, quantity, size needed.
2 Approve. Review & Approve Artwork Proof and Price Quote.
3 Confirm. Billing, Shipping Information & Pre-Production Sample.
4 Order. Final order submitted for production.
Why Choose Us?
100% Satisfaction guarantee. We aren't happy until You're happy!
Very Low minimum order quantity at affordable prices: Our minimums is Only 100 Pieces !!!
More value for your money Free Artwork Revisions ($70 Value). We use the PMS color chart for color matching.
Fast Production 10 Working Days Standard Production time Rush Service Available.Your Pins will be ready to ship in 3 weeks or less.
Peace of mind We are a U.S. Based Company. If you need to contact us, We will be here for you!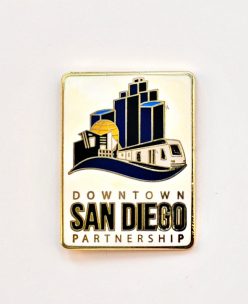 Custom Soft Enamel Coins


5 out of 5 stars

10/05/2022

"Linx Corp did an outstanding job on my coins. I had gone to another vendor before I found Linx and they literally screwed up everything. Their art work was bad and they could not understand my directions on developing my coin. I then found Linx…. a life changer. Linx understood exactly what I wanted and without any fuss, developed the most beautiful coin ever made. I will use them again and again."

Custom Lapel Pins


5 out of 5 stars

18/04/2022

"Greatest product, very good communicators, on schedule delivery."

Soft Enamel Pins


5 out of 5 stars

06/04/2022

"Excellent service! Dan worked with our rough idea and brought it to life. We could not be more satisfied with his work and the final product. Highly recommend and we will use his service again."
Ordering Custom Enamel Pins Is Easy With Sienna Pacific
Our exclusive online ordering system makes it easy to be in control of your order process. You call the shots!
Frequently Asked Questions About Custom Enamel Pins
What Are Soft Enamel Pins?
They are metal pins where the design is die-struck with a pre-made mold, into the metal. The design has lines of raised metal (metal lines that separate the enamel colors) and the pockets are filled with liquid soft enamel paint colors. The result is a textured look that so many love.
What Metal Finishes Are Available?
There is a variety of plating options for your die struck soft enamel lapel pins. Silver, Bronze, Nickel, Black Nickel are some of the most popular ones. For a classy look, we also have antique silver, antique gold, antique copper for your metal pin finish.
How much do custom enamel pins cost?
Overall, if we aggregate the cost of the mold fee and the per pin price, your total will be around $150-$220 for a 1″ enamel pin.
What are the most popular uses of die-struck soft enamel pins?
They are very popular as award lapel pins, awareness ribbon pins, employee pins, flag lapel pins, team trading pins, school lapel pins, and most decorative flair lapel pins uses.
Will my custom designs work with this type of pin?
While some art designed will look beautiful as an enamel pin, some others will look better as a screen printed pin or offset printed pin. Please fill out the free quote request form, upload your artwork, and let us know the size and use you will be giving to the pin, and one of our customer service representatives will let you know if it will work or which of the many pin styles available will work best for you. I want my custom pins too look beautiful and classy.
What do you recommend?
We love the look of antique pins and sandblasted pins, together with your soft enamel colors.
What is the difference between hard and soft enamel pins?
The main difference is that a hard enamel pin will be a smooth feel to the touch, and a soft enamel pin will have a texture, raised metal and recessed metal areas feeling (unless we are using an epoxy coating to smooth the surface and protect the enamel colors. For some reason, some pin manufacturers call hard enamel pins by the name of cloisonne, but that is misleading, as a cloisonne pin is made with real colored crystals, not man-made ones.
What's the best between hard and soft enamel pin?
Hard enamel pins have a jewelry quality look with a high perceived value. Soft enamel pins are high quality as well, but are often perceived as having a more practical look.
Let's Get Started
If you are thinking about ordering your custom pins, just click on the button below, our expert Sales Reps will get back to you within 24 business hours and guide you through every step of the process.