Do you need to get inspired for your next custom ranger eye patches? Take a look at the following selection of some of the best ones we have done for our customers here in the States. Our ranger eyes are made of soft rubber PVC and are flexible yet very strong. These tiny but useful patches are waterproof, and you can play around with the 2D and 3D layering design options to rise elements in different angles. Plus, you may make them Glow in the Dark Patches so you can quickly identify your friends and foes when conducting night operations. Don't miss out on these custom patches request a free quote today!
Custom Ranger Eye Patches
A ranger is a member of an organized military force, specializing in combat in small groups or as part of a larger group. They are typically highly trained and disciplined, and able to operate independently in difficult or dangerous situations. A ranger's primary role is to conduct military operations in support of national objectives. In order to carry out this role, rangers are often required to wear specialized equipment, including an eye patch. While they may seem like a small piece of gear, ranger eye patches play an important role in ensuring the safety and effectiveness of ranger units. By wearing a distinctive patch, rangers can quickly and easily identify each other in the dark, or in a confusing and chaotic environment.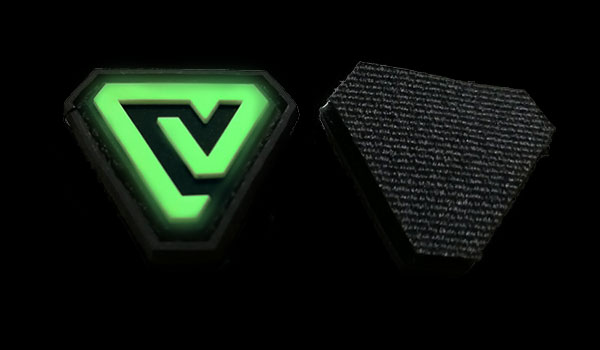 Company Logo GID Ranger Eye PVC Patch
One common option is to use your company logo for your Ranger Eyes design. This can work as a part of your branding strategy, maybe to give them away after important purchases or to sell them as a set of patches for airsoft or paintball fans. Please consider that with the same mold you can request up to 9 background colors. In this case, the customer chose to split the order in 2 different background colors, 50% with gray and 50% with black background. The patch design, as seen in the picture, is custom shaped featuring sewing channel, hook and loop backing and Glow in the dark color. Measuring 1 inches tall per 0.8 inches wide.
Company Logo GID PVC Patches are made with a 2D design and 2-3 colors, perfect for adding a touch of style to any uniform. The PVC mold charge is a one-time fee, and the mold is good for 2 years. As long as the mold is used during this time frame, the storage time starts again. The ranger eye patch is a perfect way to show your company logo while on the go.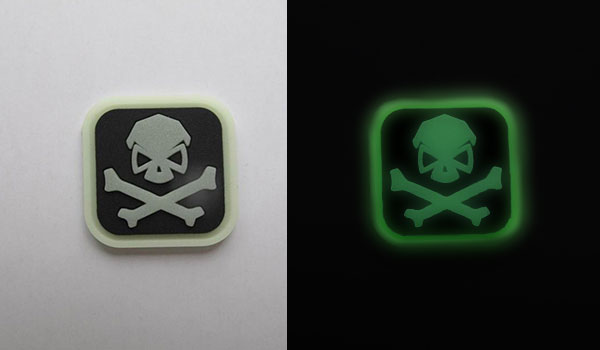 Skull and crossbonds Ranger Eye Patches with GID color
This is one of the most popular design for Ranger Eyes. It is a classic that works very well with military, law enforcement and special forces around the world. You can see in this case we used Black background, and Glow in the dark color for the iconic skull with crossbonds.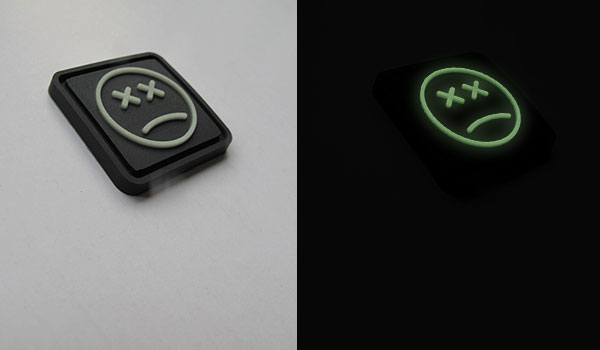 Dead face emoji GID Patch
This dead face emoji glow in the dark patch is a ranger eye patch that is made of PVC using 2D layers. The customer split his total order of 200 patches, 100 with black and 100 with red background. The size of the patch is 7/8″ x 7/8″. It comes with a sewing channel and hook and loop back.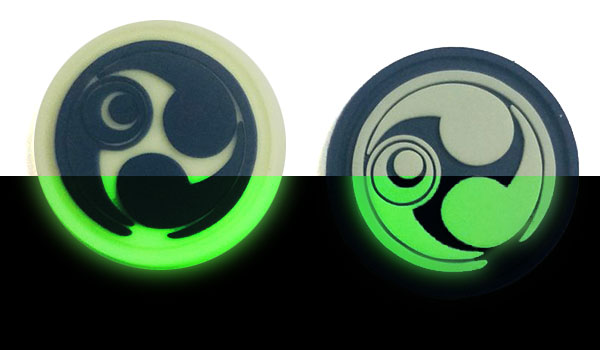 2 Set of Ranger Eye Patches with GID and Hook and Loop Backing
Ranger Eye Patches are a great way to improve the visibility and safety of your unit, while also providing a unique and stylish look. Whether you're looking for a simple logo patch or something more elaborate, we have you covered.
When it comes to choosing the right design for your needs, there are many options to choose from. Notice that, in this case, even when the two designs seam kind of different, we are using the same mold and colors, just inverting them.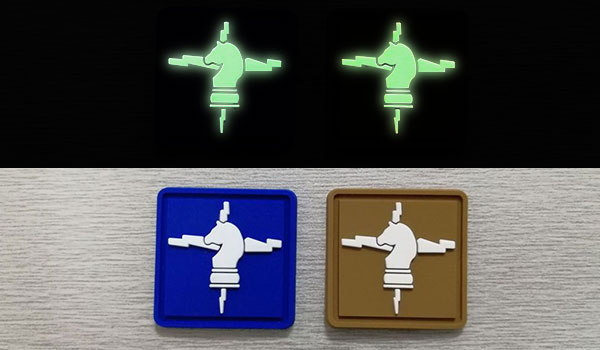 Chess Style Ranger Eye Patches
Again, same mold, a simple but powerful icon, and different background colors to differentiate teams. The horse in chess represents knights, one of the most powerful pieces on the board.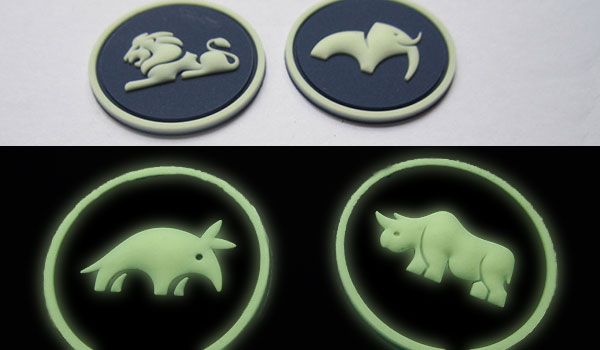 4 Animals Ranger Eye
Another smart and old way to differentiate your ranger units is by using animals. Depending on the species you choose you can define or focus on the teams strenghts. Hence, for instance, the lion could identify the leaders because they are the top predators. The Rhino could identify the strongest ones involved in rude tasks, the elephant could be related with strong foot, but also with big memory, thus, this symbol could identify inteligence teams or something related with informants.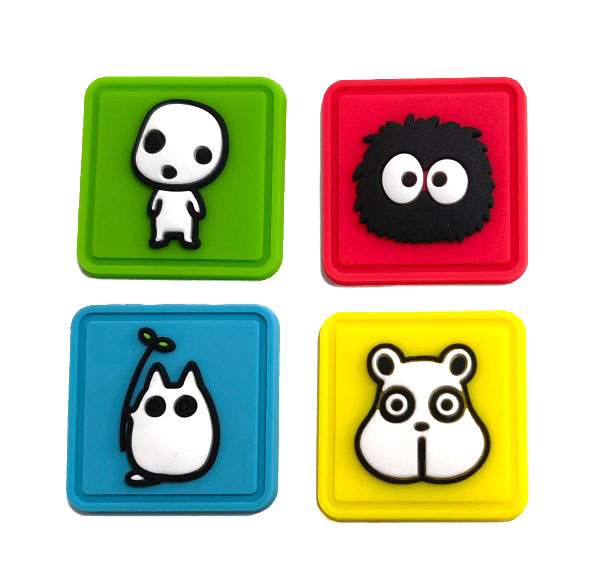 4 Molds Ranger Eye Patches Set
However, glow in the dark is not always necesary, a simple white shape with a black outline can do the trick. Think in strong constrast and simple shapes with no too much detail, no gradients, no lettering. In this case the customer came out with very impressive cartoon figures using complementary colors for the background.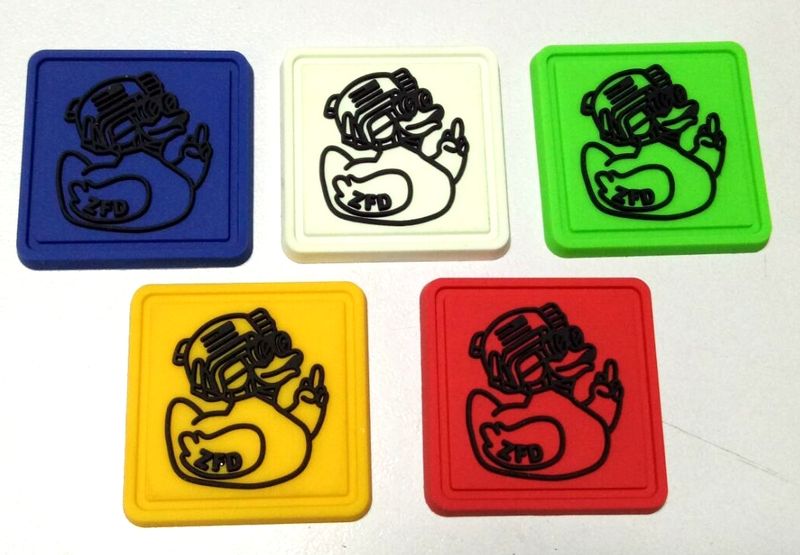 1 same mold > 5 different color scheme
This other one is a great example of how to take advantage of a unique mold for making several different type of patches by just changing the color scheme. This customer in particular was very straight forward, he just wanted the same shape in black, (provided in a vectorized image) with 5 different colors in a square background. As you can see while the GID feature is optional, the hook and loop backing and the sewing channel are almost a must.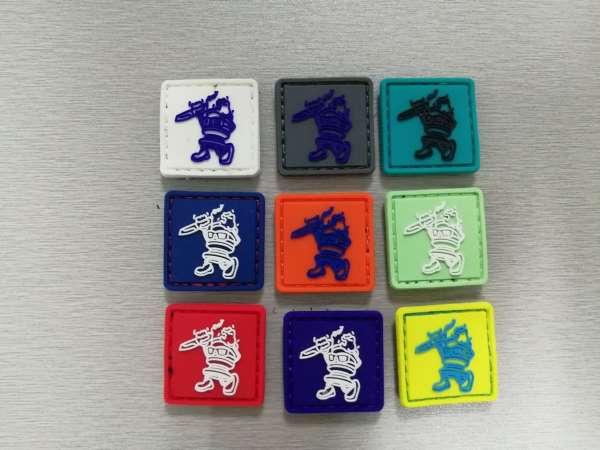 1 mold > 9 different color scheme ranger eye patches
And last but not least, continuing with the same principle of getting more for less, we recall this project where a smart customer asked if it was possible of making 9 different group of patches out of the same mold with their company logo on it. After receiving a positive answer from our side, he or she placed the quote, went into the checkout process guided by one of our friendly sales representatives and received these super cool ranger eye patches in just a few weeks at an incredible wholesale price.
* 9 different color schemes / 135 pieces each