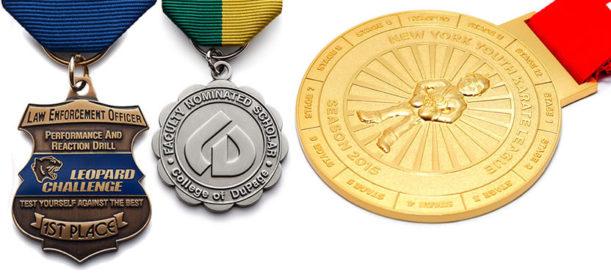 Custom Race Medals
We supply wholesale race medals with your logo, artwork or shield in gold, plate or bronze among other types of finishes.
Our personalized running medals are ideal for awarding finishers at competitions such as marathons, triathlons, 5K race, bicycle race or any other type of challenge. They are suitable also for academic events or awards programs.
Running Medals & Medallions – Brass Stamped
At Sienna Pacific we are committed with our customers, granting High Quality and outstanding customized logo products for sporting events.
Our custom running medals are hand made and struck from bronze, following Top Industry Standards and allowing a 3D design with raised and recessed levels and several finishes.
We offer a professional solution for awarding winners, finishers and participants oflong distances races, Spartan or Ironman races, just to name a few.
50k, 30k, Half Marathon, 10k, 5k Medals with Your Logo
We manufacture and supply medals for running events.
However, how do we differentiate from the other custom sport event, race or school medals retailers?
If you do a little research in Google for instance, you will probably find the most common custom medals offered are pre-designed ones.
You will find they show you some use medal templates that allow you to change some basic things as the titles, the plating and the ribbon colors, they are very practical but this modality doesn't allow you to add you logo.
Another popular finding, when looking for custom medals or medallions in the internet, are insert medals, which means a nice frame with a sort of canvas in the middle where you can print whatever you want.
But for those who are looking to truly customize their race medals, this solution falls a little short.
Medals as Little Big Rewards
After all the tasks organizing an sporting event involve, after summoning the people for a challenge thru all the media, after investing time and money for a good cause.
These events encourage fitness, promote health and wellness, and after all the effort made by those people who, one way or another, participated in your event, you'll agree with us that big achievements deserve big rewards… little big rewards at least!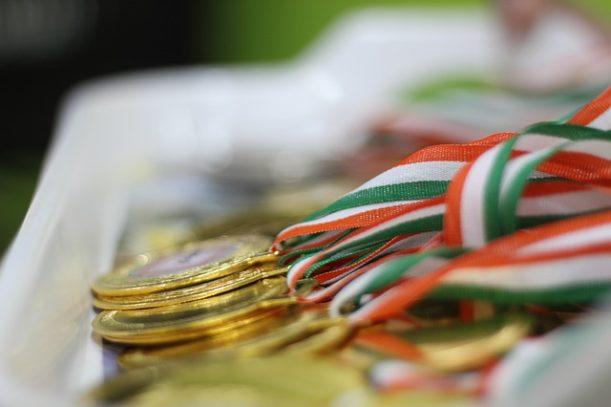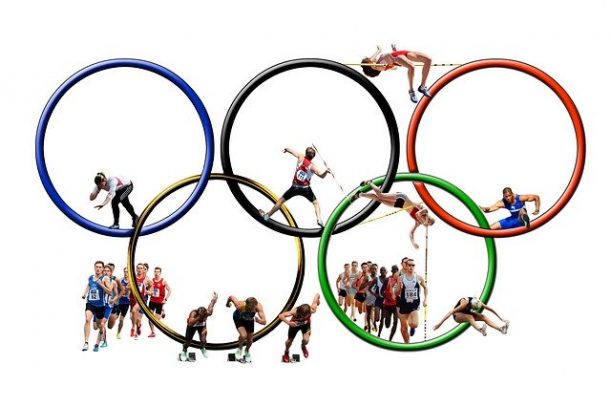 Brand Your Race Medals With Your Logo or Name
Although medals are mostly seen as a benefit for the event participants who, perhaps, have spent months in preparation and training (swimming laps, logging miles), these sort of Commemorative Coins or Tokens, can also be seen as a benefit for the staff organizing the challenge, and for the brands behind it.
Definitely, custom made race medals are also souvenirs; highly appreciated physical objects that recall us of something we did. They are very valuable for the people who earn them and certainly they will keep them longer than any other promotional product.
Hence, this is why it is important to take care of the details to assure you are conveying your message, showing up your brand, logo, name or image properly.
Let our team of graphic designers help you with your medals design artwork or even with your logo. Just tell us what you need, share your main ideas with us anyhow (uploading reference images or only typing a text when filling the quote request form) and after checking out your order our professional designers will start working on your custom project right away.
You will always be able to point out your suggestions, make corrections, request adjustments all the way along the design process. We will wait for your approval with patience, no need to hurry up, no need to be pushy, just take your time. We offer unlimited revisions which means you can make as many final changes as wanted.
Once you be happy and to approve the custom artwork, we will start the production process and will deliver in a timely manner.
Custom 5K Race Medals
5K races have become very popular events in the last years mostly because of the distance. It is not too long to discourage newbies and not too short to make it a highly demanding speed run, allowing infrequent runners or novices to participate in the event in order to improve their physical fitness. Normally these events are open to a wide variety of ages.
Your custom 5k medals can be made in shiny gold, silver or bronze (or with a plating and finishing that emulates those materials) to award your finishers, runners or participants, whether they be casual participants, single track trail runners or high performance athletes.
5k Finisher Race Medals
Ask yourself, what are your participants running for? Some people would say they are running to be in shape, others would argue they are running to support a noble cause, and perhaps the most of us would answer we are running just to have fun.
Regardless of how what each participant's motivation is when they signing up for a race, and regardless the type of competition you are organizing, every one there would love to receive a participation medal.
This means, no one, two or three but surely more than 100 medals, this is specially truth not only for multi-sports races such as many triathlons like Xterra, Olympic, Sprint or Ironman, but also for any other kind of endurance running or sports event.
Custom Medals- Finishes
You can choose the plating of your custom race medal, as you wish: gold, silver, copper; sandblasted or antiqued, with and without colors, in any size you need.
Let's Get Your Running Medals Started
If you are thinking about ordering your custom medals, just click on the button below, our expert Sales Reps will get back to you within 24 business hours and guide you through every step of the process.