Custom Patches with your Logo
At Sienna Pacific, custom patches is what we do. If you need patches for your company, event, police, fire department unit, military uniforms, morale and tactical gear, or virtually anything else, we are here to help you.
Use custom patches with your logo in your hats, jackets, backpacks, vest, anywhere. Sew them, iron them on, stick them on, or use hook and loop. And because we make custom embroidered, woven, printed, PVC and leather patches, we'll offer the best solution for your project.
Custom Patches We Make
We manufacture and supply almost any possible kind of patches, including the followings:
How Can We Make The Best Patch For You?
We make high quality custom patches by looking at your logo or design and decide the best option for you.
We'll recommend the product for your project, based on the article of clothing it will be attached to.
We use only quality equipment and materials, resulting on a strong and long lasting product that will give you great value for your money. This includes the backing (iron-on, adhesive, Velcro).
Attach Your Custom Patches to Anything
Learn more about How to attach patches!
Watch video: Who Uses Custom Embroidered Patches?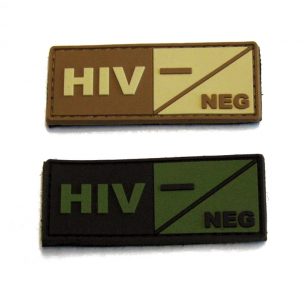 Originally conceived to raise the officers morale, nowadays they have become an important trend among collectors.
Tactical Patches
Used in tactical uniforms and gear by tactical teams.
Also called badge patches or law enforcement ones, they are common not only among police officers but also among private security companies.
Boys and girls scouts need them the same as pins, to identify their groups and to show up their achievements as well.
How to Make Your Custom Patches Unique?
Choose From Any Of These Options
TurnAround Time: 7 Business Days Sample, 3 Weeks Production
Highest Quality Patches in the Market
Testimonials
2D PVC Patches


5 out of 5 stars

03/05/2016

"Becky Liuchan was extremely patient during the entire process and being this was the first time designing a personalized patch like this.
She showed me they were plenty of patch options and walked me through the process step by step. I gave her a very detailed design and she was able to come up with a final product that was exactly what we were looking for. I will be recommending Linx to others and looking forward to working with Becky and the team at Linx again on future patch designs."

Fire Department Patch


5 out of 5 stars

02/05/2019

"Becky was incredible! She was so very helpful explaining the different patch types available so I could choose the one that best suited my needs and she answered every question that I threw her.
I was incredibly satisfied with the finished product. And so far, everyone that has received the patches has raved. Thanks again for everything!"

PVC Flag Patch


5 out of 5 stars

03/18/2018

"I was grateful for prompt service. Never had to contact your company for a status of the order. I have spoken to some associates of mine who used other companies, they didn't have anything good to say about the company they used.

So I passed along your company's information. You were patient with every change we made. The patch was awesome and everyone loved it. I for one will have it on my

hat

for a long time."



The Place To Make Your Patches
Where to get custom logo patches made? SiennaPacific.com. Just send us your design or ask us for some help.
From art submission, digital sample and final shipping, we'll make it easy for you.
Why Should You Order Your Custom Patches From Us?
QUALITY
Our knowledgeable custom patch experts will help you decide which style suits your project and your design.
Use your own artwork (not canned templates): Send us your logo or just some text .
We will work with you side by side. You will move your project forward one step at a time.
You will have a Representative that will work with you start to finish.
Peace of Mind. We are Based in the USA & Quality is our promise.
SPEED
Your custom patch Free Quote will be sent to you within 1 business day.
We will send you an Art Proof within 1-2 business days, after price approval.
A picture of your own Pre-Production Sample will be emailed to your within 3-5 business days of receiving your art proof approval
Our Turnaround time is 15 business days once you approve your sample.
We will keep your project on track and to meet your deadline. We will not rush you, we work with you at your pace.
COST
Excellent Price at the LOW MINIMUM of 100 Pieces
We'll match your colors to the PMS Color Chart at no cost.
Upfront Patch Pricing.
Our price includes everything (except shipping in case you need to rush it). Upfront. No surprises!
We Just Make The Best Patches!
From start to finish, we will team up with you to create the highest quality custom patch for your business.
From the smallest of projects to the largest accounts.
We are not only prepared with amazing manufacturing, production and design teams, we are ready and capable of handling your project.
Ordering Your Patches Online is Easy!
Easy and enjoyable.
We provide Amazing Customer Service.
15 Years of Experience – Track-Proof Record
What Can We Say? They Are Great!
Ordering Your Custom Made Patches in 4 Easy Steps

Type
1 Choose your patch type.
Size
2 Pick Your Patch Size.

Shape
3 Choose your Patch Shape.

Backing
4 How will you attach the patch to your item?