Custom Hard Enamel Pins – Custom Enamel Pins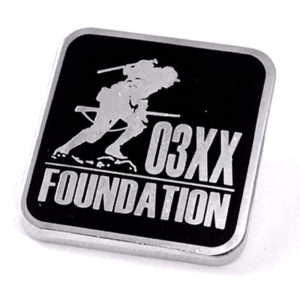 When you choose Custom hard enamel pins you are choosing the high quality pins there are. The beautiful hard enamel provides a classic look that exhibits the true detail from the original artwork. We love it when our customers provide art designed especially for custom hard enamel lapel pins, it does make a difference!
The look of this pin is truly rich and eye catching.
PMS color chart matching is available for this process.
This process is used when small detail is to be displayed and you want jewelry Quality to display your logo or message.
Why Choose Us for Your Hard Enamel Pins?
100% Satisfaction guarantee. We aren't happy until You're happy!
Very Low minimums at affordable prices: Our minimums is Only 100 Pieces !!!
More value for your money Free Artwork Unlimited Revisions ($70 Value).
Fast Production 10 Working Days Standard Production time Rush Service Available.
Peace of mind We are a U.S. Based Company. If you need to contact us, We will be here for you!
Why Make Hard Enamel Pins?
You want your lapel pin to have jewelry-like quality.
You want to be able to use your own colors. (Enamel pins can be made in almost any color or shade).
You want your pin to be lead-free. (Cloisonee is not)
What Are The Most Common Uses?
Choose hard enamel pins as the best branding tool for the best looking custom pin:
Corporate Logo Pins.
Identify Your Club Members.
Our Best Looking Pin Is Loved By Many
Ordering Enamel Lapel Pins Is Easy With Sienna Pacific
Our exclusive online ordering system of pins include an easy order process. You call the shots!
Our Ordering Process – From Start To Finish

1 Quote Request. Submit your project's details: your logo, quantity, size needed.
2 Approve. Review & Approve Artwork Proof and Price Quote.
3 Confirm. Billing, Shipping Information & Pre-Production Sample.
4 Order. Final order submitted for production.
A Hard Enamel Pins For The Republic Of Texas
This lapel pin is a little sample of a very larger of award pins, with several different denominations for the years.
Even if our minimum order is stated as 100, or 50 pins, we can also accommodate smaller orders with little changes like this one.
The little 'trick' we did, in order to make produce a classy lapel pin and at the same time make it cost effective, was to struck one design, to use custom hard enamel colors, which provided us with a smooth surface and then print the individual year of service over the hard enamel color.
This is one of the many combinations we come up to help our customers create the highest quality product with excellent perceived value at the best cost.
Reba Alliance – Hard Enamel Pin
These Reba Alliance Pins are a good sample of a two-color combination pin, made with bold designs and a great finish, as our hard enamel pins are the top of the line for lapel pins.
The right combination of style, plating options and finish will depend mostly on the use the lapel will have. In this case, the pins needed to be classy, with a strong and durable feeling, almost jewelry like, therefore the custom hard enamel colors where the no-brainer choice.
If these pins were to be given away, the customer could have chosen a printed pin, or a photo-etched pin style – which are far lighter and thinner than die-struck hard enamel ones-.
But that was not the case, the customer wanted the wearer to make a statement and to carry their logo and message with pride.
We are very happy with the way these pins turned out.
Frequently Asked Questions About Enamel Pins
What is a hard enamel pin?
A hard enamel lapel pin is a die-struck lapel pin colored using custom mixed hard enamel colors, which are melted during the backing process,at a very high temperature.
What is the difference between hard and soft enamel pins?
These pins can be confused at first sight, but besides the material reasons of using hard (or soft enamel colors (solid colors vs liquid mix), the main difference is that a hard enamel pin will be a smooth feel to the touch, and a soft enamel pin will have a texture, raised and recessed areas feeling (unless we are using an epoxy coating to smooth the surface and protect the colors. For some reason, some pin manufacturers call hard enamel pins by the name of cloisonné, but that is misleading, as a cloisonné pin is made with real colored crystals, not man-made ones.
How much do custom enamel pins cost?
The price will depend on size, quantity and style. In general rules, the minimum order quantity is 100 pieces, costing around $1.50 and the mold will be around $60-80.
How long does it take to make enamel pins?
It varies with each enamel pin maker, but in general the process begins with making the mold (yes, there is a mold fee), which is die-struck by a experienced pin maker, which can take about 1 week, and production can be completed in 3 weeks or less.
What does die-struck mean?
Die-struck refers to the process where the pin design is placed into the metal by using a pre-made die, and stricking it against the metal.
What is the back of a pin called?
There are many different backs that can by added to a pin: butterfly clutch is the most popular one, but we can also have a rubber back, a safety pin back, a deluxe military clutch one… and many more.
I'm not sure what type of pin I want, can you help?
We sure can! If you are new at ordering custom lapel pins and want some guidance on which pin will work best for your project, give us a call at 888.720.2115 and one of our customer service representatives will gladly consult with you and help you choose the right pin for you.
Lapel Pins


5 out of 5 stars

07/10/2018

"LINX Corporation was extremely easy to work with. From the moment I expressed interest in working with this company, Dan Greenberg took care of everything I needed. Communication was efficient and Dan reassured me that my order would be exactly what I wanted or they would fix it until it was right. The order was delivered in a timely manner, right on schedule. The finished product turned out perfectly."

Michelle Van Hoff

Lapel Pins


5 out of 5 stars

3/7/2017

"Dan provided us ample information and guidance and we truly appreciate all he has done for our agency. After several weeks of researching a company to provide us our pins, I located Dan and he was able to provide us exactly what we were looking for at a much lower price than our previous vendor. Dan you're the MAN! Thank you! :)"

Michele Nowell

Lapel Pins


5 out of 5 stars

1/1/2020

"We are absolutely thrilled with the workmanship and quality of how our design turned out for our new Legacy Society pins from Linx Corp. These are for a very special project to honor organization members who have supported us for many years. They look beautiful. Thank you Linx!
"

Nina Hollenberg - NCSE
Let's Get Started
If you are thinking about ordering your custom products, just click on the button below, our expert Sales Reps will get back to you within 24 business hours and guide you through every step of the process.