Antique Lapel Pins – Vintage Pins and Die Struck
There are two types of Antique Lapel Pins. On the one hand we have those that are really old or that have been manufactured many years ago and naturally show this kind of rust, sort of oxidation. People like them and seek them because they are like relics, the older the better.
Types of Antique Lapel Pins We Offer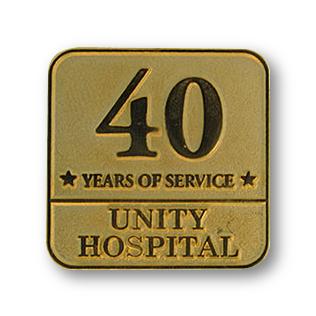 Sandblasted Gold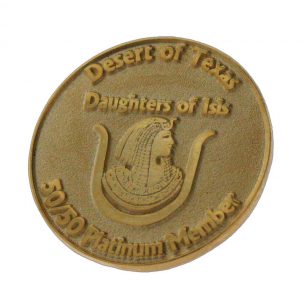 Antique Gold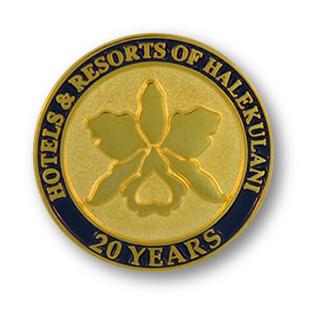 Shiny Gold Sanblasted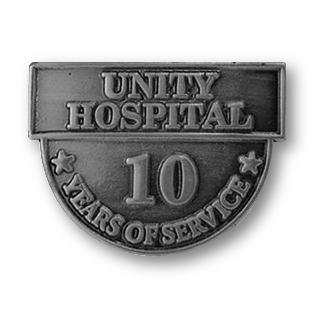 Antique Silver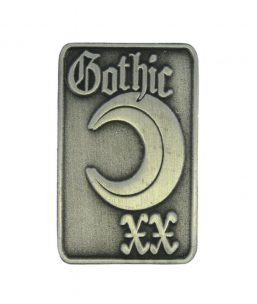 Shiny Silver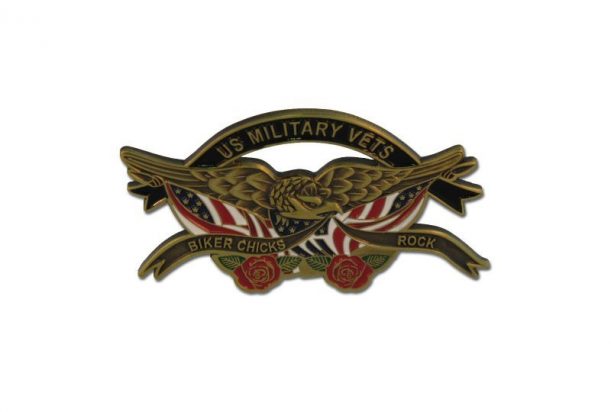 It was made using antique bronze on a 3D design, to give it a more realistic feel /look. We are sure the US Military Vets Biker Chicks wear it with pride.
US Military Vintage Brooch Pin
Those unfamiliar with the world of motorcycle / biker clubs wear and accessories, might immediate thinks about skulls, rough designs and foul language, well it might be like that for some but not in this case.
One of those is our US Military Vets customer' who has ordered lapel pins for his organization in the past 7 years, asked us to create a design for the female riders in his club.
The initial design was a rough draft / sketch but that was no small feat for our design team, who worked on it with much care, as it was a really interesting, artistic design.
We can make Custom Lapel Pins that look vintage but they aren't. Nevertheless, we are not talking about fake antiques, we refer to common lapel pins that are made with an antique finish. People love them because they give their brand or item an authoritative look adding a dark tone that make them seem aged. The antique finish is often combined with sandblasted background and fits perfect with a gold, bronze or silver plating.
Advantages of working with us
This product is versatile and has a high perceived value. The Antiquing process shows the contrast between the different layers of your image.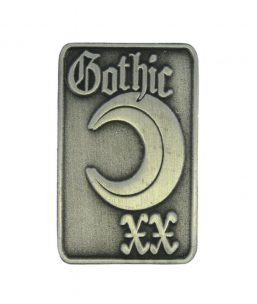 Antique Lapel Pins – Gothic XX
Even if we design and manufacture lapel pins on a daily basis, sometimes we don't foresee how nice a design will look once the finished product is ready to ship.
When we saw how these die-struck antique pins turned out, the only thing that came to mind was wow, how beautiful they look!
It is great when the right combination of factors, such as size, design, plating and finish is chosen.
These pins resemble the look of pewter pins, which are manufactured using a different process, and sometimes a more expensive one.
We bet the customer is happy with them, and will update once we hear from them 🙂
Ordering Custom Die Struck Antique Lapel Pins
When you want the high quality look with enamel using the die struck process, antique pins will work very well and it will give them a finished and top quality look.
Our exclusive online ordering system makes it easy to be in control of your order process. You call the shots!
Customer Reviews
4.8/5 – Based on 1102 Reviews
Lapel Pin 2D Die Struck Bronze Finishing


5 out of 5 stars

08/02/2022

"100% satisfied with final product. Was able to work with Dan to produce exactly what I had visualized."

Printed Lapel Pin


5 out of 5 stars

04/08/2022

"Dan was fantastic to work with and was able to meet a tight deadline. He was quick in responding and the quality of the final product is outstanding! We will use LINX again for our next order!"

Citation Bar / 2D Die Struck Bronze


5 out of 5 stars

02/05/2022

"This whole ordering process was extremely easy and without any issues at all. The sales rep I dealt with responded to all my emails within a few hours or the next day. We received our order swiftly and we were very happy with it's quality. We will definitely be returning if we have any further needs."
Common Questions
Where do lapel pins go?
Actually, you can wear lapel pins wherever you want. The most common place on a suit is the lapel obviously but which side? According to the etiquette, they should be worn on the left side near the heart. This is specially mandatory for American Flag lapel pins or pins with a patriotic symbolism.
How lapel pins are made?
In order to make Hard Enamel Pins, manufacturers have to produce first a mold from your art-design, which is like a negative of your pin. This die will be struck several times onto a metal sheet previously heated. Afterwards the pins are cut, polished and painted.
Soft enamel pins are made in the same way, and some times require an epoxy coating. Plastic or Soft Rubber Lapel Pins are made out of PVC with the help of a mold or cast where the material is poured.
How to keep lapel pins from falling off?
When you order lapel pins you can choose among a variety of backings. The most common backing used is the butterfly clutch. Safety pin is used when the item will be in a lot of motion, to guarantee its placement.
Let's Get Started
If you are thinking about ordering your Custom Lapel Pins, just fill out our simple quote request form, our expert Sales Reps will get back to you within 24 business hours and guide you through every step of the process.