Custom Military Patches
The Best US Based Wholesale Patches Supplier
Military Patches have a very important function in our US Military.
The Air Force, Army, Navy, Marines and Coast Guard all wear uniform patches and they serve many purposes for the soldier.
Military Patches for Your Uniforms
Patches do more than simply signify the soldiers in the field, they also:
Provide sophisticated adornment to the uniforms.
They show rank and position, branch of the military
And are truly an indispensable uniform accessory.
Our Military Unit Patches have been created for all branches of our Armed Forces.
Our experienced team of experts work with each Military Unit until they are completely 100% satisfied with their patch design.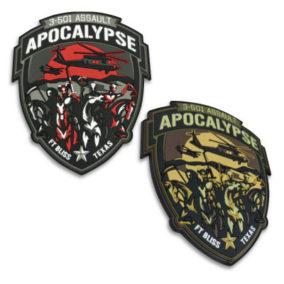 Design Options
Hook and Loop – Velcro Patches are easy to place in your tactical gear.
Embroidered, Woven and PVC Patches can be made to match your multicam colors.
Designing your own military patch is easy. Your patch design is as unique as your company. And we don't sell your customers patches to anyone but their owners.
Our custom embroidered patches are of the best quality. Our thread colors can match almost any color, including multicam.
The most popular size for military patches is 3″x2″, same as your standard flag patches.
We can also make printed patches, they are great for those designs that will not look good with any other method.
How Do We Make Your Military Patches Unique?
Choose From Any Of These Options
TurnAround Time: 7 Business Days Sample, 3 Weeks Production
Our custom Printed Patches are of the Highest Quality in the MarketShortcode
Customer Reviews
PVC Patches


5 out of 5 stars

" Quality of product is amazing! Online ordering capability is a must have for those of us stationed elsewhere.
"

Embroidered Patches


5 out of 5 stars

" Becky is a professional person to deal with and very punctual with service and responses. Quality of service provided are above excellent. The product speaks for itself.
"

Embroidered Patches


5 out of 5 stars

" I am not sure if the reason you use the name Linx in your name has anything to do with the speed in which our order was processed. I was extremely pleased with the Sales Rep. ability to process our order and get us such a quality product in such a short time. Very well done.
"
Ordering Custom Made Patches – From Start To Finish
Our exclusive online ordering system makes it easy to be in control of your order process. You call the shots!

1 Quote Request. Submit your project's details: your logo, quantity, size needed.
2 Approve. Review & Approve Artwork Proof and Price Quote.
3 Confirm. Billing, Shipping Information & Pre-Production Sample.
4 Order. Final order submitted for production.
Military Marine Patch Sample
Air Force Patches Samples
Frequently Asked Questions
"Let every nation know, whether it wishes us well or ill, we shall pay any price, bear any burden, meet any hardship, support any friend, oppose any foe, to assure the survival and success of liberty."

– John Fitzgerald Kennedy
Let's Get Started
If you are thinking about ordering your Custom Patches, just fill out our simple quote request form, our expert Sales Reps will get back to you within 24 business hours and guide you through every step of the process.


Related Products