Custom Keychains – Metal or Rubber
Make your own custom metal keychains, branded with your logo.
Promotional Logo Key Chains Manufacturer
Sienna Pacific is a metal and rubber keychain maker, manufacturer and supplier. Our Metallic keychains can be designed with a number of beautiful finishes, platings and materials. The die struck production process allow any shape, size and color.
In the case of the rubber ones, they allow 2D and 3D layers, Glow in the dark color among other awesome features. Just send us your design Ideas and we will create an outstanding keychain design that will help spread your message.
Keychains with your company logo or artwork are by far the most common and effective promotional gifts. They can help you engage with your target audience and followers. If you want your campaign to get the most visibility, you definitely should include customized keyrings.
Promotional Keychain
Sandblasted Gold metal keychain / die cut keychains. Stainless Steel is always an option.
Custom Logo Keychains / Die Cut Keychains
Silver plated diamond shaped keychain with pink hard enamel color.

Branded Logo Keychain
Double -sided silver plated round branded keychains with clear soft enamel and soft rubber PVC insert.

Custom Wedding Keychain2
Antique silver plating in a round shaped.
Volunteer Keychain
Gold plated heart keychain with soft enamel colors.
Horse-shoe Keychain
3D Casted, antique silver plated custom shape keychain.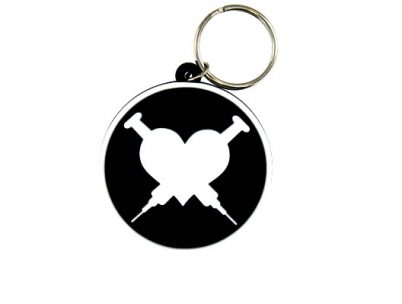 Promotional Logo Keychain.
Silver plated keychain with hard enamel colors.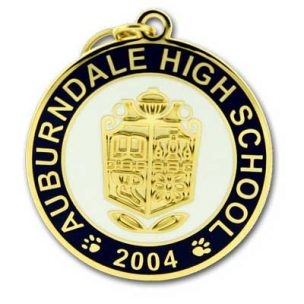 High School Keychain
Gold plated with hard enamel colors.
Ordering Custom Made Keychains Is Easy With Us By Your Side.
Our exclusive online ordering system makes it easy to be in control of your order process. You call the shots!
What Our Customers Say About Their Custom Keychains
Custom Logo Keychains


5 out of 5 stars

03/24/2020

"Work with Becky is very smooth and easy, thank you you always deliver the quality you promise, on these days sometimes is hard to find someone focus on customer service and quality."

Custom Shape Rubber Keychain


5 out of 5 stars

04/08/2019

"Custom PVC Personalized Keychains are ideal promotional items, think of a marketing giveaway. They are a powerful and affordable way to get your business in the hands of your clients on a daily basis."




Custom Metal Round Keychain


5 out of 5 stars

04/08/2019

"Satisfied with the way Dan assisted me with my order. The end product is absolutely beautiful. Will recommend to anyone who asks."
Frequently Asked Questions
The type of keychain that will work for your campaign is just a matter of personal preference. If you are here, you decided to look into adding metal keychains to that corporate gifts product selection list.
The great feeling that a metal keychain brings goes beyond the classical, heavy feeling that only a piece of long lasting jewelry can bring.
A keychain tells people your company is a long lasting entity and you can be trusted. You are as solid as that piece of gold plated metal.
What type of keychains do you make?
We can make your key chains in the best quality products: custom metal keychains, rubber PVC or even an embroidered patch.
We will help you choose the best style that matches your project, your budget and your needs.
What Options Do I Have for Metal Key chains?
Our metal keychains can be made in any material and plating as our lapel pins, and a little bit more: Silver, Gold, Black Nickel, Bronze, Copper.
You can have any type of colors: soft enamel, hard enamel, full color printed keychains. We can engrave them or customize them by individually printing on them.
They can be die-struck, 3d cast in any shape you can dream of.
The possibilities are almost endless: you can have a rubber insert on one side and an amazing transparent enamel color on the other one, like this one:
If you are unsure of which option is the best one for your project, we can gladly guide you through it.
What About Double Sided Key rings?
We can make your metal keychain as a one-sided with piece a plain back, or we can engrave them on the back, or even make it double sided.
PVC keychains can have printing on the back, where you can add your website, phone number, slogan or promotion, anything you want.
We can even add a message in the back using laser engraving.
Want custom bottle opener keychains on the back? Carabiner keychains? We can do that too!
What is your minimum order for custom metal keychains?
Despite the production process: die struck, casting is a very delicate and time-consuming process, we are able to offer our customers with low minimums of 100 key tags. However, we can in some accommodate orders of 50 and up.
If you want to promote your business or have a token for which your customers will remember you, then you must order at least 100 pieces to make it successful, and save some money in the process 🙂
What Do I need To Know About Production Process?
We are so confident in the quality of our products and our account managers' expertise to satisfy our customer's goals for their keychain process.
You will have a 100% satisfaction guaranteed ordering process, where you, the customer is in charge:
We receive your information. We must know about your project in detail. i.e.: quantity and size… Creating your own custom design will create innumerable brand impressions, and we want to do it right.
The design of your keychain. We welcome you to send us anything from a factory ready art, or a Photoshop or picture, even a sketch: we can add your company name for you.
Price and Artwork Approval. Using our online system (we also welcome emails and phone calls), you and your rep can discuss and review you design and your pricing.
Pre-production Sample Approval. This is our favorite part of the ordering process, it is when our customers get to see what their product will look like before full production is done.
Full Production. In about 15 business days from your pre-production sample approval, we will ship it to you from our Carlsbad, CA office as soon as we get it in.
If you have an event. If you have an event when you MUST have your keychains in your hands, please let us know, we will try to speed up our times and make it happen for you. Always talk to your sales rep.
Make Your Own Keychain – Your Order From Start To Finish

1 Quote Request. Let us know the size, colors and design you want to have made.
2 Review & Approve. Your key tag Price & Art.
3 Submit Payment Info. We will start your Sampling Process.
4 Approve your sample. Your order will be ready in 3 weeks.
Free Quote Request
Let's Get Started
If you are thinking about ordering your unique keychains, just click on the button below, our expert Sales Reps will get back to you within 24 business hours and guide you through every step of the process.