Custom Fabric Stickers – Woven Logo Stickers
Our Custom Fabric Stickers are made as a woven patch – or woven label– with an iron-on backing or an adhesive backing. Also known as Die cut woven stickers or appliqués and are made with high quality polyester threads that make them strong.
If you are looking for a classy and unique way to display your company name or logo, we have the answer for you. Our fabric stickers patches can be die cut to a circle or square or even to the actual shape of the design.
Stickers that stick on fabric!
The woven stickers are great to place on a shirt, or bag when you are at a convention or street fair. Some people use vinyl stickers to display their logo and to give to people as they pass by their booth. However, if you want your logo to be on something thicker and substantial, we can make your logo into a woven patch/appliqué.
Custom Logo Stickers Samples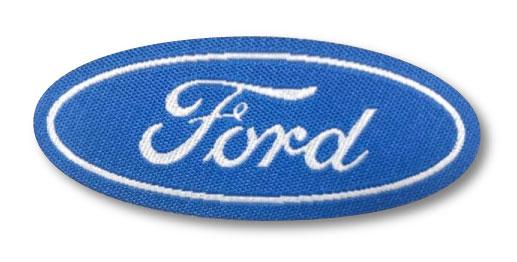 Types of Stickers for Fabric
FAQs About Fabric Stickers
Will the Sticker Stick to My Shirt/Product ?
We are very confident of the strength of our adhesive and we recommend it for temporary applications. We do however recommend our customers to test them out themselves and we will gladly send you some samples for you to make sure they will work for your particular application.
Who Uses Fabric Stickers?
Most of the customers we've made fabric stickers for are looking for a one-day use identification sticker at an event. That is not to say that the sticker will fall off in one day, as we've tested them in items that are not being washed and they have stayed strong for months.
What Type of Material is Used?
This type of sticker is made just like a woven label, by weaving 2 or more threads into a design and shape, and adding an adhesive backing to it, with a peel-off paper behind it.
How are woven better than embroidery patches?
We can make your adhesive sticker patches for clothing as either woven patches or embroidered patches. The reason we choose woven as the best process, especially for iron-on patches is they are thinner and allow a much more even heat transfer than the embroidery process.
Customize Your Logo Stickers
Customer Reviews
4.8/5 – Based on 1102 Reviews
Woven Labels


5 out of 5 stars

10/09/2023

"Easy process, provided help with design. Good service."

Woven Ribbon Tape


5 out of 5 stars

09/29/2023

"Timely service, awesome quality! Highly recommended!"

Woven Labels / Damask


5 out of 5 stars

09/25/2023

"What a pleasant experience on this order of furniture labels. Rosana was very professional and stayed in contact through the entire process. She was wonderful. We are very happy with our products and would definitely use this company again!"
Let's Get Started
If you are thinking about ordering your Custom Fabric Stickers, just click on the button below, our expert Sales Reps will get back to you within 24 business hours and guide you through every step of the process.