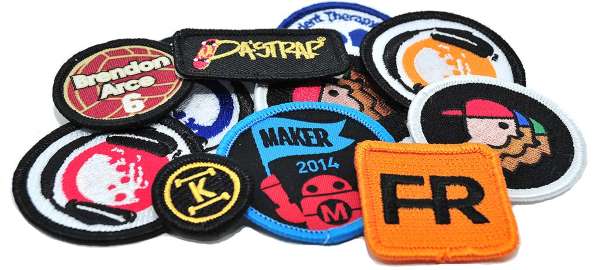 Custom Iron On Patches
Custom Iron On Patches are a clever, fast and easy solution for attaching patches in a reliable, professional way. They come with a thin film of special fabric glue at the back that gets melt when heated with an iron, making a solid bond with your garment.
You can use iron-on embroidered patches or woven patches in your hats, jackets, tactical gear, shirts or backpacks.
Why Custom Iron-On Patches?
When choosing the appropriate custom patch style, sometimes you hear: iron on embroidered patches but, what are they exactly?
Basically, in order to attach a custom made embroidered patch, to your clothes, you have few options:
Sew it: You will need to leave the necessary "room" in the patch design, in order to have the right space for the seem.
Iron it: There is no need of any extra space on the design, just iron it to the clothes.
Iron it – Then Sew it: If you want to be absolutely sure, and/or the clothes you are attaching them to are going to be heavily used, it could be a good idea to combine both processes, to give more stability.
Where Can You Use Iron on Patches?
I want my patch to be iron-on. What are my options?
Your Custom Patches can be made in any size, shape, material, colors… hundreds of combinations that will help you in creating the right custom made patch for your club or organization.
Iron-on material can be added to any types of patches Woven, Embroidered Patches and Custom Printed Patches, just let your Sales Rep know and they will add it to your quote.
If you are designing your custom patch, think about patch options that include you choosing between a laser cut or merrow border, and your choice of threads, even metallic and neon threads!
Applying an iron-on back to your custom made embroidered patch (any embroidery percentage) will add only 10 cents per patch to the standard embroidered patch pricing.
Ordering Iron on Logo Patches is Easier with Us by Your Side!
We are a US based Custom Iron On Patches supplier with more than 15 years of experience. Our professional designers will create your design for you, AT NO EXTRA CHARGE.
Our Ordering Process – From Start To Finish

1 Quote Request. Submit your project's details. Make sure to include your logo, quantity, patch size needed.
2 Approve. Review & Approve Artwork Proof and Price Quote.
3 Confirm. Billing, Shipping Information & Pre-Production Sample.
4 Order. Final order submitted for production.
Frequently Asked Questions & Product Information
CAN YOU SEW IRON-ON PATCHES?
You sure can! Some of our customers use the iron on as a way of "getting it almost ready", and then they sew them around the border, for peace of mind. ( Although you don't have to sew them on, unless they are going to be washed frequently and you want to make sure the patch won't fall off )

IS IT SAFE TO PUT AN IRON-ON PATCH ON LEATHER?
You certainly can! Just make sure you put a cotton cloth on top of the patch before iron it on. Keep the heat at a medium setting and do not press onto the leather.
IS IT BETTER TO SEW OR IRON ON A PATCH?
If you don't know how to sew, or don't have the time or patience to do it, then by all means ironing it on will be better for you.
But if you really want to make sure that patch will not fall of your clothing item, then by all means, grab a needle and some colorful thread and stitch that little patch on.
For example, for a name patch you can choose to have a customized embroidery job, send you shirts to the embroidery company and have them do the job, or you can choose your own shirts and iron on the name patch to those shirts and maybe a hat or jacket.
CAN YOU WASH IRON-ON PATCHES?
Yes, you can wash them in the washing machine, just remember to turn the item inside out to protect the patch, and use a light/ short washing cycle with cold water. Do not put it in the dryer.
HOW TO TELL IF A PATCH IS IRON-ON
Iron on backing is easily distinguished from any other type of backing (if it looks like a fabric or like hook and loop, then it is not iron on), except plastic backing. Plastic Backing and Iron-on begin with the same raw material: plastic, but they have a thin coat of heat-activated adhesive.
So if it looks like it is plastic backing, try to iron-it on in a small surface area of the patch.
DO YOU SHIP TO APOS?
Yes, Ask your sale representative about our Free Shipping offer for United States Active Military Customers.
Read our guides about how to apply iron on patches and how to remove iron on patches.
Free Quote Request
---