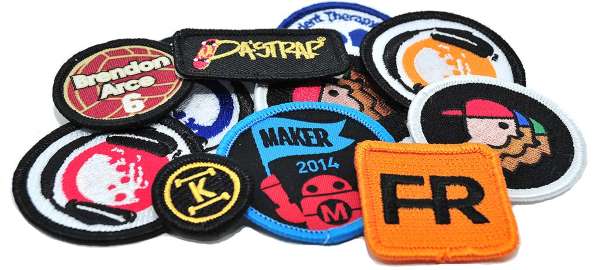 Heat Seal Patches
Custom Iron-On Heat Seal Patches are a clever, fast and easy solution for attaching patches in a reliable, professional way. They come with a thin film of special fabric glue at the back that gets melt when heated with an iron, making a solid bond with your garment.
You can use iron-on heat seal patches for your hats, jackets, tactical gear, shirts or backpacks.
Gallery of Our Custom Iron-On Patches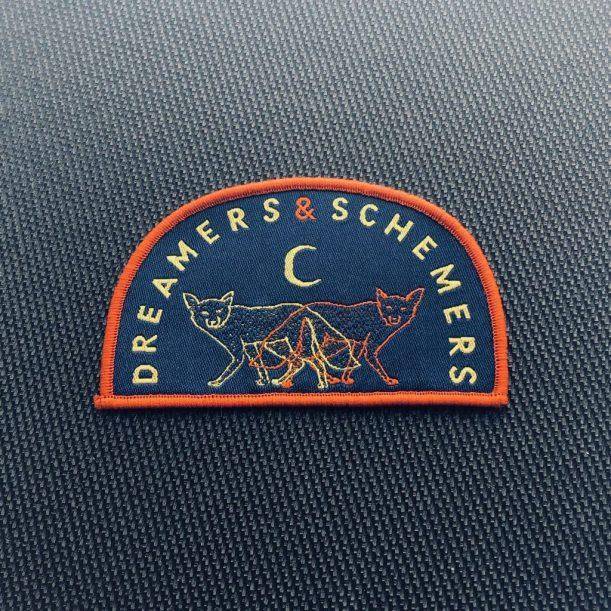 Trusted by

Your Heat Press Patches Options

Types of Iron on Patches
Start by deciding what kind of custom iron on patch you want. The options available are: woven, embroidered, printed or leather.

Border / Edges
Choose between Merrow Border and Laser Cut. We can make them in any shape you want.

Backing
Additionally to heat press Patches we offer self-adhesive and hook and loop backing.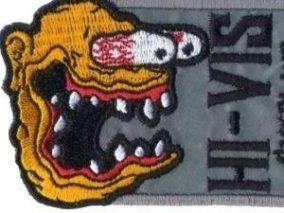 Special Features
Finally you can add special threads to make your patches pop-up. Reflective and Metallic threads are available.
Customer Reviews
4.8/5 – Based on 1102 Reviews
EmbroideredPatch


5 out of 5 stars

04/13/2023

"Communication was thorough and the end product was exactly as we hoped it would be! We will continue to use Dan Greenberg and LINX for future products."

Embroidered Patch


5 out of 5 stars

03/19/2023

"Excellent customer service excellent product, They work to make things right even though it was the customers screw up. Paragon of excellence."

Embroidered


5 out of 5 stars

03/16/2023

" Great Prices, Fast Service, Fast Shipping, No Funny Business, What you see is what you get. They price they quote is the price we paid. Do Business Here!"
Our Ordering Process – From Start To Finish

1 Quote Request. Submit your project's details. Make sure to include your logo, quantity, size needed.
2 Approve. Review & Approve Artwork Proof and Price Quote.
3 Confirm. Billing, Shipping Information & Pre-Production Sample.
4 Order. Final order submitted for production.
Ordering Custom Heat Seal Logo Patches is Easier with Us by Your Side!
We are a US based Custom Patches supplier with more than 15 years of experience. Our professional designers will create your design for you, AT NO EXTRA CHARGE.
Frequently Asked Questions & Product Information
DESIGNING YOUR PATCHES
Can I see a proof of my custom patch design before it goes into production?
Of course you can. In fact we won't start mass production without your approval.
You will be asked to approve your design 2 times.
The first time to approve the artwork and the second time to approve a real sample proof of your finished product.
How should I send you my custom patch design?
To send us your design just fill out this Quote Request Form and towards the end you will find a field with a button that says Choose File, click there and you will be able to select the file from your computer.
Can you match specific PMS colors for my design?
Yes, we will color match your PMS colors.
Can you help me with creating a custom design if I am not sure what I want?
Yes, we can help you with that at an additional price, which will depend on the complexity of the design.
ORDERING YOUR PATCHES
What is the minimum order quantity for custom iron on patches?
Our MOQ is 100 pieces
How long does it take to receive my custom patches once I place my order?
Our regular turnaround time is 4-5 weeks (25 business days), from ordering to delivery. This time period can be longer depending on the corrections and changes the customer could request during the process.
Are there any additional costs for custom shapes or sizes of patches?
While cost increases with the size, a custom shape will not affect its price.
Do you ship to APOS?
Yes, Ask your sale representative about our Free Shipping offer for United States Active Military Customers.
ABOUT APPLYING YOUR PATCH
How should I apply my custom heat press patch to my garment?

We have made an article with step by step process on how to apply custom iron on patches. Find it here.
Can you sew Iron on Patches?
You sure can! Some of our customers use the iron on as a way of "getting it almost ready", and then they sew them around the border, for peace of mind. ( Although you don't have to sew them on, unless they are going to be washed frequently and you want to make sure they won't fall off )
Is it safe to put an heat press patch on leather?
You certainly can! Just put a cotton cloth on top of the patch before iron it on. Keep the heat at a medium setting and do not press onto the leather.
Is it better to sew or Iron on a Patch?
If you don't know how to sew, or don't have the time or patience to do it, then by all means ironing it on will be better for you.
But if you really want to secure the patch so it will not fall of your clothing item, then by all means, grab a needle and some colorful thread and stitch that little patch on.
For example, for a name patch you can choose to have a customized embroidery job, send you shirts to the embroidery company and have them do the job, or you can choose your own shirts and heat press it to those shirts and maybe a hat or jacket.
CARING FOR YOUR IRON ON PATCHES
Can you wash iron on patches?
Yes, you can wash them in the washing machine, just remember to turn the item inside out to protect the patch, and use a light/ short washing cycle with cold water. Do not put it in the dryer.
How should I care for my custom heat press patch to ensure its longevity?
When you've invested in a custom iron on patch, the last thing you want to do is damage it. Fortunately, there are a few easy steps you can take to ensure your patch has a long life.
Firstly, setting the temperature of your iron carefully for the fabric – if it's set too high, you risk damaging fibers or causing shrinkage.
Secondly, use a pressing cloth over the patch and apply pressure uniformly when pressing it on – this will help the adhesive adhere and keep wrinkles from forming.
Lastly, once applied it's best to allow the patch to cool for five minutes before turning the garment inside out and repeating the pressing process.
Taking these simple steps when caring for your custom iron on patch guarantees that it will stay vibrant and in place season after season!
Let's Get Started
If you are thinking about ordering your Custom Iron On Patches, just fill out our simple quote request form, our expert Sales Reps will get back to you within 24 business hours and guide you through every step of the process.

Related Posts
---