Custom Lapel Pins – US Supplier
Ordering custom lapel pins is super easy and stress free with us by your side. Just send us your design ideas (sketch, mix of photos, logo or final artwork) along with the pin size and quantity needed in order to get a free quote. Compare and make your decision!
Which Custom Lapel Pin Style is Right For You?
Since there are many different options for a pin, it's best to read the descriptions below to get a better understanding of which pin is will be a perfect fit for you.
Take a look at these 2 more design options!
The first step in picking the style for your customized pins is deciding what your needs are. Once this has been established, then it's time to pick out the best pin for your needs. Here you have another great design options.

3D Cast
The casting technique allows your pins to have any possible shape. As a pin designer you can even think in holes inside your custom pin.

PVC Pins
Awesome when addressing to a young audience for instance, this soft rubber, flexible material offers you unique design options such as 3D and 2D high relief mode.
Custom Enamel Pins to Suit YOUR Needs
We are a US based Custom Lapel Pin Maker with more than 15 years providing high quality products to our customers inside and outside the country. Sienna Pacific is the best enamel pin manufacturer you will find out there.
Promotional Pins
You can use hard enamel pins in your branding campaigns as a promotional giveaway, you would be surprised to know the number of people who collect pins, especially if they are rare or limited edition. Just check Disney's pin trading programs and you might want to start your own!
Political campaigns, funny messages, awareness or fundraising campaigns, membership, events, we are sure you get the drill!
Don't hesitate to call or email us with any questions you might have. We often help guide our customers through the order process and deliver the Custom Pins they always wanted.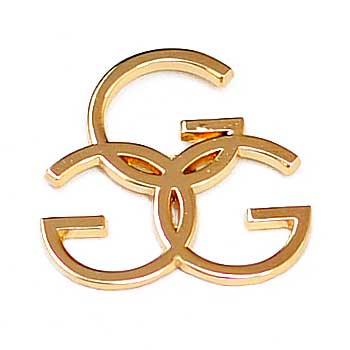 Not Sure Which Type Of Pin Is Right For You?
Fill out this Quote Form and one of our Sales Reps will help you decide about the Best Custom Lapel Pins for your Project.
See What Our Clients Have To Say….
Custom Suit Pins


5 out of 5 stars

08/30/2019

"My experience with Linx was excellent because my Sales Person was a true professional and his customer service was of the charts."

Osumana V. Cassell

Custom Shirt Pins


5 out of 5 stars

08/19/2019

" Wow! Excellent service and faster. I love the product. I'm very satisfied, I received more faster than I was expected. Thank you so very much."

Carmen Gonzales

Custom Hat Pins


5 out of 5 stars

07/10/2018

"LINX Corporation was extremely easy to work with. Communication was efficient and Dan reassured me that my order would be exactly what I wanted or they would fix it until it was right. The order was delivered in a timely manner, right on schedule. The finished product turned out perfectly."

Alzheimer's San Diego
Ordering Custom Lapel Pins is Easy With Us By Your Side.
Our exclusive online ordering system makes it easy to be in control of your order process. You call the shots!
Frequently Asked Questions
What's the Right Size for My Pin?
The right size for your metal pin will vary according to the use you will give it.
For example,  custom lapel pins that will be worn on nice formal suits and that will resemble a piece of jewelry, a size between 3/4″ and 1″ will be just right.
Secondly, pins that are given to volunteers, and are supposed to make an impact, stand out, can be between 1″ and 1 1/4″.
Finally, trading pins are almost in a category of its own. They need to be flashy and get lots of attention, so anything from 1 1/4″ and 2 1/2″ is fair game.

How Do You Manufacture My Pins?
For almost all of our pin styles, we use the die-struck method: we manufacture a die and we then strike the design into the base metal, which is then colored, plated, and polished. Die-struck process works great for designs that are 2-dimensional and pins having a flat base.
3D Casting is also an option, and it is mostly used for pins that have a three dimensional quality to them, and pins with cut-outs.
Where are our pins made?
We work with overseas factories for best pin maker quality and as close to factory direct prices but if you must have Made in USA manufacturing, we can also source those for you.
How Long Will It Take For My Pins To Be Made?
Most die-struck lapel pins are made within 3 weeks of ordering and 3D Cast pins will take a little longer (3D sculpting is a delicate process). We can try and rush production of your pins but we offer no guarantees.
What's Your minimum order quantity?
We have a soft 100 minimum pin ordering policy. This is the minimum quantity we offer with great pin pricing. If you need less than 100, we can accommodate your order but the price per pin will increase substantially.
Can you help me design my custom lapel pins?
Yes! Once you approve your fast quote, please send your Sales Team member know the elements / colors / size / text you want in your pin, and our design team will send you a digital proof, with unlimited revisions.
Or if you prefer to design it yourself, just send us the .ai or .eps file and we will turn it into a digital print proof.
How Can I Customize My Pins?
We can help you create a custom lapel pins order for an extra fee using the following methods:
Engraving: The most common use of engraving is numbering the pins, used mostly for those considering their pin for collectors.
Printing: We can silk-screen any message on a hard enamel surface, which makes it a great way to create a customized years of service pin.
What material will my pins be made out of?
The material a pin is made out of will determine the perceived value they will have to the person that will wear it, and it will also influence the amount of detail that will be possible to achieve.
The most common material used by lapel pin manufacturers is brass/bronze: It is malleable enough that will be able to accomplish enough detail to make your highly detailed logo look great, and it has a nice weigh to it. Therefore, we recommend it for almost any art designed, and for logo, award, employee recognition pins.
The second option is iron: It is slightly less malleable than brass so the amount of detail it can accomplish is slightly less, it is lighter in weight, therefore it is recommended for those occasions where the budget is tight, and the pins will be used as a promotional token, or a giveaway. They are the only choice when the pin is used as custom hat pins, golf ball marker or as an insert to any other accessory where a magnetic material is a must.
Aluminum is often used for offset printed pins: They are used as a blank base where the printing will occur, colors hold on to it nicely. They are light in weight. If you need your printed pin to have some weight, we can use bronze and add epoxy coating to it.
Stainless Steel: Used for those occasions when you need your pin to be hypoallergenic, mostly used in costume jewelry.
What plating options do I have?

What About Colors, PMS Matching and more?
The way we add color to your pin depends on the type of pin you are ordering.
For a die-struck pin, we can use either soft enamel or hard enamel colors. We use PMS Color Matching.
Printed pins can be made by spot printing the color into the metal. We match your PMS colors. For 4-color process, the standard is CMYK colors.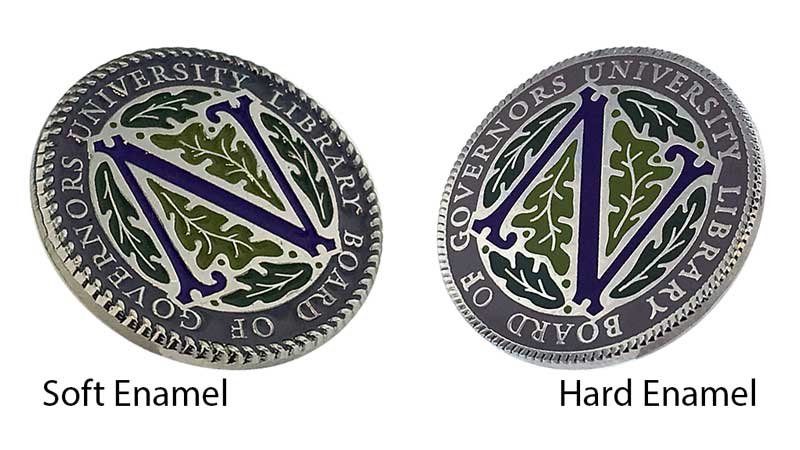 How Can I Attach My Pins
When there is a need, there is a way! We offer a wide variety of attachments that will turn your pin into almost anything you want.Here is 5 ways you can attach your pins to your clothing:
Pin it to your jacket, hat, vest or backpack using a butterfly, deluxe or rubber clutch (for extra protection)
Pin it with a Safety Pin: Let's secure that baby in place! Great for attaching to clothing, for instance in the medical field.
Stick it on! Adhesive backing works great for applications to solid non-porous materials that will not be washed or removed.
Magnetic Lapel Pins: When you really do not want to poke a hole in your item, and adhesive will not make the cut, you can take advantage of using our Promotional Iron Pins which will look great and it will bring the magnetic properties of iron to your lapel pin, so you can easily stick it to any magnetic surface.
You can also make your custom lapel pins with magnet, by gluing a magnet to the back of any pin, instead of a clutch, voila, you have created magnetic pins!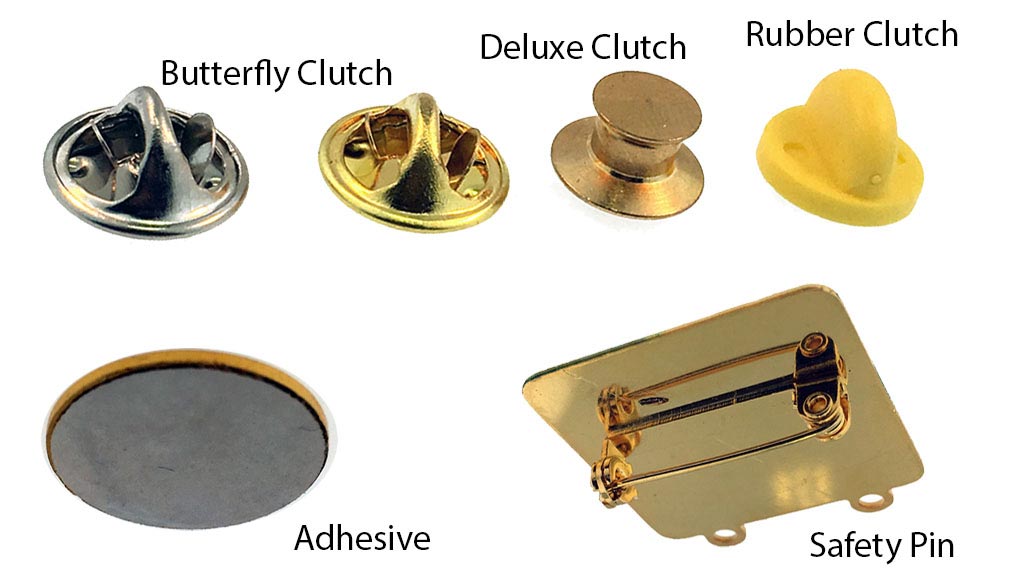 Learn more about How to make Pins!
Let's Get Started
If you are thinking about ordering your custom lapel pins, just click on the button below, our expert Sales Reps will get back to you within 24 business hours and guide you through every step of the process.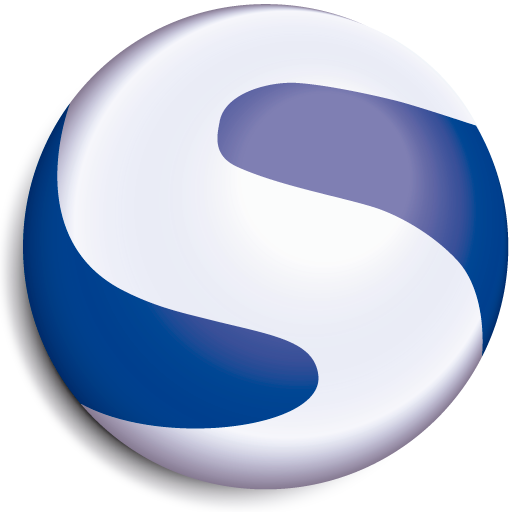 STOCK LAPEL PINS
Because we want to help you support your causes, including displaying your respect for your country and our police and fire departments, we've decided to carry some stock pins in our Store.
There you will find some Awareness Ribbon Pins, Heart Lapel Pins, American Flag Pins.
Christmas Cheer with a Lapel Pin
"This entirely volunteer Christmas gift-giving program, sponsored and coordinated by Child and Family Services, Inc. State Office, began in 1971 by individuals who wanted to make a difference in the lives of children who reside in foster care.
Recipients include infants, children, teenagers, and adults with disabilities.
They are beautiful die struck enamel pins with a bronze plating finish"
Religious Lapel Pins to Honor the Brave
"We created this die struck soft enamel lapel pin for a customer wanting a tie pin for their religious organization.
The request was as simple as a classy pin that will do honor to our representative.
A beautiful 7/8″ Soft Enamel lapel pin with a 3D element AND antiquing in bronze metal finish.
The result is just fantastic. (Hint: We have the best customer service and design team of any other pin maker)"
Why Choose Us?
Your Order of Custom Metal Pins Includes…
100% Satisfaction guarantee. We aren't happy until You're happy!
Very Low minimums at affordable prices guaranteed for 30 days: Our minimums is Only 100 Pieces !!!
More value for your money Free Design Assessment & Free Artwork Revisions ($70 Value).
Fast
Production 10 Working Days Standard Pin Production time Rush Service Available.
Peace of mind We are a U.S. Based Company with more than 15 years of experience. If you need to contact us, We will be here for you!
The Highest Quality & Service you deserve.
---
Buyer Beware: If you are buying custom lapel pins from a company that does not offer a business address and local contact information, the business may not be legitimate.
Other ways to promote your business