Printed Clothing Labels & Tags US Supplier based in California
Custom Printed Clothing Labels are essential for identifying your clothing line, knitting or quilting project. There is no limit in size or shape. All of our fabric labels are 100% customizable with your personal or company name, design or logo. Choose from a sew on or an iron on label.
Custom apparel labels can be used to tag all your camp, school, daycare & nursing home resident's apparel & gear.
Types of Printed Clothing Labels
It's Easier with Us by Your Side!
High quality, Product Packaging, Custom Sizes, Any Folds and Cuts, PMS color matching, Double Sided Labels and much more!
With more than 15 years of experience, our professional designers will create your design for you, AT NO EXTRA CHARGE. Start your next apparel label project today!! Our quality and service are the best in town.
Customer Reviews
4.8/5 – Based on 1102 Reviews
Printed on Satin Labels - Woven Edge White Satin Background


5 out of 5 stars

05/10/2022

"Excellent Service and Product!"

Printed Patch Dye Sublimated Merrow Hook and Loop


5 out of 5 stars

03/08/2022

"Fast responses, attentive care in ensuring the design was correct, and adjusting my own mistakes to get a quality end product- thank you!"

Printed Patch Hook and Loop Backing


5 out of 5 stars

12/30/2021

"Easy and seamless communication, I ordered silkscreened Hook and Loop backed patches for a local government organization.. They adjusted the sample a couple of times at our direction to get the perfect final product. Rosana was great- and communication was quick and easy.. Overall great experience, and customer care was awesome- Thanks again!"
Printed Cotton Labels


5 out of 5 stars

8/12/2019

"Good quality at a fair price. Never disappointed."

Printed Cotton Labels


5 out of 5 stars

8/15/2018

"Victoria responded quickly and managed to provide several proofs for our project"

Satin Printed Labels


5 out of 5 stars

12/22/2017

"Good response and felt personalize communication, which makes it easy to develop a business relationship."

Satin Printed Labels


5 out of 5 stars

7/19/2019

"I buy both the woven and the printed labels and LOVE both of them. Thank you!t"




Printed Cotton Labels


5 out of 5 stars

11/21/2011

"Great Service. Prompt communication and responses."

Printed Labels


5 out of 5 stars

11/26/2012

"Excellent customer service & quality products.. Quick response when I had a question. The help I received when trying to pick a color. The quality of work & all around customer service."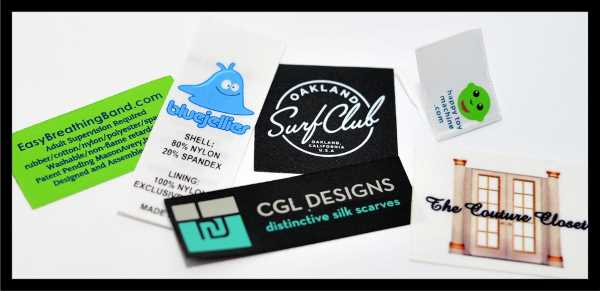 Common Questions
Why do Printed Labels cost more than Woven Labels?
On the one hand Custom Woven labels are basically priced by the size and quantity. You can get up to 8 colors on a woven label and it does not change the price. It's really straight-forward pricing and this is why you can see generic pricing on our website under the Woven Label Category.

On the other hand, on a printed label, the price depends on a few more things like: the intricacy of the artwork, the amount of colors, the size of the label and the quantity; making it one of those items we need to request a special quote from our design and production teams.

There is also an added dye charge which covers the cost of the ink used in production (which is why the cost fluctuates depending on the colors you want in your design!)

More info about this subject at: woven vs printed
What is the minimum quantity for custom printed labels?
Our minimum order is 100 pieces. Please note that the more labels you order the cheaper they will be. This works as any other wholesale business where more quantities tend to reduce the pricing per item.
What is your turnaround time?
Our estimated delivery time is 3-4 weeks (20 business days max.) The production time varies depending on a number of factors like how long customers take to review the samples, the number of changes or corrections a factory sample gets and the complexity of the design among others.
Do you offer Iron-on backing (heat seal)?
Indeed! Nevertheless Iron-on is available only for fabric labels not for PVC or silicone ones.
---
(*) For any other question feel free to directly contact our customer service team.
Free Quote Request
Printed Labels
Let's Get Started
If you are thinking about ordering your custom clothing labels and hang tags, just click on the button below, our expert Sales Reps will get back to you within 24 business hours and guide you through every step of the process.

TYVEK ® DuPont de Nemours, Inc.