Custom Made Woven Labels & Tags
Custom Woven Labels – Professional Labels At Your Reach
Woven Tags For Apparel and Fashion Designers
What Our Customers Say About Us.
out of 5 stars

DATE

– damask labels

"It was easy to order and I had prompt service."

Darlene Aniolowski – IL

out of 5 stars

DATE

– woven satin labels

"There was a mistake on my first order. When I notified my rep she handled it great! My order was redone at no charge and sent fed ex. I was extremely pleased with how quickly she jumped on and fixed the problem!"

Diane Schember – Be FAST, LLC

out of 5 stars

DATE

– iron on labels. Easy to apply

"I just love the labels and they're working well. I'm getting lots of compliments on them too."

Ellen

out of 5 stars

DATE

– iron on labels

"I received them (labels) about a week ago…they look fantastic!

Thank you."

Victoria S., Canada

DATE

– WOVEN DAMASK LABELS

"
A 5/8″ x 2″ damask woven label, center folded. A simple but bold 2-color logo made as a hem tag or tab label.
They Said:"Excellent customer service. Always got in touch with my rep. No complicated phone tree. Very fast response, amazing quick art set-up, and proofing. Great price for small runs. Don't change a thing in customer service.""

STUART CHURCH APPAREL

out of 5 stars

out of 5 stars

DATE

– woven label

"The clothing labels are working perfect. Thank you again for all of your assistance!"

Kalynn – Greenwich, KY
Other Woven Clothing Labels Styles
Woven Damask Labels
The threads used in damask woven labels are thin, high quality 80 denier threads that allow for a tight weave. They are recommended for small detail and very intricate designs. They are our standard quality labels.
These labels are very soft to the touch and are recommended for those who want their products to give a very professional impression.
---
Taffeta Labels
A medium-weight fabric of polyester that is plain-woven with a fine crosswise rib effect. Taffeta labels work best for bold designs without very intricate detail.
Being more affordable than damask labels, taffeta labels are recommended for those who are just starting out their business and want to save some money, as well as care labels.
Woven Clothing Labels: Taffeta vs Damask
Don't know which type of label you need to use? Read our: Taffeta vs Damask Labels article!
Ordering Custom Woven Labels is Easy With Us By Your Side.
Our online system makes it easy to be on top of your order of custom labels. You call the shots!
Frequently Asked Questions About Woven Labels
What Type of Backings Do You Offer?
One of the advantages of getting your own custom woven labels made is the possibility of using different backings, therefore, you have flexibility on the way you will attach your labels to your products. You can sew on labels (no backing), iron on labels (heat seal or iron on backing) or peel and stick labels (with adhesive backing). Just ask your Customer Service Rep. for advice on choosing the right one for you.

Can you do "Text-Only Labels?" Like "Name Labels"?
We sure can! Just send us the text you want on your labels, and the size you need them to be, and we'll gladly type it out for you.
For you reference, a 0.5″ (half inch) tall label can fit 2 Lines of Text, in Arial Font 12pt. This is the recommended size for readable Woven Text Labels.
If you want your text to be smaller than 8pt, we recommend you choose digitally printed labels instead.
How Large Can My Labels Be?
We define a large custom woven label as a label that is in average, 1″ larger than the our most common sized woven label (2″)… So anything that is 3″ and above, would be considered a large woven label…
Their price is higher than an average size woven label, they are mostly sewn all around (or Top Sew for those that are centerfold) and the items they go on are usually on the larger side.
They are mostly used for
Jackets, Coats, Blazers
Rugs, Pillows, Mattresses
We can make labels as large as 12″ long x 8″ high.
Can I Get Help with My Design?
The simple answer is yes. That is what we are here for.
We don't design your labels for you, but we will certainly consult with you and guide you through the steps in order to make your label the best it can be.
The key is our multi-step process of design approval.
Through this stage of design, we will work with you to make sure all of these details are considered.
1.Appropriately Placed Artwork
2.Font Alignment & Size
3.Sewing Allowance Accuracy for your Final Application
4.Folds Determined and Cohesive with your Design
5.Readable Fonts & Content Aware Graphics
Difference Between Standard White & Double Shuttle Woven Tags
One of the main characteristics of woven labels is that they are built from threads, which are woven together to form the label. Depending on the type of woven method used, the colors of these threads will shift the other ones, ie making a white not a pure white but a "tinted" white, where the background color of this tint is the color of the secondary color used in the woven process. like in the picture on the left, where the purple shifts the color of the light blue, making it a darker more muted blue.
Sometimes this is can be used to your advantage, but sometimes, in the case of a black and white label, the white might look a little "dirty" or grayish, because of the black.

What Is Included in My Price Quote?
We don't believe in hidden fee's or tacked on pricing. What you see is what you get. The only additional fee you will incur is your shipping costs; which are insured with a required signature upon delivery.
-Our Design Team Customizing your Label
-Professional Quality Assurance w/our Digital Proofing Process
-Label Experts Assigned to your Project from Start to Finish
-Pre-Production Sample for your Final Approval
-Set-up & Art Fees for any changes to your design (within reason. A small fee will incur if your changes become excessive)
-Amazing Customer Service – If you're not happy, neither are we.
How Many Do I Have To Order?
Our minimum order is 100 for labels
. This makes us a great choice for all of those small business' and upstarts out there. We don't have a maximum order! We do orders from 100 – 100,000 on a regular basis. No project is too big or too small.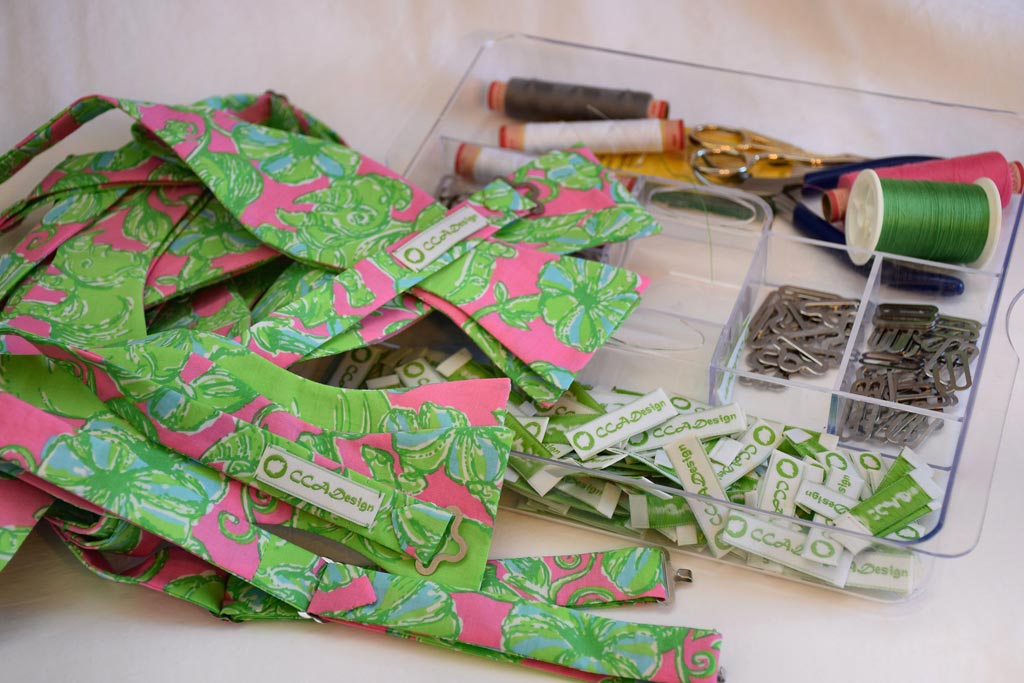 'Woven on Satin' Labels: Are They Woven or Embroidered?
It has happened to most of us: we see something and we decide in our brains what it is, and start calling it a certain way, only to discover -hopefully not too far down the road- that what we were calling this thing by the wrong name for all of this time.
In our line of business, there is one concept that we often need to clarify with our customers, and it is the method of fabrication of the labels.
For a novice, a woven label might look like an embroidered label, by embroidered we are implying the concept of a base material and the design being stitched on top of it.
But in  reality a woven label is more like a piece of fabric where two or more threads are stitched together to form a high quality woven fabric. Our high quality woven labels are made using polyester threads.
There is however one type of label that it is some sort of a mix of these two: Woven on Satin, where a base satin material is used and polyester threads are used to weave the design on the satin material.
What distinguishes these labels are the softness, smoothness  and sheen of the satin material and the bold look of the design.
We recommend using them especially for designs that are big and bold, no intricate details are allowed due to the materials and method of manufacturing used.
If you feel like you might be interested in these labels, you can request a FREE sample package, and specify you would like to see labels that are woven on satin as well as damask woven labels so you can compare the feel and quality of both of them.
Are Heat Transfers Tags better than Woven Tags?
It will all depend on your application, style of your product and process you are familiarized with. Some people might find heat transfer labels easy to apply, while others prefer to sew their custom woven clothing labels to heir products.
'Which Type of Tags is Recommended for Care Labels?
In most cases, if you are looking to only have care instructions on the tags, a printed label will work great.
But id you are already have a woven tag made, consider adding care instructions on the back of it.
---
Let's Get Started
If you are thinking about ordering your custom labels, just click on the button below, our expert Sales Reps will get back to you within 24 business hours and guide you through every step of the process.