7 Things To Consider Before You Design Your Own Clothing Labels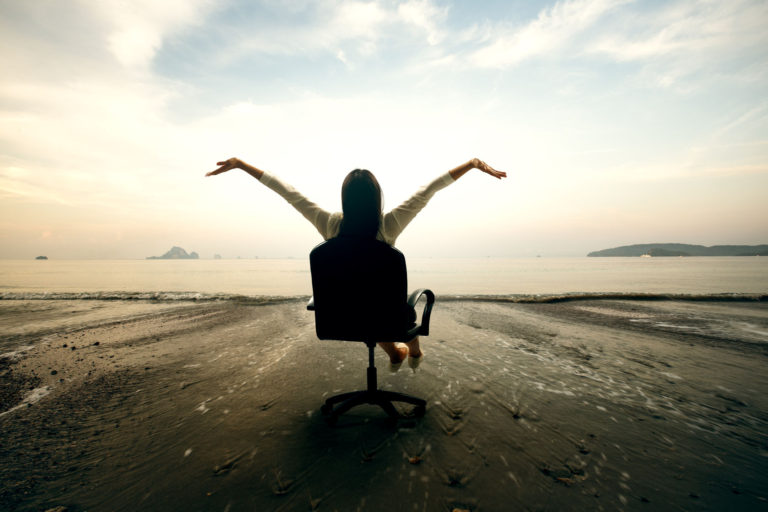 This Beginner's Guide to Design Your Labels is full of insights and tips for small business owners, designers and anyone else looking to design, create and order the best clothing labels for their product line.
Here you will find information from learning about the types of labels, selecting the right label for your product, all the details you need to consider when designing your label and placement and location of labels for common products.


1.Clothing Label Design – Your Logo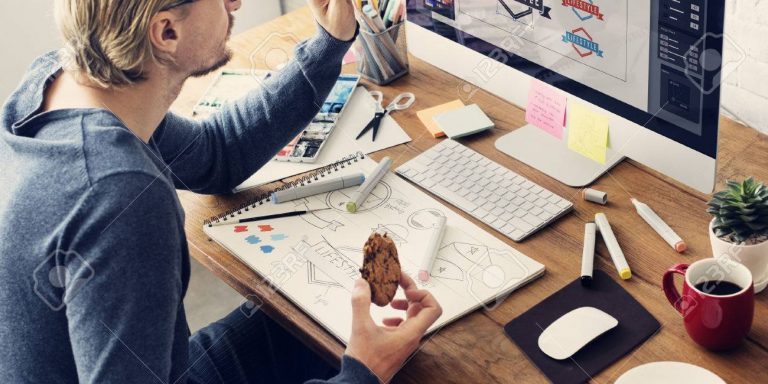 Creating A Winning Label Design
The challenges of creating your own brand start when choosing your "Brand" Name, Colors, Fonts and other design elements.
You gotta make sure they match your business style and personality and at the same time it needs to be easy to remember and recognize.
Remember, your logo will be used in an many different types of applications that not even you can foresee at this point.
The business of fashion is a business of design.
As important as it is for your clothing products to look good and make a statement, it's as important for your company's logo to do the same.
How can you create a quality brand name and logo for your fashion business?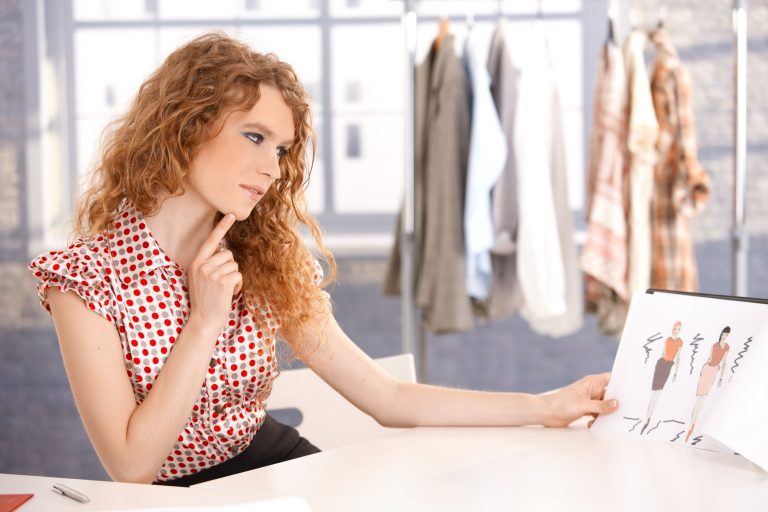 Try to look at your designs and sum them up in a single word. Use that word as either your brand name or as a template for your logo's look. For example, if your clothes can be described as 'edgy,' use fonts and logo designs that have harder edges and angles.
Make sure the logo's design is clean and clearly legible for customers to read and recognize as well.
Following these simple parameters can help you develop a quality logo for your business. For more on fashion business logo development, click here:: 5 Steps for Creating An Impactful Logo.
Simple vs Intricate Design… Which One is Right?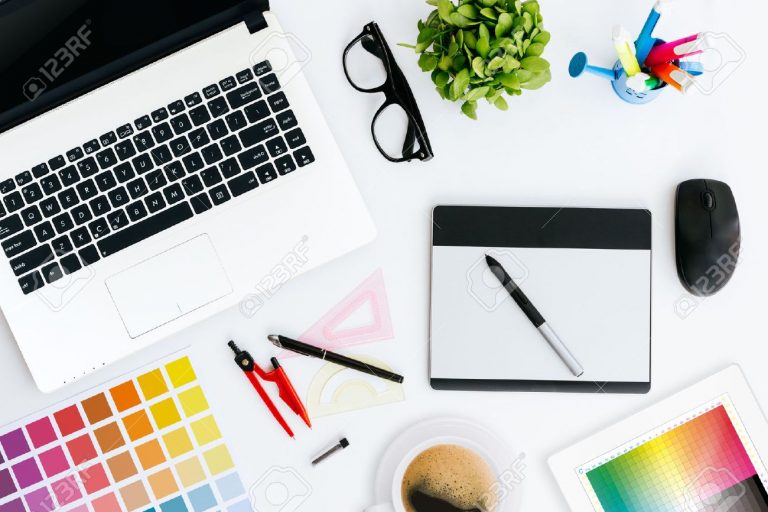 Think about it, your logo could be used in anything from a large banner (for a Trunk Show or Craft Fair Booth) to a tiny stamp or pin, or pen, or button or…you get the point.

A professional graphic designer knows all of this and she will be proactive and suggest you to create different versions of said logo that will work for those said applications and its manufacturing process: from the common press printer, to engraving, die-struck, embroidered, PVC molded and woven techniques.
What To Look For When Designing Your Labels
The things to look for are size and color of elements. ie. Your website looks great on your large Vinyl Banner but, will you be able to read it in a neck label? or in a hang tag?
Believe me, it is better to get all your brand settled before you fall in love with a logo that
1) is not possible to embroider, or to read at a small size
2) it has so many colors that there is an increase in cost every time you try to get it made.
Here are the most common processes and their color standard / limitation.
Printed: Oftentimes there is a difference in price for printing a logo in 1 or 2 colors vs the CMYK process used for designs with 4+ colors =$$$$
Embroidered: You will be paying more for a logo with more than 6 colors, as there is a limit on the amount of colors an embroidery machine can handle at once. $$$
Woven: Most manufacturers have a standard price for up to 6 or 8 colors. However, you cannot weave gradients with the standard process, and the other one will increase $$$
2.Fonts for Clothing Brands
Best Fonts for Woven, Printed & PVC Labels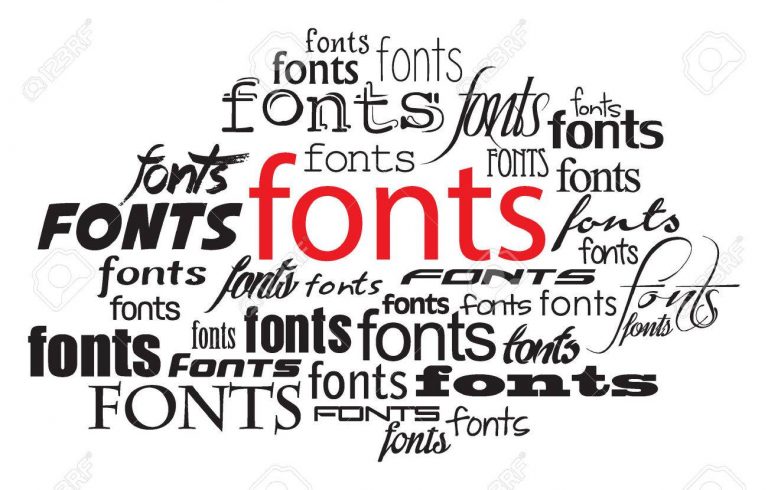 Choosing the right font style is key to making an identity for your brand. The right font style causes instant recognition.
New businesses are started every day, and to stand out against the competition, you need to have a great logo.
Keep in Mind When Choosing your Font Style:
Bold and simple fonts are recommended, for greatest legibility
Don't add too many font styles. 2 font styles max
Fonts are congruous with your business area of expertise
Choose a font style that can grow with your business success
Make sure your font fits the mood
The wrong font style chosen can be confusing and even unrecognizable to other brands.

Read About Choosing the Right Font Style For Your Labels
3. Choosing Your Clothing Labels Size
Choosing the right size for your labels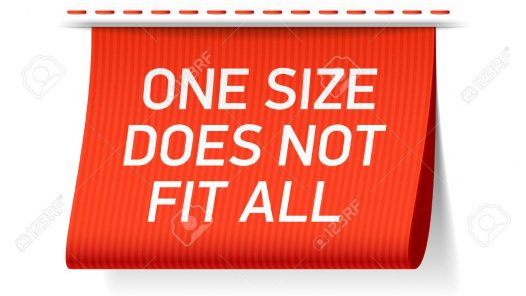 Choosing the right label size is crucial when you design your labels, and it goes hand in hand with where you intend to put it on your product.
Our labels are a 100% custom made to your needs but do have common size recommendations advise.
To Determine your Label Size:
Try with a ruler measure out the width (left to right) x height ( top to bottom)
Take a piece of paper and sketch out measurements for your label
Measure labels on other products you like
Restrictions with Woven Threads
The minimum text font size is minimum 8pt.
For a Logo or Graphic the lines cannot be smaller than 1pt thickness or they will not be possible in production machine.
Don't forget to consider how much sewing allowance you will need to include on all sides or just 2 sides to attach the labels in products.
The most common sewing allowance is 1/8″, with 1/4″ and 1/16″ following closely. Rarely we see 1/2″ or 1″ but they do occurred once in a while.
4. Clothing Labels Folds
Types of Folds for Clothing Labels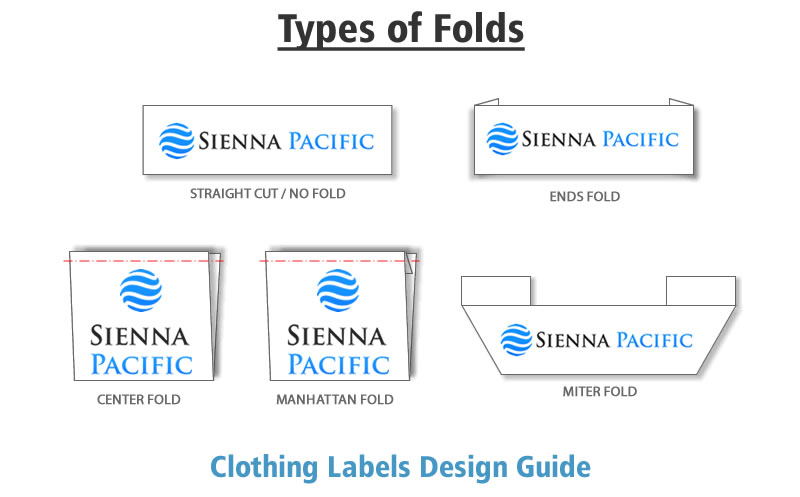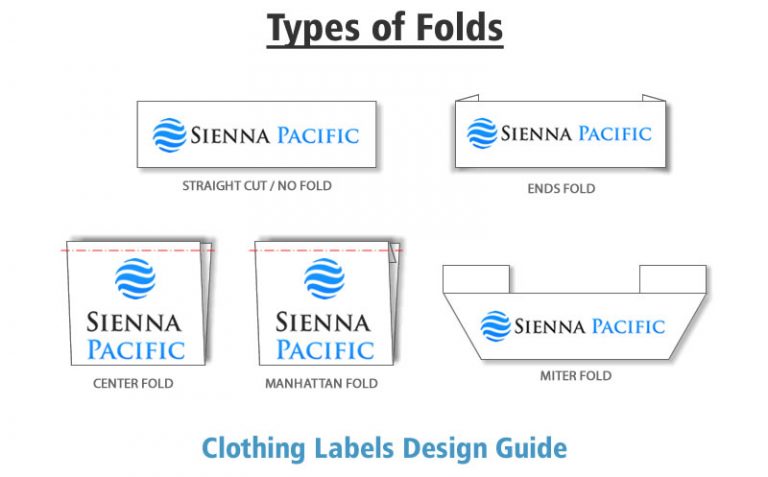 While not all labels have folds, woven and printed labels can and a fold can be added to your label at no extra cost.
The most common type of folds are:
---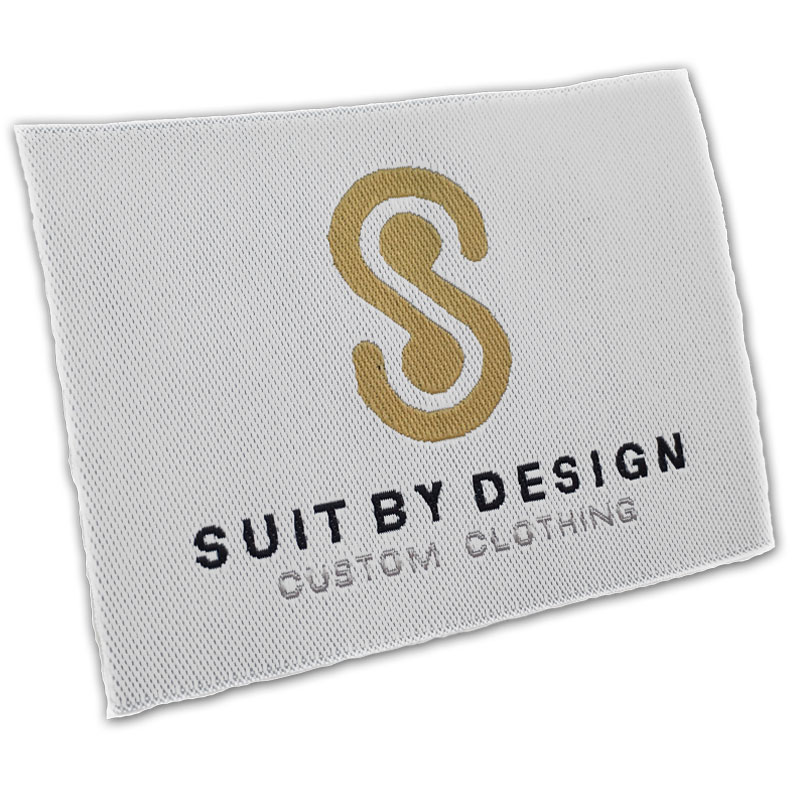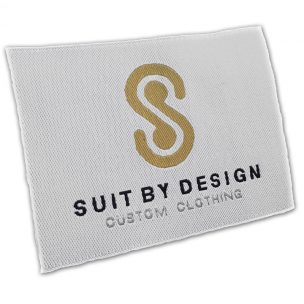 Straight-cut
(Also called no-fold) labels are perfect if you are will sew the label all around, or on the sides.
Used mostly in neck labels, iron-on applications, handbags and accessories.
End-fold
End-fold labels are your best choice if you are sewing the label on the sides.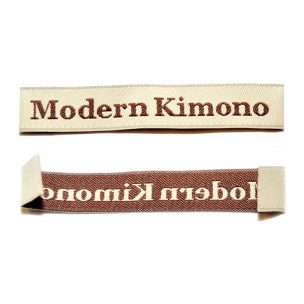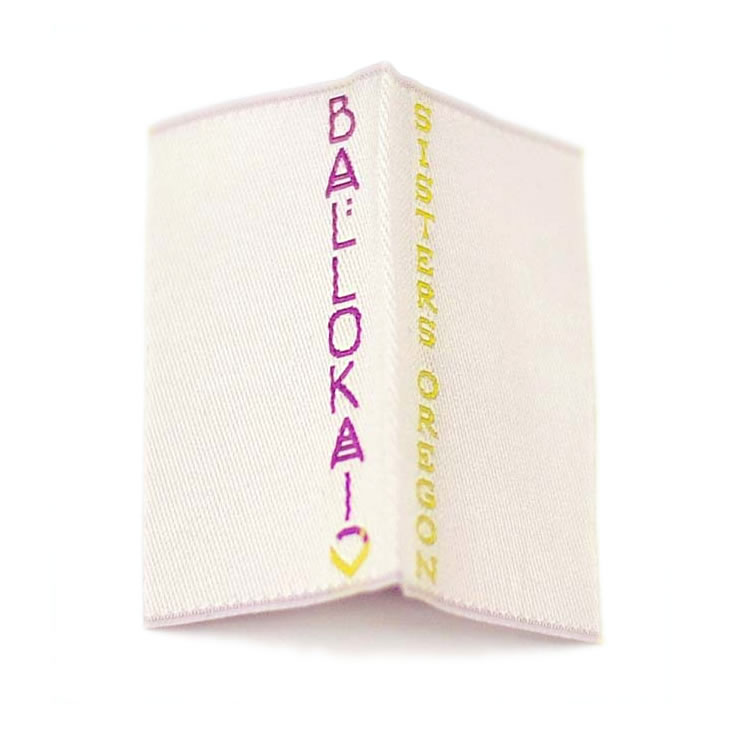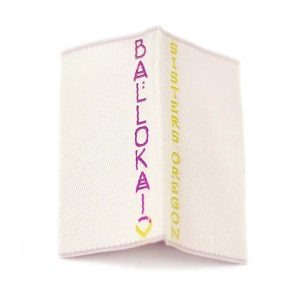 Used mostly in neck labels and pant labels. We recommend this whenever the label is placed on the outer side of your product.
Center-fold
Center-fold labels will work great for items where the label will be sticking out:
Flapping as a tab, either on the inside or the outside of your product.
Logo labels attached to the neck of shirts: neck labels, care labels, hem tags and side labels.
Miter Fold
Mitre fold is used mostly in neck labels, forms a sort of hook, which allows you to hang the product.

Miter-Fold Labels: How to determine the total length?"
The miter fold is a whimsical way to fold your label and display your branded logo on your products. Also referred to as the "hook" label its gets its nickname from using the label to hang its products up. The most common uses for a miter fold label are on collared shirts, robes and/or jackets .
A miter fold is when both ends of the label are folded under at a 45 degree angle and then upward at a 90 degree angle creating a tab to be sewn into the seam of your product. If you take a look at the examples in our gallery page shown it should help illustrate.
Determining how to create your miter folded label can be tricky if you are not a label guru. Here are some easy tips to follow to help you create the perfect miter fold and let your sales rep know exactly what you want.
Determine the live area for your logo. This includes the width (left to right) and height (top to bottom; not including the tabs) that your logo will be displayed before the folds.
Determine the sewing allowance space for the tabs to sew into your product. Generally speaking most common tabs are between 0.25″-0.5″ space but not limited to.
Once you have determined the live area for your logo and the tab sewing allowance you will then have a general idea of the complete size of your label. Your sales rep will then be able to calculate the total label size when the label is laid flat and when the label includes the folds.
If you want to create your own illustration you can easily take a piece of printer paper with a ruler and cut a strip of paper and mark off the live area and the sewing allowance tabs to give you a visual interpretation of your label as will be.
Manhattan-fold
Manhattan fold labels work exceptionally well when you are attaching the labels in outside hems or sleeves. Used Mostly on sleeve tags and hem tags. See Manhattan Fold Labels For T-Shirt Designers
---
The right type of fold for your application will depend on the localization of the label, the type of product and personal preferences.
5. Choosing Your Sewing Allowances
There are many ways to attached a label to fabric.
Depending on the label placement, you could need the sewing allowance to be on top, top and bottom, on the sides or all around.
Do not to despair!
It is actually a very simple concept, and there is not a one-size-fits-all answer, but simple guidelines.
What is a Sewing Allowance?
Sewing allowance is the distance between the edge of a label and the stitching used to attach the label to another piece of fabric.
Do I Really Need To Have One?
If you will be sewing your labels to your products, you WILLneed a sewing allowance, after all yo do not want stitching on top of your design!
If on the other hand, you are ordering iron-on clothing labels, then you DO NOT need to have one. However, a little extra "white space" around your label design will help it stand out.
What are The Most Typical Sewing Allowances?
In the "custom clothing label world", the most common sewing allowance is 1/8″, with 1/4″ and 1/16″ following closely. Rarely we see 1/2″ or 1″ but they do occurred once in a while .
How much sewing allowance do I need?
It is hard to say. The minimum distance you will need to attach your labels or tags will depend on your sewing skills, the position of the label in the product or just your preference. Most of our customers use between ⅛" and ¼".
What is the difference in Sewing Allowance All Around vs. Two Sides?
The decision is yours whether you want your label to be sewn down flat on all four sides of your label or only on two sides.
Two sided sewing allowance is used if you want your label to be loosely stitched, be centered folded into a seam or added end folds to allow depth to your label.
6. Choosing Thread Colors


Color evokes positive associations and an initial opinion of your brand.
With a thread chart of over 200+ colors to choose from the decision can become overwhelming.
To help us help you achieve the right color scheme we have posted our thread chart here to review colors and shades.
Keep in mind, colors can be subjective due to pixilation differences from computer to computer but lets you play in active role in guiding us into your design vision.
We are familiar with RGB, CMYK or PMS color charts to match our thread chart up to if you only have those colors to go by in art files.
We will match as close as we can but cannot guarantee 100% match all the time.
Choose creatively & wisely!
Woven Labels Threads
Thread Colors Used in Woven Labels.
7. Putting it all together
After reading all about the different options for your apparel labels, you might feel a little overwhelmed about all the decisions you will need to make.
But don't despair! All of these combinations have been massively used by thousands of customers and there is no need to reinvent the wheel.
Most Popular Combinations
COLORS
Around 50% of the labels we make are made in a combination of Black & White. Mostly Black Labels with a White Design.
FOLDS
62% of the labels are made with no folds, 23% of them are center fold and 5% are ends-folded.
Center Fold Labels can hide the ends, and are usually sewn into seams, especially the inside of the neck and on the sides of t-shirts.
You can also use them as little tabs (also called flags) that stick out of clothing.
or wrapped around external seams like a bottom hem tag, pocket or sleeve tab.
SIZES
The most common size is 2″x1″ for a no-folds label, 1″x2.5″ for a center-fold label and 2.5″x0.625 for a ends-fold label.
Labels can be as little as 0.5″ or as large as 12″
FONTS
Most of our customers use a combination of serif and non-serif fonts for your text, and only use Cursive fonts for short bold text.
SEWING ALLOWANCE
Most of our customers sew their labels on two sides (top and bottom or left and right) or just at the top of the label for center-fold.
LOGO AND DESIGNS
The best label designs include:
A simple bold logo,
highly contrasting colors, such as black and white,
and website address one the back (center-fold) (for logos that don't include the name of the brand.)
---
Don't forget!
We always create a proof/artwork for you to review and approve.
Once you approve the Art Proof, we will sew out a sample and email you a picture of your approval. The picture will show you what your label will look like.
After you approve the sample we charge your card in full.
Production Time is about 10 working days.
Once the order is ready to ship, we will email you an invoice with the Fedex tracking# on it.
Let's Get Started
If you are thinking about ordering your custom products, just click on the button below, our expert Sales Reps will get back to you within 24 business hours and guide you through every step of the process.