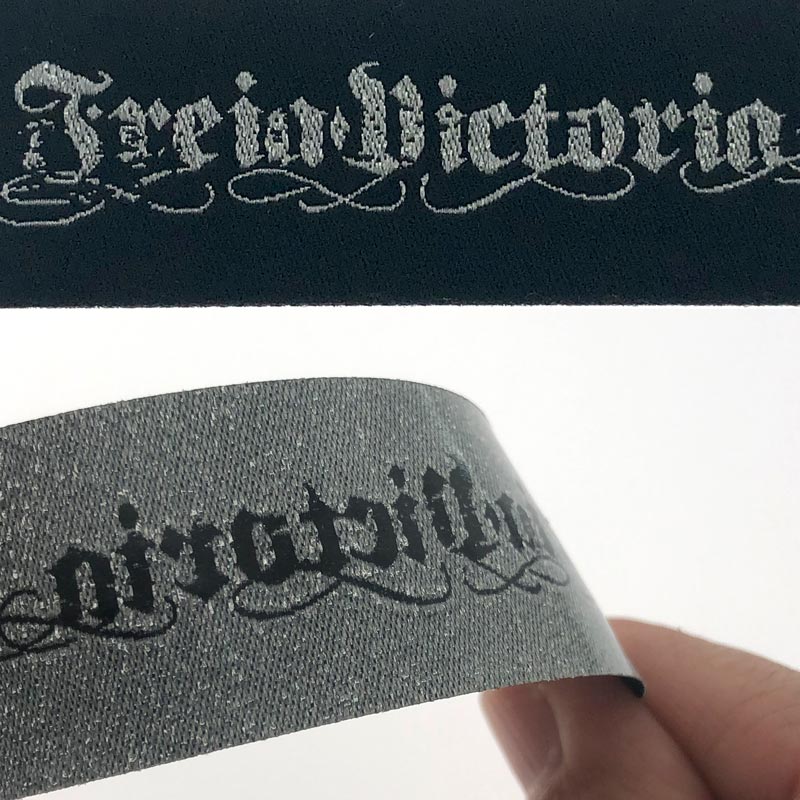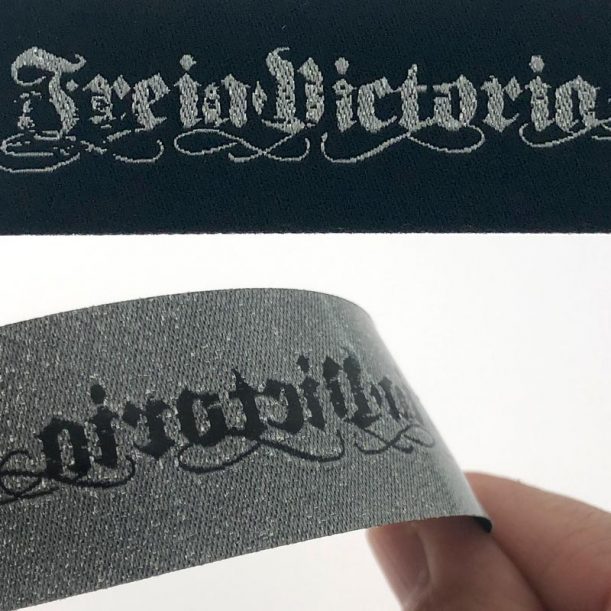 Custom Iron On Clothing Labels!
Iron-on clothing labels are versatile because you can use them on different materials such as cotton or polyester.
You can iron them to the outside of a handmade cotton purse, dress or denim jacket. But if you want to sew them on, you can. The best way is to apply the label on the lowest heat possible so it can soften a little before sewing it on to the desired garment. To make your custom label even more versatile you can order half with iron-on and half without.
Iron-on woven labels are easy to apply, save time because you don't have to sew the label on your product. Sewing the label on can take several minutes where ironing the label can take as little as 10 seconds.
Iron-on labels keep your children's cloths from ending up in the lost and found as school. Permanent marker doesn't always stand up after multiple washings. But a high quality, damask clothing label is fade resistant and durable. All you need to do is iron the label on virtually any garment and your kids' items are taken care of.
Ordering Custom Iron-On Labels is Easy With Us By Your Side.
Our exclusive online ordering system makes it easy to be in control of your order process.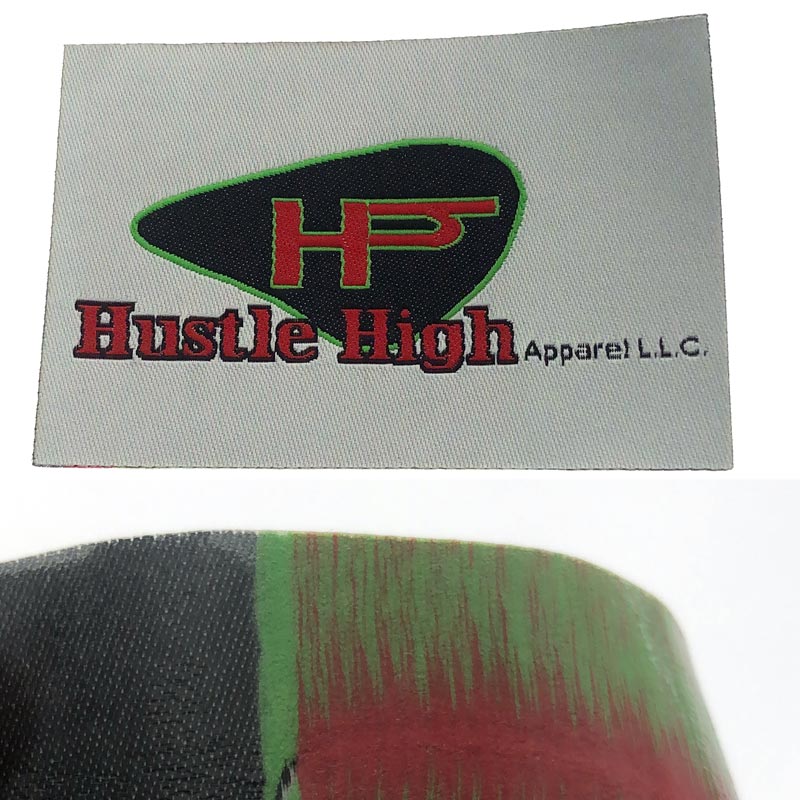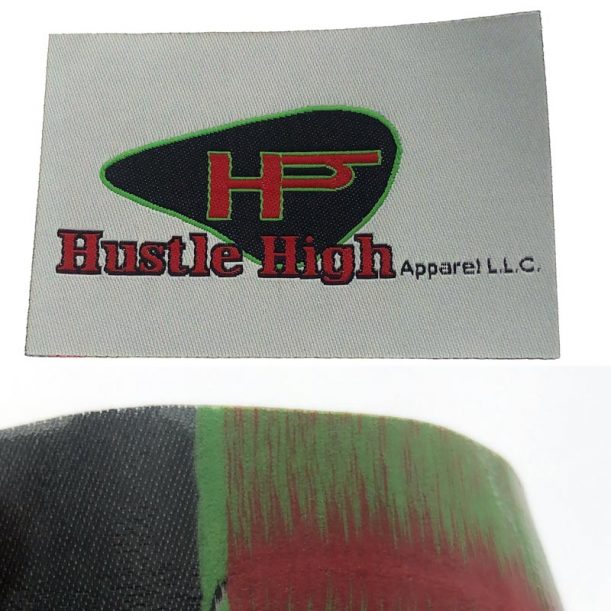 FAQ's
Why to choose Iron on Labels?
Here you have some good reason for choosing iron-on backing for your personalized labels:
– They are super easy to attach to almost any kind of fabric.
– Iron on shirt labels are an smart way to identify your uniforms.
– Iron on fabric labels allow any sort of design.
– You can even choose to display on them family photos in order to organize your family clothes.
– They are an awesome solution for branding: stick them to hats, snapbacks and/or shirts and voilá! there you have your giveaways!
How to apply custom iron on labels for clothing
1. Choose the spot of your garment where you want your custom iron on tags to be.
2. Preheat your Dry Iron for 3 min. Set it at 1 level under the maximum temperature. Avoid using a steam iron.
3. Remove wrinkles by ironing first the area where you plan to attach your labels.
4. Peel out the paper at the rear of your ironon labels
5. Place the label with the design facing up.
6. Warning: do not apply the iron directly to the label, use a household parchment, parchment paper or wax paper instead to protect the label and iron over it.
7. Press firmly for 12 to 15 seconds.
8. Put your iron aside, and check if the label is stick on clothing. If not repeat step 5 to 8.
Where to store Iron on custom labels?
In a dry place, away from humidity, heat and sunlight.
Are Iron on garment labels permanent?
When attached properly they can certainly last a life time. Be sure to stick to the following instructions after iron them on:
– Wait 24 hours before first wash.
– Wash the garment inside out.
– Avoid using hot water at the washing machine.
– Do not dry clean.
– No chlorine bleach.
– Hang to dry (avoid usign a dryer machine)
How to order Iron on custom clothing labels?
1. Fill out our simple form
2. Approve quote via e-mail
3. Approve or correct artwork and then the sample via e-mail (we won't go into full production until you be happy with the outcome).
4. Receive your order at home via Fedex. We will deliver in a timely manner.
Clothing labels customer reviews
Iron-on Labels


5 out of 5 stars

02/18/2020

"We had a very nice experience with Rosana helping us design and facilitate our label order from start to finish. We are very happy with the font, size, colors and stickiness of the label. We will be ordering with you again. Thank you Jennifer"

Private Customer

Printed Labels


5 out of 5 stars

12/10/2019

"Quality work, good turn-around"

Minna White

Woven Labels


5 out of 5 stars

09/25/2019

"I want to give you 5 stars and this: Tags are great, just what I was expecting and a great value!!"

Michael Dallmer
Iron on Damask Labels


5 out of 5 stars

08/14/2019

"Rosana was extremely helpful and worked with us to create a beautiful label for our custom designed furniture."

Jamie Pack

Damask Woven Labels


5 out of 5 stars

07/30/2019

"My order turned out exactly how I wanted it."

Claire Ching

Woven Labels


5 out of 5 stars

07/10/2019

"t is very easy to reorder my labels on my own schedule. I realize I am most likely a small account within this company, however, with my information on file reordering is very simple. Just 2 emails and they showed up within a week."

Tryon Palace Council
Let's Get Started
If you are thinking about ordering your custom labels, just click on the button below, our expert Sales Reps will get back to you within 24 business hours and guide you through every step of the process.