Custom Money Clips
We sell wholesale High Quality Custom Money Clips engraved with your logo, name, initials, special date, monogram, badge, shield or just with a personal message. Our personalized Money Clips or wallets are ideal as giftaways or souvenirs for weddings, special events or as a part of your marketing campaign.
Money Clips Design Options
We offer a variety of finishes and materials for your Custom Money Clips.
Stainless Steel Printed Money Clips
First design option is to print your logo on just one side of your personalized money clips.
Hard Enamel Money Clip
These kind of money clips are made with recessed areas and color filled.
Stainless Steel 2 sides Printed Money Clips
Take advantage of the hole canvas adding more information at the back like your website URL or a phone number.
Silver Stainless steel + die struck soft enamel Money Clip
For a more tridimensional look we offer die struck soft enamel which allows embossed and debossed areas.
Gold Stainless Steel Custom Shaped Logo Money Clip
You can also choose to make your personalized money clips adapted to your logos shape giving it a unique look!
Custom Police Badge Money Clip
Adding your police badge to a money clip is a great idea to reward your officer's outstanding performance.
Advantages of Working with Us
Why usign Custom Money Clips?
Our money clips are the highest quality. They are guaranteed to outlast the money you put in them. Sienna Pacific only offers the best, but it's not all about the superior quality you get with these fashionable personalized items. It's about having something branded with your company's information. The range of options goes as far as your imagination.
Your potential customers will love a custom money clip. Having a money clip keeps your cash more secure, it's more stylish, and they're a lot less hulking than most wallets. They also make a perfect gifts for corporate events and corporate appreciation programs.
We can create a complete personalized money clip with your logo, or add a lapel pin style clip to one of our custom clip attachments.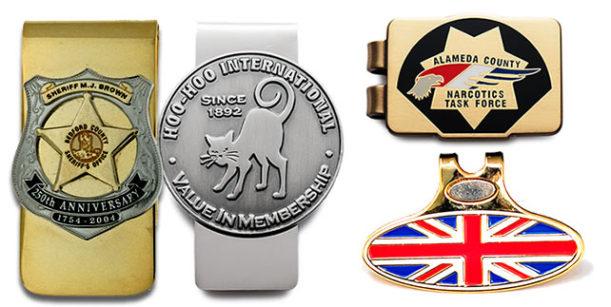 Custom Logo Money CLip – A Great Promotional Item!
What a great way to show the loyalty of your group members than to carry a Money Clip with your Company Logo.
Give them as gifts to reward their loyalty, or to commemorate a special occasion, they will increase your brand recognition and exposure.
Choose from a classic or a contemporary look, make them in silver, gold or bronze.
Or maybe that antique look that gives them that sophisticated look. They will be very well received.
Let's Get Started
If you are thinking about ordering your Custom Money Clips, just fill out our simple quote request form, our expert Sales Reps will get back to you within 24 business hours and guide you through every step of the process.