If you're like me, you probably have a few enamel pins that you really love but don't quite know how to style them. Luckily, there are lots of ways to wear pins and show them off. In this blog post, I'll share 15 of my favorite pin placements. Whether you're looking for a subtle way to show off your personality or want to make a statement, there's sure to be a placement that's perfect for you. So grab your pins and let's get started!
What to do with Enamel Pins? – Discover the Top 15 Pin Placements to wear them!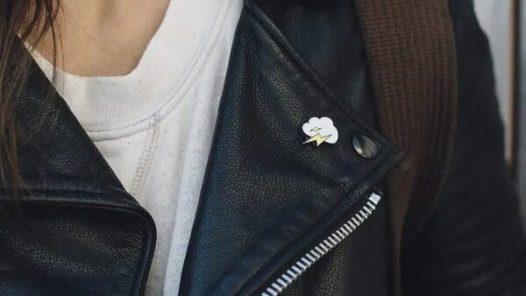 On a jacket – denim, leather
Enamel pins are a great way to add some personality and flair to your favorite jackets! For denim or leather, they can be placed anywhere – whether you want to make a classic statement at the lapel of your jacket or go for something a little more creative elsewhere, you can't go wrong with an enamel pin. Adding an unique touch to the right spot on your jacket will make all the difference. Experiment with different colors, designs, and placements – there's no rule that every jacket pinned has to look the same! Have fun and express yourself.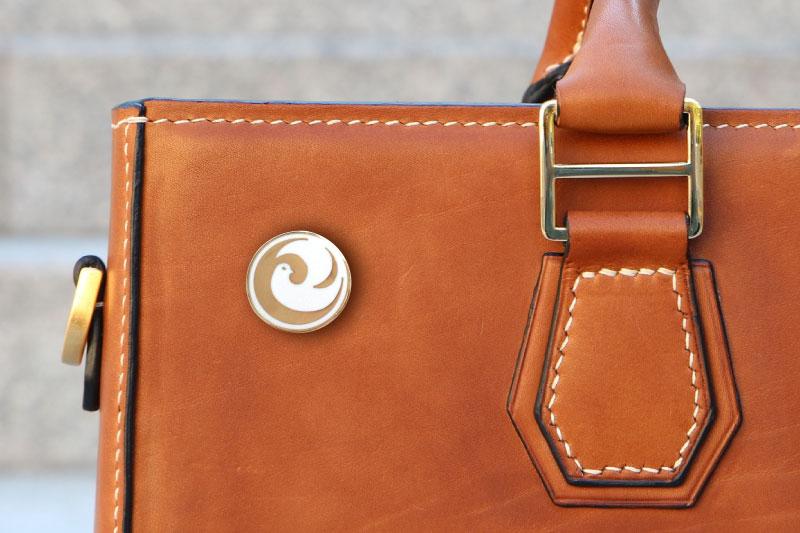 On a purse or handbag
Adding an enamel pin to your handbag is a smart way of showcasing your personal style while giving life to a plain bag. Whether it's a printed fabric, leather, or something more luxurious, an enamel pin can be pinned onto any style handbag in a variety of shapes and sizes. Placement tips include near handles, seams or pockets so the pin stands out nicely against the bag's backdrop.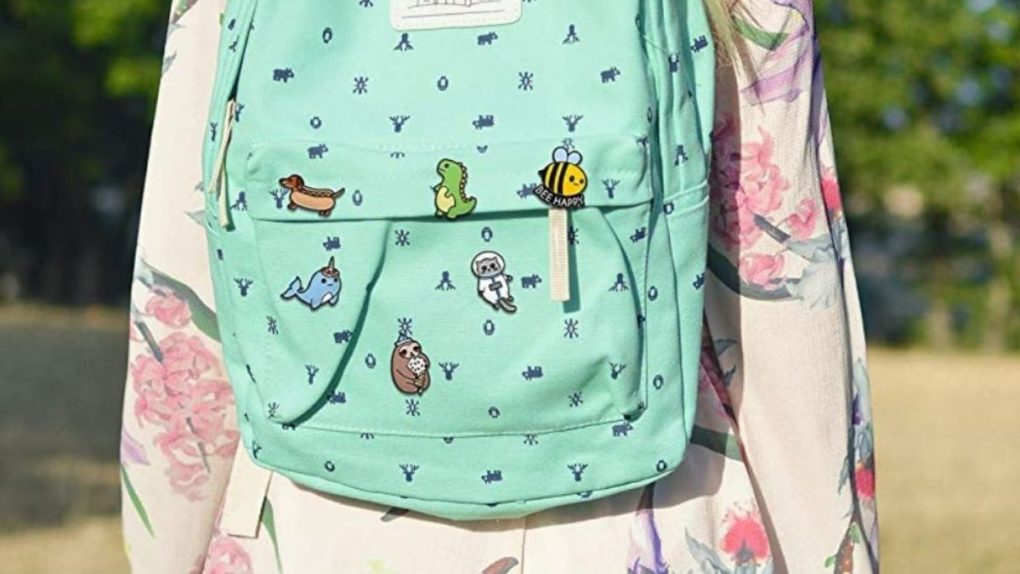 On a backpack
When placing your pin on a backpack there are some key areas to focus on that will make all the difference. Try placing them along the zipper line or at the edge of the flap, this will give off a nice touch both when your bag is open and closed. Additionally, making sure they are placed in areas which don't interfere with any straps or pockets will give it an added sleek look.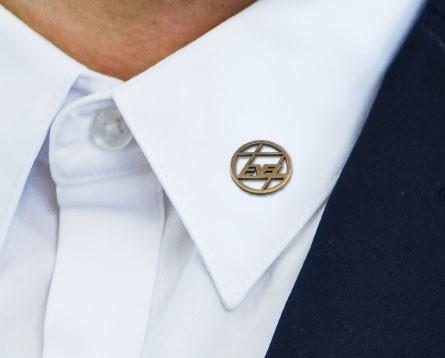 Pins on Shirt collar
Collar pins provide a sophisticated focal point, while adding texture and color – sure to catch the eye of any visitor. To make an even bolder statement, pair two different colors or patterns of pins on each side of the collar for maximum impact. When using your creativity with collar pins, like with all accessories, less is often more – having too many alternate colors and designs may look tacky in the long run.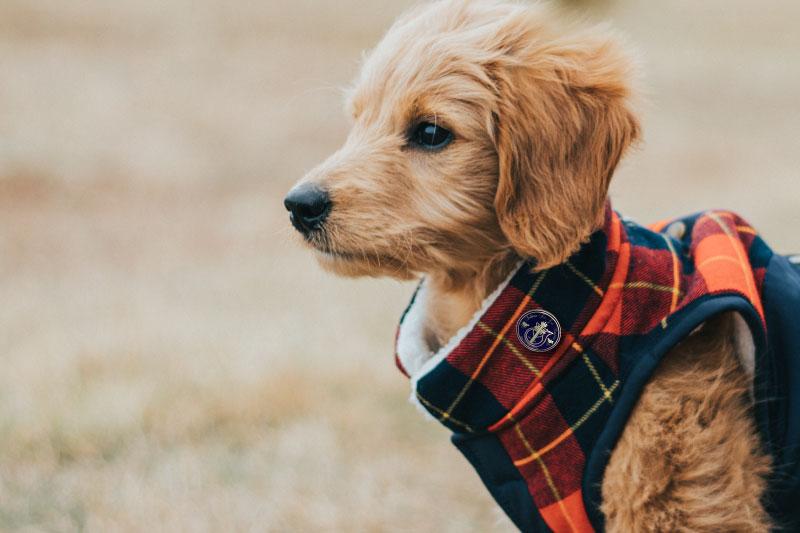 On Pet clothing
Show your love for animals with pet clothing accessorized with enamel pins! The possibilities are endless when you secure pins to a collar, leash, or other pet clothing. With so many fun choices out there, you can express your and your pet's unique style. Whether you choose to go for a subtle monochromatic look or color combination that matches their favorite toy, it's sure to get the attention of fellow pet owners.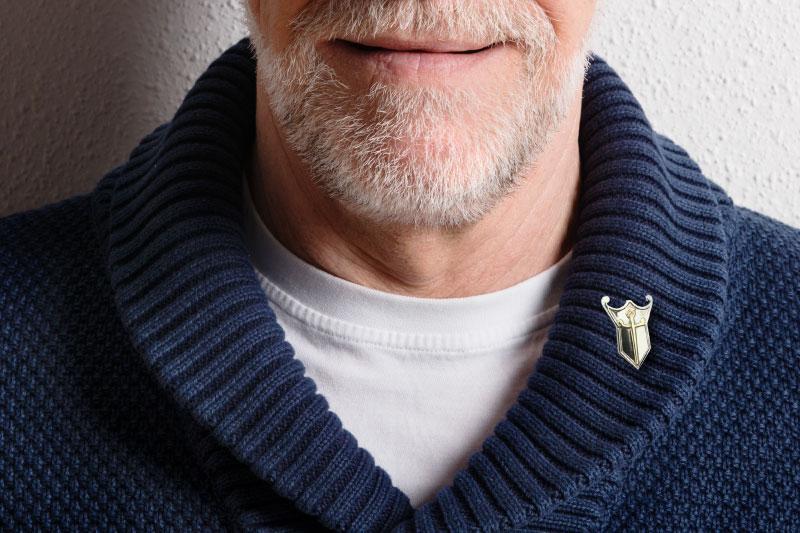 On Sweaters
Wearing enamel pins on a sweater is an excellent way to spruce up an outfit. Pinning multiple pins onto the same sweater is a great way to create a bold ensemble, or you can opt for a more subtle approach by simply wearing one pin. You could also incorporate a mix of colored and metallic pins for an eclectic touch.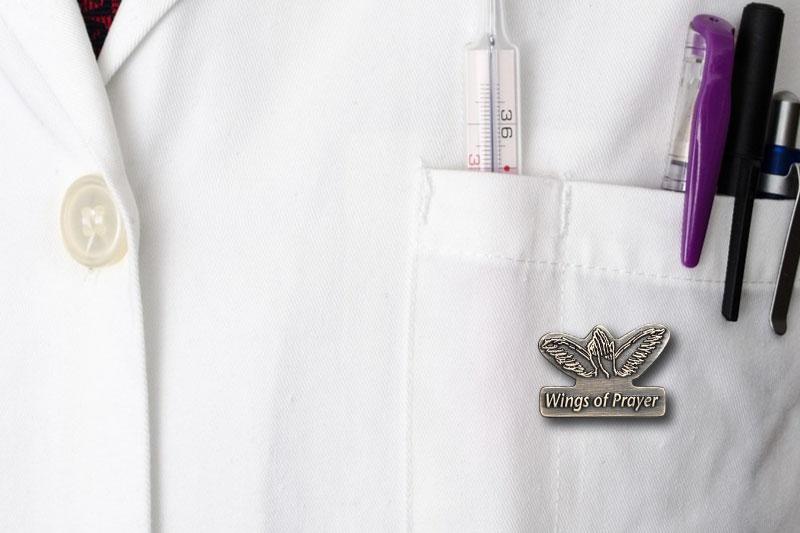 On Lab coats
Wearing pins on lab coats has become increasingly popular in recent years, allowing for greater expression of individual personality. There are numerous variations of placement on lab coats when it comes to wearing enamel pins. You can adorn your collar all the way down the center placket, or keep decoration minimal by placing them on the lapel. The cuffs, pockets and back belt are all fair game as well, leaving many options available to show off your style! Make sure to choose colors that suit your ensemble, as well as whatever message you want to convey visually. With creative styling and strategic pin placement, your lab coat will be one of a kind!
On Suits lapel
Suits are already a sophisticated and stylish statement piece, but by simply adding an enamel pin to your suit lapel you can take it to the next level. Enamel pins can add pop of color, infuse personality and reflect your unique style all while staying subtle and professional. Take into consideration the colors in your suit before picking out your pin; silver, gold and black pins will tend to go well with most suits, as they are more neutral tones that won't clash with the look of your ensemble.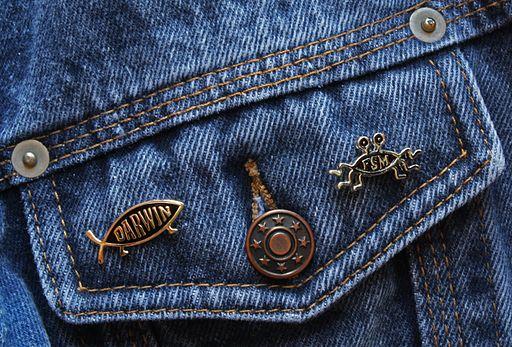 On Jeans
Jeans are one of the most versatile garments in any wardrobe, and they offer a simple and stylish way to show off enamel pins. Whether you want a bit of sparkle to enhance a plain pair of jeans or to add some extra statement pizzazz to a more heavily decorated pair, enamel pins make the perfect accessory. Pin them on the back pocket for an eye-catching design that emphasizes curves and contours, stitch them into various pockets around the jeans, or let your creativity soar with combinations!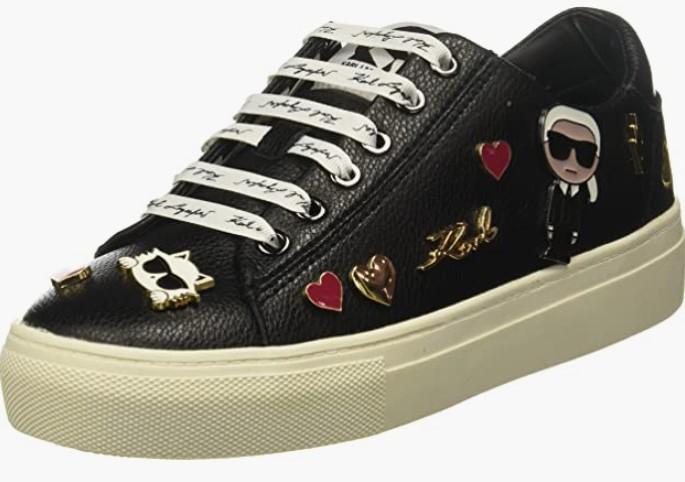 Shoes
Adding an accessory to your shoe is a surefire way to make a statement. Enamel pins are the perfect adornment to incorporate into your look. Add them to slip-on sneakers, or go bold and place them on loafers. The trick is finding the right placement so they stand out. Consider accenting ankle boots, flats, wedges and other styles of shoes with enamel pins! The location will depend on the type of shoe you decide upon, but putting pins on straps and bows can also help draw attention to them. Just make sure not to hide your beautiful accessories!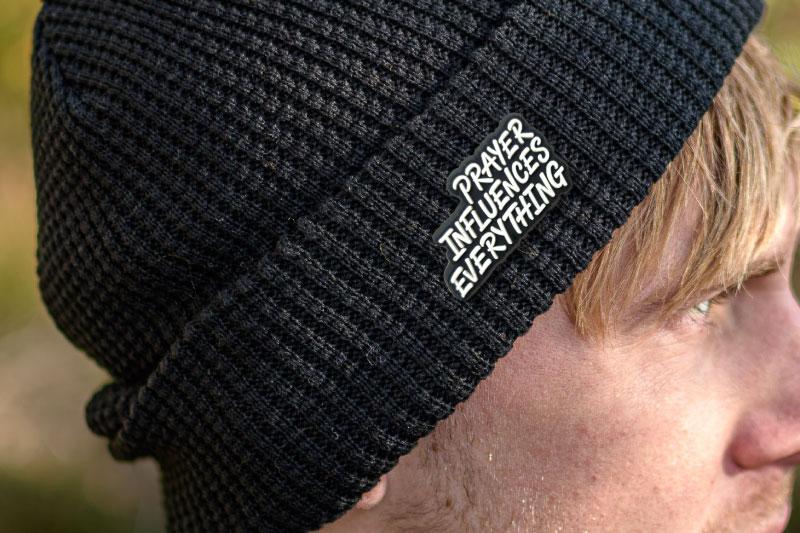 On your Bennies
Placing pins on the brim of your iconic bennie cap can be a great way to make a fashion statement with zero effort. You have the freedom to customize this look in any way you want; choose from cute vintage pins that put a retro 90s twist into your look, cartoon-inspired pins reminiscent of childhood nostalgia, or life-affirming words and images that remind you of special moments throughout the day.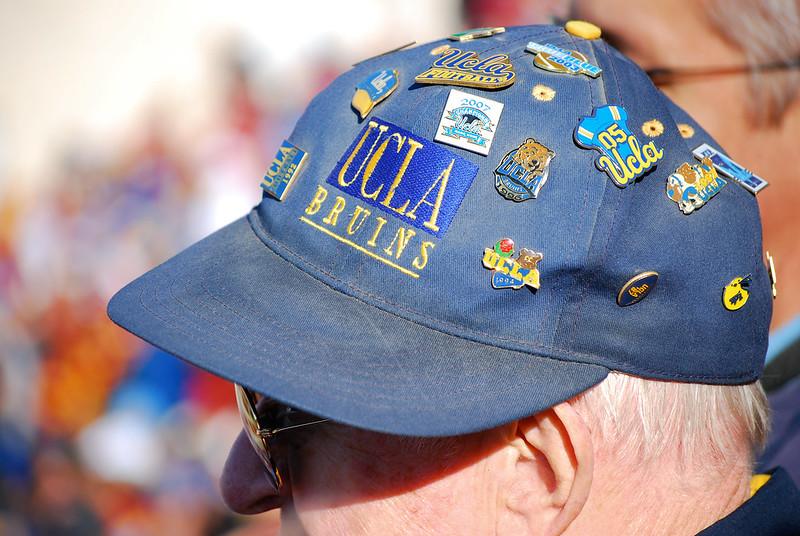 On baseball Caps
Whether you're hitting a sporting event, hanging out with friends or attending a formal ceremony, an enamel pin can help you make a statement. Start by finding a cap that best fits your style and taste – from classic and vintage designs to bold and unique patterns, there's something for everyone. Then choose one (or several) pins that you want to place on the hat – popular locations include the bill of the cap, around the hat band or near the back of the cap.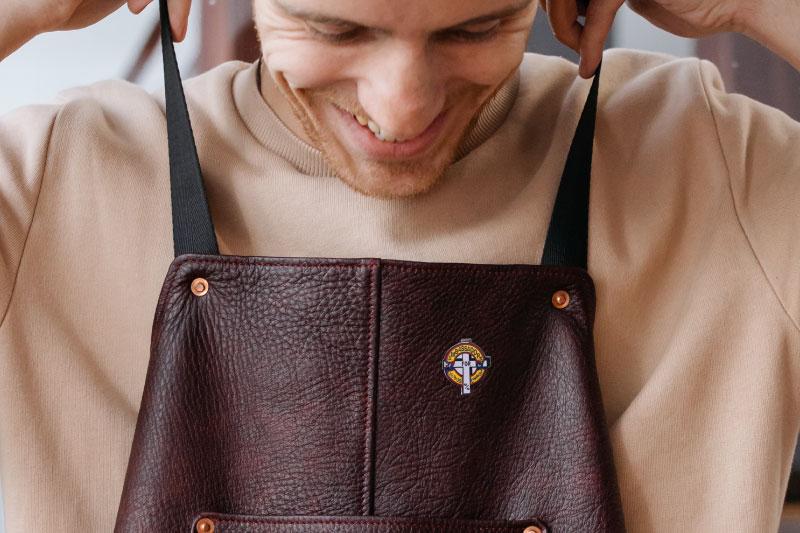 On Aprons
Aprons have made a style comeback in recent years, with their practical yet fashionable features. If you are looking for the perfect way to accessorize your apron, enamel pins are the perfect choice! Whether you choose one statement pin or multiple smaller ones, they instantly elevate any plain apron into an eye-catching look. To show off your favorite pins, there are endless spots you can place them on your apron. Many like to add their pins to the chest pocket of their apron for maximum visibility and impact. While that is certainly a great spot, why not get creative and place them on the straps or pockets down the sides? 
On Uniforms
From classic lab coats to stylish fire-fighter uniforms, there are plenty of apparel options that can be enhanced with a pin. Pin placements on uniforms vary depending on the type of uniform but they can be incorporated by wearing them on the shirt collar, hat or even low on the shoe laces. If you're wearing traditional workwear like a classic suit or tuxedo, you can add subtle detail by sticking a few pins in the lapel area of your jacket and feel confident knowing they will look unique while still staying professional.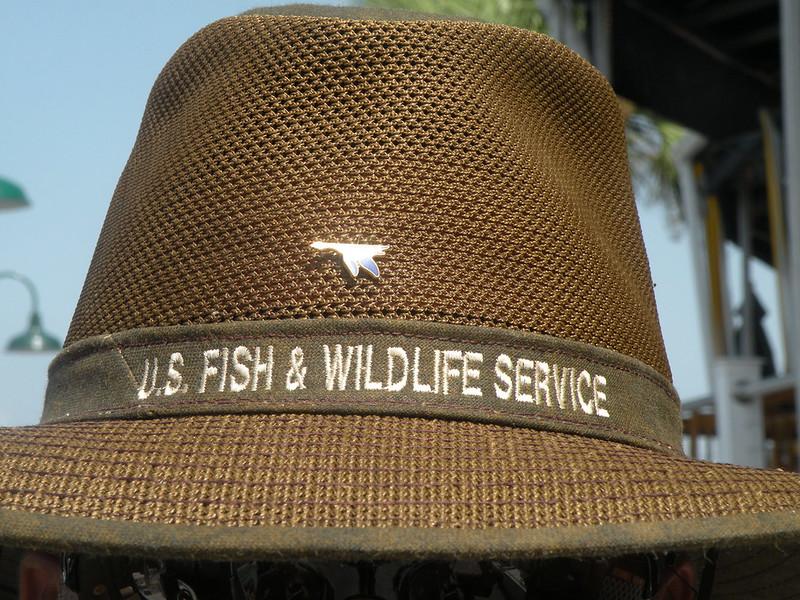 On hats
Have you ever wondered how to jazz up your hat game? Whether it's a classic beanie, a trucker hat, or even a cap with a suit, there are plenty of ways to welcome enamel pins into your wardrobe. Many hats feature the traditional front center placement, but why not pin the brim or work up towards the top? Get creative and bring out your inner runway model by adding some special touches with stylish enamel pins for your favorite hats!
In conclusion, enamel pins bring unique style and personality to any outfit. Wearing them can be a fun and creative way to express yourself. Whether on denim jackets, purses, backpacks, sweaters, or even pet clothing, there are plenty of different places to place a pin that match the vibe of your look. With this list of locations for wearing a pin, you'll have no trouble finding the spots that best fit your mood and complement your overall apparel.