Custom Employee Recognition Pins


Employee recognition is an area where almost every forward looking company has ventured into.
Some small companies think that they can't afford an employee recognition award program because of a high cost. (Usually as special bonuses or incentives).
However, there are much easier and less expensive ways to keep your employees happy, one of these is using employee recognition pins from Linx Corporation.
All you need to create amazing award pins for your employees is to send us your logo and a sketch of your idea. After that, we'll take over.
Custom Employee Recognition Lapel Pins Are Easy With Sienna Pacific
Our exclusive online ordering system makes it easy to be in control of your order process. You call the shots!
Award Pins To Celebrate Excellence Within Your Organization
Experienced managers and business owners understand the importance of recognizing well deserving employees.
For example, An employee that feels appreciated and who is acknowledged by his or her employer is more likely to continue working at a high level. 
Award pins and employee recognition pins are great for this purpose.
Above all, they provide a tangible representation of an employer's appreciation for an employee.
Lapel pins can come in a variety of styles and designs and they can be customized to your specifications. Below, we will review some of the most popular.
For Recognition Programs
Award pins and employee pins are little in size but big on impact.
Employees are often proud to be the recipient of these types of pins. Just about everyone loves to be recognized for their hard work and effort.
Companies that give them away also benefit. As a result, employees who feel appreciated and acknowledged tend to work harder and are happier at work.
Businesses will find that a little investment can go a long way.  The cost of these custom made lapel pins can pay off in a big way, mostly in employee morale.
A happy employee is a productive employee.
Our Ordering Process – From Start To Finish

1 Quote Request. Submit your project's details. Make sure to include your logo, quantity, size needed.
2 Approve. Review & Approve Artwork Proof and Price Quote.
3 Confirm. Billing, Shipping Information & Pre-Production Sample.
4 Order. Final order submitted for production.
Why Should You Have An Employee Recognition Program?
Just as good as a pat in the back can be, having an employee recognition program will work much better, as appreciation is fundamental for us human beings.
People want to be respected and feel appreciated, their contributions valued for the effort they put into accomplishing them.
Employee recognition can:
Create a greater employee satisfaction, which will make your employees spend more time being productive instead of combative and complainers.
Increase individual and team productivity, the more appreciated they feel, the better they will work to received more appreciation.
Improve communication, by letting individuals and teams know how can they do their job better.
Enhanced team work cohesion, as a result they will help each others, as their performance as a team will reflect on each one of them.
Increase employee retention, a happy and productive employee is a keeper. Therefore you will spend less time finding and training new employees.
How To Use Lapel Pins To Make Your Employees Feel Valued and Motivated?
Create a special event to celebrate the occasion. Public praise is a known motivator, it will increase their value among their peers.
The event can celebrate employee's continued service with a special years of service lapel pin as well as other performance achievements such as service, performance, safety and productivity rewards, all in the form of lapel pins that will convey a clear message to everyone who sees them: I am a valued employee!.
You can create custom employee recognition pins for:
Employee of the month
Sales or Milestones Awards
Years of Service Awards
Excellence in Customer Service
Employee Recognition Pins – 3 Tips That Will Guarantee Your Success
Nowadays, most company award and employee recognition programs include lapel pins. Many businesses, from small to mid-size companies all the way up to corporate organizations use lapel pins as a tool for recognizing their employees.
All of your employees, from administrative and sales personnel and managers and CEOs, will proudly wear their recognition pins on their suits and jackets.
There are several different design options from which to choose when creating your recognition lapel pins. The specific details of the recognition program for your company should be analyzed in order to determine what type of pin will best suit you.
You should be sure to consider the number of recognition awards, frequency of the awards, the general layout of your logo, the practicality of your pin and your company's budget.
Size
The usual size for a recognition lapel pins is somewhere in between 3/4″ to 1″. Anything bigger than this will make the pin look 'funny' in someone's suit or jacket.
Finish
Using different platings, engraving, or gemstones to symbolize the levels of achievement adds an extra element of appreciation and results in an elegant-looking pin.
Choosing a plating finish is based primarily on what feeling you want the pin to convey. Certainly, some logos lend themselves well to using metal plating colors (silver, gold, etc) in the place of the actual logo colors.
Layout & Design
There are several different possible combinations for your design and its results will depend on both the designer and the freedom to adjust the needs of the client (logo, colors, etc) to the general lapel pin manufacturing process.
The degree of success of your recognition pins will be determined by the right combination of the factors. It is, therefore, very important that you use an experienced recognition and award pins manufacturer that will effectively asses your needs and provide you with the best product that your budget can buy.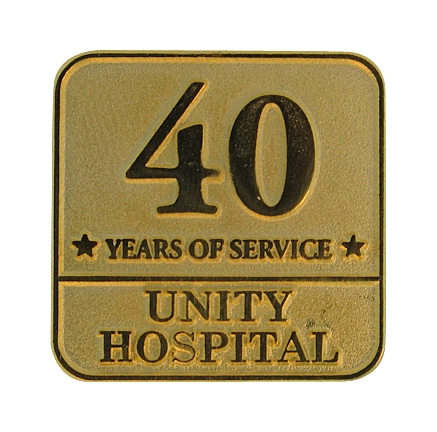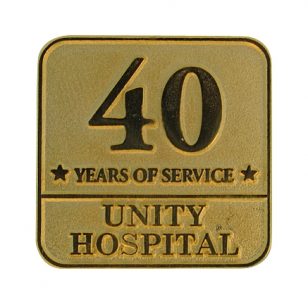 Years of Service Pins for Unity Hospital
Just as the end of the year approaches, organizations big and small like to show appreciation for their employees in various ways.
"Years of service pins" is a very popular one, as it usually involves public demonstration and pinning ceremony, which is always very appealing to those receiving them.
This time it was Unity's Hospital's turn and the result was just great.
When using lapel pins in award and recognition programs, it is very common to create different versions of the lapel pin that will represent the different levels of accomplishment being recognized.
Unity Hospital's human resources team put a lot of thought and care on the design and execution of their employee recognition pins.
As a result, their employees got to know how much they care about their recognition program.
Let's Get Started
If you are thinking about ordering your custom lapel pins, just click on the button below, our expert Sales Reps will get back to you within 24 business hours and guide you through every step of the process.