Custom Magnetic Lapel Pins
Custom Magnetic Lapel Pins offer a smart attaching solution that won't put in risk or compromise your clothes, avoiding holes and any other pin related hazard.
These Promotional Iron Pins are cost effective and work well for larger orders, as giveaways at trade shows or business conferences.
For thicker type of garment as leather or denim jackets we recommend you to request a double magnet backing for ensure your enamel or die struck lapel pins remain tightly attached in place.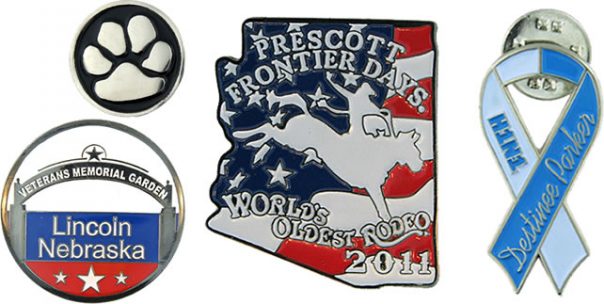 Why Some People Prefer Lapel Pins with Magnetic Backs?
We all love lapel pins, but not all of us want to have to pin thru our nice clothes risking leaving a mark and ruining them. But we don't have to. By making your pin in the promotional iron material and replacing the tradition pin back with a magnet, you can position your pin wherever you want without poking any holes. Winning!
Need Custom Magnetic Lapel Pins?
Because of the metal used this product can be used with magnets allowing for versatility.
The unique magnetic qualities of lapel pins made using iron is by far the major advantage of using them.
When you are looking to create custom magnetic lapel pins for your promotion, or you need lapel pins that will stick to your golf ball markers, hats, or pivots, the best option is no other than a lapel pin made with an iron-based material.
A thin coat of epoxy is included to give it a high quality look at a budget price. Our pin magnets are strong.
It's easier with US by your side!
We are a US based custom lapel pins and promotional product supplier with more than 15 years pleasing customers inside and outside the country.
Customer Reviews
Magnetic Lapel Pins


5 out of 5 stars

08/30/2019

"My experience with Linx was excellent because my Sales Person was a true professional and his customer service was off the chart, to say the least."

Magnetic Lapel Pin


5 out of 5 stars

07/10/2018

"LINX Corporation was extremely easy to work with. From the moment I expressed interest in working with this company, Dan Greenberg took care of everything I needed. Communication was efficient and Dan reassured me that my order would be exactly what I wanted or they would fix it until it was right. The order was delivered in a timely manner, right on schedule. The finished product turned out perfectly."

Custom Magnetic Pin


5 out of 5 stars

03/07/2017

"Dan provided us ample information and guidance and we truly appreciate all he has done for our agency. After several weeks of researching a company to provide us our pins, I located Dan and he was able to provide us exactly what we were looking for at a much lower price than our previous vendor. Dan you're the MAN! Thank you! :)"
Let's get your Magnetic Lapel Pins Supplied!
Here you have some of the advantages of choosing us as your next lapel pins provider.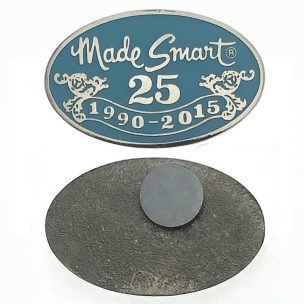 3 Step Ordering Process
1. Request a Freee Quote
First of all what you need to do is to fill a simple web form explaining what you want. Make sure you let us know the amount of magnetic pins you want and to upload an art-design. If you don't have one yet don't worry, just tell us what you are looking for and upload some images to better convey your design ideas. We will send you a price quote via email within 24 h.
2. Approve Samples
After approving your quote and having check out your payment method we will start working on your artwork, we will send you a design sample within 2 business days for you to check, correct or approve. Once you be happy with the art design we will start making a first version of your real pin (factory proof) which we will send you via email for you to check, correct or approve. Afterwards we will enter into the full production process.
3. Get Your Custom Products
Production time can vary regarding the type of order and aspects such as materials, quantity, and the complexity of the overall design. However we estimate the turnaround time in 3-4 weeks after the artwork sample approval. We will deliver the entire order via Fedex along with the packaging you have selected. Learn more about your design options at How to make enamel pins that sell.