Custom Printed Lapel Pins


Printed Lapel Pins are a great choice for complex designs.
If your design has gradients or detail that just can not be made with another process then then an offset printed or screen printed lapel pin is for you. All custom printed lapel pins are coated with thin epoxy.
We can also screen-print on hard enamel for a classy look!
Ordering Custom Printed Pins Is Easy With Sienna Pacific
Our exclusive online ordering system makes it easy to be in control of your order process. You call the shots!
Common Questions About Printed Pins
WHAT MATERIALS DO YOU USE FOR PRINTED PINS?
For silkscreen and 4-color CMYK process we use an aluminum, or stainless steel material with a bronze, or nickel plating. Your design is printed directly onto the metal and an epoxy coating is placed on top of the pin in order to protect it from fading.
HOW DO I KNOW IF I NEED A SILKSCREEN OR A 4-COLOR CMYK PROCESS?
Silkscreen work well for designs with solid colors and not a lot of details.
4-Color CMKY printing is used for designs with photographs, gradients or tiny details.
HOW LONG DOES IT TAKE TO GET MY PRINTED PINS MADE?
Printed pins are one of the fastest pins we can produce for you. How fast can be made will depend somewhat on the complexity of the design: a custom shaped, silk-screen pin can be made in 10 working days (or even less).
WHAT TYPE OF ART FILE DO I NEED TO SUPPLY TO YOU?
As with any other custom product, the better the quality of the original designs, the better the product will turn out.
We accept image files (JPG, PNG, PSD) or vector files (AI, CDR). For bitmap files, we recommend sending files at 300dpi at actual size.
If you have your logo on a bitmap version and want to add some text, we can do it for you.
ANY LIMITATIONS ON SIZE, OR NUMBER OF COLORS?
There is almost no limit to the size of a printed pin. There is no limit on the number of colors that can be accomplished with a CMYK pin, but the setup price of silk-screening pins do increase with the number of colors.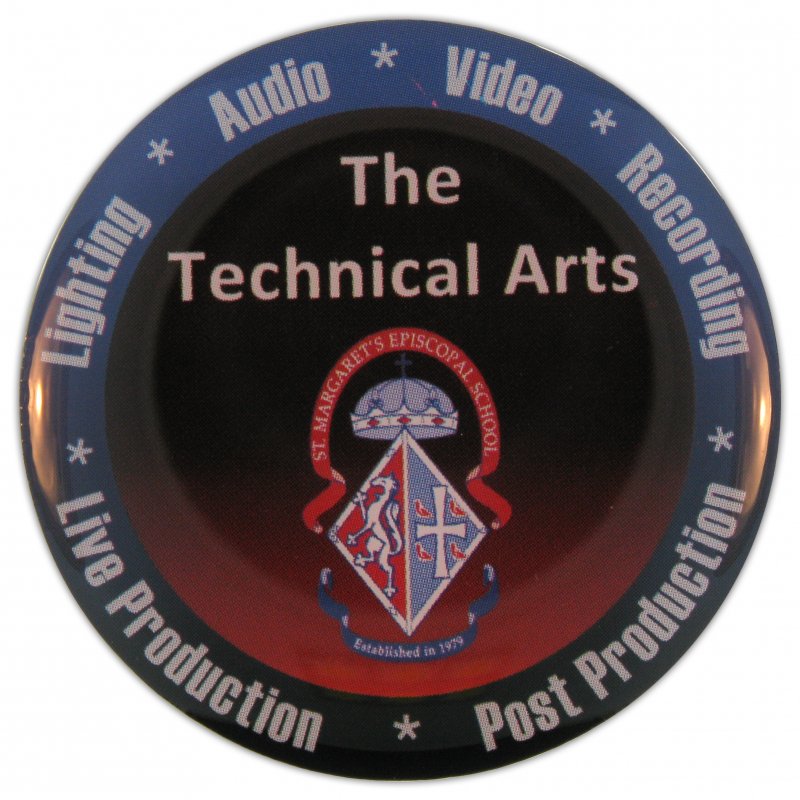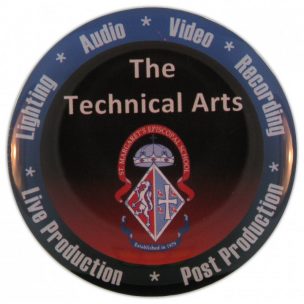 Printed Lapel Pins – Technical Arts
Product: Lapel Pins
Style: Offset Printed
Size: 1.25in
Backing: Military Clutch
We really like these printed lapel pins, because they show many of the reasons why someone would use a printed lapel pin instead of a die-struck one:
1. Gradients: both the outer rim and the center have gradients, which is a no go for a die struck pin
2.White text on blue background: Die-struck pins are color-filled, in the same way a child's coloring book works – colors are separated from each other by using black (for pins it would be metal) outlines.
3. Very small detail: the amount of details that can be accomplished by die-struck pins are limited by the malleability of the metal used, which is usually a minimum of 0.5 pt., and for a printed pin, it is almost infinite.
The shine you see in this lapel pin is due to the epoxy coating, a thin layer of epoxy is used to protect the colors from fading.
The appropriate pin for your project is most time depending on how much we can maneuver your design, as most designs start with a printing conception which is then transformed in a die-struck appropriate one.
When in doubt, just ask!