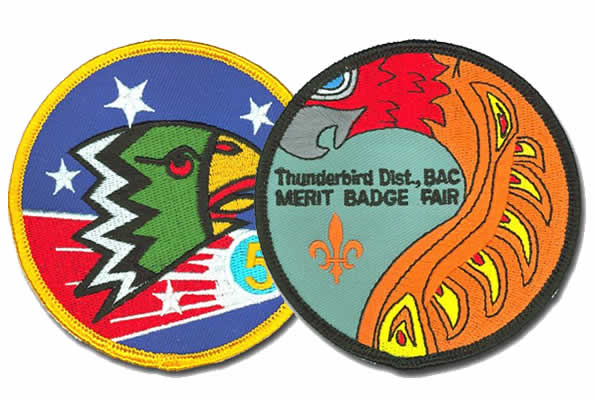 Custom Scout Patches
We have created custom patches for boys and girls scouts all around the United States.
Our custom made scout patches are high quality and cost-affective as no other.
Sienna Pacific is a US based custom products manufacturer and cub scout patches suppliers with more than 15 years of experience.
Just send us your design or sketch and we will work with you until you are satisfied with the look of your patch design.
Amazing Custom Scout Patches for Boys and Girls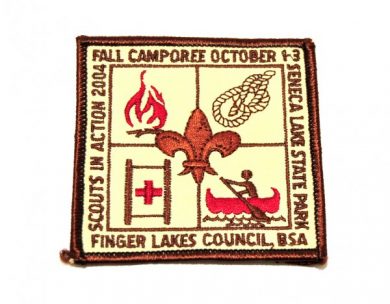 ---
Scout Patches Case Study

When we made the Pike's Peak Patch we started from a simple hand drawn sketch for art: the customer was interested in creating an embroidered patch but did not have any art file to use.
Our art department was able to work with this customer by digitally tracing the sketch and offering professional advice for an ideal size to include as much detail as possible.
From our digital art proof we created an actual embroidered patch all from 100% polyester threads.
On the final embroidered patch there was little to no detail lost during this process and we were able to capture everything they wanted.
Backing options
Here you will find tutorials and more about how to attach patches

Iron on scout patches
Iron on boy scout patches are super easy to attach without sewing. Even if you are willing to sew on your patches this type of backing will help you a lot to fix it to the place you want them to be before sewing.
Velcro Scout Patches
Nothing like a velcro patch to easily attach and remove patches on scout uniforms without tyhe need of iron or needle. But make no mistake, you do have to attach the backing first to the garment.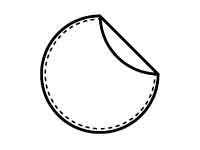 Plain backing
If you don't want to sew them on you can use fabric glue or the so called Badge Magic films.
To sew on the patches is quite easy. You can do it by hand or using a sewing machine.
Customers reviews
PVC Patches


5 out of 5 stars

09/09/2019

"My experience with LINX was outstanding. The entire process was much quicker than I expected and very easy. Even when there was a technical issue with the online approval process (the "approve art" link was not properly relaying back) the issue was quickly addressed and fixed. My team and I are very happy with how the final product come out."

Embroidered Patches


5 out of 5 stars

07/02/2019

"Friendly Customer service, prompt replies to emails, fast production turnaround, and excellent product quality."

Embroidered Patches


5 out of 5 stars

08/14/2018

"Product produced was great and of good quality. Communication could be a little better but overall it was good. Production time was excellent."
Ordering Custom Made Patches is Easy With Us By Your Side
Our exclusive online ordering system makes it easy to be in control of your order process. You call the shots!
Let's Get Started
If you are thinking about ordering your custom products, just click on the button below, our expert Sales Reps will get back to you within 24 business hours and guide you through every step of the process.