Custom Soccer Patches for your Team or Club
Find here the best deal for Top Quality Custom Soccer Patches. We are a US based patches manufacturer and supplier.
Show off your team spirit and maximize your identity! Let everyone know you are the best in your division or that you won that recent tournament.
Soccer Patches Features
Our patches can be sewn and/or ironed on to jerseys, shorts, jackets, hats, bags, and backpacks.
Backing options: plain, iron on, hook and loop, self-adhesive
Design options: Request them in any color, size and shape.
Type: Choose among embroidered, woven or PVC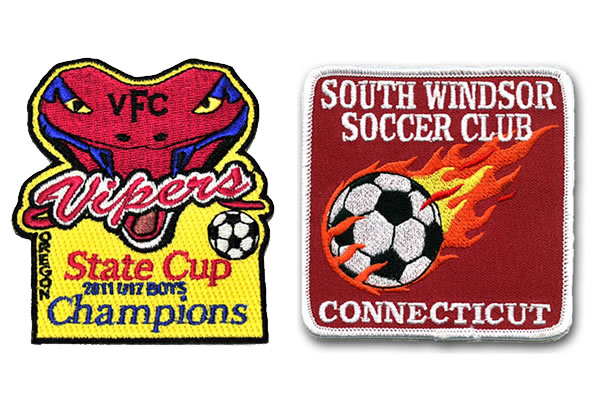 Ordering Custom Made Soccer Patches is Easy With Us By Your Side
Our exclusive online ordering system makes it easy to be in control of your order process. You call the shots!
Soccer Patches Gallery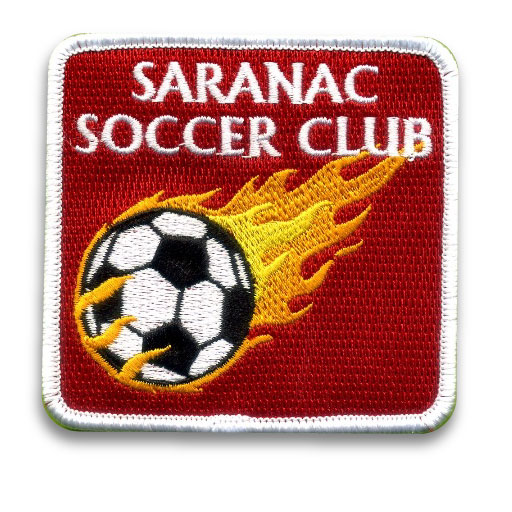 Looking For Soccer Team Patches?
No other sport in the world has the biggest diversity of fans than Soccer. Why not show off your team spirit and maximize your identity! Let everyone know you are the best in your division or that you won that recent tournament.
Whether you are looking for a smaller sized shoulder patch or a larger crest for the front of your team jersey. Our patches come in a variety of shapes as well, so you can be confident that the patch you design will best compliment the look of your uniforms.
We are happy to help you create your own custom soccer team patches for a school team, tournament and or fundraiser.
Pricing Your Soccer Patches
We have a very low minimum of 50 patches. There is a $35 setup charge for orders of 50 or less. Order 100 or more and there is no setup charge. All artwork and shipping is free! If you want iron on patches, add an additional 10 cents per patch. Please contact us on pricing for special threads and very small or very large patch sizes.
SAMPLE PRICING FOR 3″ EMBROIDERED PATCH – 100% COVERAGE
Embroidered Team Patches
St Louis Blaze Soccer Club (Comparing Embroidered vs PVC Patches). They are 100% Coverage and Laser Cut to Custom Shape.
We think it turned out amazing: Great Colors and Design + Excellent Quality = Stunning Embroidered Patch.
If you like what you are looking at, and would like to make your own custom embroidered patch for your Soccer Team, visit this page. 🙂
50 Patches $168.00 + $35.00 (Setup) = $203.00
66 Patches ( 3 Patches at $11.67 per Player) $221.76 + $35.00 (Setup) = $256.76
110 Patches ( 5 Patches at $ 9.20 per Player) $202.40 << Best Value
220 Patches (10 Patches at $18.40 per Player) $404.80
308 Patches (14 Patches at $16.60 per Player) $366.52
Let's Get Started
If you are thinking about ordering your custom patches, just click on the button below, our expert Sales Reps will get back to you within 24 business hours and guide you through every step of the process.


What Do You Need To Know About Ordering Custom Sports Patches?
Our Ordering Process
1 Quote Request. Submit your project's details: your logo, quantity, size needed.
2 Approve. Review & Approve Artwork Proof and Price Quote.
3 Confirm. Billing, Shipping Information & Pre-Production Sample.
4 Order. Final order submitted for production.
Customer Reviews
4.8/5 – Based on 1102 Reviews
Embroidered Patches


5 out of 5 stars

03/16/2022

"Great product and awesome customer service. They have swift replies and kept an open line of communication at all times."

Embroidered Patch 100% coverage


5 out of 5 stars

05/10/2022

"Belinda made the process so easy. Great communication. Great product with incredible detailed stitching. Would definitely be a returning customer."

Embroidered Patches


5 out of 5 stars

02/10/2022

"Linx Corp. delivers consistently high quality products in a timely manner. Restocking our files even after sevearl years between orders. Representatives are professional and responsive. Great company to do business with."
Woven Patch


5 out of 5 stars

02/17/2022

"LINX customer service is great. They are quick to respond to questions and very supportive. The ordering process is easy and I appreciate being able to view the proof of the product before it goes into production. We enjoy using LINX for all our label needs!"

Woven Labels - Damask 100% Polyester Threads


5 out of 5 stars

02/11/2022

"Very efficient and accurate business. Beautiful high quality tags."

Woven Patch


5 out of 5 stars

01/20/2022

"Was very happy with the turn around time to us. Very pleased thank you."
PVC Patch 2D Design


5 out of 5 stars

01/25/2022

"Great experience, great finished product."

PVC Patch 3D Design


5 out of 5 stars

12/14/2021

"I absolutely love Linx Corp. They have been professionals throughout the design and manufacturing process. Every project I have thrown at them has resulted in a quality pvc patch. I will continue to do business with Linx. Give them a try and see for yourself."

PVC Patch


5 out of 5 stars

12/07/2021

"Absolutely phenomenal product. From the initial inquiry, to the designing process, production process, and delivery, A1 satisfaction! Easy five stars. I would recommend this product for any company."
Advantages of Working with Us