Custom Morale Patches
Custom Morale Patches are made to showcase and encourage attitude, spirit, pride and honor. They are part of traditional military patches, along with name tapes, ranks, combat awards, or the ones used to identify units. Nowadays the use of morale patches has been extended to other fields: sports, education, brotherhoods and a longer list.
We offer fully customizable PVC, Woven or Embroidered Patches. Additionally you can choose among a number of backing options such as velcro, stick on or iron on patches (this last is only available for the fabric ones).
Custom Morale Patches US based Manufacturer & Supplier
Sienna Pacific is a reliable custom products manufacturers and suppliers which offices are located in Carlsbad, California. We have more than 15 years now providing High Quality Patches for the military, law enforcement agencies, EMS companies, private security services and individuals as well. While some other competitors specialize in embroidered or PVC, we offer all kind of morale patches instead.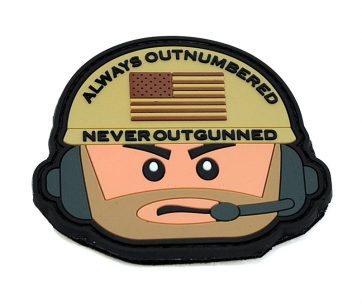 Design Options:
Size: any size

Hat Patches need to be 2.25″ tall max.
Shoulder Patches can be anywhere between 3″-4″ tall, and 3″-3.5″ wide.

Backings: Plain or Velcro Backing
Borders: look like laser cut border. Sewing channel included.
Colors: Any color (color matching) and no gradients
Shape: Any shape
Special Features
Durable, Strong and flexible
2D and 3D Design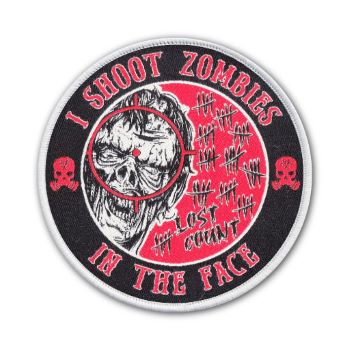 Design Options:
Size: any size
Backings: plain, hook and loop (Velcro), iron-on patches, peel and stick
Borders: Laser Cut or Merrow Border
Colors: Any color (color matching) gradients available
Shape: Any shape
Special Features
Premium threads: allow high level of detail.
No jump stitching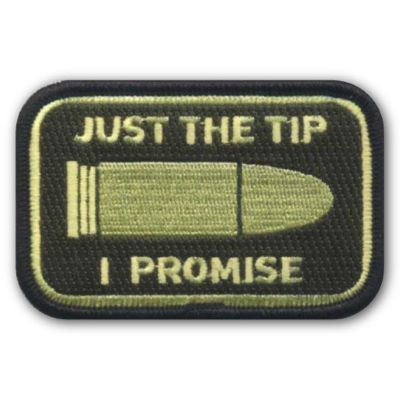 Design Options:
Size: any size
Backings: plain, hook and loop (Velcro), iron-on, peel and stick
Borders: Laser Cut or Merrow Border
Colors: Any color (color matching) fake gradients with woven threads
Shape: Any shape
Special Features
High quality twill and colored threads
It's easier with US by your side!
Digital Sample: 5 business days + Order Turnaround time: 3 weeks
100% Satisfaction Guarantee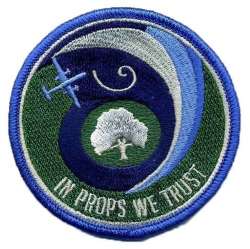 Which one is best for you?
In the traditional World of Official Military Patches, the embroidered ones has been king. Until now…
Soft Rubber PVC Patches offer a number of advantages for the military because of its strength, flexibility and up to date design options such as the 2D and 3D high relief layering modes.
These types of patches are ideal for almost any tactical gear: jackets, hats, backpacks, vests, anywhere you want them!
Learn more about the differences between PVC Patches vs Embroidered Patches
Advantages of PVC
PVC is a durable material that can be used to create patches with rich, varied colors and intricate art designs. PVC patches can stand up to the wind, rain and sunlight and you can have the peace of mind that they won't fade or fray overtime.
Tactical teams have been purchasing more PVC patches instead of woven or embroidered patches because of the durability and versatility characteristic of PVC patches. They can be manufactured with either a 2D or 3D design, are the perfect backdrop for simple designs and specially those that are more intricate.
The newest trend for custom patches is PVC patches. Law enforcement and government agencies are all switching to PVC. If you think this is something that could work for you as well, we will gladly send you samples for you and your team to review them. Just ask us!
Advantages of working with us:
Sienna Pacific, we are U.S.-based custom products manufacturer and supplier with over two decades providing the Best Customer Service and High Quality Products at incredibly low Wholesale prices. Our headquarters are located in Carlsbad, California.
Customer Reviews
Morale Patch


5 out of 5 stars

05/22/2019

"Very pleased with the high quality of the product. Came out better than expected. Staff was helpful and professional."

Morale PVC Patch


5 out of 5 stars

04/16/2018

"From the moment I submitted a request the contact was almost instant. I actually called Victoria more than we emailed. It was SOOO nice having someone to talk to that wasn't reading a script. She was amazing, and fast with every process. We have already recommend her and the Linx Corporation to a few other small business."

Tactical Patch


5 out of 5 stars

06/20/2017

"Great and fast communication, as always the product once again came out exactly as I wanted it to."
FAQ
WHAT ABOUT EMBROIDERED (AND WOVEN) PATCHES? HOW DO THEY COMPARE?
Embroidered and woven patches have a long history and continue to be popular for custom tactical patches.

At one time, they were the only types of patches used on military uniforms.
However, this has changed in the past years and PVC patches are being used with increased frequency. This is in part, due to the durability of PVC patches.

They also don't fray or fade like custom embroidered or woven patches tend to. The ability to make more intricate designs with PVC than with other materials is another reason why they have become increasingly popular.

Who is using Soft PVC in their Patches?
PVC patches provide a visible acknowledgment of a person's achievements and personal preferences. They can work just as effectively in any setting.

Sports coaches may find that they can help to make a similar response among their athletes. They can be worn on uniforms, hats, sports jackets or bags.

On the other hand, if you are a leader of civic organizations, where uniforms are also often worn, you might find patches beneficial for strengthening their organization as well.

What does PVC stands for?
PVC stands for Polyvinyl Chloride.
Who Uses Morale Patches?

Military – Police – Fire – EMS/EMT – Bikers – AirSoft – Teams – Organizations – Clubs
Our Patches are made of PVC , with a rich and long history beginning with our military.

Those new to this kind of patches, might not know that they are a non-regulation patch that are worn and collected by individuals world-wide.

These patches are typically fun and uplifting. They can serve to 'raise the moral' of the club, group, squadron, unit or membership group.

When custom military patches are needed, an organization or club can hardly go wrong with ones made from PVC.
---
Ordering is Very Easy!
Our exclusive online order system makes it easy to be in control of your order process. You call the shots! From start to finish, we will team up with you to order the highest quality product for your business.