There's something special about a custom shoulder patch. They can be a unique way to show off your personality, or a cool way to represent your team or club. Whatever the reason, if you're looking for some inspiration for your next shoulder patch design, check out our top 10 picks from Sienna Pacific. You can even download a free patch template to get started!
Top 10 Samples of Outstanding Shoulder Patch Designs Made By Sienna Pacific
Your shoulder custom patches can be made embroidered, woven and out of soft rubber PVC. These last have become the prefered ones in the market. Take a look at the following samples of patches we have made for our customers and get inspired. At the end you will find a patch design template free to download that includes all the common shoulder patches shapes.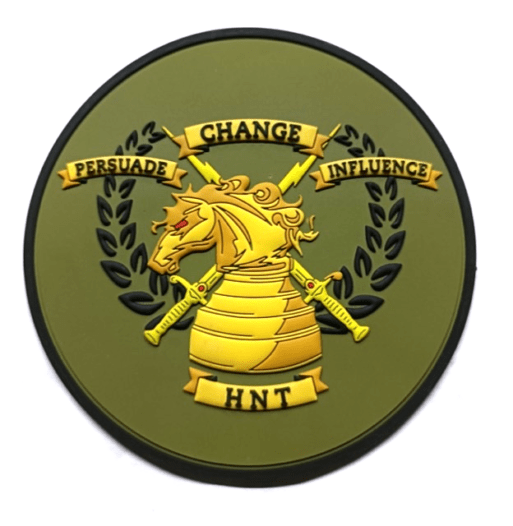 1. Sample of Round Shoulder Patch Design
The PVC shoulder patch is 4 inches round and features a unique 2D design. A yellow chess knife figure outstands against the dark olive green background. The patch also sports three titles 'persuade,' 'change,' and 'influence' on a draped ribbon, defining the main principles of the military unit. To make all this even more convenient, the PVC patch also has Sewing Channel, Hook and Loop Backing so that it can be attached to clothing easily and securely.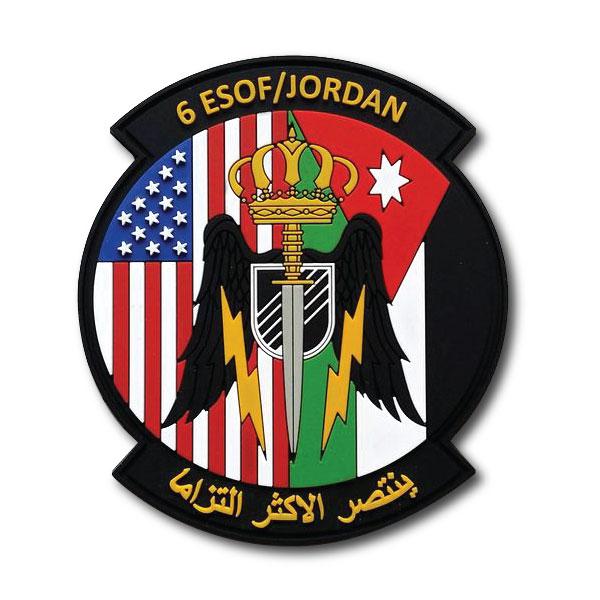 2. Round Patch with Rockers
This PVC Patch features a stunning design with two rockers on a black background. The upper rocker identifies the military unit as 6 ESOF US/Jordan and the lower one displays an Arabic message that reads, "The most committed wins." The patch features a 2D Design and 7 Colors, predominantly yellow for the titles and main elements. For the US Flag, red, blue, and white are used while for the Jordanian Flag it's red, green, black and white. Black is also used for the wings to provide contrast that allows other elements like the sword and crown to stand out even more.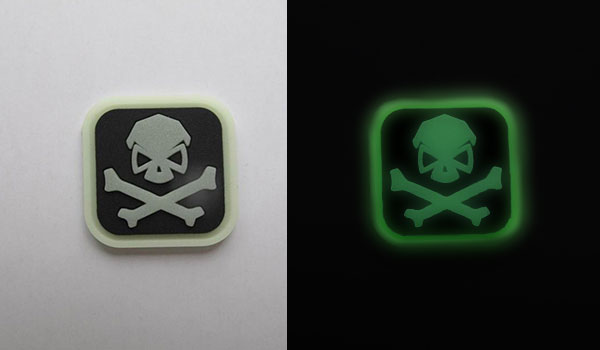 3. Square Patches and Ranger Eye
These Ranger Eye PVC Patches actually glow in the dark.
The skull and crossbones is the sign that identifies the unit. Thanks to the hook and loop backing you can easily place them not only on the shoulder but in any other part or gear with hook and loop surface. It is an ideal choice for military personnel, law enforcement officers, or special forces.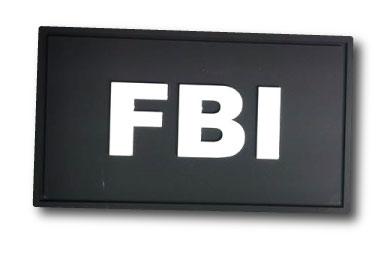 4. Rectangle Shoulder Patch
The PVC patch is a stylish rectangle measuring 3.5″ x 2″, with only three white block letters reading "FBI". As the most of the PVC patches we make it features both a hook and loop backing and sewing channel for an array of placement opportunities. At first glance, you would know immediately that this is an official FBI shoulder patch due to the bold lettering against the pitch-black background.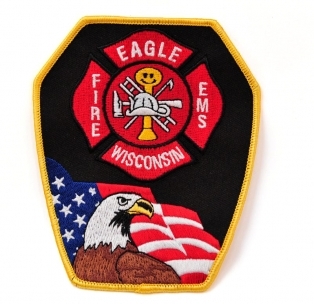 5. Tombstone Patch Design
The Eagle Fire Department shoulder patch has a distinctive and patriotic look. With a classic black background, bold accents of yellow bring attention to its merrow border. It is of a traditional size of 4″ x 4.75″ with 80% embroidered coverage . Its iconic image features an eagle at the bottom with a white head and brown feathers to symbolize freedom and sovereignty–highlighting the importance of the hardworking firefighters that carry out its mission.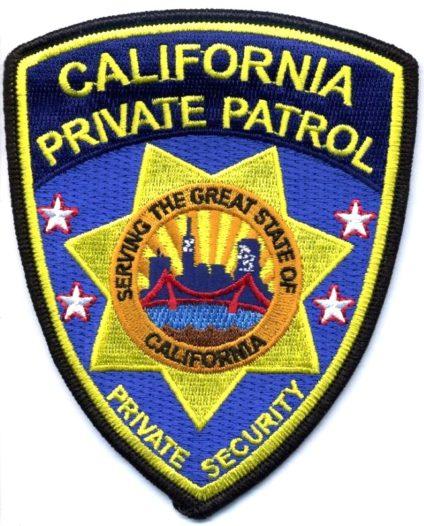 6. Shield Shaped Law Enforcement Patch 1
The Law Enforcement Embroidered Patch by California Private Patrol is beautifully designed. The shield-shaped patch measures 4" x 5" and features a yellow title on the upper rocker that reads "California Private Patrol". Centrally positioned is a seven-pointed star within a yellow circle with a picturesque landscape of the iconic Golden Gate Bridge encircled with two additional text lines reading "Serving the Great State of California". Its craftsmanship has been carefully appropriated to ensure 100% embroidery coverage with up to 8 thread colors, while the merrow border and plastic backing guarantee long-term durability.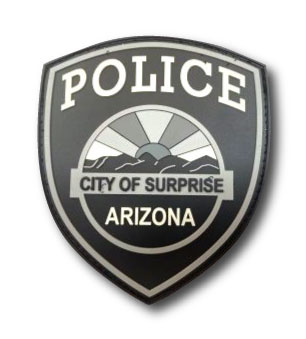 7. Shield Shaped Law Enforcement Patch 2
The police of surprise city in Arizona have an eye-catching and authoritative 2D patch design for their force. This PVC patch has a shield shape with a mix of gray scale colors over a black background and is 2.5mm thick. Additionally, the patch features a sewing channel to ensure it's securely attached to any surfaces while also offering the option of hook and loop backing. Not only does this PVC patch look great and foster unity within the police force, but it allows officers to easily display their shoulder insignia without worrying about losing or tampering with it.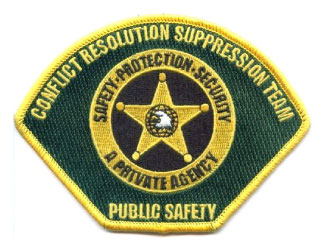 8. Wedge Design Shoulder Patch
This Wedge Shoulder Patch is an interesting design featuring two titles on a dark green background with yellow text – one main title reading "Conflict Resolution Suppression Team" and the secondary one reading "Public Safety". The text in the inner circle of yellow reads "Safety . Protection . Security" in an upper arch, and "A Private Agency" in a lower arch, both separated with dots for emphasis. Finally, there is a five-point sheriff star at the center that helps to recognize this patch as substantively unique. Conflict Resolution Suppression Team is embroidered for 100% coverage with 4 different thread colors that come atop a plain backing and merrow border. The size of the patch is: 4.75″x 3.487″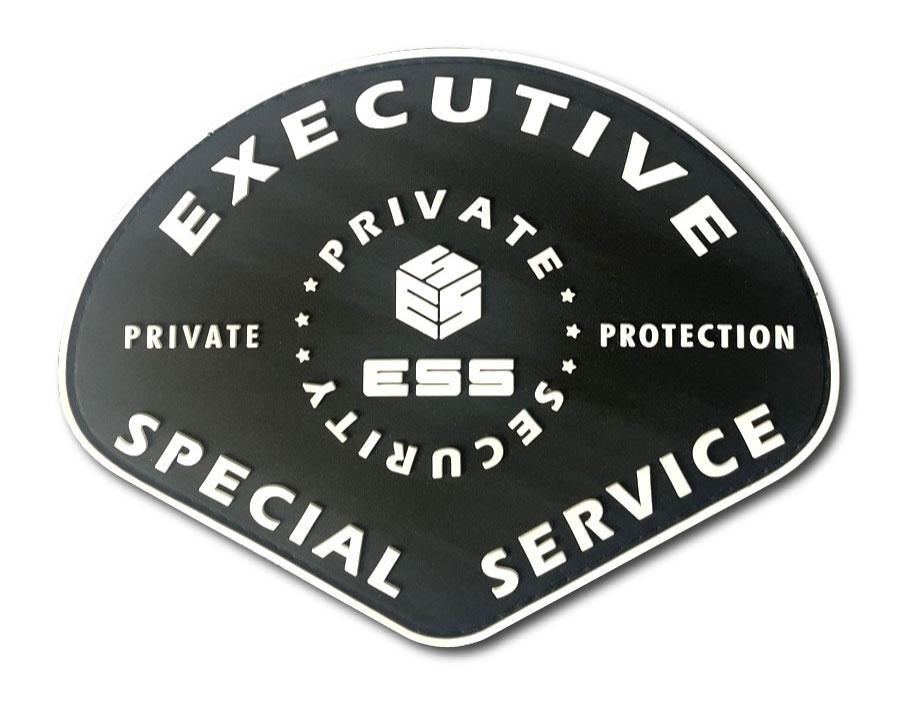 9. Cascade Design Patches
This particular PVC Patch design for a respected Private Security Company is quite distinctive and will leave an impression for anyone who sees it. It features a semi-circular curved shape on the top and an angle pointing downwards. The black and white colors have been chosen in order to maximise contrast and make the titles and graphic elements stand out from the black background. The patch itself has a thickness of 2.5mm, a stitching channel along the edge and a Hook and Loop backing for added strength when attaching it to clothing or fabric.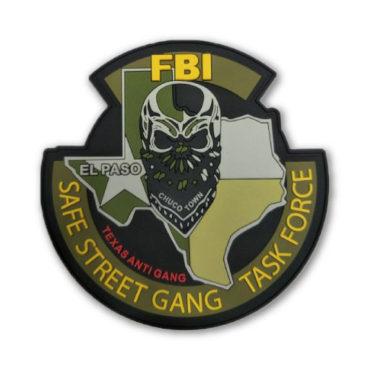 10. Custom Shaped Shoulder Patches
Custom shaped shoulder PVC patches from Sienna Pacific are designed to meet your specific needs and desires. This patch was crafted for an FBI department and features titles to distinguish the unit as well as a map of Texas state with a menacing skull in the center boasting "Chuco Town", a fierce nickname for El Paso. Created with 7 colors, this patch comes equipped with a convenient one-sided hook and loop backing, along with a detailed two-dimensional design and durable sewing channel.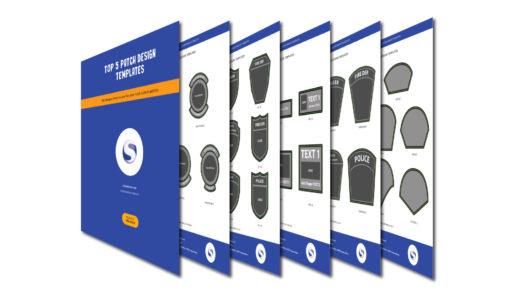 Subscribe to our Email List and receive our Custom Patch Design Template for Free
Fill out this simple form with your Name and Email, click on submit and you will receive an email with a link to the template in PDF format suitable to be opened and edit with any vector design app such as Adobe Illustrator, Corel Draw or Inkscape.