There are many different types of marksmanship badges that are awarded to military and law enforcement personnel. In this blog post, we will explore 10 of the most common marksmanship pins, medals and ribbons in the United States. Each badge has its own unique history and significance. Let's take a look at some of these badges now!
Top Marksmanship Badges

1. US Army
Although the U.S. Army awards their marksmanship qualification badges for a variety of weapons, there are only three different types of Army Marksmanship badges: the Marksman Badge, the Sharpshooter Badge, and the Expert Badge. The weapon in which the expertise level was reached is indicated in the clasp (which is a bar with a couple of loops that hangs from the badge).
The Army Marksmanship Unit (USAMU / AMU) is responsible for promoting marksmanship and firearms safety training. They also awards special badges for marksmen who excel in specific events, such as long-range shooting or pistol competitions.
Soldiers who are members of this unit are some of the best marksmen in the world and regularly compete in national and international shooting competitions.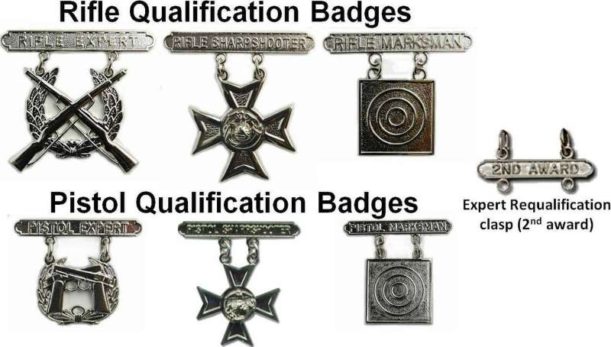 2. US Marine Marksmanship lapel pins
The U.S. Marine Corps recognize the same 3 levels (Marksman, Sharpshooter, and Expert) but they only award proficiency in two type of weapons: rifle and pistol.
In order to earn a marksmanship qualification badge, Marines must attend an annual weapons qualification event and pass with a score that meets the requirements. The Marine Corps Rifle Qualification Badge requires successful completion of 4 Firing Tables:
the Fundamental Rifle Marksmanship Table,
the Basic Combat Rifle Marksmanship Table,
the Intermediate Combat Rifle Marksmanship Table,
and the Advanced Combat Rifle Marksmanship Table.
Each of these tables tests different skills, such as a Marine's ability to engage human silhouettes at varying distances, positions, and scenarios within an allotted time. To earn a qualifying score and ultimately the badge, Marines must demonstrate proficiency in each area.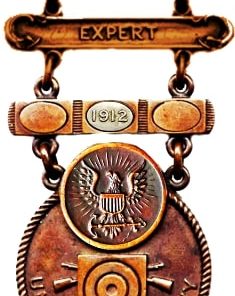 3. U.S. Navy Marksmanship Pins
In the early days of the United States Navy, marksmanship was considered a key skill for sailors. To encourage proficiency with firearms, the Navy awarded a special badge to sailors who qualified as sharpshooters. This badge, known as the Navy Sharpshooter's Badge, was first introduced in 1910 and was awarded at two different levels, expert and sharpshooter.
Although there were other marksmanship badges available, the Sharpshooter's Badge was considered the highest honor, as it indicated a sailor's ability to hit targets accurately at long range. The badge remained in use until 1920, when it was replaced by ribbons and medals. Today, sailors can still be awarded marksmanship ribbons and medals for their proficiency with firearms.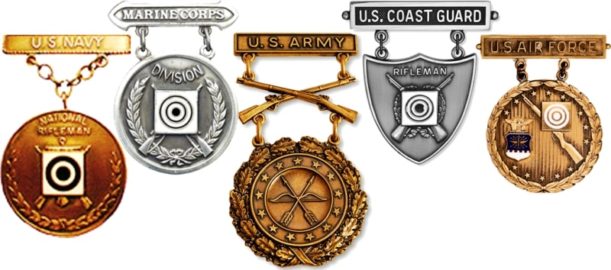 4. U.S. Coast Guard Marksmanship Ribbons and Medals
The Coast Guard Distinguished Marksman Award is the highest honor that can be bestowed upon a Coast Guardsman in marksmanship. To earn the award, a Coast Guardsman must accumulate 30 leg points in sanctioned competitions. Once a Coast Guardsmen achieves this level of proficiency, they are granted "distinguished status" and are eligible to compete at the National Matches. The award is a testament to the dedication and skill of the recipient, and it is an honor to be recognized by one's peers as a distinguished marksman.
The award is a golden badge with a target in the center, above which is inscribed "DISTINGUISHED" and below the target is the category of weapon. A little golden rifle is attached to the awards ribbon.
5. U.S. Air Force Marksmanship badges
The United States Air Force has a long tradition of marksmanship and gunnery competitions. In the past, these competitions were used to award Silver and Gold Elementary Excellence in Competition (EIC) Rifle and Pistol Badges and Gold National EIC Rifle and Pistol Badges to its competition shooters. While these badges are no longer awarded, the Air Force still recognizes the skill and dedication of its competition shooters with an annual awards program. However, it seams that they no longer use badges but Marksmanship ribbons instead.
The Secretary of the Air Force authorized the USAF Marksmanship Ribbon on August 28, 1962. Since then, it is given to all Air Force service members who pass a test to become "expert" in small-arms marksmanship with either the M-16 rifle or a government-issued handgun. All those who served in the Air Force before June 22, 1972, and have qualified as expert with both weapons after that date shall be marked by a gold service star on the ribbon.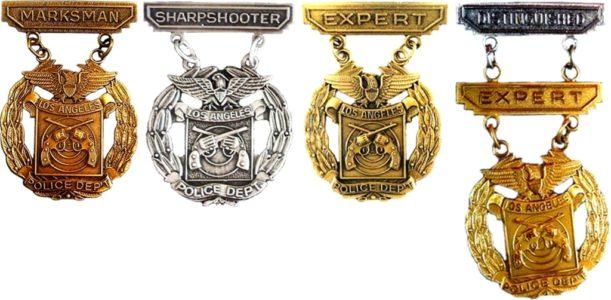 6. U.S. Law enforcement
In the United States, many law enforcement organizations have established marksmanship qualification badges to highlight their officers' proficiency with firearms and encourage their peers to strive for excellence. The Los Angeles Police Department, for example, follows the National Rifle Association's marksmanship guidelines and awards unique LAPD Marksmanship Badges at four distinct levels: (from lowest to highest) Marksman, Sharpshooter, Expert, and Distinguished Expert. Other organizations, such as the NYPD, have different protocols. For instance, they award only 2 kinds of marksmanship badges, as either a Pistol Shot or Pistol Expert. These are also known as the NYPD Firearms Proficiency Bars.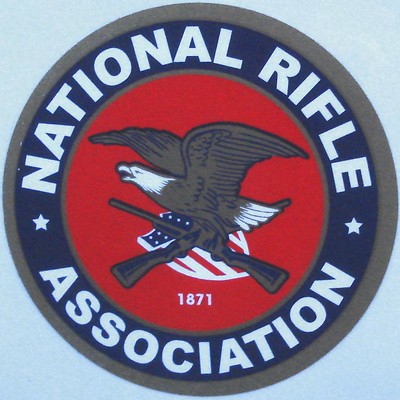 7. National Rifle Association NRA
The National Rifle Association (NRA) is a well-known organization in the United States, especially for their promotion of firearms safety and marksmanship. The Winchester/NRA Marksmanship Qualification Program is one such program that has gained recognition from various U.S. entities, including the Boy Scouts of America and the Civilian Marksmanship Program. The program's main goals are to encourage firearms safety and develop civilian marksmanship through the awarding of Winchester/NRA Marksmanship Qualification Badges.
The NRA marksmanship badges are a widely recognized way of indicating a shooter's level of expertise. There are five to six grades of badges, with the highest being distinguished expert and the lowest being pro-marksman. The badges are awarded based on the shooter's performance on a qualifying course of fire. The courses are generally designed to simulate real-world situations, and they become increasingly difficult as the shooters progress through the grades. In addition to demonstrating their shooting proficiency, shooters who earn these badges also learn valuable skills that can help them in potential real-world situations. As a result, the NRA marksmanship qualification badges are an essential part of many shooters' training and development.
These are the 6 NRA marksmanship levels (from the highest to the lowest):
Distinguished expert,
Expert,
Sharpshooter,
Marksman first-class (Winchester/NRA Marksmanship Qualification Program only),
Marksman,
Pro-marksman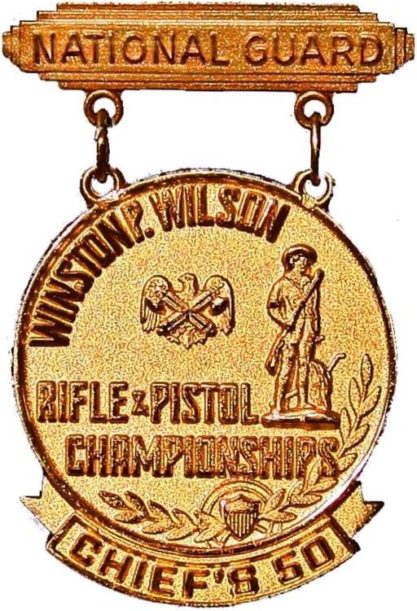 8. National Guard's Chief's Fifty Marksmanship Badge
The Chief's Fifty Marksmanship Badge is awarded to the top shooters in the Winston P. Wilson Rifle and Pistol Championships. The top 21 shooters in the combat rifle, combat pistol, machine gun, and sniper categories are eligible for the badge. The badge is a prestigious award that recognizes the outstanding marksmanship of the National Guard's best shooters.
This is a permanent decoration that can be worn by Guardsmen on service uniforms when operating under Title 32 (state control) status. The badge is worn to the left of federal marksmanship badges and awards. When federalized (Title 10), Guardsmen cannot wear the badge on U.S. Army or U.S. Air Force service uniforms until they return to Title 32 status.
Learn more about this badge here.
9. Civilian Marksmanship badges
The Civilian Marksmanship Program (CMP) is a nationwide marksmanship training and competition program that is sponsored by the United States government. The program was created in 1903 with the purpose of promoting firearm safety and training, as well as encouraging marksmanship skills among civilians. The CMP offers a variety of different marksmanship badges, which are awarded to participants who demonstrate excellence in shooting. The two most prestigious badges are the Distinguished Rifleman Badge and the Distinguished Pistol Shot Badge, which were created by the War Department in 1884 and 1891 respectively. These badges are highly sought-after by competitive shooters, and achieving one is a great honor.
Learn more about the distinguished badge program.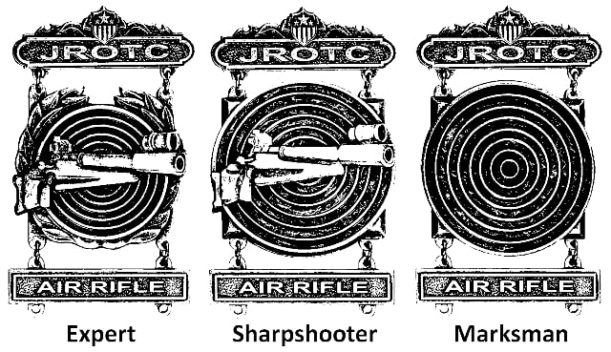 10. Junior Distinguished Badge
The Junior Distinguished Badge is awarded to outstanding junior three-position air rifle shooters who have achieved high rankings in major championships, including State Junior Olympic Qualifiers, CMP Cup Matches, the National Junior Olympic Championships, and other National Council Three-Position Air Rifle Championships. The badge is a gold-filled badge that may be worn on JROTC cadet uniforms.
Marksmanship is an important skill for soldiers, law enforcement officers, and civilians alike. There are many different types of marksmanship badges that can be earned, depending on the organization.
Sources:
"Army Marksmanship Unit." Wikipedia, Wikimedia Foundation, 13 Apr. 2018. Accessed 19 Apr. 2018.
"Marksmanship Badges of the United States Army." Military Wiki | FANDOM powered by Wikia,
"Marine Corps Rifle and Pistol Team." Wikipedia, Wikimedia Foundation, 16 Apr. 2018. Accessed 19 Apr. 2018.
Mills, R. P. (2012). Rifle Marksmanship Department of the navy headquarters United States Marine corps. Marines.mil.
History of the marksmanship qualification program. (2011, septiembre 1). Firearm User Network. https://firearmusernetwork.com/2011/09/01/history-of-the-marksmanship-qualification-program/
Distinguished Marksman Badge. (2020, marzo 10). Civilian Marksmanship Program. https://thecmp.org/competitions/distinguishedbadges/distinguished-marksman-badge/
Junior distinguished badge. (2013, diciembre 13). Civilian Marksmanship Program. https://thecmp.org/youth/junior-distinguished-badge/
Let's Get Started
If you are thinking about ordering your Custom Lapel Pins, just fill out our simple quote request form, our expert Sales Reps will get back to you within 24 business hours and guide you through every step of the process.

Related Posts
Related Products