Looking to design a Sheriff Badge? Look no further! In this blog post, we will provide you with 12 templates that you can use to get started. We will also show you how to edit the templates using Adobe Illustrator, and how to save and upload them for a free quote. Let's get started!
At our headquarters located in Carlsbad California we supply and supply wholesale police patches and sheriff badges made using any kind of material. We can make the badges as metal enamel pins, as woven and embroidered patches with any design and backing, or we can make them out of soft rubber PVC. This last option is the more and more becoming the new standard for police badges. This is why the templates are mainly done for ordering those kind of badges. Along with each design in vectors we are including a photo sample of a badge patch we have made with the same design or a similar one.
How to desing Sheriff Badges
At Sienna Pacific, we understand the importance of a high-quality, customized sheriff badge. As symbols of authority and protection, these badges must convey a sense of trust and professionalism. That's why we take pride in providing our clients with badges made from durable metals like brass and silver, embossed with the design and insignia of their choice. Our experts can also personalize badges with engravings such as sheriff or deputy names, department information, and identification numbers. We are committed to delivering timeless badges that law enforcement officers can wear with honor. Contact us today to learn more about creating your own custom sheriff badge.
12 easy templates to make Sheriff Badges
We give you 12 editable designs of sheriff badges. Find here 12 different deisng From 5 to 8 pointed stars, with rockers and different placeholders for text. They all share similar graphic elements commonly found on any sheriff patch. Those are> County placeholder, State placeholder, role and state seal. We recommend to change text font, color and background textures with the aim of differentiate yours from any other as if it was a brand that should look for originality. Sheriff badges should be unique and not easy to copy.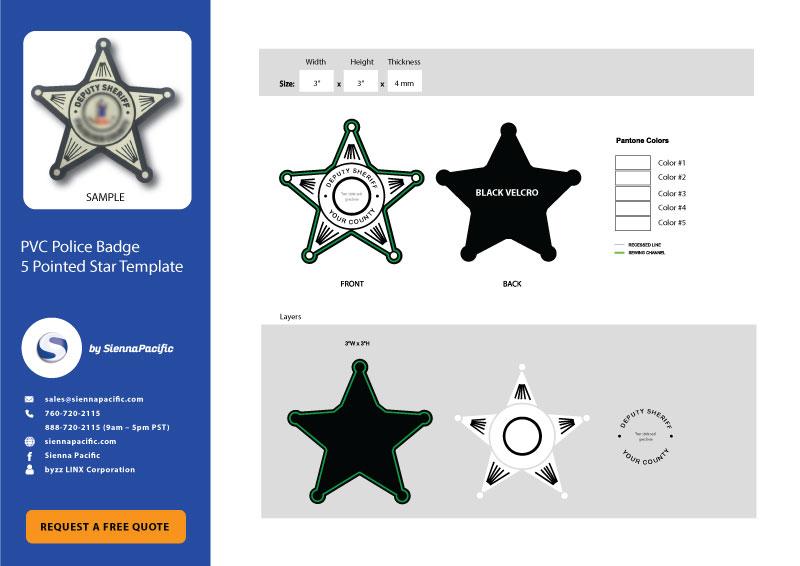 PVC Police Badge / 5 Pointed Star Template
As an essential component of law enforcement, a badge serves as both a symbol of authority and a means of identification. A PVC police badge adds durability to this important item, allowing it to withstand daily wear and tear without losing its appearance or function.
Our 5 pointed star templates provide a classic design that can be easily customized with department information, ensuring that officers are easily recognized while on duty. Made from high-quality PVC, our badges are designed to last for years to come. Trust in our product to aid you in your duty and uphold the honor of the badge.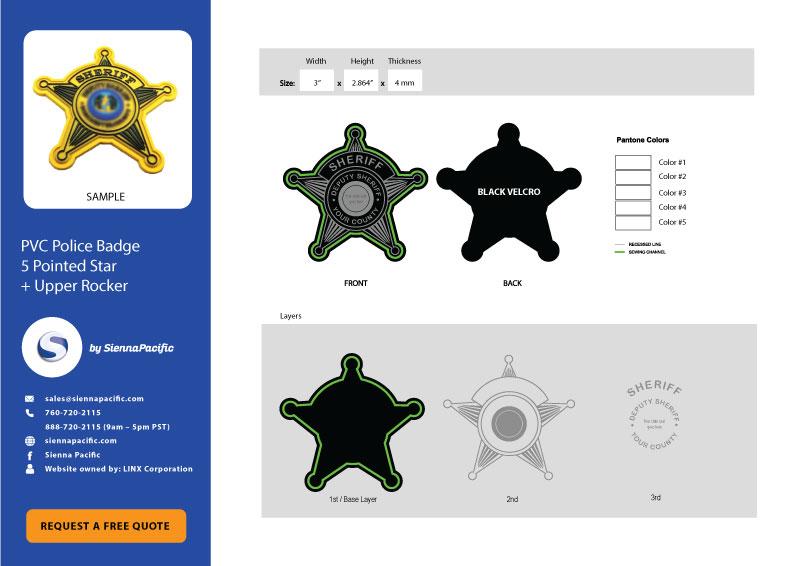 PVC Police Badge / 5 Pointed Star + Upper Rocker
This other 5 pointed star Police Badge template includes all the necessary design elements for creating a professional badge. The base layer provides a solid foundation for the star shape, with text placeholders for personalization.
The state seal placeholder adds an extra touch of authenticity and can easily be swapped out for any state or agency logo. By default all our pvc patches come with a sewing channel, we always recommend not to get rid of it even if you are thinking in ordering them with a hook and loop backing.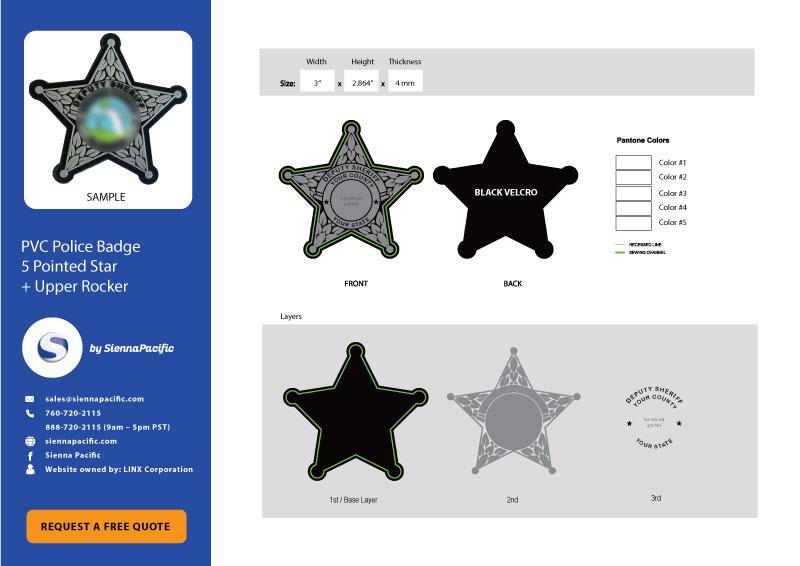 PVC Police Badge / 5 Pointed Star + Bigger Upper Rocker
When it comes to police badge designs, every detail counts. That's why the PVC police badge from Sienna Pacific stands out from others on the market. The five pointed star and bigger upper rocker add a bold, authoritative touch to this variant of the traditional design.
Made from durable PVC material, this badge is built to withstand daily wear and tear with ease. And with a high attention to detail and crisp graphics, this badge commands respect and professionalism. Trust in Sienna Pacific for all your law enforcement badge needs.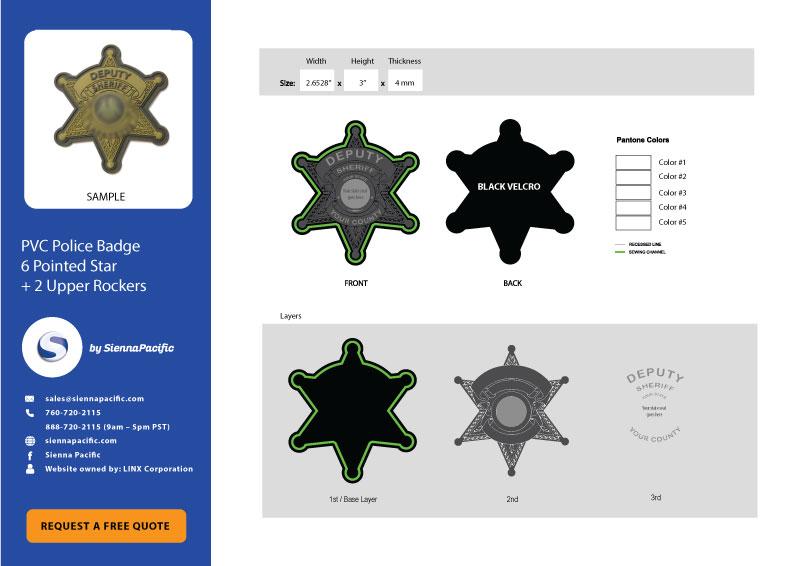 PVC Police Badge / 6 Pointed Star + 2 Upper Rockers
A PVC police badge template in the shape of a six pointed star with two upper rockers is another option for law enforcement officers. This vector design template is made specifically for soft rubber PVC which is a durable material, ensuring that your badge will maintain its shape and design for years to come.
Whether you are creating a new badge or replacing an old one, this PVC police badge template is a reliable choice. With its sleek design and customizable features, it serves as the perfect way to showcase your authority and dedication to the field of law enforcement.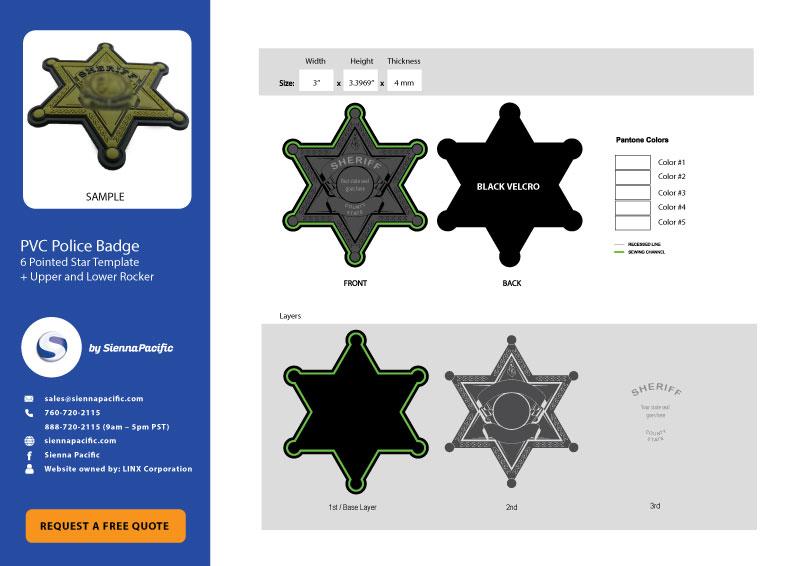 PVC Police Badge / 6 Pointed Star Template + Upper and Lower Rockers
This PVC police badge template features a traditional six-pointed star design, with space for upper and lower rocker text. Made from durable PVC material, these patches are perfect for withstanding daily wear and tear.
These patches can also be customized with your department's name or logo for an even more personal touch. So why settle for a generic badge when you can have a unique PVC patch that represents who you are as a officer? Order your custom PVC police badge today.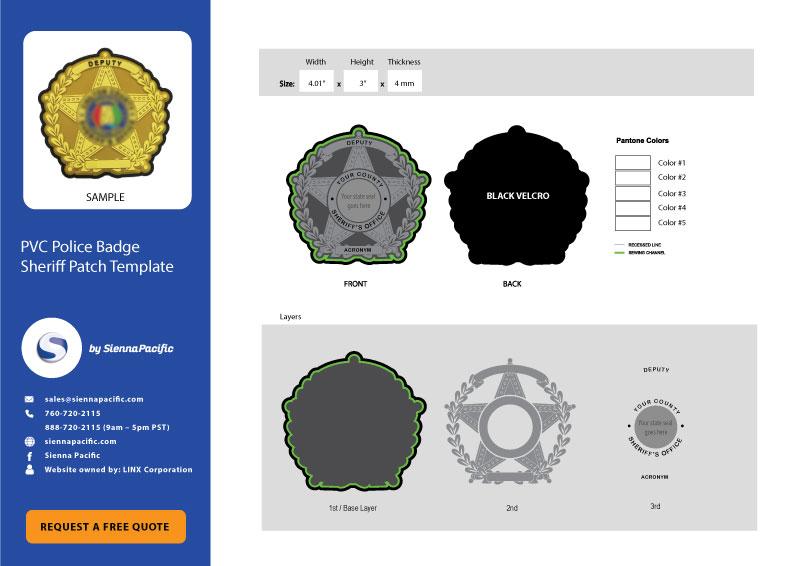 PVC Police Badge Sheriff Patch Template
What makes this template unique is its unique laurel wreath shape surrounding a classic sheriff star. The text rockers provide ample space for customizing with your state or county name, and the lower one is perfect for displaying the state acronym.
The template also features a blank circle in the center, ready to be personalized with your state seal. Whether you are designing badges for police officers or wanting to add a unique patch to a jacket or backpack, this template offers a professional and eye-catching design. It is sure to make a statement and show pride in your state or county's law enforcement.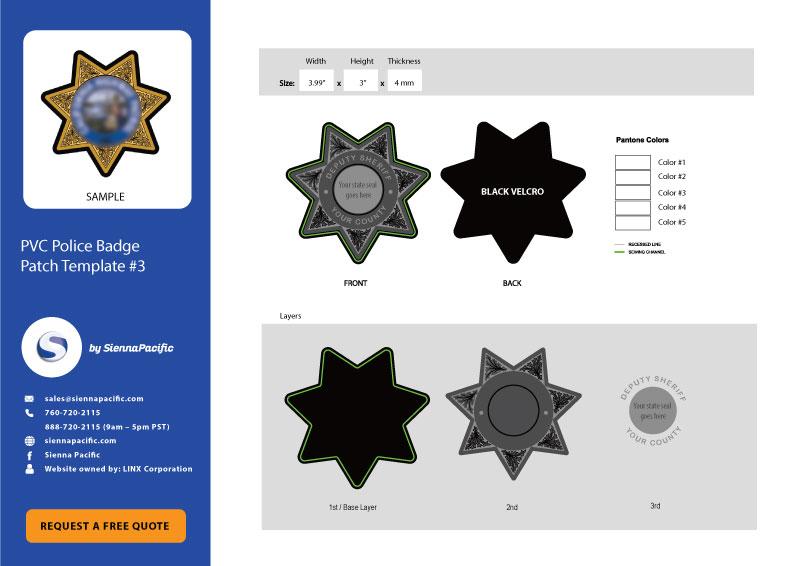 PVC Police Badge / 7 Pointed Star Patch Template
This other vector file includes a one of a kind 7 pointed sheriff star with a beautiful decoration and 2 easy to use upper and lower rockers text placeholders ideal when looking for the minimum amount of text and a minimalistic badge.
Take a look at the sample to know how you can get the most out of it choosing contrasting complementary colors to make a long lasting impression and help people identify the officers rank easily.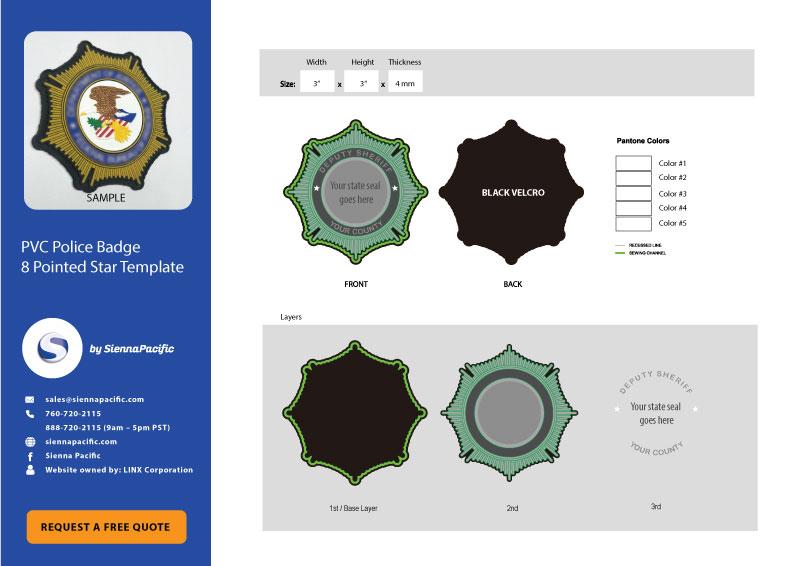 PVC Police Badge / 8 Pointed Star Template
Easily downloadable as a vector file in PDF format, this template allows for customization of text, colors, and size.
We always recommend our customers to save the file in .ai, .svg or .cdr for your records, and use the PDF to request quotes for your next batch of embroidered, woven, or PVC patches. Our template ensures that creating your perfect badge design is quick and hassle-free. Start designing now with our police badge template.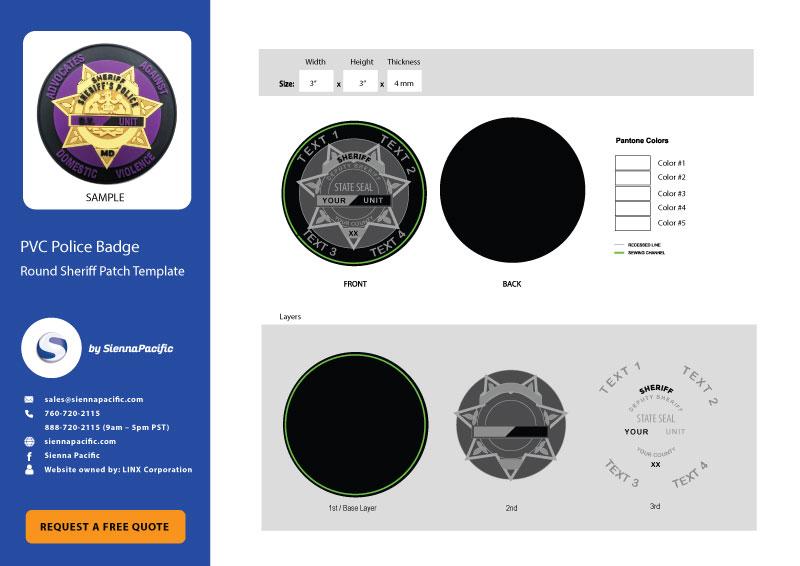 PVC Police Badge / Round Sheriff Patch Template
This vector template we are giving away today is a round patch with a seven pointed star in the middle. This design is ideal for customers who need to include more information in their badges.
Sometimes police departments want to add a message additional to the basic information, in the provided sample they use it to focus in one special mission: "Advocates Against Domestic Violence".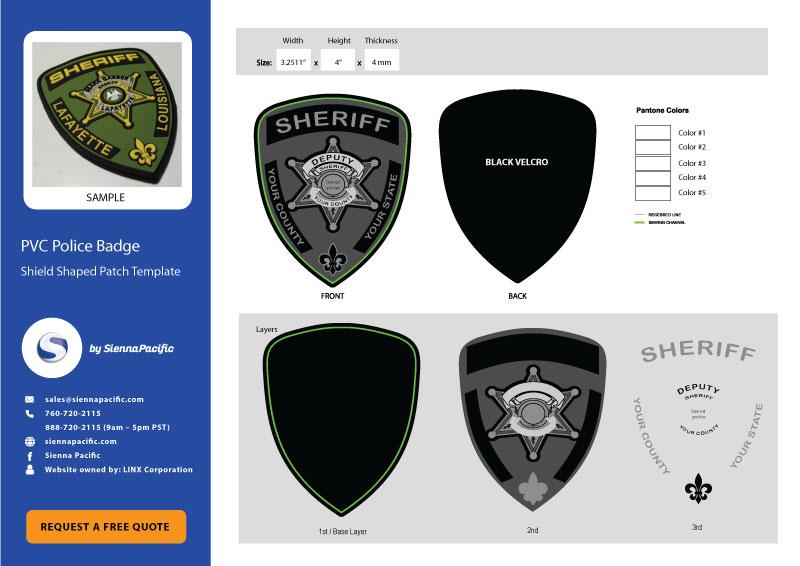 PVC Police Badge Shield Shaped Patch Template
The template, as the others, is made in vectors and it suitable to be oppened and adited in Adobe Illustrator, Corel Draw, inkscape or in any other kind of vector editing app. It includes a 6 pointed sheriff star in the middle along with 6 text placeholders.
Again, we have to insist, when customizing it change colors using a contrasting criteria. In the sample they used yellow text over black background. The combination as you can imagine, make the text in uppercases stand out and assure officers will be immediately recognized by the citizens.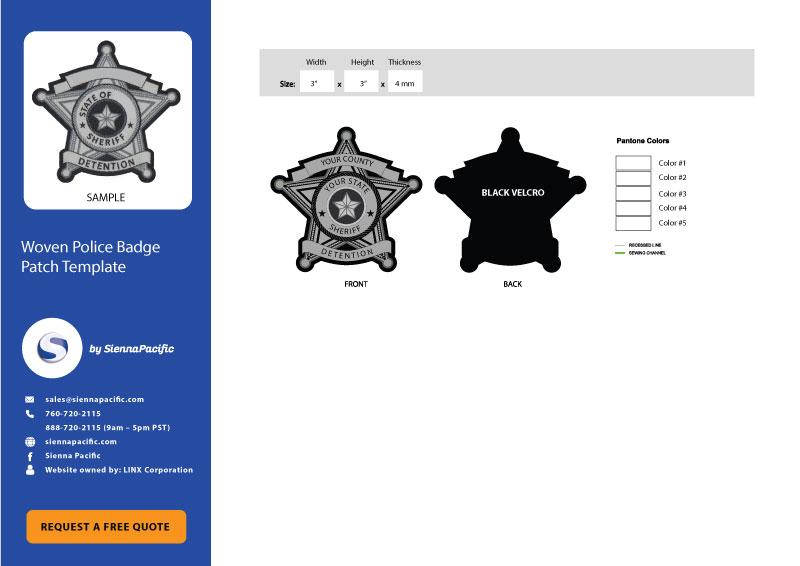 Woven Police Badge Patch Template / 5 pointed star, 2 rockers upper and lower
The woven police badge patch template by Sienna Pacific features a traditional 5-pointed star design with two rockers at the top and bottom. This design is perfect for police departments or any organization looking for a professional and iconic symbol of law enforcement. Made from high quality materials, this patch is durable and long-lasting.
The woven design adds texture and dimension to the patch, giving it a higher level of detail than traditional embroidery. Whether used for uniforms or as a collectible item, this template offers a timeless representation of the brave men and women in law enforcement. Order yours today from Sienna Pacific.
Subscribe to our Email List and receive our Top 12 Custom Sheriff Badge Templates for Free
Fill out this simple form with your Name and Email, click on submit and you will receive an email with a link to the template in PDF format suitable to be opened and edit with any vector design app such as Adobe Illustrator, Corel Draw or Inkscape.