Custom Biker Pins
Looking for a custom biker lapel pins manufacturer? You have come to the right place!
Our friendly customer service will help you go all the way long from a design idea to a high quality finished Motorcycle Enamel Pin. All of this will be done with a good mood and as fast and soft as if you were riding your bike with your folks on the freeway!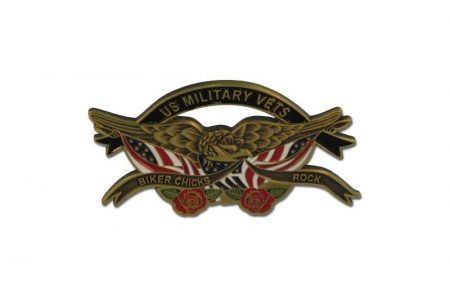 Motorcycle Lapel Pins
We love making custom biker pins for motorcycle clubs! They are so passionate about this lifestyle that we cannot avoid feeling excited as if receiving the same adventure call.
Similarly to custom motorcycle vest patches, Custom Lapel Pins are often made with the purpose of creating a bond among the members of a club, band or society, identifying them with a common symbol, icon, logo or name
Motorcycle Vest & Jacket Pins
Biker Vest Pins are quite inexpensive; you can easily manage to distribute them in large quantities. Motorcycle vest Pins have a high-perceived value among people, especially if they are designed well and look good.

Let's Make Your Biker Pins
We offer a wide variety of design options including:
Design Options
Use Custom Lapel Pins in your shirt, hats, jackets, tactical gear, anywhere…
Customer Reviews
4.8/5 – Based on 1102 Reviews
Lapel Pin 2D Die Struck Bronze Finishing


5 out of 5 stars

08/02/2022

"100% satisfied with final product. Was able to work with Dan to produce exactly what I had visualized."

Printed Lapel Pin


5 out of 5 stars

04/08/2022

"Dan was fantastic to work with and was able to meet a tight deadline. He was quick in responding and the quality of the final product is outstanding! We will use LINX again for our next order!"

Citation Bar / 2D Die Struck Bronze


5 out of 5 stars

02/05/2022

"This whole ordering process was extremely easy and without any issues at all. The sales rep I dealt with responded to all my emails within a few hours or the next day. We received our order swiftly and we were very happy with it's quality. We will definitely be returning if we have any further needs."
Let's Get Started
If you are thinking about ordering your Custom Lapel Pins, just click on the button below, our expert Sales Reps will get back to you within 24 business hours and guide you through every step of the process.


Learn more about How to make Custom Lapel Pins
Motorcycle Pins and Patches
Motorcycle vest pins and patches are a traditional way to identifying motorcycle club members.
At the Hell Angels, for instance, candidates and prospects who are voted to join the club receive the official club patch as an award at their initiation ceremony. In their slang, the members call this important step as "being patch".
But make no mistake, the biker patch is like an ID, that is not tottally yours, if you leave the club or are ejected for some reason you must give the motorcycle patches back to the club.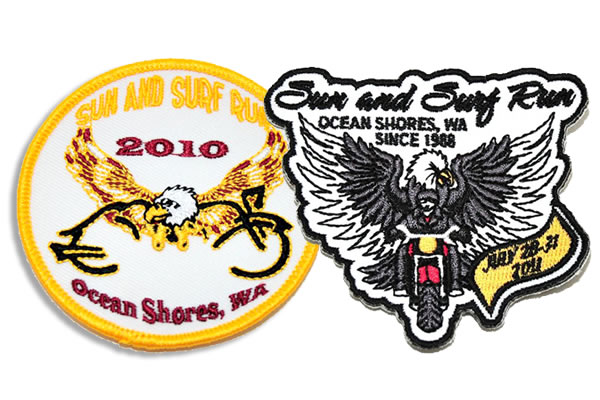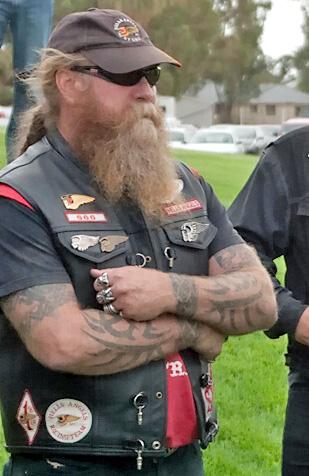 An Australian member of the Hells Angels (Charter Hells Angels MC Australia); here near Adelaide in April 2008 at a protest event ("Gypsy Joker Protest Run") by various Australian motorcycle clubs against state requirements or bans. Source: Roy Lister from Salisbury North, South Australia / CC BY
How to order?
Ordering custom motorcycle pins with us by your side is straightforward. Indeed! You can get your pins at your doorstep in 3 simple steps.
Kickstarting with your Custom Pins!

The first thing you want to do is to request a Free Quote, by filling out a simple form with your projects details: quantity, sizes, logo and/or information you want to include in the artwork.

If you already have an art design in vectors you will be able to upload it, if not, is alright, just send us your design ideas.

You will receive a price quote by email within 24h. In the case you agree with the terms just proceed to checkout and kickstart your custom motorcycle pins project!

Riding wisely…

This is a way to describe the process of checking out your sample.

Press the brakes or correct it if necessary and hit the gas if you really like the way it looks.

We won't run the red light if you don't completely agree with the way your lapel pin looks like.

Wear your pins and/or patches and enjoy them with your club members!

We will deliver your custom products in a timely manner.
Related Posts