Custom Fabric Labels For Handmade items
Nothing like using Custom Sewing Labels for Quilts, Knitting & Crochet

Many of our customers are start-ups and homemakers who are in pursue of their dreams of running a small to medium-size apparel/clothing line.
They start by creating their items at home, and the manufacturing process of these items varies from customer to customer: some are seamstress, knitters, crocheters, quilters.
The range of items they produce varies as well. Some create clothing for babies, kids, pets, others prefer to make accessories and decorative items such as purses, quilts, pillows and curtains, and many more.
Independently of the size of their business, they are all looking for two things: Success and Minimize Expenses. Sometimes these two goals go hand in hand, but sometimes they just don't.
Such is the case of marketing and branding expenses, and this includes adding custom designed clothing labels, which are then permanently attached to their products usually by sewing them onto them.
Gallery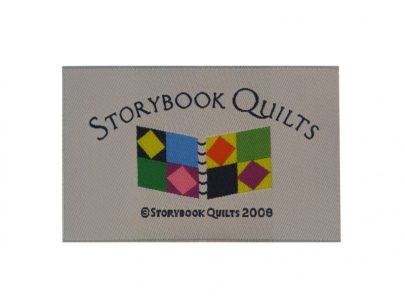 Ordering Custom Woven Labels It's easier with US by your side!
Our exclusive online ordering system makes it easy to be in control of your order process. You call the shots!
Easy ordering process
1 Quote Request. Submit your project's details. Make sure to include your logo, quantity, size needed.
2 Approve. Review & Approve Artwork Proof and Price Quote.
3 Confirm. Billing, Shipping Information & Pre-Production Sample.
4 Order. Final order submitted for production.
---
Labels for Quilts
Set yourself apart by designing your Quilt Label with us today.
Custom made quilts have hit the mainstream with quilters joining this form of self-expression and artistry at all ages. It is no longer only created by the family matriarch to become a family heirloom; it's now a thriving business as so many are seeking to have a little homemade comfort of their own.
Why Do My Quilts Need Labels?
With so many crafters now flooding this sector of the textile industry, it's important to find a way to set yourself apart.
Every individual quilt is a tremendous amount of work. Could you imagine putting all of your efforts into planning a wedding, then not giving people the information on how to get there by not sending an invitation? That's a little bit like putting the effort into your quilts without letting people know how to get their own!
Adding a custom woven label is also the perfect finishing touch. Custom labels add a professional element and a distinction that your quilts are of superb quality.
What if I am Just Making Them for my Family and Friends?
We have quilters all of the time who know they are not going to make 100 blankets; and that is our minimum quantity for ordering labels. Why do they order anyway? Usually, it's because they wish to leave a legacy by commemorating the quilter. Personal information on the label helps generations to come know the history and the hands that created their Heritage Quilt.
Think of all those quilts in your linen closets that, by word of mouth, you have learned were hand made by 'a great aunt' or 'a great grandma'. Imagine if those blankets each had a label on them that actually stayed with the blanket as long as it remained a part of your family for generations to come. It's actually quite a gift to give the recipient; and one that will carry on for the life of the blanket.
Which Type of Label are Right for My Quilts??
Once you have decided to design and create a custom woven label, you may wonder what your options are.
What is the best type for me? This is where we come in and offer our expertise.
Damask woven labels are the best option for quilts. They are a type of woven label made of high quality materials that won't look out of place. Damask woven labels have a handcrafted look that is ideal for the style of any quilt.Damask woven labels are available in just about every size or color. Multi-colored (up to 8 thread colors) designs lend themselves very well to the look of a quilt.
The other item to consider is the size of your quilting labels. Because quilts are generally larger pieces, you can create a large label that can contain a lot of information. The size will be up to you as it will depend upon what you want on your label.
Do I Really Need Professional-Looking Woven Labels?
Woven quilt labels truly are like an artist's signature on a painting. All artists sign their work; it's time to sign yours!
This lasting tribute to the creator is something every homemade item should have. Most quilters don't stop with quilting. They also tend to create a wide variety of things they enjoy selling, giving or displaying. Whatever the project is; a woven label will provide that finishing touch.
Fill out your quote today and get started on creating your Custom Woven Label.!
---
Custom Labels for Blankets

What gift is better to receive than something warm and cozy like a specialized, custom blanket. With that said, what better way to promote your blankets and business than to add a custom label to it.
It is becoming quite commonplace for individuals to create their own custom blankets. Whether they be for infants, children's hospitals, college dorms, nursing homes or even a family creating personal family heirlooms. The popularity of custom blankets is on the rise. There is also a growing market for fundraising blankets being sold for youth sports, high school sports, special fundraising events, and for church or school auctions. You name it, there seems to be a blanket or throw being designed with it in mind.
So, to all of our designers out there of these great items….I encourage you to consider designing a label that lets those who are cozied up in one of your blankets know who you are. There is no better way to show your support or create your identity than with custom label for your unique designs.
And don't forget, if you need help designing your label or would like to talk about the unlimited options available to you…we are here to help you, so don't hesitate to call us. We will gladly get on your way towards customizing your blankets.
---
Custom Knitting Labels to Professional Homemade Products
Finish off your homemade knitting products with professional looking personalized knitting labels. From furniture and clothes to bag & accessories the sky is the limit with this market for products. Many people have beautiful handmade knitted products that do not get the right recognition and professional credit they deserve for all the hard work and effort put into them.
A custom woven or printed label is the perfect way to move your business from a start up project to a successful thriving business.
Labels are a big part of building your brand identity. Creating a brand for your items also means that customers will associate you with things they love, making them more likely to purchase from you in the future.
A label that includes the name of your business, your own name and/or logo instantly transforms your homemade knitted item into a professional looking piece that could match up to any of the well known name brands out there.
Clothing labels can include anything from the company name, your name, phone number, web address and/or care instructions so that the customers can easily find you if they want to purchase products from you..
If you are on a budget our minimum order quantity for custom clothing labels is just 100 pieces for woven and 300 pieces for printed making your small investment easily feasible to add labels.

Putting your brand on your homemade products is like sending each product out with your own personal stamp of approval. You are creating a name for yourself, the product, and showing your customers what makes your products one of a kind.
Crochet Labels
There are a lot of talented crafters out there and many are doing crochet.
To make sure these talented people are labeling their handmade goods they come to us for help.
We are able to help with font styles for their text, thread colors for the background and for the text.
Many crafters want their name on the label and maybe their website. Typically the name is a larger font size than the website name.
We can help with all these details with our woven labels design help page.
Of course one of our experienced sales representatives can assist you and our Free Quote link will prompt you to fill out the type of label you need, the dimensions, the text and thread colors.
We can include artwork for you to review when you receive your price quote.
---
4 Tips For Ordering Custom Labels For Handmade Items
1. Woven vs Printed: Choose the Right Style for Your Product
Although there is not a single solution that will work for your specific product, there are certain general rules as to which type of label should be used, based on material, frequency of use, style, size, type of logo, method of application, and more.
Choose Woven Clothing Labels if:
You need a durable label, ie. Your product will be washed frequently, such as baby blankets.
You like the looks and feel of it, industry- standard.
You would like your label to be anywhere from 1/2″ to 17″ in size
Your logo doesn't have text smaller than 7pt AND it doesn't havegradients.
You would like to either sew them in or iron them on.
Choose Printed Clothing Labels if:
You DO NOT need a durable label, ie. Your product will be washed infrequently.
You like the looks ande feel of it, ie. You want your label to be satin soft.
You would like your label to be anywhere from 3/4″ to 17″ in size
Your logo doeshave text smaller than 7pt AND it hasgradients.
You would like to sew them in. (Iron on is not recommended as it could possible melt the ribbon)
You can use Printed Clothing Labels if your items are not going to be washed frequently.
Woven Clothing Labels will last longer and will resist washes, won't fade or fray.
No matter what style do you choose, make sure they are professionally made, after all, they are one of the first details your customers will notice.
Make sure you let your Sales Rep. know what type of product you will be applying your labels and how are you planning to attach them.
2. Bold & Simple vs Intricate: Using The "Right Design"
Your products are not the same as your fellow crafters, why should your labels be?
Although we have made a large number of labels for handmade items for our customers, we want you to find your own style…
Go ahead, read our Guide To Design Your Own Clothing Labels and get inspired to make your own 🙂
But please come back and let us know which one is your favorite 🙂
TIP#4: Let's Talk About Colors…
Talking about colors and tastes can be a complex subject.
In the end, it is your brand, your image, your colors.
So think about how do you want your customers to perceive your products: classic, elegant, hip, modern, cute, strong, energetic, unique?
Do you want your label to: stand out, blend in, match….?
Do you know how in life sometimes you have to compromise?
Well, one of the greatest advantages of woven labels is that you will not have to!
You can easily create 2 (or even 3 or 4) versions of your label by just switching colors!
Keep the same design
Choose a different color combo
and for a nominal fee, you will have custom labels that will match even more styles and will give you more flexibility with your business image.
---
Let's Get Started
If you are thinking about ordering labels for your handmade products, just click on the button below, our expert Sales Reps will get back to you within 24 business hours and guide you through every step of the process.


Related Products