Custom Fabric Labels For Handmade items: Quilts, Knitting & Crochet
We manufacture and supply crochet labels, quilt labels and knitting labels with your logo or signature, ideal to identify and give a professional look to all your creations.
Take a look at our labels gallery and get inspired, or go ahead and request a free quote.

Quilt Labels Sample Gallery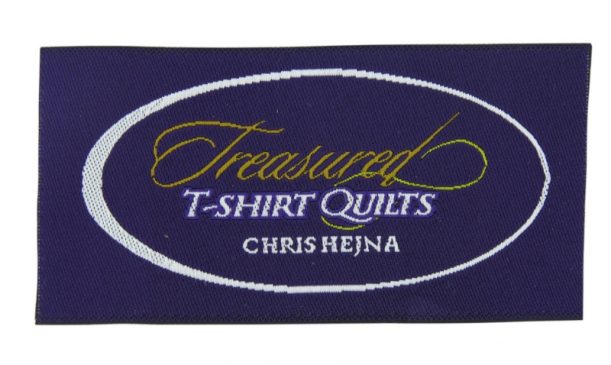 Clothing Labels for Crafters
Many of our customers are start-ups and homemakers who are in pursue of their dreams of running a small to medium-size apparel/clothing line.
They start by creating their items at home, and the manufacturing process of these items varies from customer to customer: some are seamstress, knitters, crocheters, quilters.
The range of items they produce varies as well. Some create clothing for babies, kids, pets, others prefer to make accessories and decorative items such as purses, quilts, pillows and curtains, and many more.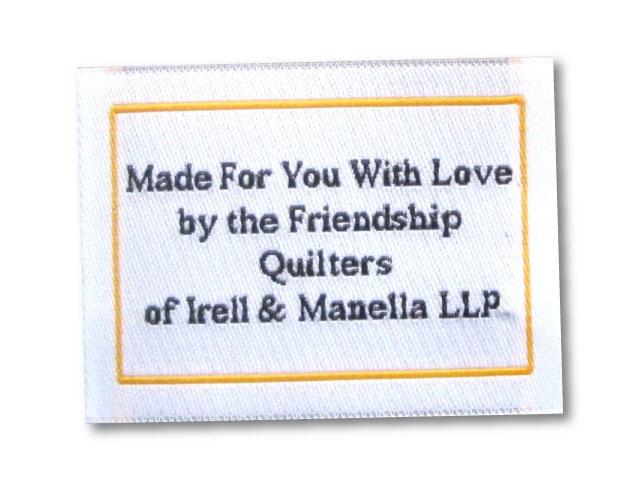 Labels for Quilts
Set yourself apart by designing your Quilt Label with us today.
Custom made quilts have hit the mainstream with quilters joining this form of self-expression and artistry at all ages. It is no longer only created by the family matriarch to become a family heirloom; it's now a thriving business as so many are seeking to have a little homemade comfort of their own.
Ordering Custom Labels It's easier with US by your side!
Our exclusive online ordering system makes it easy to be in control of your order process. You call the shots!
Easy ordering process
1 Quote Request. Submit your project's details. Make sure to include your logo, quantity, size needed.
2 Approve. Review & Approve Artwork Proof and Price Quote.
3 Confirm. Billing, Shipping Information & Pre-Production Sample.
4 Order. Final order submitted for production.
---
---
Crochet Labels
There are a lot of talented crafters out there and many are doing crochet.
To make sure these talented people are labeling their handmade goods they come to us for help.
We are able to help with font styles for their text, thread colors for the background and for the text.
Many crafters want their name on the label and maybe their website. Typically the name is a larger font size than the website name.
We can help with all these details with our woven labels design help page.
Of course one of our experienced sales representatives can assist you and our Free Quote link will prompt you to fill out the type of label you need, the dimensions, the text and thread colors.
We can include artwork for you to review when you receive your price quote.
Custom Knitting Labels to Professional Homemade Products
Finish off your homemade knitting products with professional looking personalized clothing labels. From furniture and clothes to bag & accessories the sky is the limit with this market for products. Many people create beautiful crochet quilts that do not get the right recognition and professional credit they deserve for all the hard work and effort put into them.
A custom woven or printed label is the perfect way to move your business from a start up project to a successful thriving business.
Labels are a big part of building your brand identity. Creating a brand for your items also means that customers will associate you with things they love, making them more likely to purchase from you in the future.
A label that includes the name of your business, your own name and/or logo instantly transforms your homemade knitted item into a professional looking piece that could match up to any of the well known name brands out there.
Clothing labels can include anything from the company name, your name, phone number, web address and/or care instructions so that the customers can easily find you if they want to purchase products from you..
If you are on a budget our minimum order quantity for custom clothing labels is just 100 pieces for woven and 300 pieces for printed making your small investment easily feasible to add labels.

Putting your brand on your homemade products is like sending each product out with your own personal stamp of approval. You are creating a name for yourself, the product, and showing your customers what makes your products one of a kind.
Custom Labels for Blankets

What gift is better to receive than something warm and cozy like a specialized, custom blanket. With that said, what better way to promote your blankets and business than to add a custom label to it.
It is becoming quite commonplace for individuals to create their own custom blankets. Whether they be for infants, children's hospitals, college dorms, nursing homes or even a family creating personal family heirlooms. The popularity of custom blankets is on the rise. There is also a growing market for fundraising blankets being sold for youth sports, high school sports, special fundraising events, and for church or school auctions. You name it, there seems to be a blanket or throw being designed with it in mind.
So, to all of our designers out there of these great items….I encourage you to consider designing a label that lets those who are cozied up in one of your blankets know who you are. There is no better way to show your support or create your identity than with custom label for your unique designs.
And don't forget, if you need help designing your label or would like to talk about the unlimited options available to you…we are here to help you, so don't hesitate to call us. We will gladly get on your way towards customizing your blankets.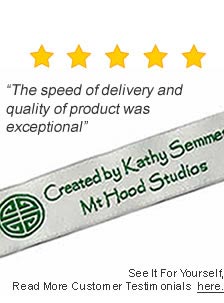 Customer Reviews
4.8/5 – Based on 1102 Reviews
Woven Labels


5 out of 5 stars

05/04/2022

"The final product was very professional."




Woven Labels - Damask 100% Polyester Threads


5 out of 5 stars

05/13/2022

" Rosanna and team did a great job in providing custom tags for our business! Will continue to use them for reorders and when new logo comes in."

Woven Labels - Damask100% Polyester Threads


5 out of 5 stars

02/16/2022

" This company was very easy to work with and delivered a great product in a timely manner!"
PVC Label 2D Design


5 out of 5 stars

02/17/2022

"Products are of the highest quality, the customer service is the absolute best, Rosana, and her team are a pleaser to work with."

PVC Tags


5 out of 5 stars

03/19/2022

"Great job as always!"

PVC Label 2D Design


5 out of 5 stars

01/19/2022

"Great customer service and communication! They definitely want to make sure they get it right for you. Product delivered is exactly as ordered and described!"
Printed on Satin Labels - Woven Edge White Satin Background


5 out of 5 stars

05/10/2022

"Excellent Service and Product!"

Printed Patch Dye Sublimated Merrow Velcro


5 out of 5 stars

03/08/2022

"Fast responses, attentive care in ensuring the design was correct, and adjusting my own mistakes to get a quality end product- thank you!"

Printed Patch Velcro Backing


5 out of 5 stars

12/30/2021

"Easy and seamless communication, I ordered silkscreened Velcro backed patches for a local government organization.. They adjusted the sample a couple of times at our direction to get the perfect final product. Rosana was great- and communication was quick and easy.. Overall great experience, and customer care was awesome- Thanks again!"
Woven Labels / Rug Labels - Damask


5 out of 5 stars

03/11/2022

"We are completely satisfied with the tags and your great service. Thanks"

Woven Labels - Damask


5 out of 5 stars

02/09/2022

"Well done! Thank you for making this a pleasurable experience."

Woven Labels - Damask 100% Polyester Threads


5 out of 5 stars

02/28/2022

"Timely service and product delivered as ordered! Thank You!"
FAQ
4 Tips For Ordering Custom Labels For Handmade Items
1. Woven vs Printed: Choose the Right Style for Your Product
Although there is not a single solution that will work for your specific product, there are certain general rules as to which type of label should be used, based on material, frequency of use, style, size, type of logo, method of application, and more.
You need a durable label, ie. Your product will be washed frequently, such as baby blankets.
You like the looks and feel of it, industry- standard.
You would like your label to be anywhere from 1/2″ to 17″ in size
Your logo doesn't have text smaller than 7pt AND it doesn't havegradients.
You would like to either sew them in or iron them on.
Woven Clothing Labels will last longer and will resist washes, won't fade or fray.
You DO NOT need a durable label, ie. Your product will be washed infrequently.
You like the looks ande feel of it, ie. You want your label to be satin soft.
You would like your label to be anywhere from 3/4″ to 17″ in size
Your logo doeshave text smaller than 7pt AND it hasgradients.
You would like to sew them in. (Iron on is not recommended as it could possible melt the ribbon)
You can use Printed Clothing Labels if your items are not going to be washed frequently.
No matter what style do you choose, make sure they are professionally made, after all, they are one of the first details your customers will notice.
Make sure you let your Sales Rep. know what type of product you will be applying your labels and how are you planning to attach them.
3. Bold & Simple vs Intricate: Using The "Right Design"
Your products are not the same as your fellow crafters, why should your labels be?
Although we have made a large number of labels for handmade items for our customers, we want you to find your own style…
Go ahead, read our Guide To Design Your Own Clothing Labels and get inspired to make your own 🙂
But please come back and let us know which one is your favorite 🙂
4. Let's Talk About Colors…
Talking about colors and tastes can be a complex subject.
In the end, it is your brand, your image, your colors.
So think about how do you want your customers to perceive your products: classic, elegant, hip, modern, cute, strong, energetic, unique?
Do you want your label to: stand out, blend in, match….?
Do you know how in life sometimes you have to compromise?
Well, one of the greatest advantages of woven labels is that you will not have to!
You can easily create 2 (or even 3 or 4) versions of your label by just switching colors!
Keep the same design
Choose a different color combo
and for a nominal fee, you will have custom labels that will match even more styles and will give you more flexibility with your business image.
---
Let's Get Started
If you are thinking about ordering labels for your handmade products, just click on the button below, our expert Sales Reps will get back to you within 24 business hours and guide you through every step of the process.


Related Products
Related Posts
Clothing Labels Samples