The Client
Asenya is a design studio located in New York City, and their focus is "everything design". The Metropolitan Opera, Harlem Needle Arts and Neosporin are some of the projects that illustrate the quality of work they deliver.
The reason we loved working on this label is a simple as the pleasure of making a bold yet elegant, simple yet high impact logo come to a reality.
If you are in New York City and need some excellent design work done for you, go visit them. In the meantime, you an keep in touch in their Facebook Page.
The Solution
Product: Woven Damask Labels
Dimensions: 1.5″ x 1.5″ – Folded to a 1.5″ x 0.75″
Fold: Center-Fold
Special: Satin Black Background
#Colors: 2 – Dark Brown & Lime Green
Our customer was looking for a label that could be attached to her original artistic creations: it had to convey that "organic" feeling that a printed clothing label couldn't achieve. Therefore the need for a woven label.
A mirrored design and a center fold increased the "usability" of the label, as it could now be attached into different products and positions and it would always display their brand.
The size was just right for their bold logo, using an organic-looking font and high contrasting colors for to create impact.
Other Custom Labels Made for NYC Designers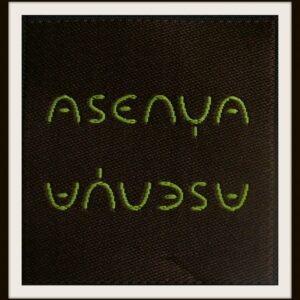 The Client Asenya is a design studio located in New York City, and their focus is "everything design". The Metropolitan Opera, Harlem Needle Arts and…