1. A Design Studio in NYC: Asenya
The Client
Asenya is a design studio located in New York City, and their focus is "everything design". The Metropolitan Opera, Harlem Needle Arts and Neosporin are some of the projects that illustrate the quality of work they deliver.
The reason we loved working on this label is a simple as the pleasure of making a bold yet elegant, simple yet high impact logo come to a reality.
If you are in New York City and need some excellent design work done for you, go visit them. In the meantime, you an keep in touch in their Facebook Page.
The Solution
Product: Woven Damask Labels
Dimensions: 1.5″ x 1.5″ – Folded to a 1.5″ x 0.75″
Fold: Center-Fold
Special: Satin Black Background
#Colors: 2 – Dark Brown & Lime Green
Our customer was looking for a label that could be attached to her original artistic creations: it had to convey that "organic" feeling that a printed clothing label couldn't achieve. Therefore the need for a woven label.
A mirrored design and a center fold increased the "usability" of the label, as it could now be attached into different products and positions and it would always display their brand.
The size was just right for their bold logo, using an organic-looking font and high contrasting colors for to create impact.
---
2. Labels for a New York Fashion Designer: Featuring Natya Porter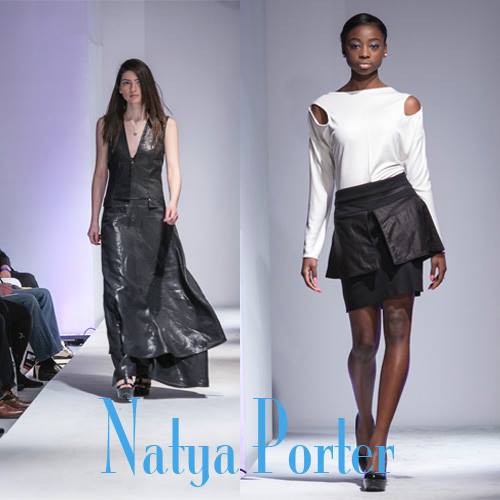 The Client
This Georgian born New York based designer certainly has an eye for exquisite style and glamour as evident when you see her exclusive designs adorned by these models in New York City. After Natya graduated from Parsons School for Design, which is located right on 5th Avenue in NYC; she made a bold statement and designed her first collection in 2013.
To find those who love and wear her custom pieces; you just need to look for the Cosmopolitan woman that is chic and who views her personal style as a piece of art.
Natya Porter believes that "style is a self-expressive language of communication between the individual and society." She has always had the desire to express her sense of beauty through clothes and with each individual design, she attempts to clarify that language. She experiments with different shapes and fabrications to compliment the female form as is evident in her work.
If you were to ask Natya what inspires her the most when she is designing new pieces, she would tell you that it comes from things she inspires in life and her love of fashion. She has the dream of educating others and becoming a more eco-friendly designer.
Natya was featured at the Brooklyn Fashion Week and the Empire Style Lounge.
Visit Natya Porter
The Solution
Product: Woven Damask Labels
Dimensions: 1.5″ x 1.5″ – Folded to a 1.5″ x 0.75″
Fold: Center-Fold
Special: Satin Black Background
#Colors: 2 – Dark Brown & Lime Green
When we were working with Natya on her label, we went through several revisions of the art to come up with exactly what she wanted. This is a service we provide when you work with us and we don't have set up or art charge fees related to creating the 'perfect' label.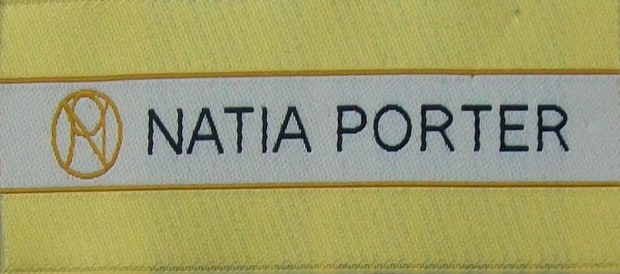 ---
3. Labels for Children's Clothing Line in NYC: Kimimila New York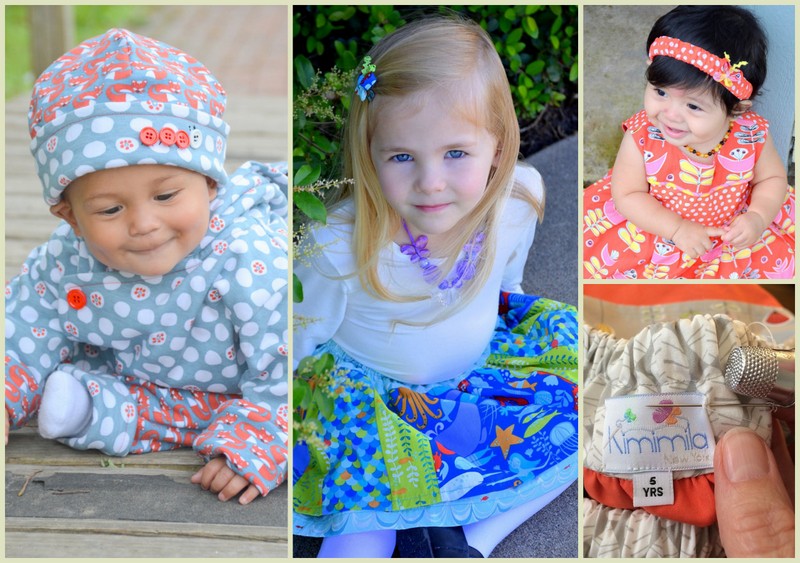 The Client
Cathy has been sewing most of her life and made the decision that it was time to take her talents to the next level and design clothing for our little ones. Sewing fills a need for Cathy and using sewing as her creative outlet was a natural thing for her to do.
Cathy graduated from the University of Minnesota with a degree in Home Economics with the focus of Textiles and Clothing. She tossed around the idea of making children's clothing after the passing of her husband, whom had always encouraged her to follow her heart. The label and logo Cathy created has a very special meaning to her as the word 'Kimimila' is the Lakotah Sioux word for Butterfly.
Having grown up in Southern Minnesota, the Lakotah territory, she always felt a connection to the Native American culture there. Couple that with her unique experiences surrounding butterflies after she lost her husband, Peter; a perfect fit was founded, and so now we have Kimimila New York.
Visit them at  Kimimila New York
The Solution
Product: Woven Damask Labels
Dimensions: 1.5″ x 1.5″ – Folded to a 1.5″ x 0.75″
Fold: Center-Fold
Special: Satin Black Background
#Colors: 2 – Dark Brown & Lime Green
This woven label is as precious as the clothes sewn by Cathy. This is considered an end-fold label, as the sides turn in for a nice edge. With our quantities kept with low minimums and are ability to add up to 8 thread colors in our woven labels, this is a great example of the detail you can have with your custom woven label. It took us a few tries to get this to be exactly what Cathy had in mind for her line of clothing. We enjoy helping the customer through adjustments, text, colors and patterns to bringing their vision to life.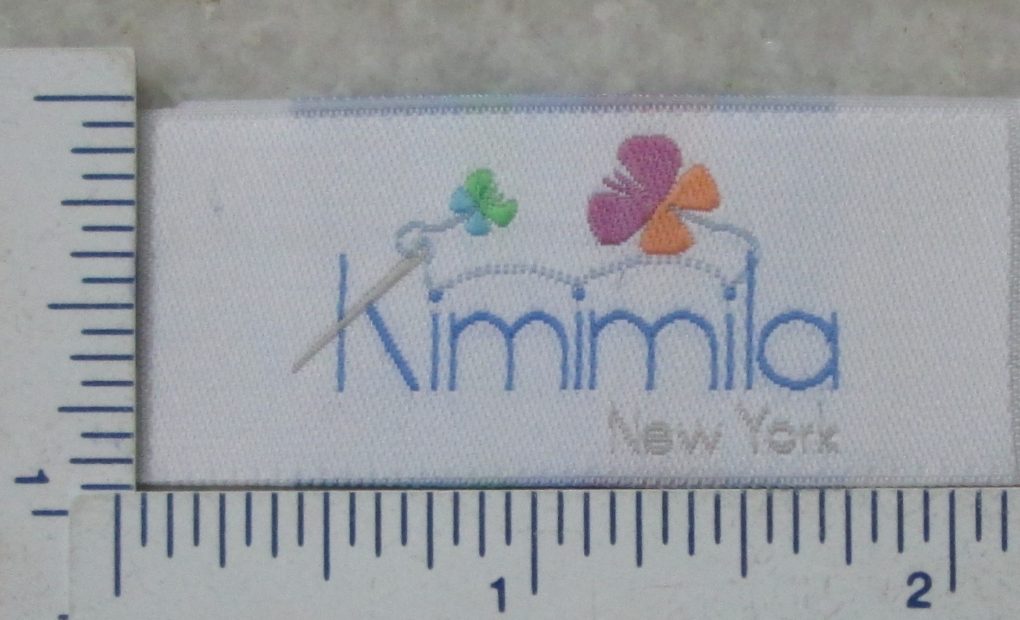 ---
4. Custom Labels for a New York City Cartoon-Style Designer: Adeen NYC
The Client
ADEEN is a New York City based accessory line from 20 year old lower east side native Rembrandt Duran. Remy is striving toward his dream of building ADEEN into a lifestyle brand using individuality, originality, and knowledge of style. His goal is to bring "fun" back into the world of fashion.
The first release out of ADEEN was Assman. It's a series of plush pins, boy short underwear and knit caps. The plush pin idea was something Remy had wanted to do for years. The idea came from his childhood collection of Beanie Babies and the dream of one day having his own 'army' of plushys. The character of Assman is something Remy created back in 3rd grade along with a series of comics called The Documents. He had wanted to be a cartoonist but later decided that style and fashion were his real passions. Fusing the two things together gave him an opportunity to give life to a character he had loved for years.
The Solution
Product: Woven Damask Labels
Dimensions: 1.5″ x 1.5″ – Folded to a 1.5″ x 0.75″
Fold: Center-Fold
Special: Satin Black Background
#Colors: 2 – Dark Brown & Lime Green