The care label kit provides a collection of 4 template and 32 icons/symbols for labeling clothes, shoes or any other product that needs to be washed. If you are looking for a way to communicate the correct washing instructions in an easy-to-understand format, this is a great resource!
It's no surprise that the introduction of care symbols in 1963 has aided consumers from different regions and cultures acquire a consistent, customized textile care information system that doesn't rely on language or the alphabet.
Care Labels Templates
All care labels have to show somehow the instructions to help the users take care of their clothing in a correct way. Companies can choose to add the care information using text only. Although indeed, using the care symbols or icons is not mandatory, it is also true that by using them you can reach a larger audience.
However, The care label templates included in the kit are very versatile (SVG files) and can be used as a guide to help customers design their care labels easily from home using a free vector file editor like Inkscape or a paid one like Adobe Illustrator or Corel Draw.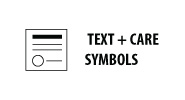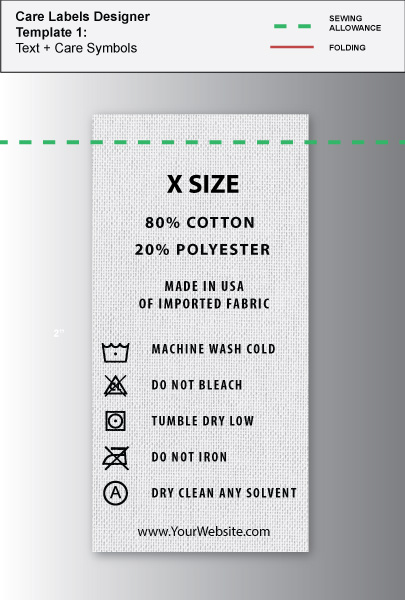 Care Label Template 1 – Size + Materials + Origine + Care Symbols
This care label template includes a field for adding the size in the upper section, in bold and capitalized to make it stand out from all the other information. If you count with a special label to indicate de size this template might not be a perfect fit for you. Otherwise, if you need both a size label and a care one, this all-in-one label solution is good for you.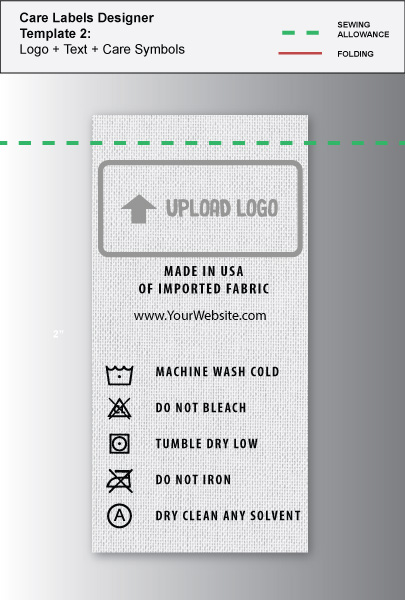 Care Label Template 2 – Logo + Origine + Website + Care Symbols
This second template is very similar but it doesn't include a size field. If you already have your clothing line's size tags and would like to add your company information plus the care instructions this template could be all that you need.
Especially if you are looking for branding your products, having a big space for your logo in the upper part of your labels along with your website URL would be a smart choice.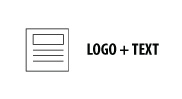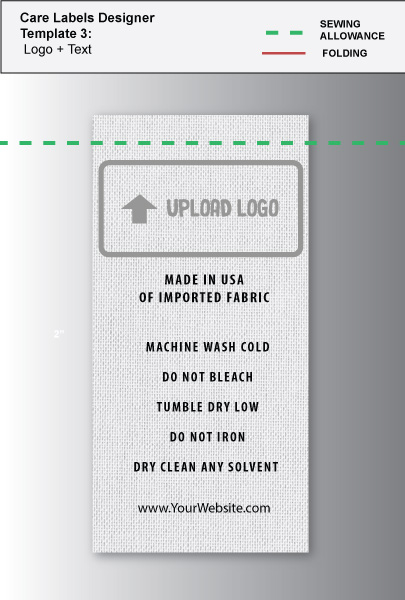 Care Label Template 3 – Logo + Origine + Care Instructions (No Symbols) + Website
This template is again very similar to the last one but it doesn't have any symbols or care icons. Why is that? and How can this layout be better than the other? We won't say it is better, as we will always recommend using symbols to reach a wider international audience. Nevertheless, some customers prefer not using them to avoid any complications. It is definitely easier to write down the care instructions only, without having to make a little research to know what icons or symbols correspond or match your care instructions.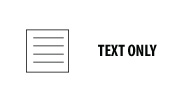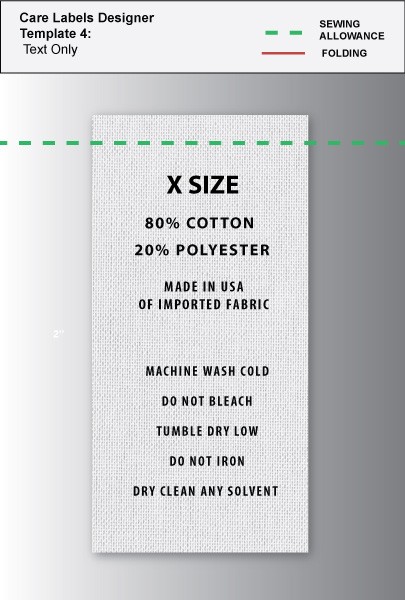 Care Label Template 4 – Size + Materials + Care Instructions (No Symbols)
And talking about simplicity, this last design is the king. No logo, no symbols, only text. This one may work if your clothing line already have a Hem Tag with your logo and you are just looking to comply with the minimum information required to launch into the market.
Care Symbols
The care symbols are protected by federal and international trademarks. The symbols benefit from this protection to ensure that the established norms are maintained, preventing information from being misinterpreted.
Washing Symbols
Machine washing is a great way to clean your clothes, but there are some things you need to keep in mind when selecting the right cycle and temperature settings. Always read the care label carefully to make sure you're using the correct settings for each garment- exceeding the recommended temperature can cause fabrics to shrink, fade, or lose their shape.
In general, most synthetic fabrics can be machine washed on a warm or hot water setting, while natural fibers like cotton should be washed on a cool or cold water setting. If you're not sure what type of fabric your item is made from, it's best to err on the side of caution and wash it on a lower temperature setting.
Bleaching Symbols
Chlorine bleaching is not safe for many of the fabrics used in today's clothes, as it can cause them to yellow and wear out faster than they should. Non-chlorine bleach is a more gentle alternative that will still effectively remove stains from your clothing items without damaging or fading their colors.
Do not use chlorine bleaches on silk, wool, leather, mohair, spandex and other man made fibers (except nylon) as they may cause severe damage to the fiber which in turn could lead to fabric break down and reduced garment life span.
This is an important one to remember, because bleach can damage certain fabrics and cause fading or shrinking over time.
-Chlorine bleach only on white or color-fast light colored fabrics.
Warning:
Do not use chlorine detergents together with chlorine bleaches on colored fabric!
Do not mix different types of household cleaning agents such as ammonia based products with chlorine materials like bleach because fumes can form which are harmful for your health and also cause permanent staining on many types of surfaces including clothes.
Drying Symbols
It is important to be able to understand the symbols that are used when drying clothes in order to get the best results. There are many different kinds of symbols, and some people may need a little help figuring out which one they should use.
The following are some of the most common drying symbols:
-Dry Flat: This symbol means that you should hang the clothes out to dry without using a dryer.
-Dry Clean Only: This symbol means that the clothes should only be dry cleaned, and not dried in a machine.
-Tumble Dry Low: This symbol means that you should put the clothes in a dryer, but only on the lowest heat setting.
-Tumble Dry Medium: This symbol indicates medium heat for tumble drying.
-Tumble Dry High: This is the highest amount of heat recommended for using with your tumbler dryer.
-Do Not Tumble Dry: This symbol means that you should not put the clothes in a dryer.
For other care instructions please take a look at the following full list of drying symbols:
Ironing Symbols
Ironing symbols first appeared in the early 1970s as a way to provide more specific care instructions on clothing labels. They are used in addition to, or sometimes instead of, text-based care instructions.
There are three main types of ironing symbols: those that indicate how hot the iron should be (low, medium, high), those that indicate what type of fabric the garment is made from (wool, cotton, synthetic), and those that indicate whether or not an item should be dried cleaned.
Some ironing symbols can be combined to create more specific instructions. For example, a symbol for "dry clean only" followed by a symbol for "iron at medium heat" would mean that the garment should be dry cleaned and then ironed with a medium heat setting.
Subscribe to our Email List and receive The Ultimate Care Label Kit. 4 Templates + 32 Care Symbols / Icons for Free
Fill out this simple form with your Name and Email, click on submit and you will receive an email with a link to the template in PDF format suitable to be opened and edit with any vector design app such as Adobe Illustrator, Corel Draw or Inkscape.
Custom Clothing Labels
Request Free Clothing Labels Samples