First of all we have to state that Hook and Loop Patches are Awesome!!
Traditionally, the popular way of attaching pvc patches to your clothes were by sewing them on.
Although this is still the safest way of doing it (because it won't fall down at the washing machine for instance), another methods for sticking the patch to your hats, shirts, jackets or uniforms, have emerged.
Nowadays you not only can sew them on, but also iron them on or just peel and stick a self-adhesive patch . (Read about our types of backings here)
However, our customers preferred fasteners are made-out of a pair of plastic sheets, one with micro loops and the other with little hooks better known as Hook and Loop.
One of the greatest benefits of this last method is that it allows you to remove it and stick it again as many times as you want, by simply pressing and pulling apart according to your needs.
Without any further delay, here you have the Top 15 PVC Hook and Loop Patches Samples that will blow your mind!
1. Hook and Loop Patch for Military Gear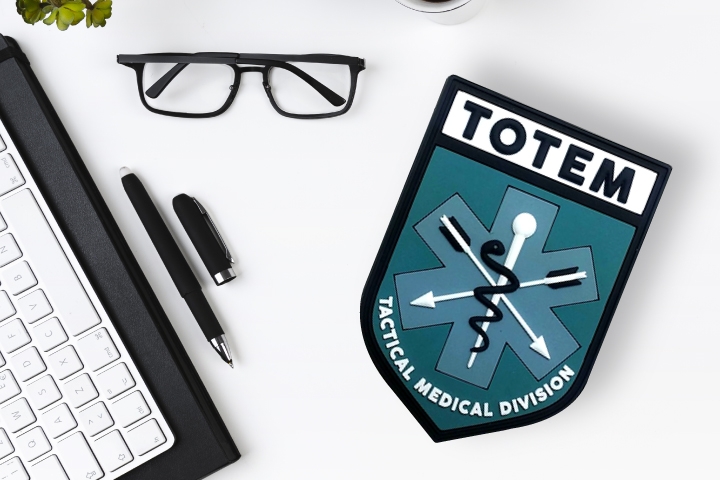 With a half of a century in the field of tactical insight training platforms, this organization have trained "From US and British Special Forces operators to civilian SWAT team members" as stated in their site.
It has been an honor that such a highly authoritative medical support provider chose us to make their patches. It is a simple logo made in 3D raised PVC.
At the end of the process they expressed their opinion about our job by saying
" Direct to the point service. Quick and efficient, It was very straight forward and very professional"
Specs:
Product: PVC Patches with Hook and Loop Backing
Backing: Hook and Loop
Size: 2,16'' x 3,14''
No. of Colors: 3
2. Funny PVC Patches for Tactical Vest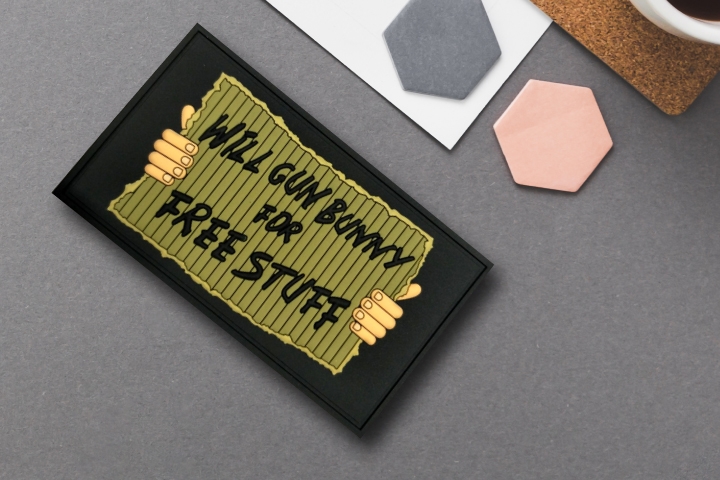 Those whom are not familiarized with the military slang voices might not understand this sentence. According to the Urban Dictionary "Gun Bunny" refers to soldiers who handle artillery. The full phrase could mean that someone is looking (or that "will kill") for free products.
This customer was quite happy with the final turnaround, in their words
"Becky and all of LINX Corp is always incredibly helpful and quick to reply to any questions. Also, if any problems arise, LINX Corp has fixed these problems quickly and professionally."
Product: 3D raised PVC Patches
Size: 88,9 W x 50,8 (H) x 4 mm'
Backing: Hook and Loop
No. of Colors: 3
3. Patch for Airsoft Jackets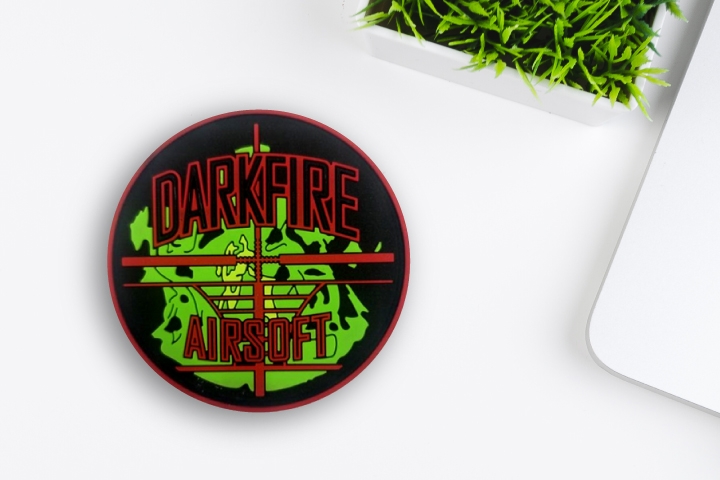 They are still selling this patch in their site! This is an honor to us. Darkfire Airsoft is more than an Airsoft field and store, they create events and there is a big community around this guys, with events every other week for those Airsoft lovers.
Regarding the patch design, is just their logo made in a 2D raised soft rubber PVC with a 5 colors mix.
Their opinion:
"I have a decently complex logo with green flames in the background. I ordered 2 inch patches from Linx and they made them as good as PVC patches can possibly get. They helped by creating multiple drafts for me until I was pleased with the digital file. Even having seen the digital creation, I was still surprised when I received the patches about how nice they were."
Product: PVC Patches
Size: 1'' x 1''
Backing: Hook and Loop
No. of Colors: 5
4. Glow in the Dark PVC Hook and Loop Patches for Backpacks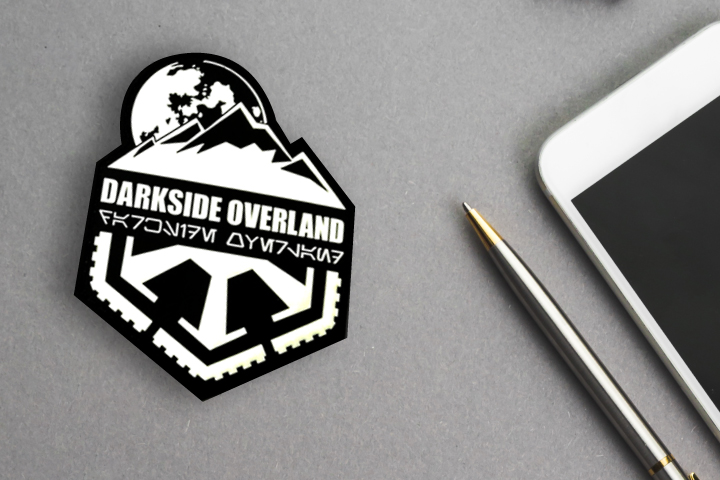 Don't you think this patch look amazing? It will look better at night because it will glow in the dark. This outstanding design with a beauty big full moon behind the mountains compelling to go deep into wild adventure. Exactly addressing to the kind of target they are aiming.
They were amazed with our customer service
"Clear communication, solid feedback on drafts, and fast shipping." they said.
Product: PVC Hook and Loop Patches
Size: ___
No. of Colors: 2
Special Feature: glow in the dark
5. 2D Logo PVC Hook and Loop Patches for Hats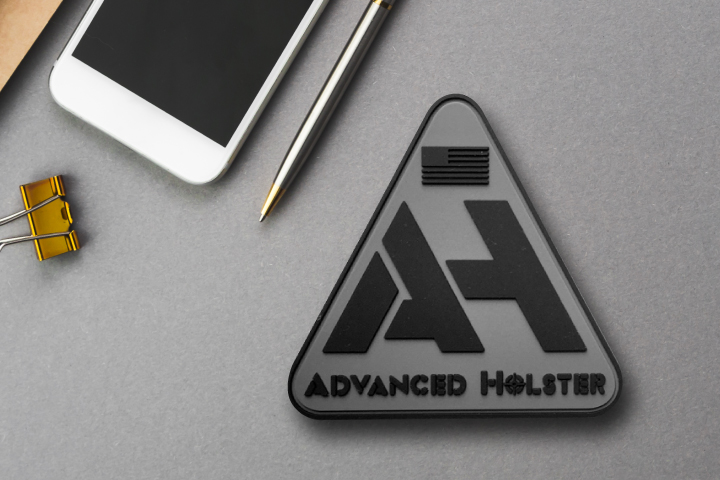 A company that produce any sort of holders for equipment such as gun holsters, mag carriers, knife and tomahawk sheaths with high quality standards like this one wouldn't choose the wrong custom products supplier.
What they wanted was just transforming their logo into a patch, simple and elegant, made in a soft rubber material using two colors, black and grey.
When your goal is just doing branding for increase brand awareness or advocacy you really don't need a masterpiece or to think out of the box.
When they received their order in a timely manner they expressed their gratefulness saying
"Linx Corp has always been very helpful and professional during any interaction I've had with my sales representatives and the products they've made for me are top notch. I recommend them any time people are looking for PVC patches for their business."

Brent Fernandez
Product: PVC Patches
Size: 3'' x 2,90''
No. of Colors: 2
6. Fire Department PVC Hook and Loop Patches for Jackets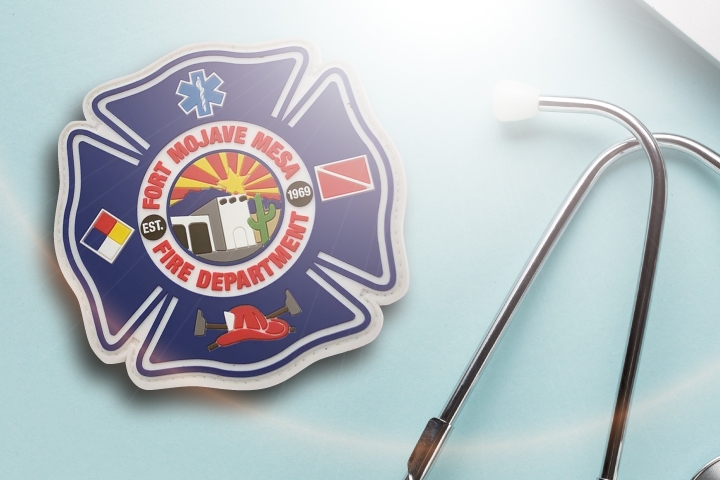 This is a great example of laser cut patches. Look at the borders, there is no square, no rounded frame, just the custom special shape of this sort of clover or flower.
It is also a great representative of multi-color patches.
Multiple colors can give life to the patches, the better if the colors correspond to the brand's color-chart.
Plus, firefighters have always been famous because of their honesty.
What did they said about our services?
"Top notch quality and had my custom order fulfilled and shipped quickly."

Raymond Proa
Product: PVC Patches
Size: 3,5'' x 3,5''
No. of Colors: 11
7. Police Hook and Loop Patches for Vest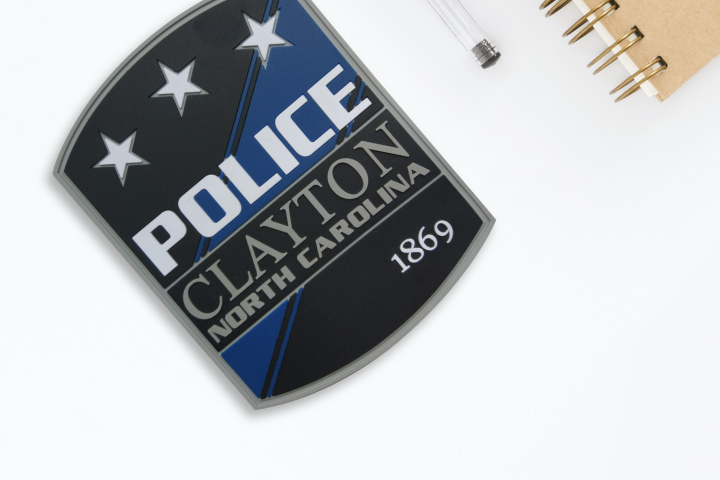 Product: PVC Patches
Size: 3,75'' x 4,5''
No. of Colors: 4
This highly authoritative police institution, with half of a century of history, decided to change their old fashioned embroidered patches by these brand new 4 color PVC + 2D ones.
What did these "heroes-without-cape" said about us?
"After making contact with the Sales rep, she was very receptive to our needs and keeping me abreast of the project. The items arrived in a quality manner and in a relative fast time period."

Jon Gerrell
8. Round PVC Hook and Loop Patches for Clothes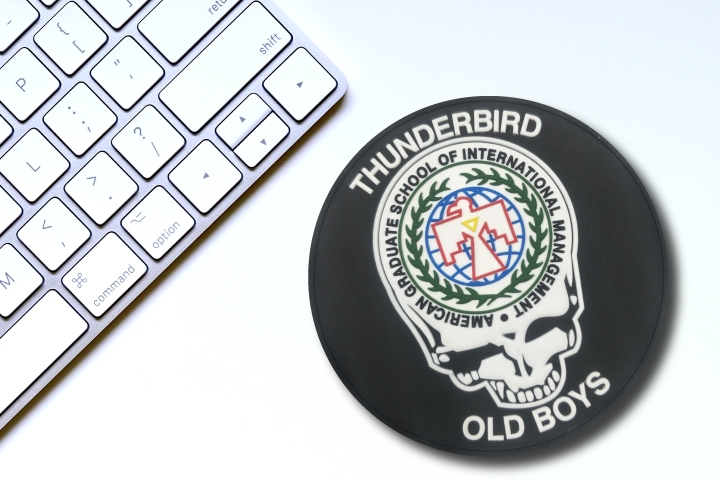 Don't let this terrifying skull scare you. This isn't about some dark metal band or concert, but a freaky idea of some of the so called "old boys" from the Thunderbird Global School of Management.
However, the design is catchy, and quite cool. Excellent use of colors to focus in the most important element: the school's emblem.
Product: PVC Patches
Size: 3,75'' x 4,5''
No. of Colors: 6
"Final product is outstanding in detail."

Chuck Hamilton
9. Ranger's Eye Hook and Loop Patches for Bags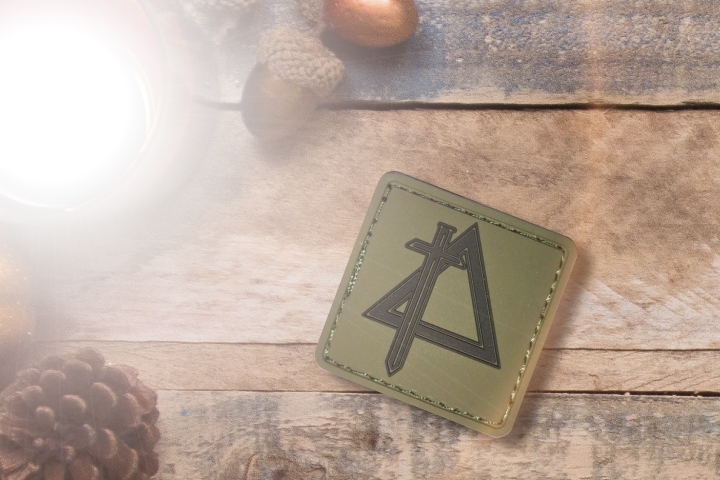 Product: PVC Patches
Size: 1,5'' x 1,5''
No. of Colors: 2
This is another outstanding sample for a minimalist design applied to a mini-patch. Also an example of a mysterious message :). symbolic patches like this can help identify a brotherhood, club members, sects, lodges, or any other group of people.
"Once we got past what was initially confusing about the order/proof/approval process got items in timely manner (confusion mostly mine)"

Vince Bizzini
10. Army Unit Patch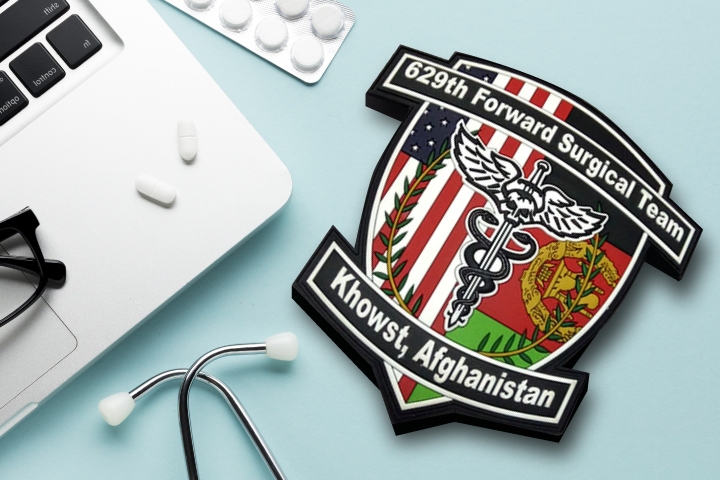 Product: PVC Patches
Size: 4,38'' x 4,5''
No. of Colors: 8
What these guys had in mind was to make a patch to identify their medical unit in Afghanistan, there would be as a tittle and sub-tittle, "who you are" and "where you are".
Regarding the symbolic design, on the one hand they wanted to put a sort of caduceus but with a skull at the center of the image. On the other hand they also needed the two flags to appear and had another old fashioned military embroidered patch as a reference. Those are too many elements and nevertheless they were combined by our dedicated team of designers in a way that all the elements were readable and comprehensible.
"The technician that helped design my patch was responsive to my ideas and helped steer me in the right direction when one of my proposals looked good on paper but wouldn't translate well to a PVC patch. The finished product was better than I had even hoped for! The final product is fabulous!"

Matthew Boyer
10. PVC Hook and Loop Patches for Tactical Vests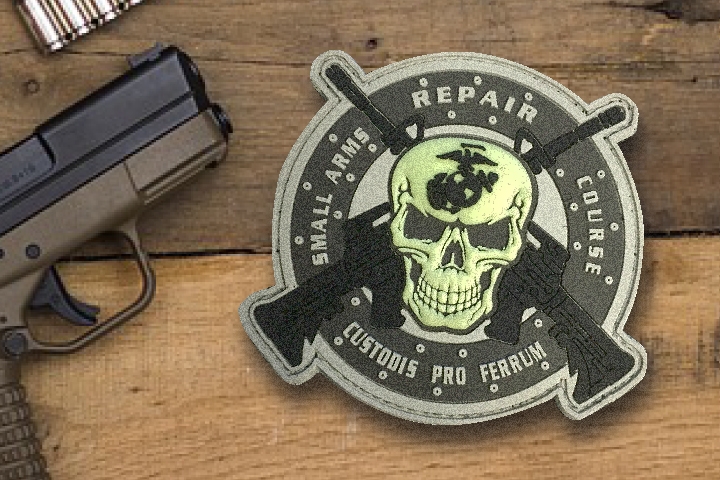 Product: PVC Patches
Size: 3'' x 2,77''
No. of Colors: 4
What part of my glow in the dark patch should standout at night? It depends on what are your intentions. If you have a brand, logo or product you might want your name to stand out or maybe your phone number, a call to action or perhaps just something funny.
Obviously these weren't priorities for these guys.
If what you want is to scare people, the answer is easy, lets glow up the scary part of the design.
Luckily at day light we can analyze another details like that little emblem located at the top of the skull.
What does that means? That's the official insignia of the United States Marine Corps. Although the real one has a lot more details, here we can hardly distinguish between an eagle and the globe, however this emblem is made also by an Anchor and a ribbon with a phrase that says in latin "Semper Fidelis" (which means always faithful).
"Great service, fast response, and excellent customer service."
Joseph Bering
11. Special Unit Military Patch for Vests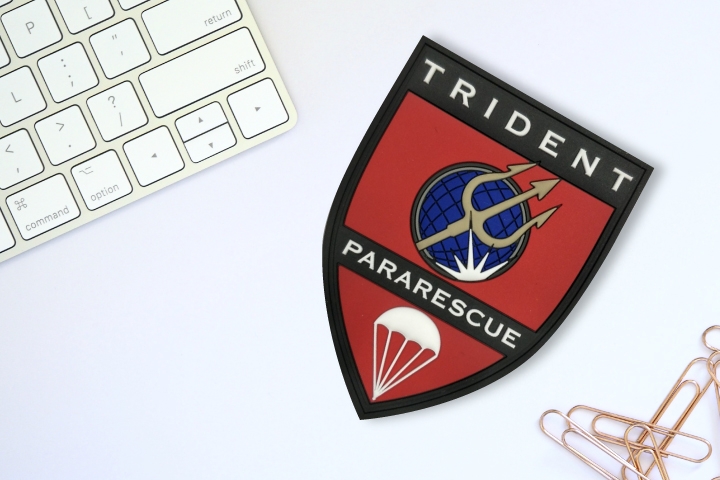 Classic shape special unit badge patch with seven colors, tittle and sub-tittle, 2 clear symbols to identify the team, a trident over the globe (maybe US Navy) and an open parachute at the bottom. High contrast, clean layout.
"Becky has been great to speak with. Super helpful. Also, the promptness in artwork and design were very fast."
Kenneth Klothe
12. Religious Patches for Jackets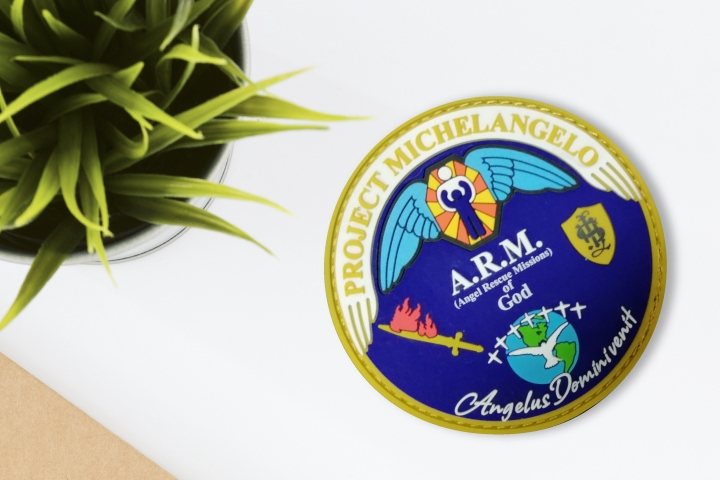 One more time, lots of elements beautifully put in a little circle: three tittles, four icons, 10 colors. Nevertheless the final design made it seem easy to read without any overlapping. The main graphic elements symbolic meaning: the angel refers to the people who wants to serve others in a good way.
On the left side we see another intriguing symbol. As described in Genesis, the flaming sword guards the entrance to Paradise. On the right side there is a shield and at the bottom there is a dove representing peace which protects the earth with the aid of seven white entities.
Great communication. Questions answered quickly, and professionally. Product exceeded expectations. Preparing to order more patches from you soon. Definitely will boost morale of our members, and will give a sharp image for the public to see.
Michael Burns
13. Cool Patches for Tactical Vests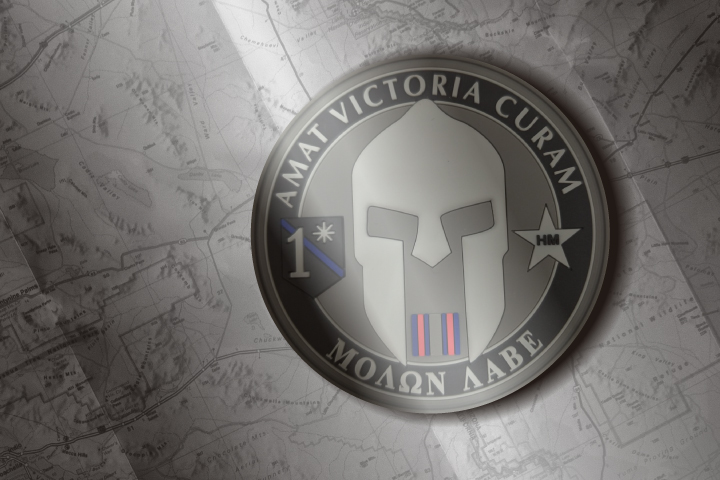 This awesome PVC patch is also a masterpiece of mystery that resembles one of Dan Brown main characters quest. Lets try to unveil what is this all about.
The main tittle at the top is a famous Latin phrase that has been translated as "Victory loves carefulness" or as "Success favors those who take pains". The other one at the bottom is ancient Greek and means "come and take them", we all might have heard it because it is pronounced in the movie "300" by the spartan leader Leonidas as a response to King Xerxes capitulation request.
… and back to the twenty first… what did our mysterious customer had to say about our work?
Every question was answered and the product came out exactly as shown. I would recommend Linx to anyone looking to have patches made.
David Fisher
14. Cross Fit Patch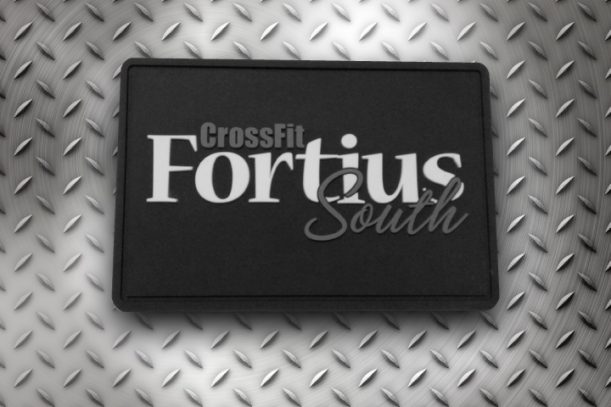 One way of leverage your business is to tell people you care about them, this is how many successful businesses boost their loyalty and/or advocacy, by giving people high quality products with their brand, these products can be: hats, pens, t-shirts, backpacks, magnets, zipper pull or in like in this case an awesome PVC patch with Hook and Loop for easy use. According to their web page Cross Fit Fortius South offers 2 major services, Cross-fit and Olympic Weightlifting.
They are using the standard size for flag patches.
They are an important authority in the weightlifting field located in California USA
"Fast response and amazing customer service."
Alejandra Lopez
15. Military Unit Hook and Loop Patches for Military Gear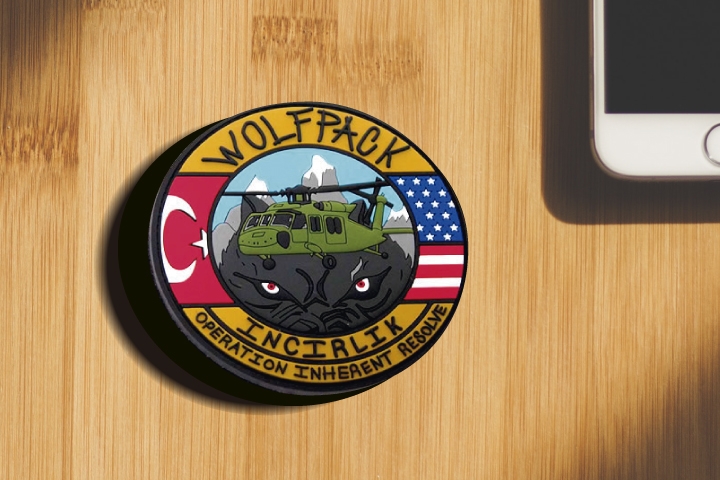 Sometimes customers require us to include what it seems a little too many graphic elements in a single patch. We have to say, it is possible however the less graphic elements, the better. Nevertheless that's the magic of PVC patches, no matter how many elements you have in your art-design PVC will show them all in detail better that embroidered or woven. In this case the requirement was something like "I want 3 tittles, 2 flags, a landscape of high mountains, a helicopter and a giant wolf" someone could think "that's too much it wont feet on a little patch" and instead it looks amazing.
All questions I had were promptly answered. All aspects of my order were treated as if they were the most important of all.

Scott Flux
Related Post