Promotional products for the music industry, also known as music promotional Items, like lapel pins, keychains, charms and patches are ordered with several purposes.
On the one hand a music band is like any other business, if you want to sell it you have to promote it. Even though nowadays online marketing opens awesome opportunities to show up your logo, products and services nothing compares the positive effect and good impression a physical object with the name of your brand or music band can generate on your target audience.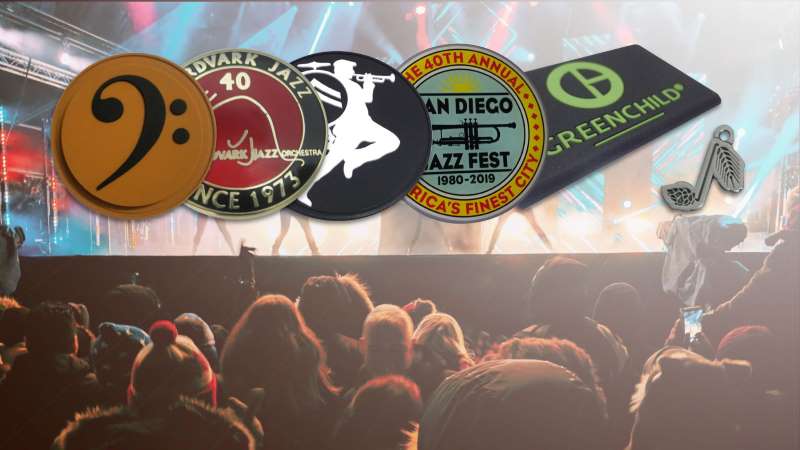 And on the other hand the music industry is not limited to the artists but involve many other proffessions related to the music business, as luthiers, sound engenieers, videographers, musical geer, devices and accesories suppliers, just to name a few out of a much longer list.
It's easier with US by your side!
Any size, any colors, PMS color matching. With more than 15 years of experience, our professional designers can help you with your artwork.
3 Lapel Pins for the Music Industry
Hard and Soft Enamel Lapel Pins are widely used to identify a staff at a music event or concert or to generate a sens of belonging among the members of an orchestra, jazz, rock, pop or hiphop band.
These type of music promotional items can be manufactured with different backing options, platings, finishes, materials, shapes and colors. Here you have 3 samples of custom lapel pins we have made for customers all around the country.
1. Magnetic Lapel Pins for Jazz Fest
San Diego Jazz Fest is a traditional music event that have place at San Diego California once a year since 1980. This magnetic pin was made as a giveaway for the participants.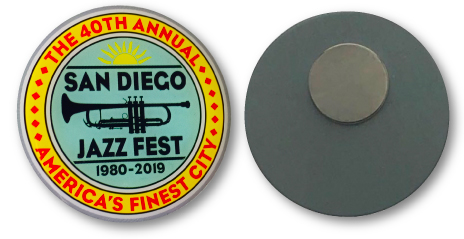 2. Custom Shaped Lapel Pin for Music Band
This beautiful pin made for a music band in Panamá was plated with bronze and cut to shape.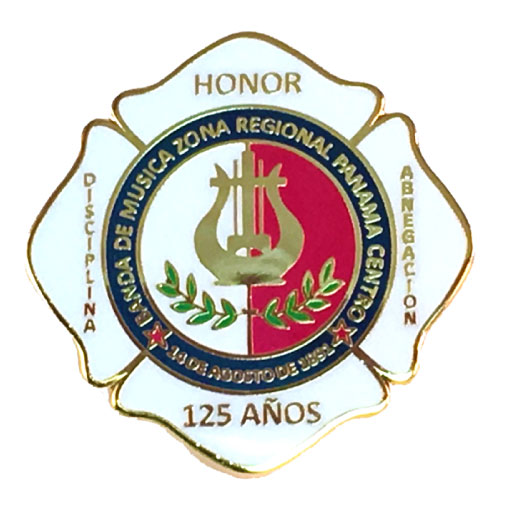 3. Bronze Plated Hard Enamel Pin for Jazz Orchestra
Founded back in 1973, the Aardvark Jazz Orchestra is an eclectic jazz band. The year 2013 they celebrated 40 years together. As a way to award themselves they ordered this sort of recognition lapel pin.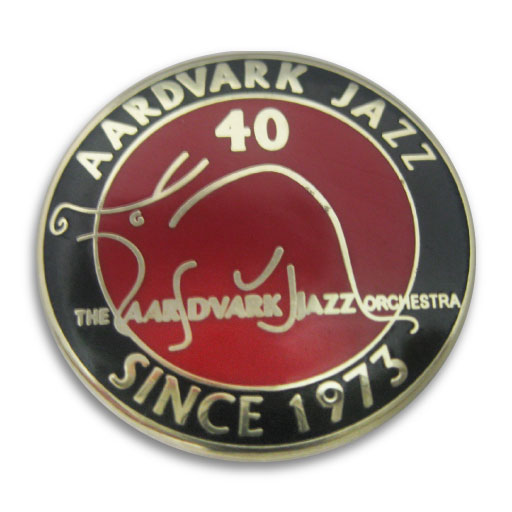 4. Music Note Charm for Crafted Beers Brand
We already published a post about Beer Patches and another one about beer promotional items, however, the sample below isn't in any of these posts because we consider it has more to do with music than with brewery.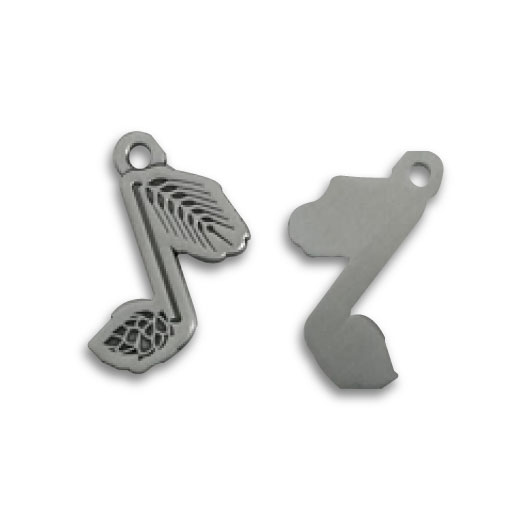 The client, the Copper Hop is a brewing company and even when crafted beers might not be inside the music industry, in many ways one could say these industries are somehow related or, at least, closely bonded. This beautiful design mix both ideas in a unique custom charm that almost anyone would love to wear.
5. Rock Band PVC Keychains
Bedrock is a covers band that plays all the hits from the 80s and 90s. They play at virtually any kind of event like weddings, birthdays, private parties, at festivals, opening for national acts, casinos, county fairs, charity functions and corporate events for instance.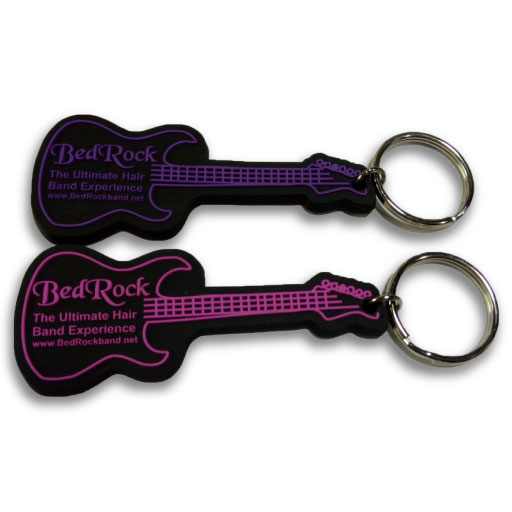 A great way they found for promoting their "rock company" was giving away custom keychains instead of business cards. They chose soft rubber PVC because it gives a young touch, they are bendable and very confortable to have in your pockets. The keychain everyone needs and people carry them anywere so is strategic for promoting your brand.
5 Patches for the music Industry
Another way for promoting your music brand is by usign patches. Our custom patches for the music industry can be made out of fabric, leather or PVC with backing options such as iron on in the case of the woven and embroidered ones and with hook and loop backing or peel and stick in the case of the PVC and leather patches.
1. High School Orchestra Woven Patches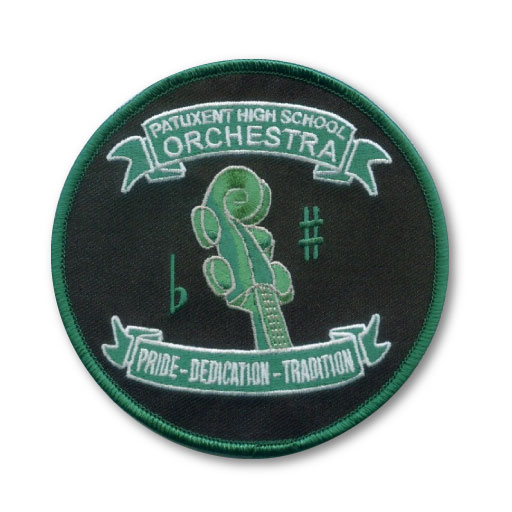 2. High School Orchestra Woven Patches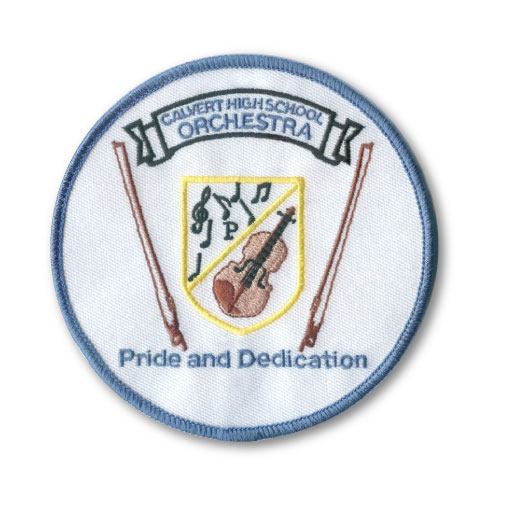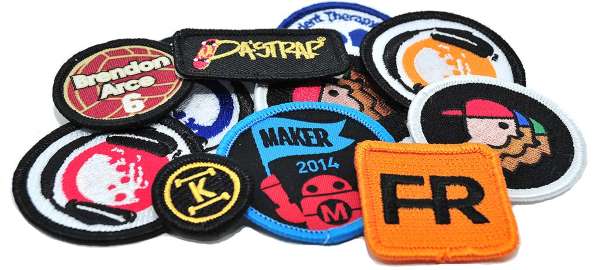 With just a home iron, you can attach your patch to almost any item.
3. Bass Clef Mini PVC Patch
LM Products is a Vintage Guitar Straps manufacturer. They also made keyword stands and other leather goods for the music industry as wallets and briefcases. The patch is a decorative detail for their bass leather straps.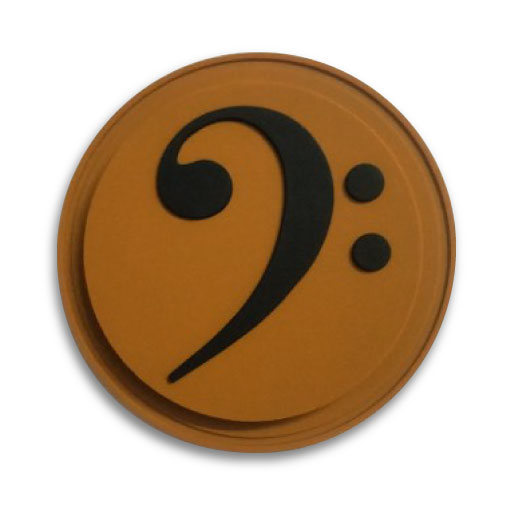 4. PVC Patch for Jazz Band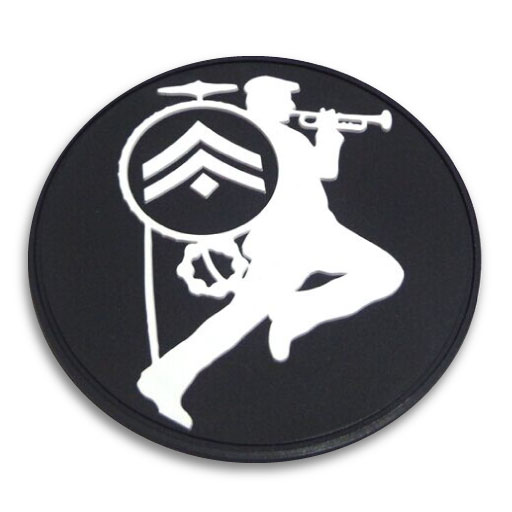 5. Gear for Musician Company PVC Patch
Greenchild is a guitar pedal manufacturer. They design and craft high quality gear for musicians with top industry standards. The patch itself have nothing to do with music. However, as they are in the music industry as other brands who want to promote their products and services with giveaways and personalized items like this pvc patch, we think they deserve to be here.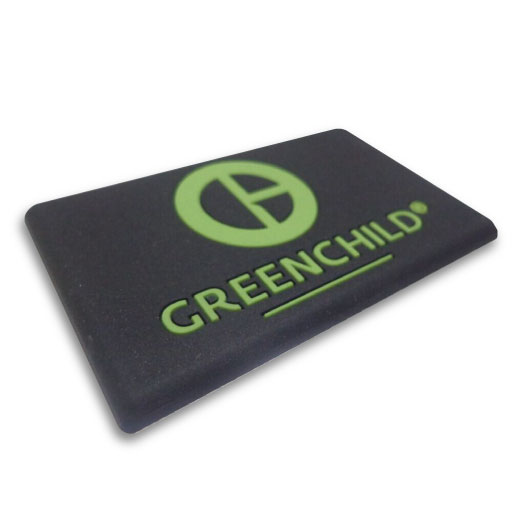 Related posts