Do you have a place in your store where you would like to display some jewelry and don't know how to organize it beautifully? The way you show up your charms, earrings, pendants, bracelets, or necklaces is key to selling more. Choose the style that better suits your needs. From the elegant, transparent ones to the rustic tough displayers here you have our list of the best 23 Jewelry Display Ideas!!
Always remember that if you want to design or produce custom charms or bracelets you can count with us. Sienna Pacific is a US based wholesale custom products manufacturer and supplier.
Jewelry Display Ideas
The following ideas are great to display jewelry for sale for craft shows, flea markets, or even to use at home.
Jewelry display trays
Jewelry display trays are available in different materials, such as acrylic or metal. They can be used to hold earrings, necklaces, bracelets, rings and other types of jewelry that you may have for sale at your booth or stand. These items will make it easy to see everything that is available while keeping them organized and looking professional.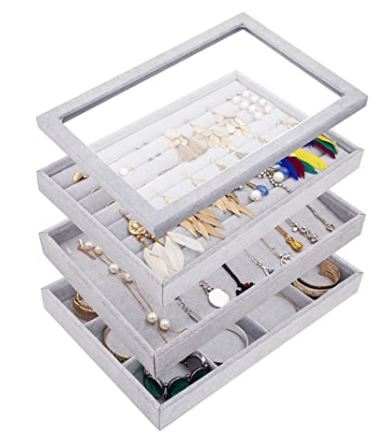 Stackable Jewelry Organizer Tray
The Velvet Jewelry Box is the perfect way to store your jewelry. The soft, luxurious fabric protects your jewelry from scratches and damage, while the elegant design ensures that your jewelry always looks its best.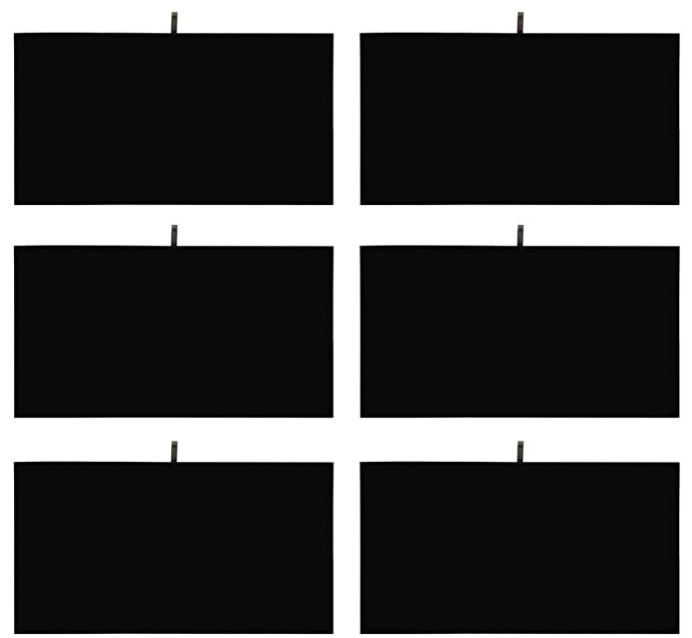 6 Pcs Set Jewelry Display Trays
This set of six jewelry display trays is perfect for showing off your jewelry and accessories in style. The velvet lining is luxurious and looks great against any type of jewelry, while the wood construction ensures that your items are safe and secure. Plus, the tray inserts are also ideal for displaying other types of merchandise. Whether you're looking to showcase your collection or need a smart way to organize your space, these trays are sure to do the trick.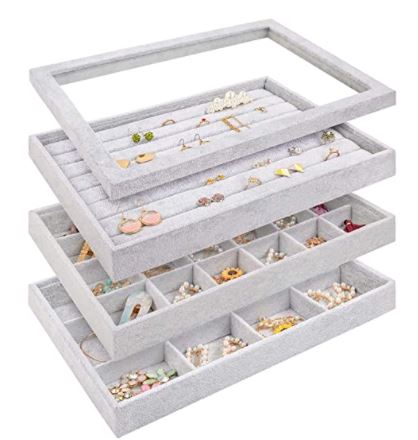 Stackable Velvet Jewelry Trays Organizer Set
This set includes four velvet jewelry organizers in different sizes. The soft, elegant material protects your jewelry from any kind of damage, and the clear glass lid allows you to display them while keeping them dust free. These trays are perfect for earrings, bracelets, rings, and necklaces.
Jewelry display stands for craft shows
The following jewelry display idea are perfect to use at craft shows. Stands can be very practical when it comes to displaying merchandise, as they take up a small amount of space and allow customers to see the product from all angles.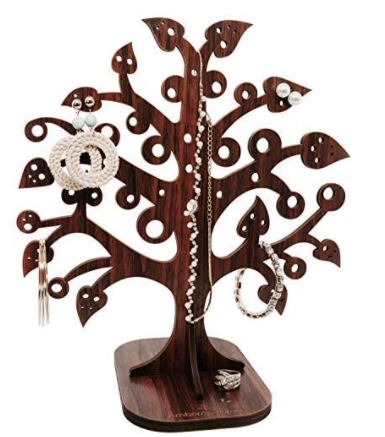 Tree Jewelry holder
This beautiful piece is made from natural wood, with a sturdy base and ample branches to store your earrings, necklaces and other treasures. It makes a stunning feature on any dressing table or chest of drawers, and is the perfect size for hanging your gold jewelry.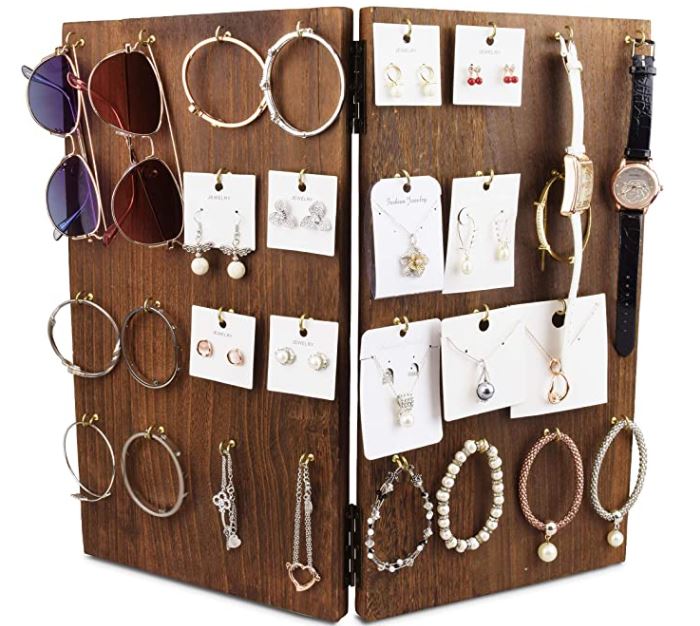 Wooden Two-Sided Panel Jewelry Display Stand
This Wooden Two-Sided Panel Jewelry Display Stand is perfect for displaying your accessories while on the go! The metal hinges make it foldable and easy to stand independently in a V shape, while the 16 hooks on both sides keep everything tangle-free. The Plank-style design and half-cross-joint construction also allow the stand to be folded easily, making it the perfect travel accessory!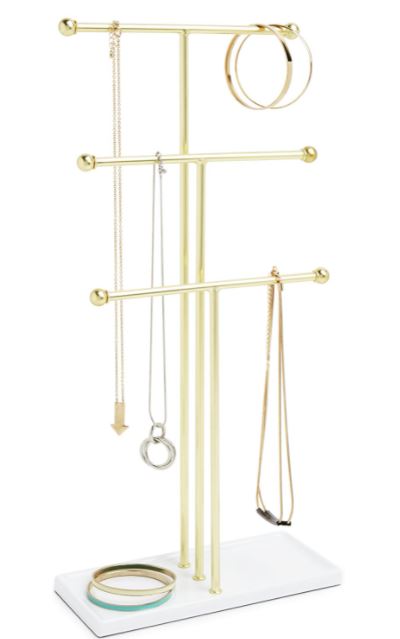 Standing Necklace Holder
Keep your necklaces untangled and easy to access with this necklace holder with three bars and integrated accessory dish. With its 19-inch height, it's also perfect for extra-long necklaces. The base also doubles as a jewelry tray for added accessory storage.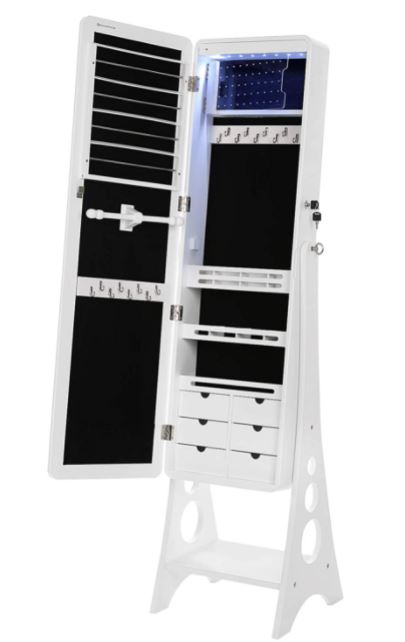 Free Standing Jewelry Cabinet
This jewelry cabinet is perfect for anyone who wants to keep their jewelry organized and easy to access. The 8 built-in LED lights make it easy to find the piece you're looking for, and the acrylic board prevents tangles. There are also 6 drawers, 18 necklace hooks, 48 ring slots, and a scarf rod to store all of your accessories.
Jewelry Display Cases
Jewelry Display Cases are another elegant way to show off your merchandise and can be used in different settings, such as at trade shows or in store windows. There are many types of jewelry display cases available on the market, from traditional wooden ones to more modern acrylic designs.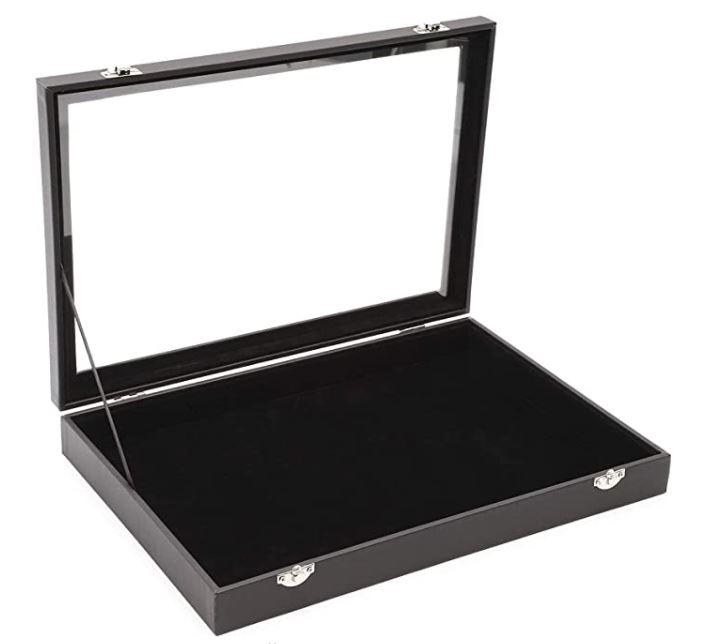 Black Velvet Jewelry Display Case
This black velvet jewelry display case is perfect for exhibiting your jewelry at home or in professional settings at retailers and boutiques. The sturdy, durable construction is made of quality velvet with a glass top. The versatile and stylish design can hold rings, earrings, necklaces, and bracelets. Give this box as a gift to your loved ones on special occasions such as weddings, anniversaries, birthdays, and Valentine's day.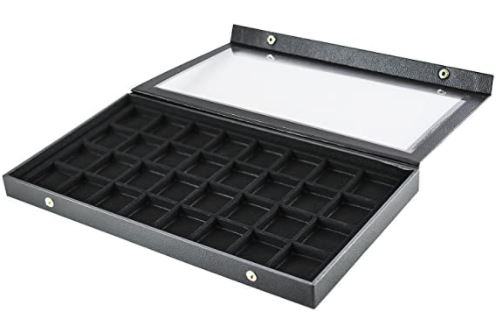 Black Plastic Jewelry Display Case
This Black Plastic Jewelry Display Case is perfect for organizing and displaying your expensive rings and earrings. It features a sleek, innovative design with a see-through lid, black velvet lining, and button closure. Whether you're using it at home or in a retail setting, this jewelry case is sure to impress.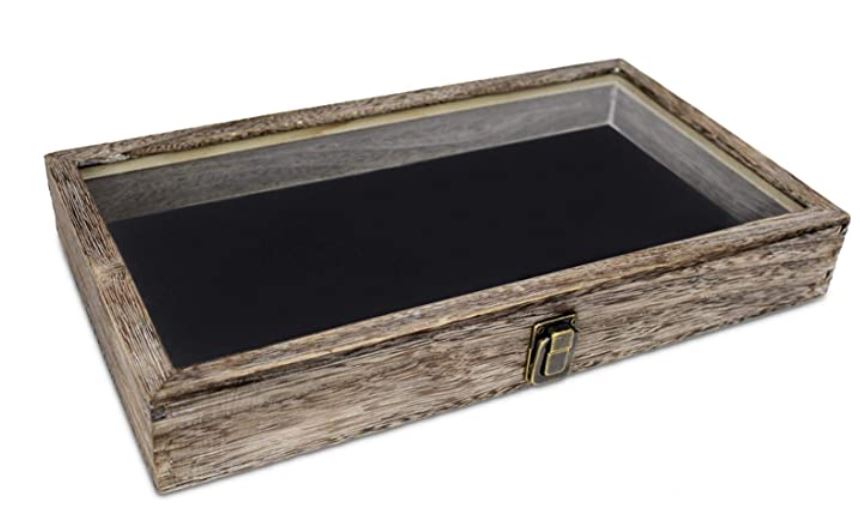 Wooden Jewelry Storage Case
This wooden jewelry storage case will help you keep your accessories organized and easy to view. The black velvet insert can be removed to store earrings, rings, pins, bracelets, necklaces, medals, brooches, knives and more. The tempered glass lid provides a clear view of the contents inside the box. The sturdy metal clasp and hinges ensure that your items are safe and secure.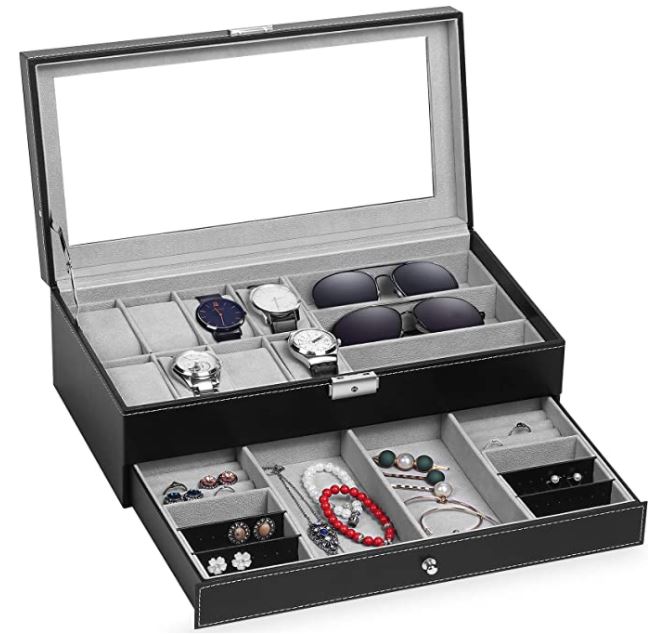 Watch Case Jewelry Organizer
This beautiful and stylish watch case organizer is perfect for people who love to keep their accessories neatly organized. The double layer design features 8 watch slots with removable velvet pillows, as well as 3 eyewear compartments in the top layer. The second layer includes a jewelry tray with 2 ring cases, 4 stud earring cards, 2 compartments for bracelets, necklaces and other jewelry, making it the perfect storage solution for all your favorite accessories. The high-quality materials used in the construction of this box ensure its durability and longevity.
Jewelry display cards
Another smart solution on how to display jewelry at your store is using display cards. Display cards are small, lightweight and very practical. They are usually made of plastic or cardboard and can be used to show off your most popular items in store windows or inside cabinets.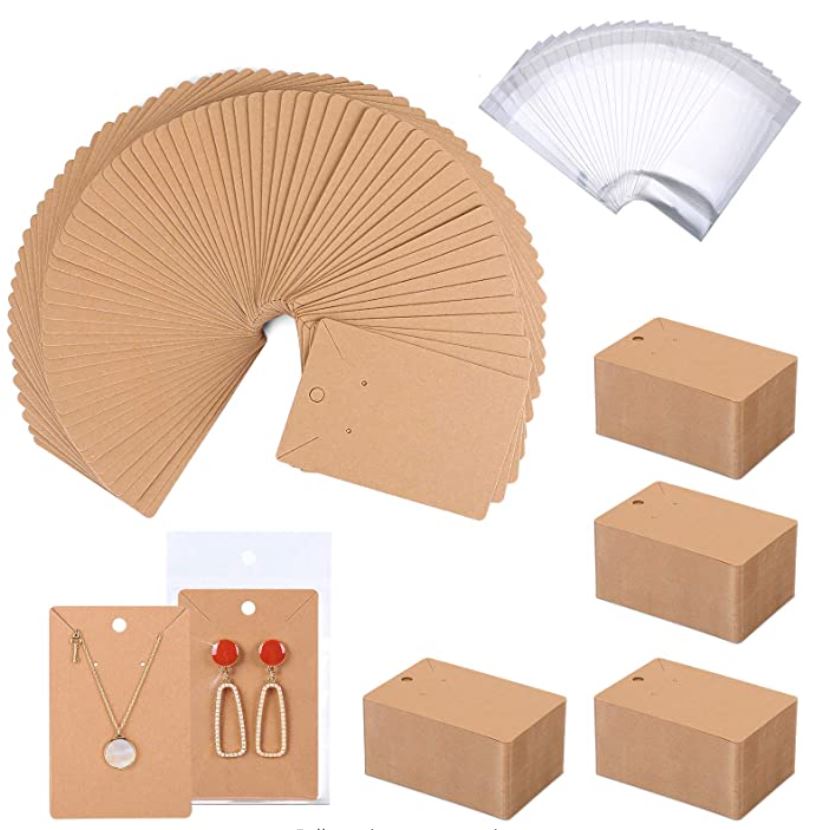 500 Pack Earring Cards
The earring cards also have puncture holes and two card slots to hold necklace or other jewelry, as well as a hole in the top for displaying hanging earrings. The cards are made of thick paper cardboard for environmental and durable use, while the bags are made from transparent opp plastics for a more professional look.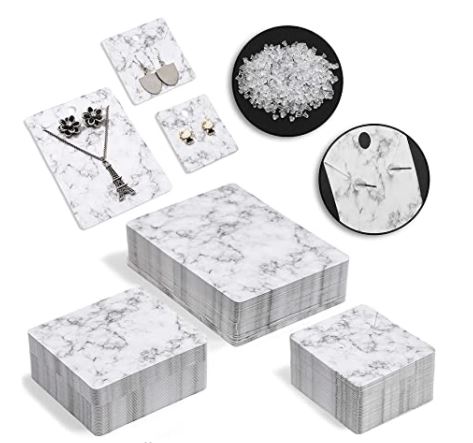 810 Pack Jewelry Display Cards
These 810 Pack Jewelry Display Cards from Bright Creations are perfect for showing off your earrings and other jewelry. The marble print is stylish and chic, and the sturdy paper ensures that your jewelry will be on display in style.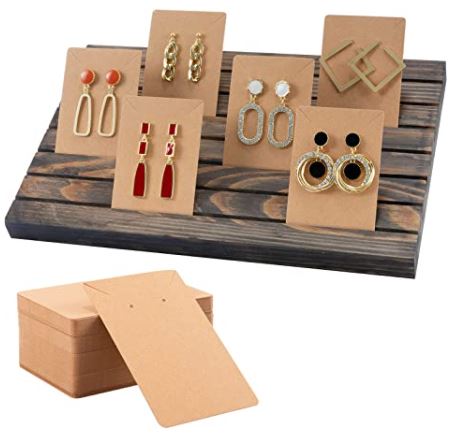 201 Pcs Wooden Earring Display Stands
This handy stand comes with two pegs that can be slotted into the back, making it portable and easy to take with you wherever you go. The included earring cardboard makes it easy to find the perfect pair of earrings, while the premium material ensures that your display stand is made of only the highest quality materials.
Jewelry display box
Whether you have a lot of jewels of your own and want to organize them or also to display at your store, jewelry display boxes are here to help. They come in different sizes and shapes, with or without a lid, and are perfect to store earrings, necklaces, bracelets and other pieces of jewelry.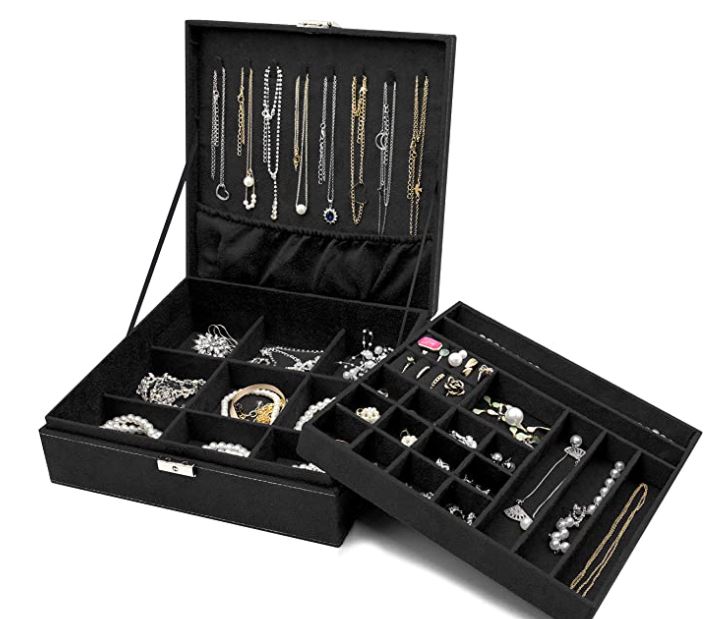 Jewelry Display Box / Organizer
Never lose your favorite necklace again with this Jewelry Box Organizer. It features 8 hooks on the top to easily hang necklaces, and a elastic bottom pouch to keep them in place. The tray underneath can be removed to store larger bracelets or less often worn jewelry. The case is made of advanced velvet material that is environmentally friendly and anti-abrasive.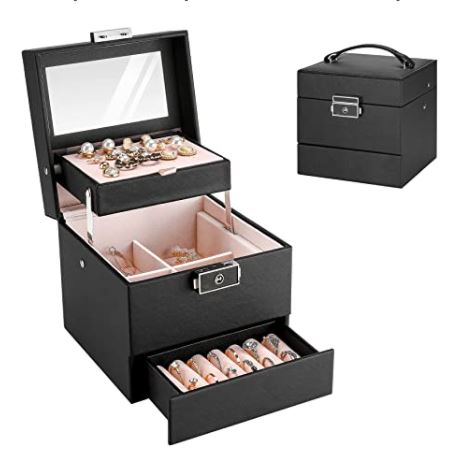 3 Layers Jewelry Organizer box
This stylish and compact 3-layer jewelry box is perfect for traveling and everyday use. The bottom drawer automatically pulls out when the box is opened, revealing three layers of storage for all your necklaces, bracelets, earrings, rings and more. The exterior is made from quality PU leather with a soft lining to protect your precious items from scratches. Plus, there's even a built-in makeup mirror!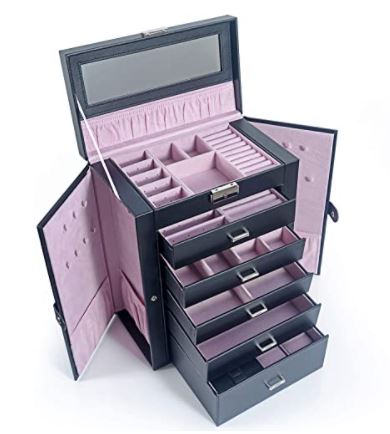 Huge Leather Jewelry Box
This Huge Leather Jewelry Box is contemporary designed and comes in a sleek black PU leather finish. The sturdy construction measures 10.43″L x 5.91″W x 12.99″H when closed, and it's locked with a key to protect your precious jewelries. It features 2 swing out cabinets, each with 11 necklace hooks and 4 storage ledges, as well as a removable mini jewelry box for convenience while travelling. The large beveled glass mirror on the top lid is perfect for admiring your jewelry collection.
Jewelry display chests
Chests or Busts are ideal to display necklaces. A lot of collars together convey low price and low quality. Separate one and give it a unique place to display apart from the others and it will automatically stand out conveying that it has a higher value. Here you have some ideas on how to display jewelry specially for necklaces.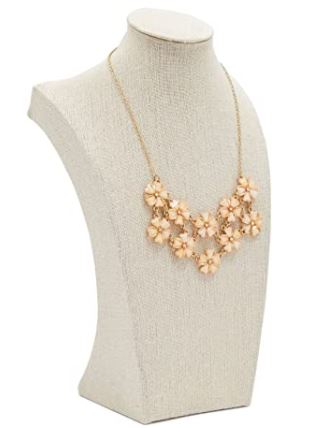 Jewelry Bust
This mannequin is made from high-quality linen covered wood, ensuring that it will last for years to come. The beige cloth fabric makes it easy to see your jewelry collection, while the reliable quality will make you proud to showcase your items. Whether you're using it at a trade show, in a retail shop, or as a photography prop for your online store, this type of Necklace Bust Display is sure to impress customers and help increase sales.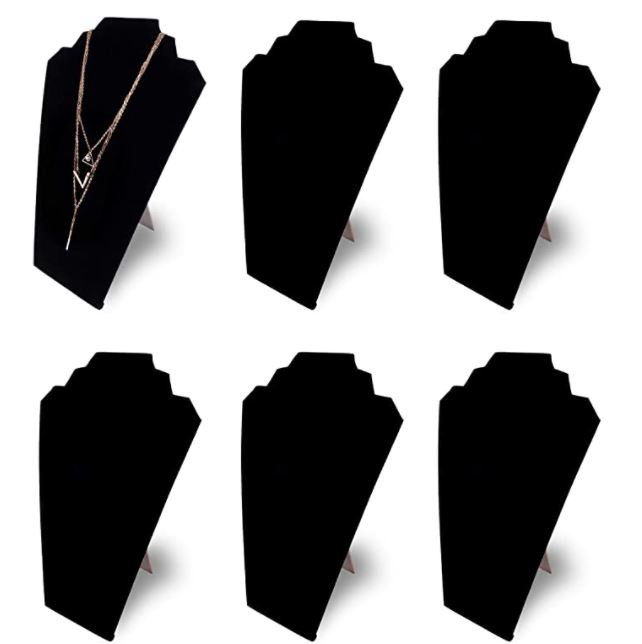 Black Velvet Jewelry Chests
Need a place to stash your bling? This type of Black Velvet Jewelry Chest is a nice solution! It's crafted from soft, luxurious velvet that will keep your jewelry safe and protected. The soft black velvet surface is gentle on your jewelry and helps you see each piece clearly against the contrasting background. With a sleek design and easy accessibility, these chests are a must-have for any jewelry lover.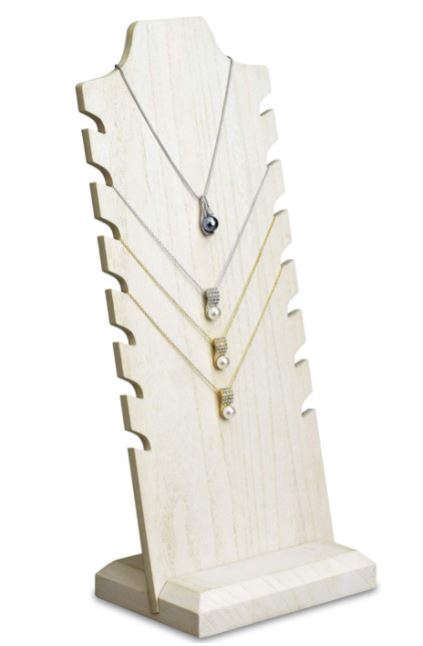 Multiple Necklace Bust
This wooden necklace easel can hold up to 8 necklaces at a time, making it the perfect accessory for stores, trade shows or personal use. The necklace easel is removable, easy to pack and go, and has 7 slots along each side and 7 different pegs on the back of the board to hold different heights of necklaces.
Jewelry display towers
Towers are another great way to display your collection of necklaces. They come in various designs and sizes, with or without drawers for storage purposes. Some towers have can rotate for a better user experience. As you may know, customers love to touch everything and interact with the products before buying, the more interactive, the better.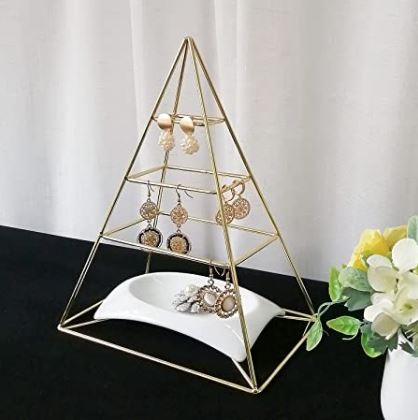 Electroplated Metal Pyramid Design Jewelry Tower
This 3-tier pyramid stand is perfect for displaying earrings, rings, pins and other small trinkets. The white color is well matched with most frames, creating a vintage and eye-catching look. And don't worry about it slipping – non-slip mats at the bottom of the dish keep it stable.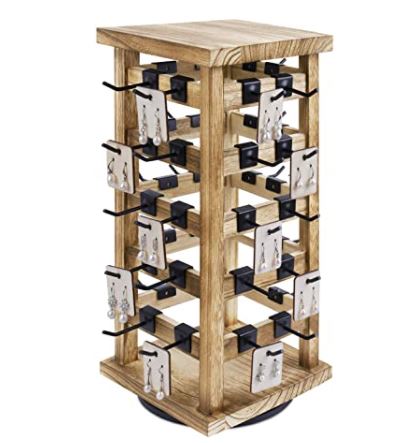 Natural Wood Rotating Jewelry Storage Tower
This rotating jewelry tower is a stylish and functional way to store and display your jewelry. The natural wood finish is beautiful and timeless, while the rotating design makes it easy to access your earrings or other pieces of jewelry. The tower also comes with 42 hooks for versatile storage options.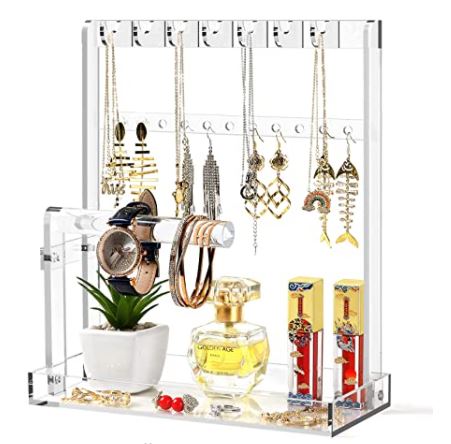 Acrylic Jewelry Display Tower
Dazzle your guests with your dazzling array of necklaces! This acrylic necklace holder is just the thing to keep them all organized and tangle-free. The sleek, minimalist design is perfect for any room, and the clear acrylic makes each necklace sparkle. Installation is a breeze – all screws and accessories are included.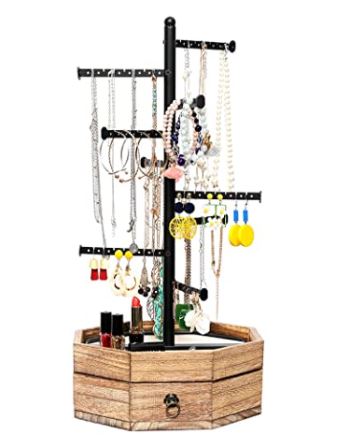 Rotating Jewelry Organizer Tree Stand
This product is a two-in-one jewelry organizer! The octagonal wooden base has a beautiful, natural finish and comes with a retro ring pull and drawer for large storage. The metal rack is stable and strong, with a matte black powder finish that will complement any room decor. This organizer is perfect for any type of jewelry – from rings and earrings to bracelets and watches. It's also great for professional displays!
Related articles