Looking for In Memory of Patches? At Sienna Pacific you can get incredible offers with wholesale orders (100 pieces min. qty.). We have over 2 decades now supplying any kind of customized patches in bulk to our customers here in the US and abroad. Among all the different kind of patch designs you can find out there, the ones that honor, remember and/or commemorate our beloved companions, friends, brothers, sisters or comrades who have depart to a better place, have an incredible emotional weight for those who wear them. These kind of patches are commonly find among the military and bikers club as well. They can be made in any shape although people ofter prefer square and rectangular designs to easily arrange some text. The most important thing here is not to find an awesome design but to display a clear message, using contrasting colors, like black and white.
In memory of Motorcycle Patches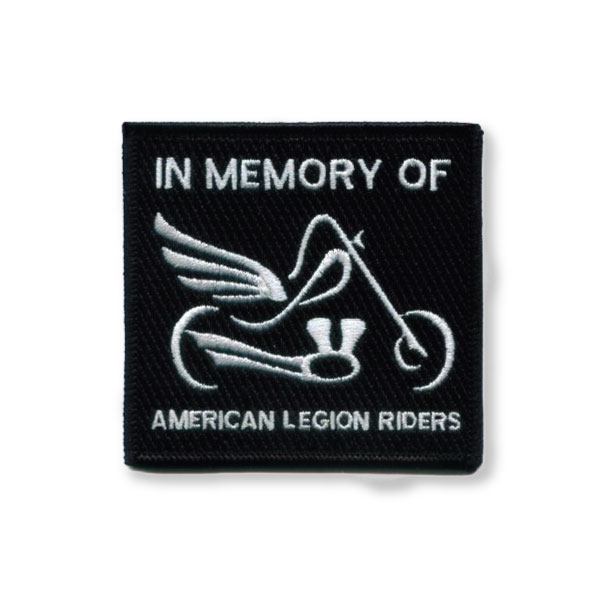 In memory of: "Biker Club Name" – Embroidered Patch
A motorcycle club with around 3 decades, born in 1993 as a program of the American Legion (an organization of veterans, over a century old) has to have a bounch of members that already passed away. This kind of patches honor in general all the members of a certain biker club who have died.
Embroidered Patch
100% Coverage
2 Colors: Black and White
Plastic Backing
Merrow Border
Size: 3″ x 3″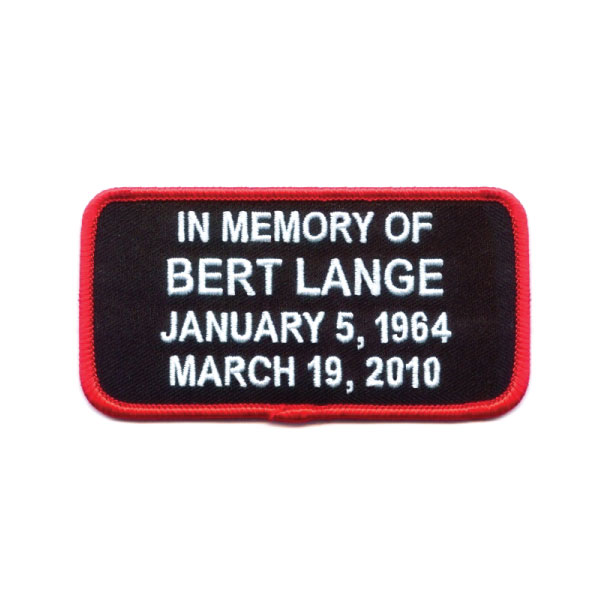 In memory of Classic Design: NAME and DATES (Birth – Death) – Embroidered Patch
A more common in memory of design consist in merely the specific name of the person you want to remember along with the date of birth and the date of death. Again, what you want is not originality or an innovative design but just the minimum information needed to recall a person's time life. The red color convey passion, love, brotherhood or friendship, close relationships, blood.
Embroidered Patch
50% Coverage
2 Thread Colors
Jump Stitching Cut Where Possible
Plastic Backing + Merrow Border
Size: 4″ x 2″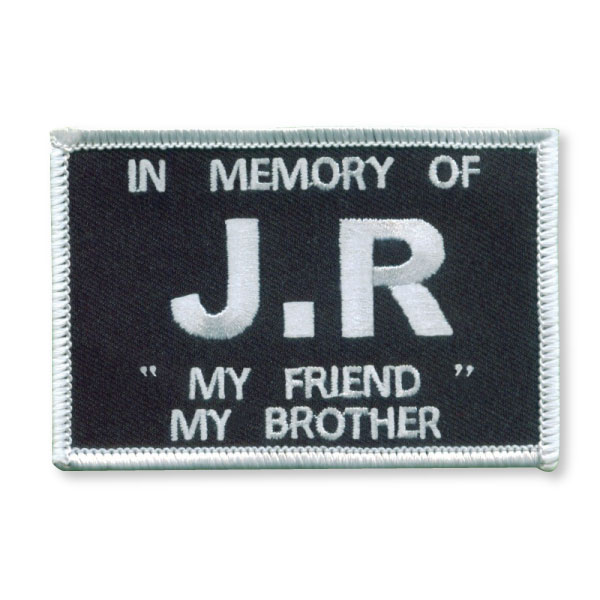 In memory of: "Acronym" My Friend, My Brother – Embroidered
However, if you like more privacy, Instead of displaying sensitive information about the person, you can always choose to hide the full name using Acronyms and take advantage of the third line to add a special message that help people reconect, in an emotional way, with the memory of that special man or woman.
Embroidered Patch
75% Embroidered Coverage
Plain Backing
Merrow Border
Size> 3″ x 2″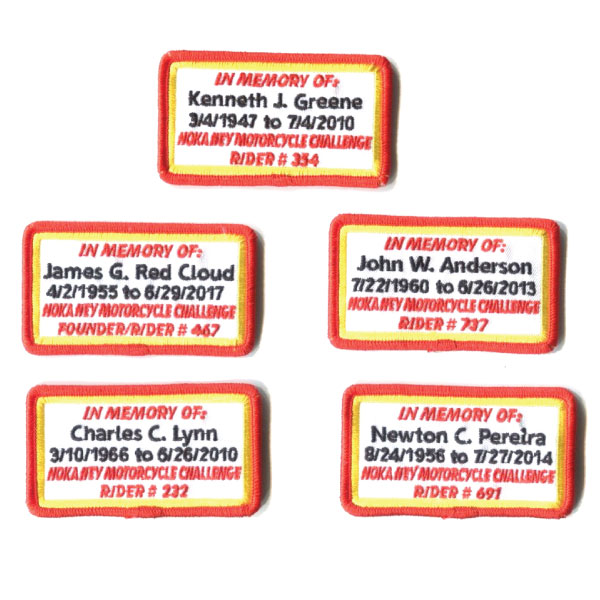 Classic Design + Event Name and Rider Number – Woven
As a variation of the classic design where you only add the basic information (name and date) you can add more information like the name of the club, or the name of the event along with the riders number for instance. In the case of fabric patches (embroidered or woven) our advice is to not use fonts size lower than 14 pt, and try to avoid using script and serif type fonts for small lettering.
Embroidered patch
75% embroidered coverage
(Twill color exposed)
5 thread colors included
Backing: Plain
Border: Merrow
Size: 3.5″ x 2″
Military In memory Patches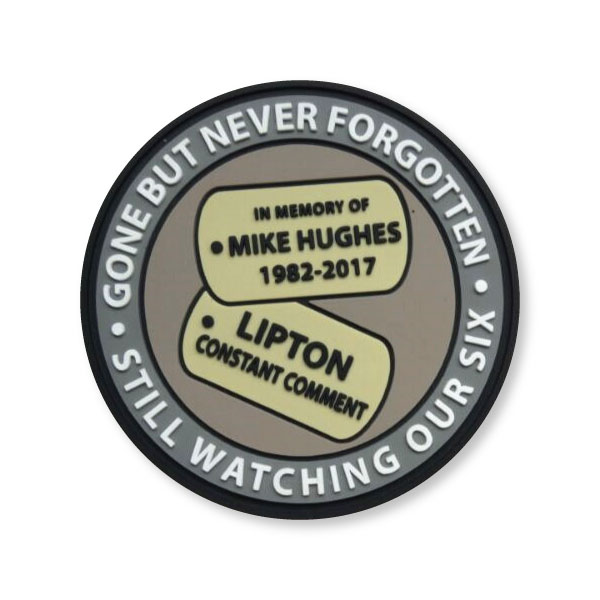 Airsoft Team In memory PVC Patch
Although they are out of the military corps rules, and because of that, airsoft teams have the freedom to come up with more sportive, innovative designs for their memorial patches. In this case the Team Lipton decided to include a couple of dog tags in a round shaped pvc patch, surrounding them with a couple of strong statements: "Gone but never forgotten" and "Stil Watching our six".
PVC Patch In memory of "Mike Hughes"
2D Design + 5 Colors
Sewing Channel
Hook and Loop Backing
Size: 3″ x 3″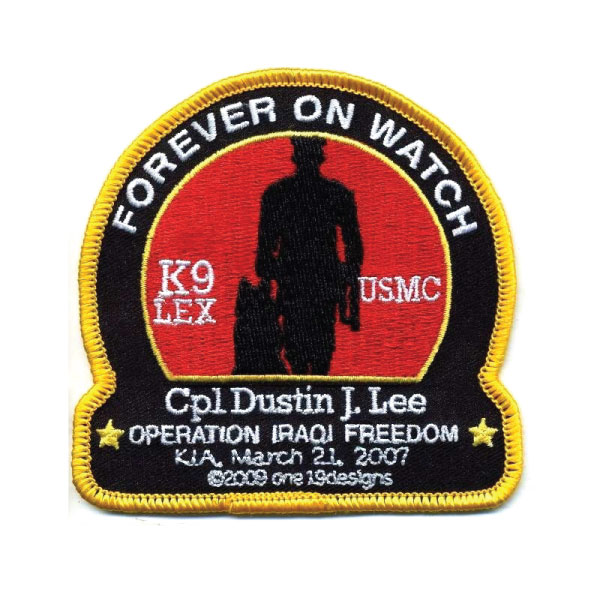 Forever on Watch Military Patch – Embroidered
Dustin J. Lee was a corporal of the US Marine Corps assigned as a dog handler and IED detector with his dog Lex. Both of them are remembered as heroes after receiving mortal injuries while serving in Iraq. K-9 units are an essential part of law enforcement, using specially trained dogs to perform the duties of a general officer. K-9s have a keen sense of smell and are able to track criminals, locate missing persons, and detect explosives and illegal drugs. In the patch design you can see the silouhette of the officer and his dog.
Embroidered Patch
75% Coverage
Black Is Twill
Up To 6 Thread Colors
Plastic Backing
Merrow Border
Size: 3.5″ x 3.5″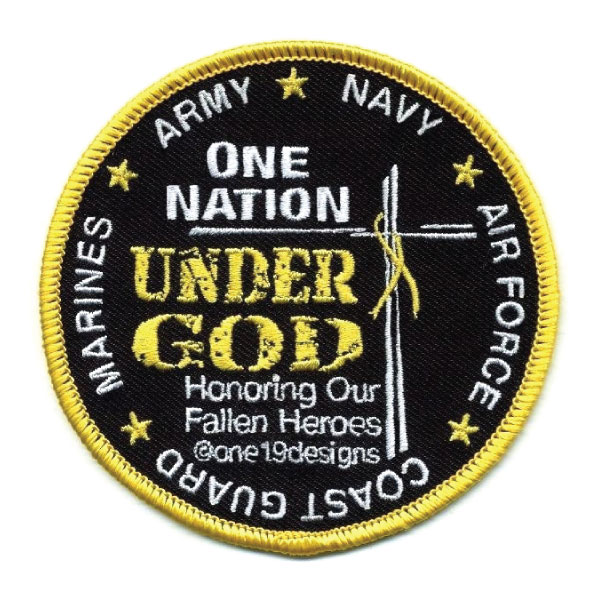 In honor of the fallen heroes – Embroidered
As you can see, It is not mandatory for a memorial patch to have the explicit phrase "In memory of". In this case, as the message is very general, addressed to all the member of any military corp (Army, Navy, Air Force, Coast Guard and Marine) that have fall in service, saying "Honoring Our Fallen heroes" will be enough to let people know what this is about.
Embroidered Patch
75% Coverage
Black Is Twill
Up To 6 Thread Colors
Plastic Backing
Merrow Border
Size: 3.5″ x 3.5″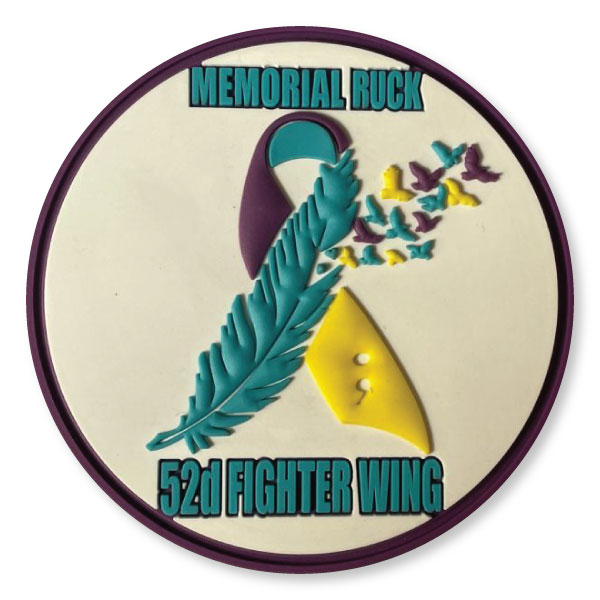 Memorial ribbon feather fighter wing Patch – PVC
Here we can see some of the advantages of PVC patches over embroidered or woven. First of all see the high level of detail you can achieve with soft rubber PVC, focus on the details of the feather and the little birds. This in a little patch of only 3 inches large. On the other hand this is a great oportunity for explaining our customers what does it mean 3D design, which is used to make the round volume given to the feather, the awareness ribbon and the birds.
The 52d Fighter Wing is a wing of the US Air Force that operates from a base located in Germany.
PVC Patch
3D Design + 4 Colors
Thickness: 2.5mm
Sewing Channel
Hook and Loop Backing
Size: 3″ Round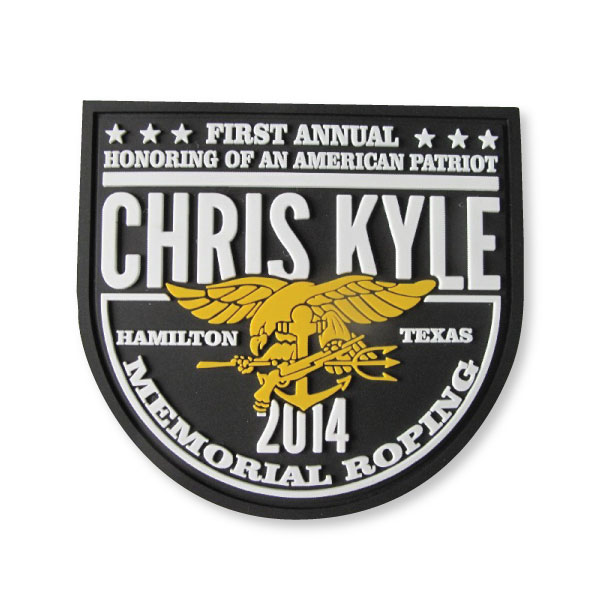 Chris Kyle Memorial Patch – PVC
Chris Kyle was a decorated veteran of the Iraq War, serving four tours of duty and receiving numerous commendations for his heroism and meritorious service in combat. A skilled marksman, Kyle was credited with more than 150 confirmed kills, making him one of the most lethal snipers in American military history. He was killed by another veteran who suffered of post-traumatic stress disorder (PTSD) on 2013. This memorial patch was made as a part of a fundraising program to help veterans.
Pvc Patch
2d Design + 3 Colors
Sewing Channel
2 Sided Hook and Loop Back
No Attachments
Size: 2.5″ X 2.343 "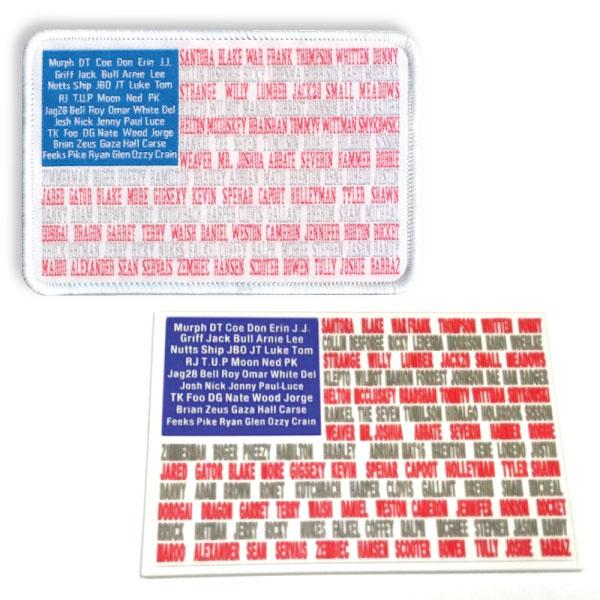 USA Flag Patch with in memorial design – Woven / PVC
The biggest concern of this client was whether or not the font size was big enough to be readable. When you have small lettering and cannot get rid of it without ruining the design it is always good to ask for advice directly with your Sienna Pacific Sales Representative. In this case the customer asked to split his order 50% for woven patches and 50% PVC ones. A smart decision that allowed him to realize that PVC allows for better quality and high definition. If your lettering is smaller than this one we recommend you to ask for our Printed PVC Patches instead.
Woven Patch

4 Thread Colors
Backing: Iron On
Border: Merrow
Size: 4.5″ x 3″
PVC Patch

2D Design + 4 Colors
Sewing Channel
Plain Backing
Size: 4.5″ x 3″