Custom Multicam Patches
You have come to the right company if you are interested in ordering Custom Multicam Patches. MultiCam serves a specific purpose in our Military and we take the importance of this style of patch very seriously.
Army Multicam Patches
We offer plenty of design options. Choose among 4 different types of patches (embroidered, woven, printed or PVC)
Backing Options
Use your custom multicam unit patches in your shirt, hats, jackets, tactical gear, anywhere…
Multicam Styles
Multicam Variations
Multicam patterned patches can be made in a wide range of combinations. The color scheme or color palette you choose will depend on the area of operation giving an authoritative presence to combat uniforms.
Using the proper color set is critical for a successful camouflage. Keep in mind that, in the case of PVC, with the same mold you can order a variaty of color combinations without any additional charge.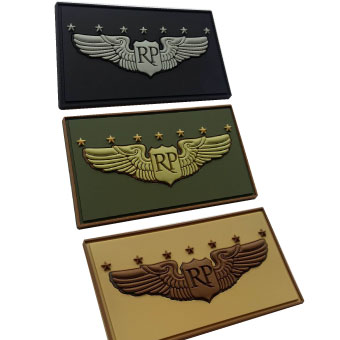 The same patch desig using 3 different Multicam color charts:
1. Multicam Alpine Use a gray scale to emulated snow covered environments.
2. Multicam Tropic: Ideal for dense jungle environments
3. Multicam Arid: Ideal for desert environments
Ordering Custom Multicam Patches is Easy With Us By Your Side.
Our exclusive online ordering system makes it easy to be in control of your order process. You call the shots!
Customer Reviews
Multicam PVC Patches


5 out of 5 stars

7-21-2020

""Linx is working with me to perfect Multicam colors I need. Becky has been an excellent sales rep and my experience has been awesome all around. Linx produces amazing quality.""

Kevin Moore - Rising Patriot

Multicam Army Patches


5 out of 5 stars

13-1-2020

"" I am not sure if the reason you use the name Linx in your name has anything to do with the speed in which our order was processed. I was extremely pleased with the Sales Rep. ability to process our order and get us such a quality product in such a short time. Very well done.""

Paul Thomas - Vaq-142

Multicam Embroidered Patches


5 out of 5 stars

3-18-2019

""I was grateful for prompt service. Never had to contact your company for a status of the product. I have spoken to some associates of mine who used other companies, they didn't have anything good to say about the company they used. So I passed along your company's information. You were patient with every change we made to get the end product. The patch was awesome and everyone loved it. I for one will have it on my hat for a long time.""

Dennis Parent
Advantages of Working with Us
FAQ's
Let's Get Started
If you are thinking about ordering your custom patches, just click on the button below, our expert Sales Reps will get back to you within 24 business hours and guide you through every step of the process.