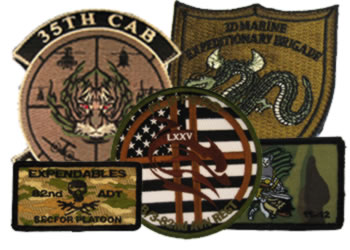 Custom Multicam Patches
You have come to the right company if you are interested in ordering Custom Multicam Patches. MultiCam serves a specific purpose in our Military and we take the importance of this style of patch very seriously.
"Linx is working with me to perfect Multicam colors I need. Becky has been an excellent sales rep and my experience has been awesome all around. Linx produces amazing quality."

Kevin Moore – Rising Patriot
Ordering Custom Multicam Patches is Easy With Us By Your Side.
Our exclusive online ordering system makes it easy to be in control of your order process. You call the shots!
Why Multicam?
At Sienna Pacific, we are very careful to utilize the specific background colors that achieve the ultimate goal of enabling the appearance to blend in all types of environments and conditions.
This is specifically why Multicam was created, and we maintain the importance of continuing to provide the highest quality of this style of Unit Patch.
MultiCam was first introduced in 2002 with the goal of enhancing the overall uniform of our soldiers by providing a patch that can be seen and visible in every varied environment and light conditions that our armed forces have to deal with. MultiCam designs have gone through several variations and adjustments over the past several years, but typically it remains at the seven-color-multi environment camouflage pattern.
Our team of experts will work with you to create a well-designed and accurate color matched patch. Give us a call so that we can work with you on your custom patch design.
Let's Get Started
If you are thinking about ordering your custom patches, just click on the button below, our expert Sales Reps will get back to you within 24 business hours and guide you through every step of the process.