Custom Golf Ball Markers
Custom Designed Hat Clips and Golf Divot Tools With Your Company Logo
Custom Golf Ball Markers are ideal as promotional gifts, golf gifts, golf awards or just for golf outing. We supply fully customizable divot tools and ball markers in brass/bronze, iron, aluminum or stainless steel with gold, silver or black nickel platings. You can have your name, logo or message embossed or debossed, making them really one of a kind items.
It's easier with US by your side!
Fore! We know there are millions of golfers out there, that's why we've decided to extend our services and develop customized ball markers. At Sienna Pacific, our markers are custom-made to any shape or size. We use only the finest materials to ensure that our golf ball markers look elegant and are crafted for the longest life possible.
Personalized Ball Markers
Personalized golf ball markers make great tradeshow giveaways! You can give a gift with that important personal touch to your golfing employees and potential customers. As you know, many business decisions are made on the golf course, personalized golf ball markers with your company logo are great conversational pieces on the green and can introduce your company to even more potential customers.
Custom Made Hat Clips And Divot Tools With Your Organization's Logo
We can provide you with custom divot tools and hat clips. The hat clips usually have a magnetic insert of about 1″ in diameter ball marker, which can be custom made with your company or golf event logo, in any plating, colors and design. They are usually made of iron so they will work great with magnetic hat clips and divot tools.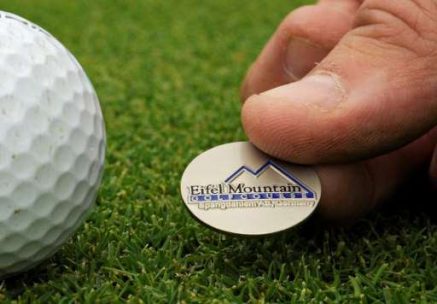 Picture took at the Spangdahlem Air Base in Germany during the base championship match. (U.S. Air Force photo/Senior Airman Benjamin Wilson)
Let's Get Started
When creating your company's markers or golf accesories, you are not held to selecting from a set list of names and styles, you get to work closely with a professional designer to create your personalized golf ball markers and divot tools.

FAQ about Golf Ball Markers
What is a golf ball marker?
A golf ball market is a a small, round, metal object that is used in the game of golf to mark the place where a ball has been lifted on a putting green.
Do you offer custom orders for ball marks and what are your design options?
Indeed! We not only offer custom ball marks but also hat clips and divot tools that can have gold, bronze, silver nickel and black nickel plating. They can also be die-struck, printed or etched; and they can have an epoxy dome or not. We can engrave your logo or name on them.
Do you offer wholesale pricing?
Absolutely! In fact, the more pieces you order the cheaper each item will be. We use to work on large orders for golf tournaments, golf events or for promotional merchandising.
What is your turnaround time?
We will send you a price quote via email 24 h. after submiting your quote request. Then, if you proceed to check out you will receive a a digital sample of your artwork within 3 business days. Our production time is 3 weeks after approval of your factory sample. As you see it depends also on how long time do you need for the approvals as we cannot enter into full production process without your authorization.
Where do you ship your products?
Anywhere in the US via FEDEX. If you are outside the country please contact us.
What do pro golfers use for ball markers?
Professional golfers have a few different options when it comes to ball markers. The most common type of ball marker is a small, plastic disc that can be placed on the ground near the ball. These markers are usually brightly colored so that they can be easily seen on the green.
Some golfers also prefer to use coins as ball markers. A golfing Coin is a specially designed coin that has a raised edge so that it can easily be picked up off the ground. Golfers will often carry a handful of these coins in their golf bag so that they always have one on hand.
Finally, some golfers elect to use small rocks or pebbles as their ball markers. This option is less common, but it does have its advantages. For instance, rocks and pebbles are less likely to blow away in windy conditions than other types of markers. Ultimately, it is up to each individual golfer to decide what type of marker they prefer to use.
Does sharpie work on golf balls?
While Sharpie is a permanent marker that can be used on a variety of surfaces, it is not recommended for use on golf balls. The ink in Sharpie markers is designed to be quick-drying and fade-resistant, but it is not necessarily waterproof. When exposed to moisture, the ink can run or bleed, ruining the appearance of the golf ball. In addition, the chemicals in Sharpie ink can interact with the cover of the golf ball, affecting its trajectory and spin. For these reasons, it is best to avoid using Sharpie on golf balls. There are many other options available that are specifically designed for marking golf balls, and these products will provide superior results.
Customer Reviews
PVC Luggage Tags


5 out of 5 stars

11/13/2018

"Extremely patient in working with us on developing the appropriate graphic for our request. Finished product was exactly as expected. Professional interactions via email regarding updates on production."

Lapel Pin


5 out of 5 stars

08/19/2019

"Wow! Excellent service and faster. I love the product. I'm very satisfied, I received more faster than I was expected. Thank you so very much."

Lapel Pin - Die Cast


5 out of 5 stars

08/30/2019

"My experience with Linx was excellent because my Sales Person was a true professional and his customer service was off the chart, to say the least."