Before ordering your custom lapel pins with Sienna Pacific it is always a good idea to check out the different backing options we offer. Take a look at the following list of the 6 types of Enamel Pin Backings and read a little about their features, pros and cons, prior to take your final decision.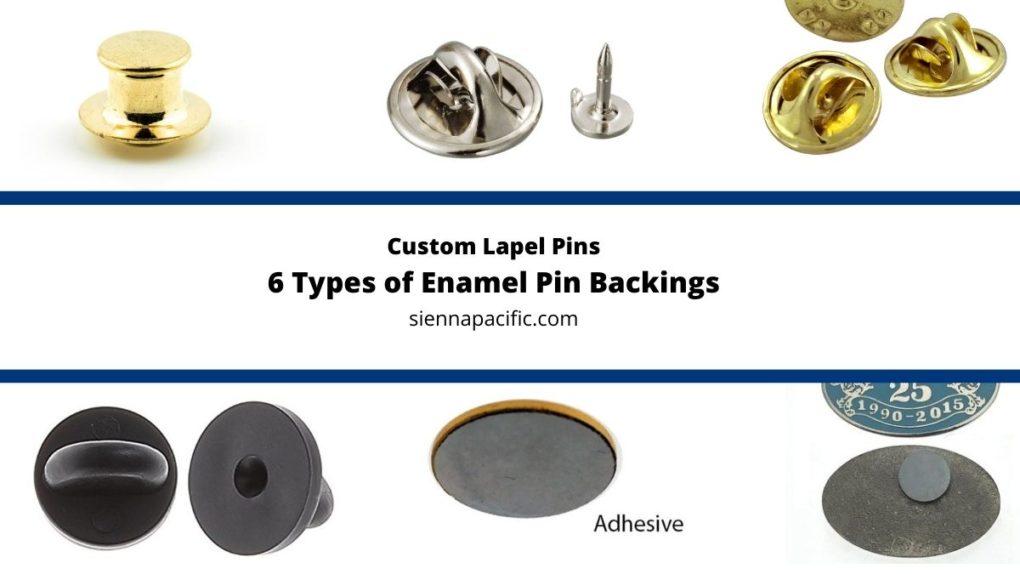 Types of pin backs available with Sienna Pacific
As an Enamel Pin manufacturer Sienna Pacific offer a number of ways to personalize your products. With us you can customize your Lapel Pins in many different ways. You not only can choose between styles (hard and soft enamel), materials, platings, finishes and packaging options (as we explain thoroughly in How to Make Enamel Pins That Sell Fast) but you can also choose among several types of pin backs, as shown below.
1. Safety-Pin Backs
As the name suggests, this pin backing consists of a straight metal pin with a clasp that goes through the backside of your lapel pin. This type is mostly used in safety pins and it has become quite popular for enamel lapel pins too because they are easy to apply on clothes or fabrics.
2. Butterfly Clutch
This pin backing is quite similar to the safety-pin but it has a flat part on top of the straight metal pin. This allows you to attach your lapel pins more securely and they are not likely to fall off or get unclasped while wearing them, even with movements. However this type will be bulkier than the safety pin types of pins.
Butterfly Clutches can be made on gold or silver finish.
3. Rubber Clutch
The rubber clutch pin backing is the most popular among lapel pin makers because it holds the pins securely in place while offering a warm skin touch. It consist of a piece of soft plastic that grips your enamel lapel pins and hold them tight on clothes, fabric or any other types of materials.
4. Magnetic Backing
As its name suggests this type of backing is made of two types of magnets. The negative and positive pole attract with each other holding your enamel lapel pins on clothes or fabric. They can also be attached onto metal objects like display boards for example.
Reading suggestion: Check out our resource guide on How To Display Lapel Pins.
5. Self-adhesive backing
This pin backing is the simplest of all types available. It consists of a thin piece of metal with an adhesive tape on one side to be placed onto your lapel pins before you stick them onto fabric or clothes.
Although they are simple and easy to use they stick better on solid, non-porous materials. If you want to remove them just apply water.
6. Deluxe Clutch
Another option for pin backs is the Deluxe Clutch. This one has an elegant metal piece that grasps around the pin, offering more security than butterfly types of clasps but less bulkiness as well.
Order now your next Custom Lapel Pin with Sienna Pacific
Sienna Pacific is a US based custom lapel pins manufacturer that offers wholesale High Quality Hard and Soft Enamel Pins at the best cost-effective prices.
To learn more about how to start your own custom pin business with Sienna Pacific, check out our article How To Make Enamel Pins That Sell Fast.