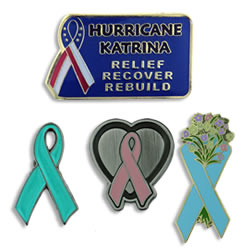 Awareness Ribbon Pins
It seems like no matter where you go or what time of year it is, you see awareness ribbon pins – since the success of the breast cancer pins from Susan Komen Foundation. Often times they are used in conjunction with some sort of charity. Cancer charities for example are big on these sorts of ribbons.
They are a fantastic way to show support for a cause that means a lot to you.
Awareness Ribbon Pins in Stock
Order Your Custom Lapel Pins
Awareness Ribbon Colors and their use for Fundraising Cause
Adoption awareness. Peace. Right to Life. Hope awareness

Accidents, Gang Prevention, Gun Control, Melanoma, Mourning,POW / MIA, Trauma.

Alopecia, ARDS, Arthritis, Child Abuse, Chronic Fatigue Syndrome, Colitis, Colon Cancer, Crohn's Disease

Animal Abuse awareness. Homelessness. Animal cruelty awareness

awareness-pin-gray.jpg

Eye Injury Prevention. Glaucoma. Chronic Pelvis Pain. Missing Children. Workers Safety.

awareness-pin-iceblue.jpg

awareness-pin-navyblue.jpg

Agent Orange, Cultural Diversity, Feral Cats, Hunger, Leukemia, Lupus, Melanoma, Motorcycle Safety, Racial Tolerance, Reflex Sympathetic Dystrophy Syndrome, (RSDS), Self Injury

Attention Defficit Disorder.

awareness-pin-pink-blue.jpg

Birth Parents, Breast Cancer Pins For additional breast cancer merchandise, please visit our sister site at www.oneineight.org Nursing Mothers

awareness-pin-powderblue.jpg

awareness-pin-purple.jpg

AIDS, Heart Disease

awareness-pin-turquoise.jpg

Aplastic Anemia Awareness

awareness-pin-yellow.jpg

awareness-pin-black-blue.jpg

awareness-pin-black-electricblue.jpg

awareness-pin-black-green.jpg

awareness-pin-black-hotpink.jpg

Loss of a Brother Ribbons, Mourning a Brother, Loss of a Male Child Ribbons, Mourning a Son Ribbons

awareness-pin-black-maroon.jpg

awareness-pin-black-navyblue.jpg

awareness-pin-black-orange.jpg

awareness-pin-black-pastelblue.jpg

Loss of a Female Child Ribbons, Mourning a Daughter Ribbons, Loss of a Sister Ribbons, Mourning a Sister Ribbons

awareness-pin-black-powderblue.jpg

awareness-pin-black-purple.jpg

Murder Victim Ribbons Murdered Children Ribbons

awareness-pin-black-royalblue.jpg

awareness-pin-black-silver.jpg

awareness-pin-black-turquoise.jpg

Anti-Racism Ribbons Carcinoid Cancer Ribbons Diversity Ribbons Transitions Ribbons Vaccine Awareness Ribbons

awareness-pin-black-yellow.jpg