Custom Hang Tags for Clothing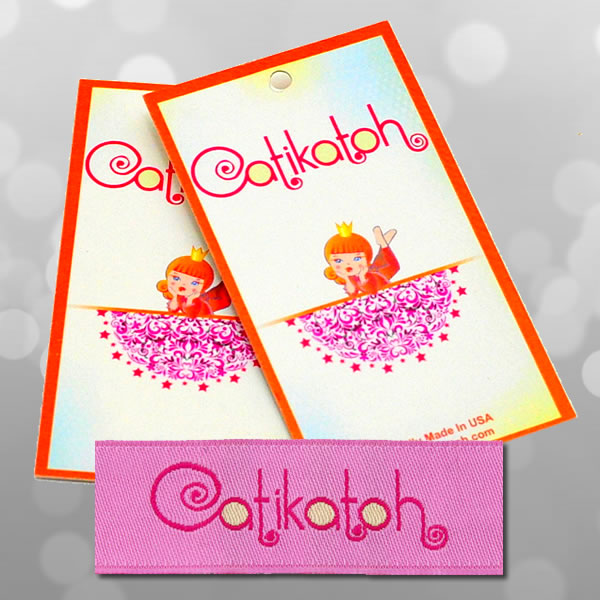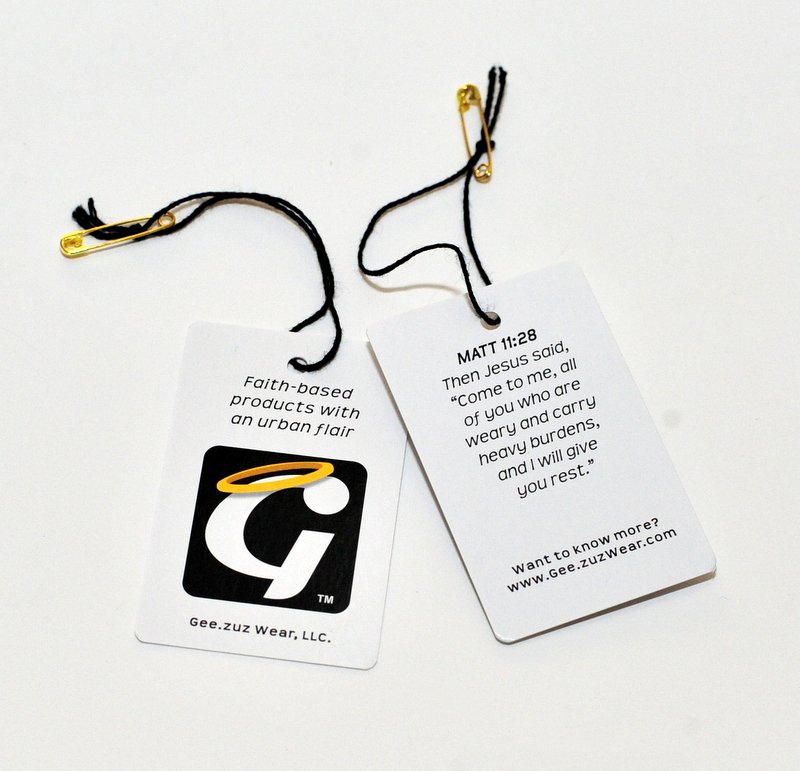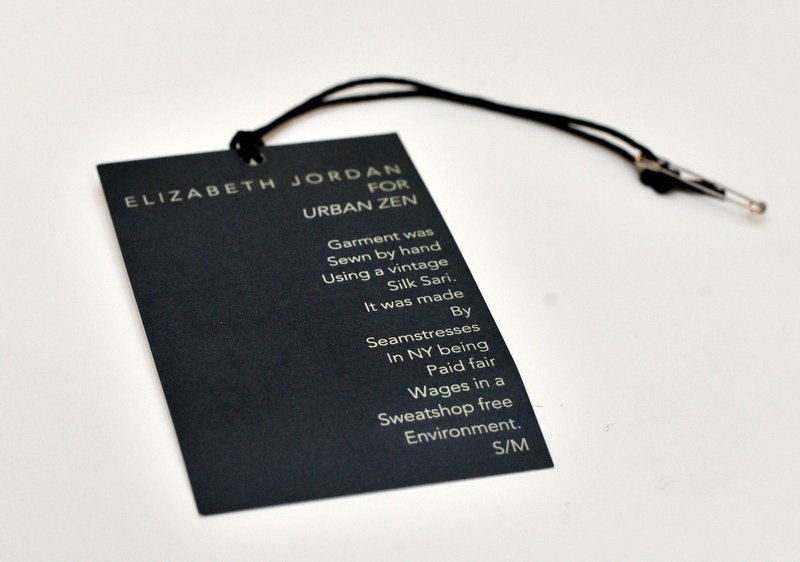 We Make Custom Hang Tags for Clothing Lines that Demand Attention, Project an Image, Increase Brand Retention.
---
Economy Hang Tags
If you are looking for a cost-effective hang tag that may not need elaborate colors, details or thickness then our standard hang tag may be the best option for you.
There is also a minimum of only 100 tags necessary in order to process your custom order so this is the perfect option for startup companies or those on a tight budget.
The economy tags are made with a very high quality card stock and are not subject to smudging or print wear. You have the option of choosing whether you would like a matt finish or a glossy finish to your tags, still giving you some control of it's overall appearance.
Our basic custom hang tags for clothing are of great print quality, but are typically no more than two colors and printed on a 12pt card stock.
There is a 1/8" drilled hole, string and pin ARE NOT Included.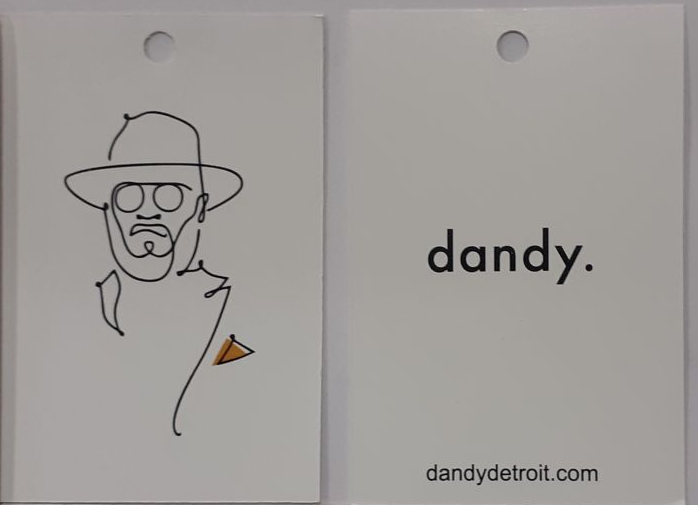 Custom Economy Hang Tags Sample Pricing
2″x3″
12pt Card Stock
2 Color Print
Front & Back Printed
1/8″ Hole
3 Week Production Time
100 Hang Tags – $165
---
Specialty Hang Tags for Clothing Lines
Designed from start to finish to help you establish the greatest impact for your company.
What Makes A Hangtag Special?
Card stock: With this line of tags, you can choose any weight up to 18pt card stock.
Finish: These also come with a matte or glossy finish, with the addition of a UV Coating.
Printing Process: They also will go through the 4-color process, enabling you to have a vast array of colors on your hang tags opening up the potential for full color designs and photographs.
Shape/ Edges: Another benefit to the Specialty Hang Tags is that they can also be shaped to fit any design you are interested in. You can shape yours in Square, Rectangular, Round, Oval, or custom laser cuts.
Pricing for our specialty hang tags for clothing will be dependent on a number of factors, which means you will need to contact us and give us the specifics of your request. Once we have this information, we will put together unique pricing specifically for your tag.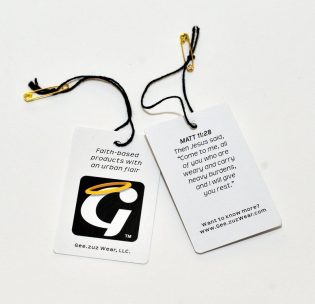 Specialty Hang tags – Sample Pricing
2″x3″
14pt Card Stock
Square Cut
4 Color Process + UV in the front / Black on the back.
1/8″ Hole
White or Black String Cotton – $85 for 500 tags, $100 for $1,000 tags
500 Hang Tags – $250
1,000 Hang Tags – $350
---
High Quality Hangtags & Trustworthy Service
Frequently Asked Questions
Why Should I Get Custom Printed Hang Tags for my Clothing?
Marketing your product by using Hang Tags is common practice in retail. It is a great way to attract attention to your products and is an essential piece of the marketing puzzle when you are ready to promote your line.
Not only are they a great compliment to any clothing line or handmade product, but they add a level of professionalism to your branding.
We offer hang tags of all types and the first step for you to consider is what you want it to say and the impact you want it to achieve.
Get A Full Branding Set: Custom Clothing Labels and Hang Tags
To have your custom products display your name in on the woven label is a huge part of branding and part of you becoming a sought after line. Taking it up a notch to personally branding your name with a matching hang tag is what we call, a HOME RUN!
START attracting attention to your products today and let us help you promote your line by creating a woven label and hang tag combination to strengthen your marketing.
WE HAVE THE PACKAGE PRICING!
WE HAVE THE EXPERTISE!
WE ARE HERE TO HELP!
---
Tips for Designing Your Hang Tag
Your hangtag should:
Attract Attention. You want it to stand out and help you build brand recognition.
Project an Image. You want it to express what your company stands for. They should be able to get the idea of your company at a glance.
Associate with your Product. You need people to know, when they see your tag, that it directly reflects the product it is attached to.
WHAT TO CONSIDER
Size: Should I go big or small with my hangtag? What you want is your tag to be difficult to ignore. What you need to consider is the product it is going to be attached to; what size would best suit my line. The stronger the impact, the larger the tag.
Colors: Should I keep it simple or go bold? Hang tags have the flexibility of being as simple as 2 colors, to as elaborate as a photograph. Just keep in mind the best way it will project your company's image.
Content: What should I put on my hangtag? Many companies use the back of the tag to include details about the products and what makes them unique. Your logo and content information should also be prevalent on your hang tag.
ARE HANG TAGS RIGHT FOR WHAT I SELL?
Retail 101 shares the importance of marketing anything and everything with hang tags. They are not limited to just clothing and accessories. If you look at everything the chances are you will find a hang tag. They are common on; purses, toys, games, equipment, motorcycles, shoes, furniture, electronics and just about anything you can add to an online store or retail shelf.
"Any product you can think of will benefit from a well-designed hang tag. What other product can do two things at once. They are promoting your product at the very moment your customer is touching, feeling and looking at your items."
This is a win-win for reinforcing your company's message and image.
HOW WE CAN HELP
We have a team of representatives that are ready to help you with your hang tags. We offer hang tags that are printed on one side or both, in a variety of sizes, shapes, and thicknesses, as well as a variety of ways to adhere them to your products.
The tags you order from us will be full customized to meet your criteria; and between our Economy Hang Tags and our Specialty Hang Tags, we can meet just about any budget.
Please send us your logo or idea, and our expert graphic designers will create a beautiful design for you, and in only 3 weeks after you approve the art, you will have your custom hang tags for clothing right in your hands.
Great for Apparel, Price, Jewelry
Most of our customers are start-ups. They are mostly testing the markets of for the first time selling their products an a mid-scale.
They are usually frustrated because of the high minimums most hangtag printing companies have. – And we get frustrated as well! We want them to succeed and we want their products to look professional to their customers!
So we looked everywhere and finally found the way to supply You with professionally looking printed tags with very low minimums and at great prices.
Let's Get Started
If you are thinking about ordering your Custom Clothing Labels, just click on the button below, our expert Sales Reps will get back to you within 24 business hours and guide you through every step of the process.


Customer Reviews
4.8/5 – Based on 1102 Reviews
Printed on Satin Labels - Woven Edge White Satin Background


5 out of 5 stars

05/10/2022

"Excellent Service and Product!"

Printed Patch Dye Sublimated Merrow Hook and Loop


5 out of 5 stars

03/08/2022

"Fast responses, attentive care in ensuring the design was correct, and adjusting my own mistakes to get a quality end product- thank you!"

Printed Patch Hook and Loop Backing


5 out of 5 stars

12/30/2021

"Easy and seamless communication, I ordered silkscreened Hook and Loop backed patches for a local government organization.. They adjusted the sample a couple of times at our direction to get the perfect final product. Rosana was great- and communication was quick and easy.. Overall great experience, and customer care was awesome- Thanks again!"
Related Products
Related Posts