Custom Cufflinks – Promotional Logo Cufflinks
If you are looking for great ideas to promote your business, consider custom cufflinks!
We are dedicated to providing you the highest quality in promotional products to help you keep your company name in front of your customers.
For years, our professional designers have been working closely with customers to create personalized clothing labels, patches, lapel pins and more. And now our service extends to customized cufflinks.
When attending tradeshows or considering corporate gifts, offer something unique! Millions of men purchase suits each year. A beautiful pair of unique custom cufflinks make the ultimate fashion statement.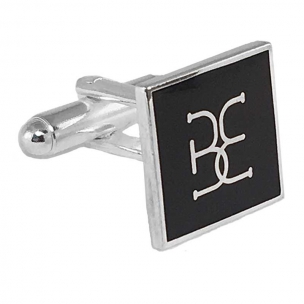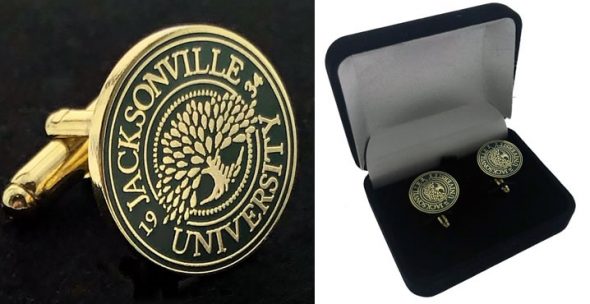 "Extremely patient in working with us on developing the appropriate graphic for our request. Finished product was exactly as expected. Professional interactions via email regarding updates on production."
Lehua Werdel, Gold Classic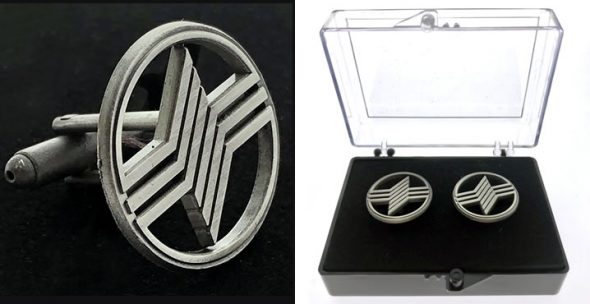 "My experience with my account representative was very professional. She was extremely attentive to my business needs, kept me advised of all aspects of my project and provided her expertise regarding the visual aesthetics of my label."

Ken Crooms, Isolation Door Caddy

Personalized CuffLinks
Creating a cufflink is simple as adding an attachment to the back of your lapel pins, so if you are buying lapel pins with your company's logo, why not create a set of cufflinks from them? You will be glad you did. They will speak tons of your company from day one.
Do you know of many people that have had cuff links made from their company logo? They will impress everyone. And all for just a little extra fee on your lapel pins.
If you work in a corporate environment you can certainly use promotional cufflinks with the company logo (they are great for brand recognition). The minimum order is the equivalent to 50 pair of cufflinks.
You can transform one order of lapel pins in a lot more: not only you can create cufflinks, but money clips, golf ball markers, hat pins and more.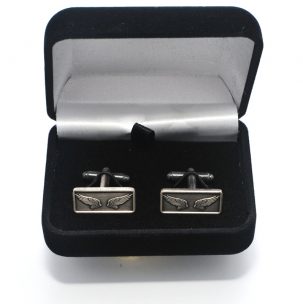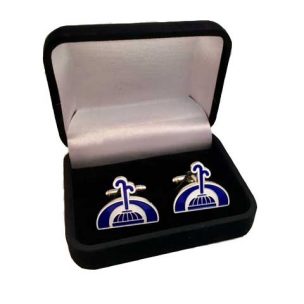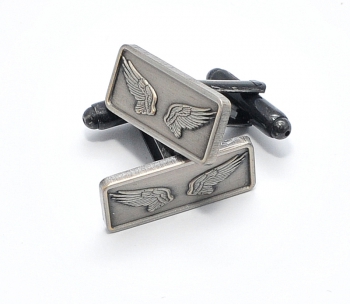 Custom Logo Cufflinks F.A.Q.S
What shape can my cuff links be?
Take a look at the images above. We can make them in any shape:
– Round cufflinks
– Square cufflinks
– Die-cast, custom shape
(If you are unsure of the best shape for your cuff links, our Design Team will gladly help you. They can use your logo and have the design wrap around your logo)
What size is best?
In general a cuff link looks best when its size is in between 1/2″ and 7/8″. anything smaller than that will loose its functions and anything larger than that will no longer be elegant but tacky.
What type of cuff links do you make?
We can make them die-struck, with colored enamels, engravable, with your monogrammed initials. We can add gemstones, make them look antique or give them texture with a sandblast option.
What materials do you use?
The finish can be personalized, choose from sterling silver, stainless steel, gold, bronze, nickel silver. All materials will be safe for use.
We can make them with our without color, black enamel seems with silver plating seems to be the best combination, but as you can see from the images, a die-cast custom-shape antique silver plating looks amazing, and so does the gold plated with sandblast background and a gemstone.

I want to use them as groomsmen gifts, can you help?
We certainly can. Your wedding is something special, and the best way to show our closest friends our appreciation, and a gift set with your initials monogrammed, or a special design on custom jewelry, will show them that your friendship will last forever, There is nothing We would love to help you make amazing groomsmen' unique gifts sets. Custom money clips, key chains, tie-clips (tie bars), are some of the Men's accessories we can create with your logo.
How can I order my cufflinks?
1. Request your free quote here https://www.siennapacific.com/quote/
2. We will send you pricing within 1 business day
3. Once you approve the pricing, we will work on your cufflinks design based on your custom images.
4. Once you approve it, we will proceed with mold and production. Production Times are about 3-4 weeks
We can include some jewelry boxes so your gifts look great!
Let's Get Started
If you are thinking about ordering your Custom PVC Products, just fill out our simple quote request form, our expert Sales Reps will get back to you within 24 business hours and guide you through every step of the process.