Woven Damask Labels
The threads used in damask woven labels are thin, high quality 80 denier threads that allow for a tight weave. They are recommended for small detail and very intricate designs. They are our standard quality labels.
These labels are very soft to the touch and are recommended for those who want their products to give a very professional impression.
Don't know which type of label you need to use? Read our: Taffeta vs Damask Labels article!
Our Happy Customers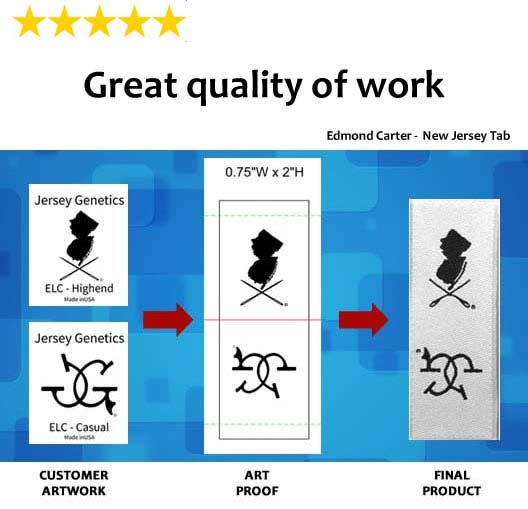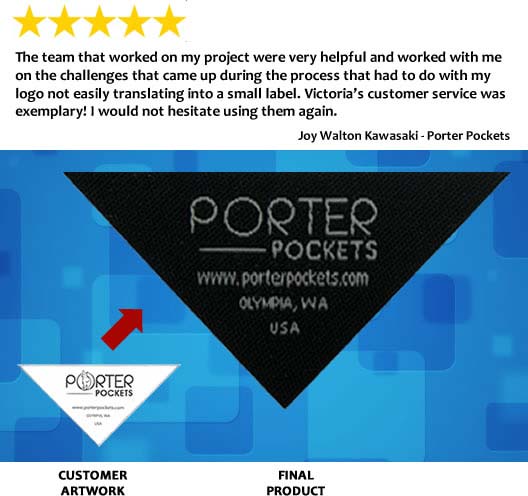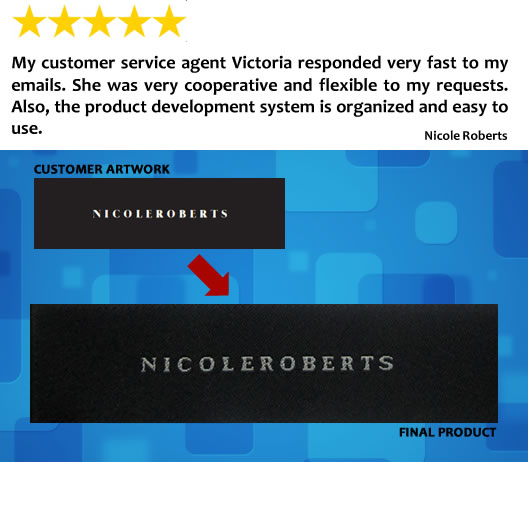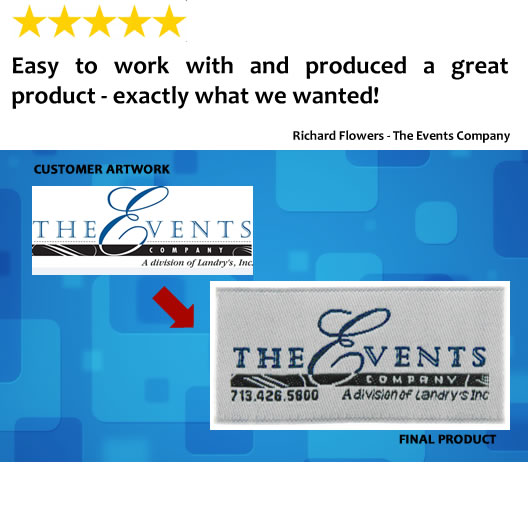 Dream File Label
When I started designing children's clothing and got a logo I dreamed of getting to the point where I had labels with the logo in my designed work.
I contacted your company years ago and got an estimate and kept it in my "dream file". This year my husband got me labels for Christmas and I am thrilled at how well the intricacy of my logo came out. It is nothing short of perfect! The extra white makes the logo "pop" just as I hoped it would.
Marcia Lynch – Incogknito
Damask Labels Pricing
Prices Include up to 8 thread colors
Quantity
up to
2″ x 1″


Limited Time Offer

up to
2″ x 2″
up to
3″ x 2″
Starter Package
100
$150

$145

$175
$205
Small Business Package
250
$195

$167

$220
$250
Professional Package
500
$245

$210

$270
$300
1,000
$345

$330

$370
$450
Champion Package
2,000
$450
$540
5,000
Will be Quoted in a Case by Case Basis
10,000
Other Quantities and Sizes Quoted on Request

Production Time: Custom Woven Labels in as little as 10 Working Days
Ordering Custom Damask Woven Labels is Easy With Us By Your Side.
Our exclusive online ordering system makes it easy to be in control of your order process. You call the shots!
Let's Get Started
If you are thinking about ordering your custom products, just click on the button below, our expert Sales Reps will get back to you within 24 business hours and guide you through every step of the process.