Do you have a small boutique and need creative, affordable solutions? We've got them for you! In this blog post, we will be introducing 20 different ideas on how to make your store more appealing. From window displays to clothing racks, these are all great ways to bring in customers.
How to arrange a small boutique
Decorating or rearranging your store is an inexpensive way to bring in more customers.
Here are some tips on how you can do that:
Window displays
This idea has been around since the beginning of time, but it's still one of the most important things for any business! The window display can be anything from a small table with essential items to an entire wall displaying the latest trends.
Side displays
If you have enough space, this is another great way to add more customers and bring in sales! Having side displays gives shoppers something else to look at while waiting in line or just passing by your store. It also allows them to see some of your merchandise that they might not have noticed before.
Signage
Having a sign in front of your store is another way to bring in more customers. Make sure the sign includes words with high frequency, such as "New Arrivals" or "Sale."
Small boutiques are typically located on smaller streets and need every bit of help they can get. By using these tips, you'll be able to bring in more customers and make your store a success!
20 Creative and Affordable Solutions for Small Boutiques
Clothing Racks for Boutiques – Get Inspired!
Garment Racks are very important because they allow the customer to see the clothes from a different perspective. Here are some ideas that will help you put your own spin on it!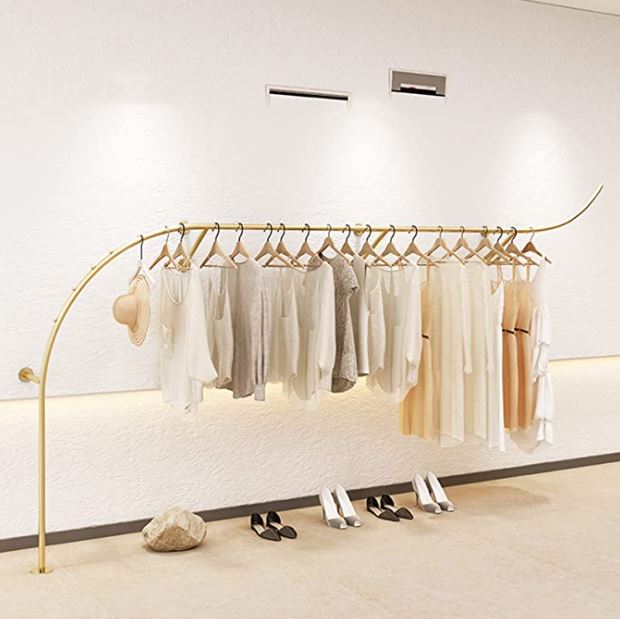 Creative Display Garment Racks in Boutique Clothing Stores
The clothing rack is made of metal and has a hefty weight, which makes it sturdy and durable.
It's a wonderful choice for boutiques, fashion shops, and even balconies.
It's ideal for hanging clothes on hangers in a boutique/clothing store.
There are 3 sizes of this thing. The metal is painted with paint that is at a high temperature.
It's really simple to put together; all of the pieces are detachable, so make sure they're tight before hanging it on the wall.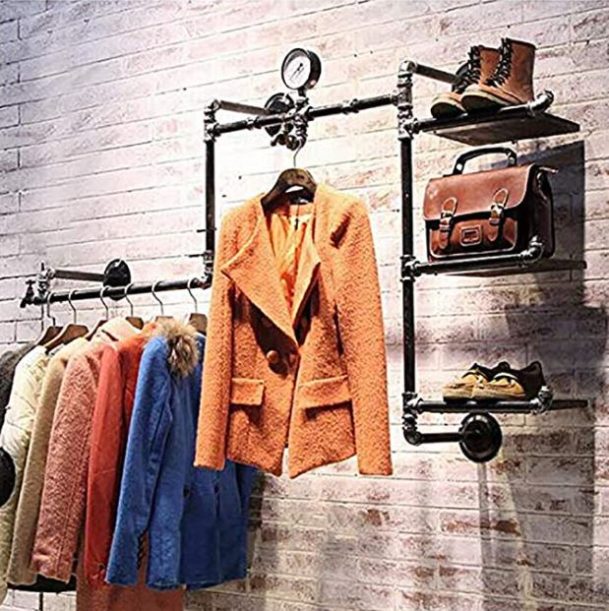 Industrial Vintage Pipe Wall Mounted Clothing Rack
When you try to adjust two iron pipes together and they can't get to the desired angle, do the following:
It is very important to wrap the tape around the threaded part of the iron pipe. Then screw one end into the other end. This will help it grip better and not fall off.
It's a shelf that doubles as a shoebox storage rack.
This wall-mounted rack is extremely sturdy and safe, ensuring that valuables do not fall.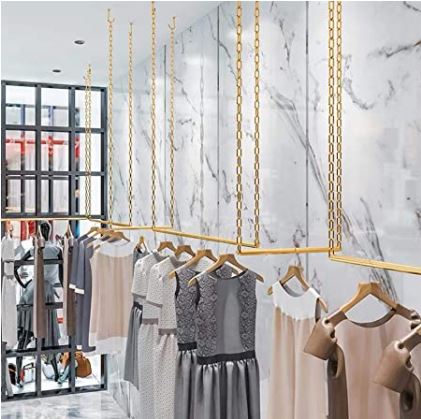 Ceiling Mount Clothes Storage Hanger
The simplicity and adaptability of a clothes rack may be seen in the way it eliminates clutter from your closets. It's easy to mix and match with different styles of room.
The perfect blend of style features and exquisite beauty, demonstrating the creative sentiments.
The frame is made of aluminum, which means it's lightweight and won't rust. It features transport wheels for easy maneuvering. The rear rack has a sturdy steel frame that can support a lot of weight.
Chain rack, two poles, four chains, and four hooks, With installation instructions, simple assembly required.
Lighting ideas for Small Boutiques
To find lighting solutions can be very easy, however if you want to take it one step further, here are some ideas for affordable lighting that will make your store shine.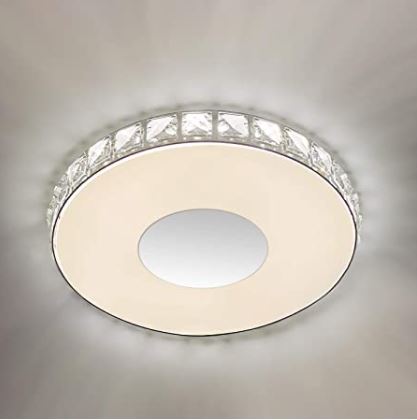 Crystal Flush Mount Ceiling Light
Crystal ceiling light fixtures are supplied with easy installation kits and detailed install instructions that allow for straightforward installation.
The LED lights and the low-voltage dimmable lighting are all ETL, American standard wiring, and the company assure quality. Ideal for use in the living room, bedroom, dining area, kitchen, or any other space.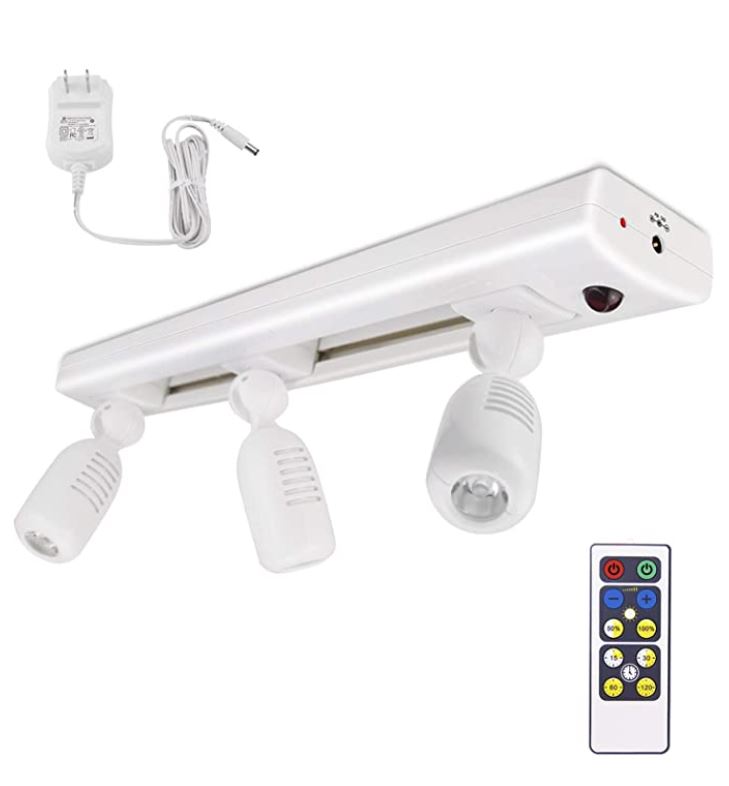 Dimmable Accent Lighting with 3 Rotatable Heads
With the supplied handy remote, you can easily turn on and off the track light with just one hand.
The accent light's light heads are rotatable, and they may be slid left to right or rotated 310 degrees. It allows you to illuminate any space because it is ideal for small boutiques.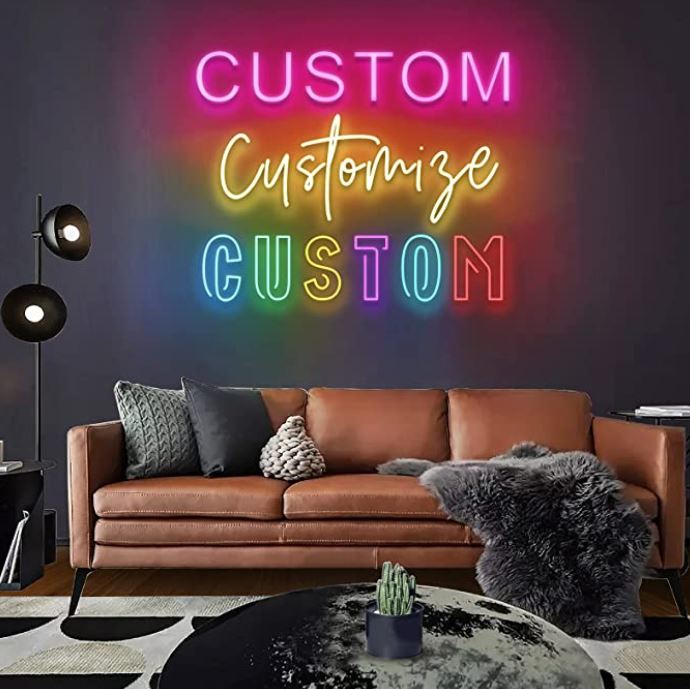 Customizable Neon Signs
You may personalize your space with your own special touches.
You can customize the color, size, typeface, and number of lines of personalized text on the backboard, as well as the front board's hue and cutting form.
Accessories may also be modified, such as dimmer switches or battery operation.
Jewelry Displayers
There are virtually thousands of ways on how to display your jewelry at your small clothing store and we've collected some of them for you.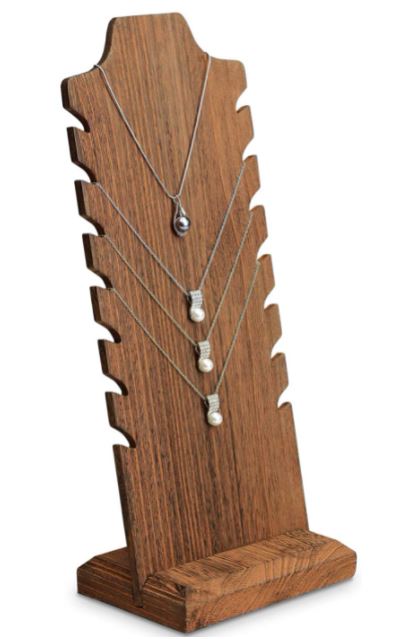 Necklace Display Stand
A low-cost, quick method to make an attractive display of your jewelry.
You can show up to eight necklaces at once, depending on their length.
The necklace easel is simple to transport and store. This stand is a place to put your jewelry so you can see it.
It barely takes up space. These are perfect for personal use at home, in shops or trade shows.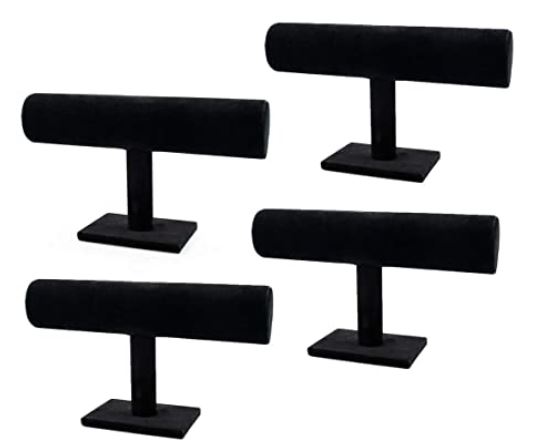 4-Pack Black Velvet T-Bar Jewelry Display Stands
The sleek, lightweight design looks great with a variety of styles. It boasts an elegant black satin finish that protects your jewelry from harm and wear.
After hanging jewelry, the weight of the base keeps it from toppling over.
It's a fantastic way to keep your timepieces, bracelets, and necklaces organized.
Organizes your jewelry and makes it readily available.
Suitable for home use or shop window displays.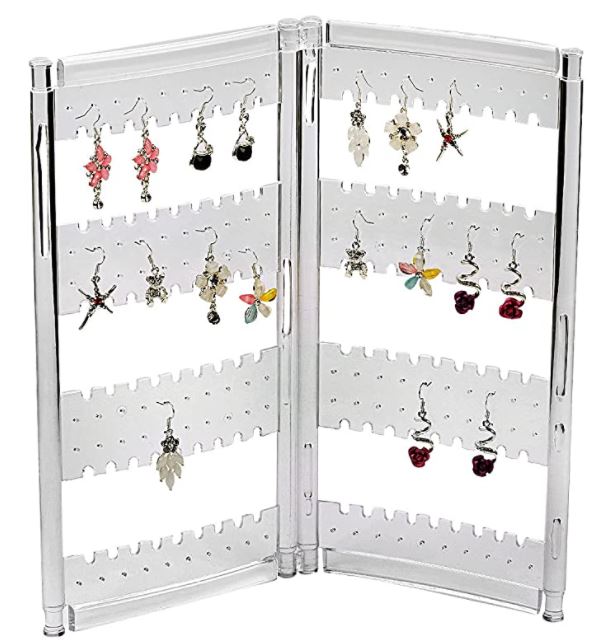 Earring Holder Jewelry Hanger Organizer
Transparent acrylic displays may be incorporated into any décor.
In one space, it organizes all of your earrings and necklaces.
120 earrings can be stored in each of the compartments (for bracelets and necklaces).
Use them as a decorative item or for marketing. They're great for businesses like boutiques and craft fairs.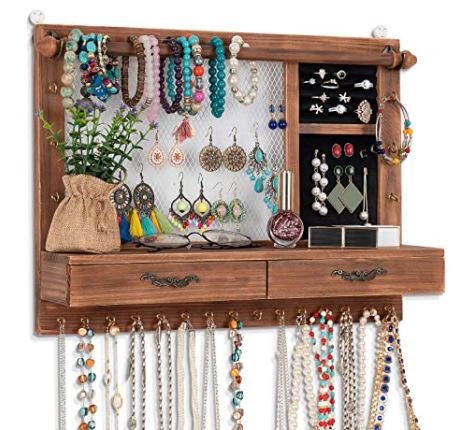 Jewelry Wall Organizer
The rustic wooden piece with carbonized finish is ideal for displaying jewelry, has a rustic and elegant appearance that goes with a wide range of decors.
Then, once you've prettied yourself up, turn to this jewelry organizer and choose the right accessories to complement your outfit for the day.
There are no tangled necklaces, missing earrings, or misplaced rings in your treasure trove.
This is a great jewelry rack for hanging all of your pieces. It's also really useful, as it's big enough to hold everything.
Creative Mannequin Solutions
Although there are many generic mannequins out there, it is always a good idea to try to differentiate your store from the others. Here are some options that we thought you would like to know about.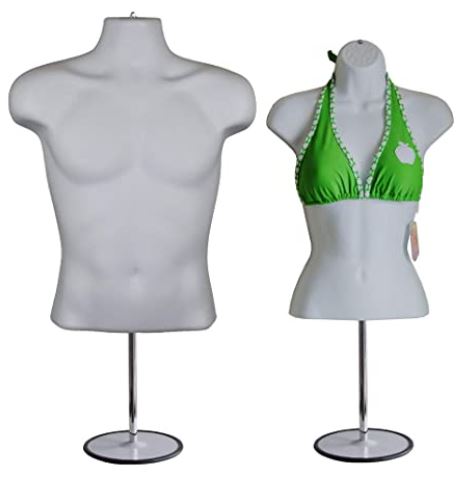 Mannequin Torso Set, Male + Female
Some clothes may require minor modifications in the rear to fit properly.
It's a snap to construct for tradeshows, shows, and festivals. It's simple to stack up.
Designed for placement on a counter but the hanger hook is included for hanging if you don't wish to use the stand.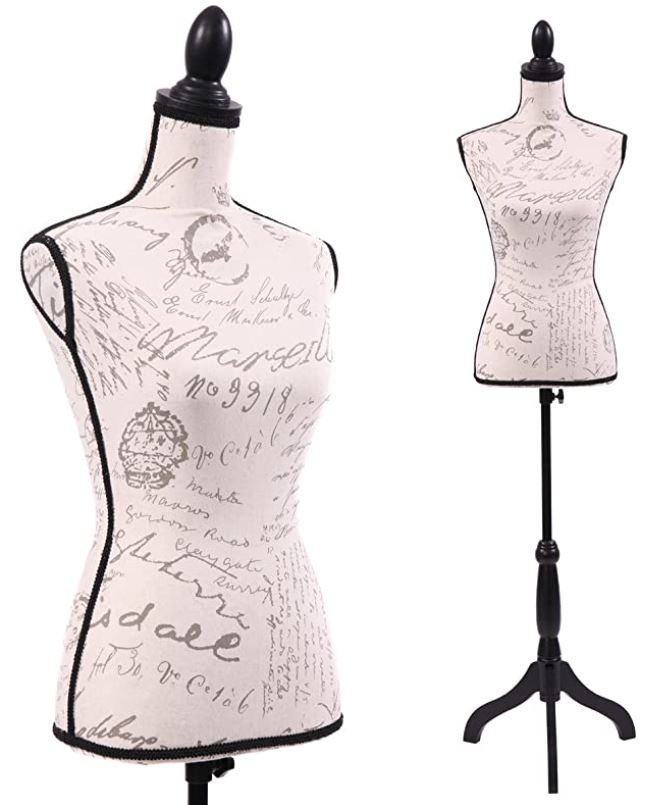 Female Mannequin Torso Clothing Display
Find the height of the dress form that works best for you by turning the knob.
You can adjust the height of this item from 56 inches to 67 inches. It's 34 inches wide in the chest area, 15 inches wide in the shoulder width, 27 inches wide in the waistline and 35.4 inches wide in hips.
Designed as a standard size, with the same proportion as normal female body dimensions, and is suitable for any style of clothing.
It may also be used as a lovely interior design element.
Ideas on how to display Purses
Purses are among the items women like the most and can be very hard to display. Here are some ideas that will help you get inspired!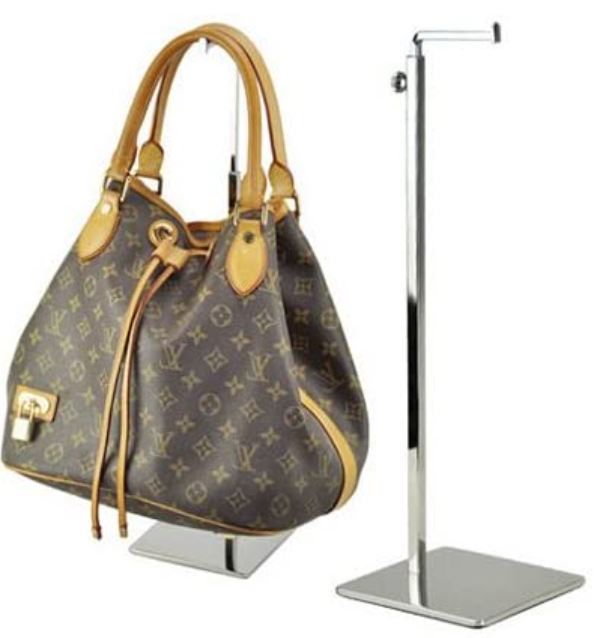 Women Handbag Stand Holder with Adjustable Height
Adjustable standing height: from 35cm to 65cm. Elegant mirror surface finish Minimalist design style is perfect for a retail setting.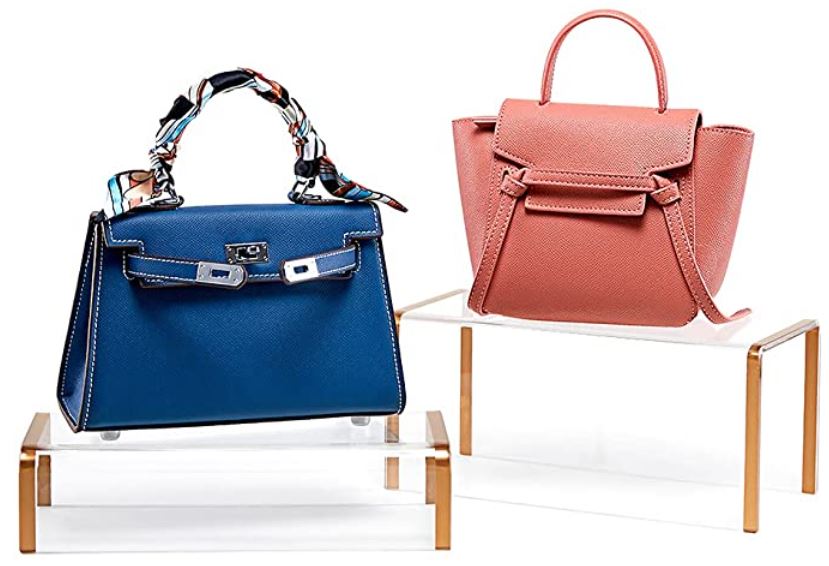 Handbags Shelf, Window Display Rack
The acrylic design is 6mm thick, resistant to fall, wear, and deformation.
The exquisite gold frame may complement high-end banquets and luxury shopping malls, while also enhancing the taste of the items on display.
The surface is crystal clear and without burrs, with rounded edges to avoid injuries such as cutting fingertips or harming youngsters.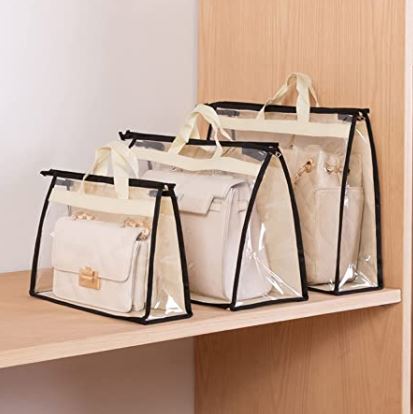 Transparent display bag for handbag or purse
Another cool way to display the purses you are selling is by using these Handbag storage bags. The wicking cloth is made of high-quality thick non-woven fabric. It's also composed of clear PVC. Ideal for small clothing stores
Dressing Room Ideas
A fitting room is one of the things that a clothing store cannot miss. Having a special one is important because it gives the customer a unique experience. Here are some ideas that you can use for your store!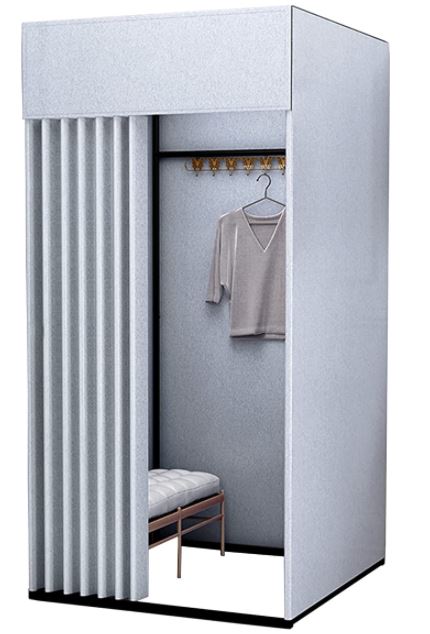 Temporary Locker Room with Shading Curtain and Hook Up
The metal frame of the fitting room makes it sturdy and durable, as well as having a large carrying capacity. The lightweight, compact size, simple to transport and relocate locker room is advantageous.
The fitting room, which has a capacity of up to three people, allows you to change clothes easily without having to worry about the tiny area.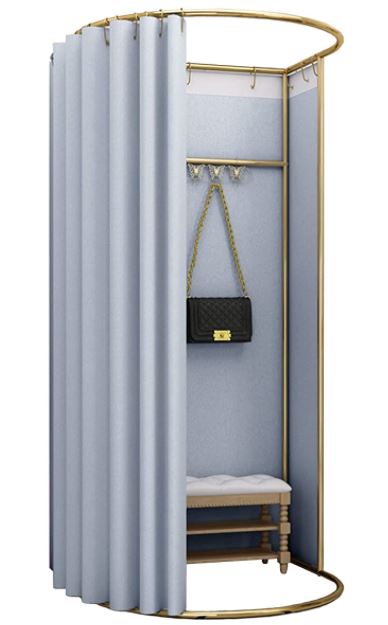 Foldable Mall Simple Changing Room and Display Rack, Easy to Install
Two curved iron pipes are included in the pack. These pipes can be linked together. Connect the two pipes before installation by putting up a blackout curtain on the pipe and then connecting them. Finally, punch holes for suspension using the attached mounting accessories.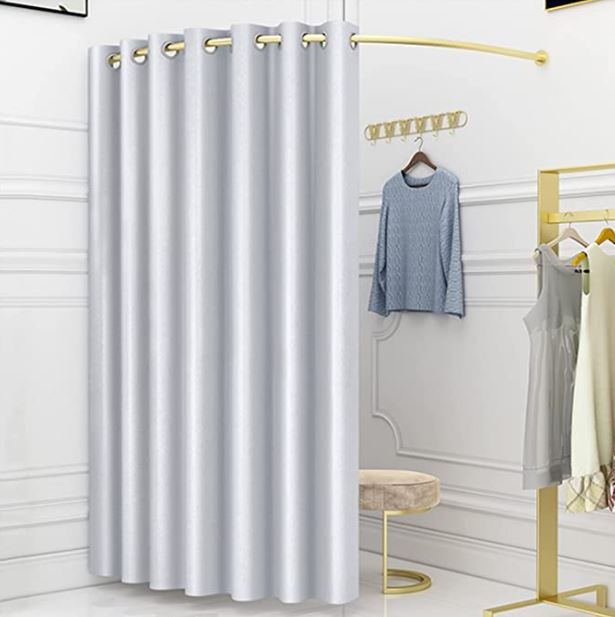 55in Changing Room Used in Mall
This spacious changing room is simple to put together and transport, whether you use it for a small garment store, modeling competition, dance class, or any other location.
Signs for Indoor / Outdoor your Clothing Store
As we said at the beginning, signs can be quite useful for your garment store, not only for outdoors but also for indoors, this is because you can use it in the fitting room to attract more customers. Here we leave you some ideas that you might like: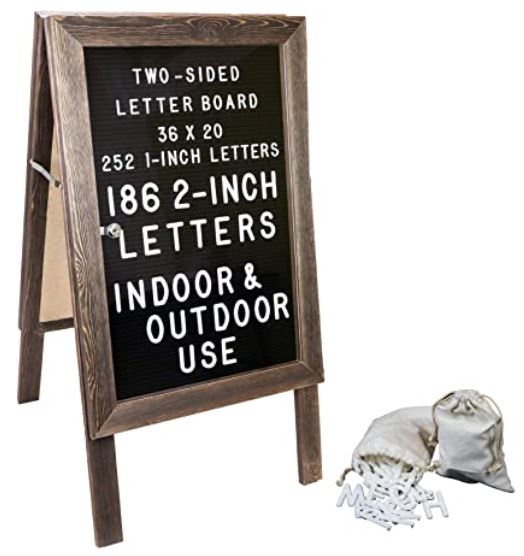 Freestanding Rustic Vintage Message Felt Board
If you need a creative way to promote your business, consider standing a frame chalkboard signs. Instead of being confined to the walls, they may be positioned in many places throughout the home or office!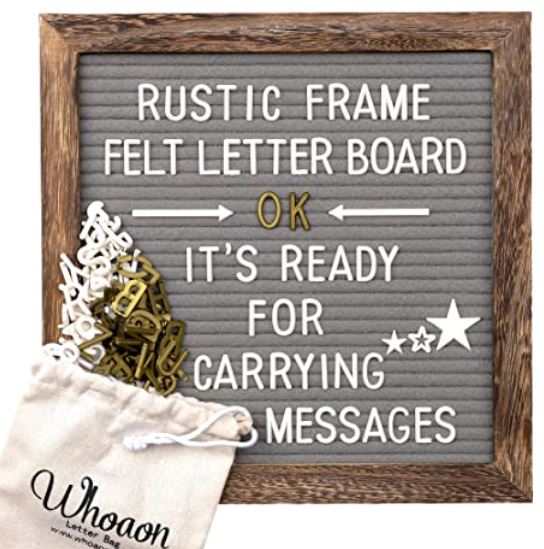 Rustic Frame Felt Letter Board
The vintage rustic design of the frame makes it simple to integrate into any aspect of your life for Home & Wall decor, Thumbnail, Posting, Gift, Baby shower, and Teaching material. Gray-colored felt lends a rustic farmhouse feel to your messages. Works with white and gold letters for color harmony and a soothing atmosphere.