PERSONALIZED CLOTHING LABELS, WOVEN & PRINTED, WOVEN LABELS, WOVEN GARMENT TAGS
Custom Clothing Labels for Professional Products
Custom Printed, PVC & Woven Tags for Apparel and Fashion Designers
Woven Labels
Printed Clothing Labels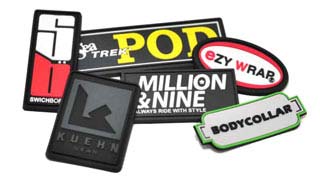 PVC Labels
---
Because You Need A Custom Clothing Labels Vendor You Can Rely On.
---
Request a Quote Today
Let's Brand Your Products!
It is easy to make your clothing labels as professional as you are.
"I really like the process it takes before I can put my order in production because it assures me I'm going to get what I want.
I also like the fact I can email a representative and get a response almost the same day."
Juan Duran
City Kids Clothing New York
"We are very pleased with the way our pvc labels turned out.
When we added it to our walk shorts it was the final touch we needed to make our shorts awesome! As we say in Hawaii, Much Mahalos!!!"
Justin Oho
6Sixty Apparel - Hawaii
"The ordering process was very easy and I received my ordered much faster than expected.
I also appreciated that your sales team was available to answer my questions and give advice on which products to choose."
Peter Luxen
BOUND BY LLC - West Virginia
"Excellent customer service. Always got in touch with my rep.
No complicated phone tree. Extremely fast response, unbelievable quick art set-up, and proofing.
Great price for small runs. Don't change a thing in customer service."
Loren Gillum
Stuart Church - Los Angeles, California
"Out of all of the companies that I had contacted this one was the only one that acted like my order mattered. Thank you!"
Lindsay Robbins
Lynze Lou Creations - Montana
"I liked the quick response Charlie would give us."
Danielle Rushing
Chrome Industries - California
An Easy Way to Choose the Right Label Style for Your Products
Your best option is a Printed Label if
Your design HAS TO HAVE gradients or small text (less than 7pt)
Your order is of 300 or more labels (500 minimum order quantity for some styles)
You do not need your labels shipped sooner than 3weeks AFTER final approval
Your product will NOT be washed often (pillows, curtains, rugs)
Your label has a common rectangular or square shape
You will either sew or use an adhesive backing
Your design has 1 or 2 colors, a common request (added cost per setup per color, extra charge for metallic)
Your best option is a Woven Label if
Your design DOESN'T HAVE gradients or small text (less than 7pt)
You need to order 100 or more clothing labels
You need your labels ASAP (2-week standard production time- AFTER final approval)
Your Product will be washed quite often (clothing, accessories)
Your label has a standard OR custom shape (any other polygon, or outline shape)
You want to sew your, or an adhesive backing or you want to iron on your labels
The price of your labels will not change if you have 1,2, or 8 colors (including metallic)
---
Creating Custom Labels is what we do.
From start to finish, we will team up with you to create the highest quality product for your business.
From the smallest of projects to the largest accounts.
We are not only prepared with the best manufacturing, production and design teams, we are ready and capable of handling your project.
Don't Know Where To Start?
Give Us a Call 1.888.720.2115
Thinking of having your labels made with a non-US Supplier? Read this first
Ask us about our CPSIA Compliance.
---
---
Top Reasons To Order Custom Clothing Labels from Sienna Pacific
Quality
We bring our professional design team with their experience and talent directly to you.
We work for you. You approve your custom design every step of the way.
You will have a Representative that will work with you start to finish.
Peace of Mind. We are Based in the USA & Quality is our promise.
Speed
Quote sent to you for your project within 24 business hours
Proof within 24 business hours of receiving your art file or your requested design.
Factory Sample emailed to you within 2-3 business days of receiving your proof approval
Labels to you within 10 business days once you approve the final sample.
We work with you at your pace with our quality & speed of delivery as our goals.
Cost
Affordable Prices with the LOW MINIMUM of 100 Pieces (on most styles)
Everything, except shipping, is INCLUDED with your order. No surprises!
Don't Know Where to Start? Give us a call: 1.888.720.2115
Let us know your project's details and we will help you make an amazing custom clothing labels for your products.
Copyright © 2016 Linx Corporation:: All Rights Reserved
2888 Loker Ave East Suite 103 - San Diego County - Carlsbad, CA 92010 -
Phone
: 760-720-2115
Fax
: 760 994-1275
Sitemap