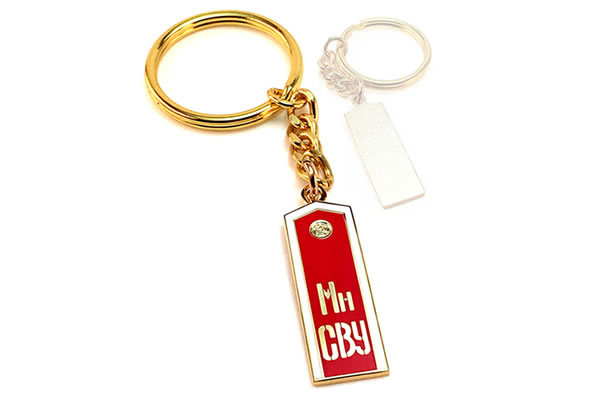 Custom Metal Keychains
When you want your branding promotion campaign to get the most visibility, you must include a keychain in the selection.
Just think about it: besides a cellphone or a pen, which item do you carry with you at all times? A keychain.
The type of keychain that will work for your campaign is just a matter of personal preference. If you are here, you decided to look into adding metal keychains to that product selection list.
The great feeling that a metal keychain brings to the table goes beyond the classical, heavy feeling that only a piece of long lasting jewelry can bring. It tells people your company is a long lasting entity.
One that they can trust and will not go and disappear into the nothing. You are as solid as that piece of gold plated metal.
Ordering Custom Made Keychains is Easy With Us By Your Side.
Our exclusive online ordering system makes it easy to be in control of your order process. You call the shots!
Promotional Logo Die-Cut Key Chains Are Our Specialty
Promotional Keychain.
Sandblasted Gold metal keychain / custom shaped.
Custom Logo Keychain
Silver plated diamond shaped keychain with pink hard enamel color.
Swimwear Logo Keychain
Double -sided silver plated round keychain with clear soft enamel and soft rubber PVC insert.
Wedding Keychain.
Antique silver plating in a round shaped.
Volunteer Keychain
Gold plated with soft enamel colors. 
Horse-shoe Keychain
3D Casted, antique silver plated keychain.
Promotional Logo Keychain.
Silver plated keychain with hard enamel colors.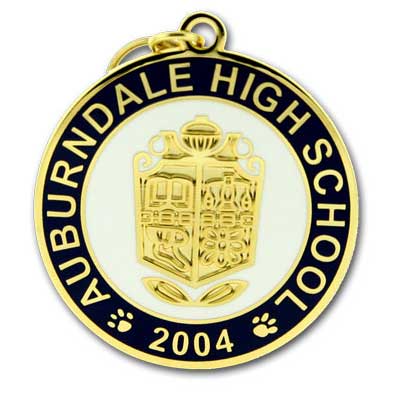 High School Keychain
Gold plated with hardenamel colors. 
"Great customer service, great value for money, great quality, great everything!
"We just got them. Thank you. You guys did an amazing job. They look great."
Our Ordering Process – From Start To Finish

Frequently Asked Questions
What Options Do I Have for Metal Key chains?
Our metal keychains can be made in any material and plating as our lapel pins, and a little bit more: Silver, Gold, Black Nickel, Bronze, Copper.
You can have any type of colors: soft enamel, hard enamel, printed. We can engrave them or customize them by individually printing on them.
They can be die-strucked, 3d cast in any shape you can dream of.
The possibilities are almost endless: you can have a rubber insert on one side and an amazing transparent enamel color on the other one, like this one:
If you are unsure of which option is the best one for your project, we can gladly guide you through it.
About Double Sided Keychains
We can make your metal keychain as a one-sided with piece a plain back, or we can engrave something on the back, or even make it double sided, your wishes are our commands.
PVC keychains can have printing on the back, where you can add your website, or phone number, slogan or promotion, anything you want.

What is your minimum order for custom keychains?
Despite the production process: die stricking, casting is a very delicate and time-consuming process, we offer our customer with low minimums of 100 keytags, we can in some cases accommodate orders of 50 and up but the price per keychain is a little high for a promotion.
If you want to promote your business or have a token for which your customers will remember you, then you must order at least 100 pieces to make it successful, and save some money in the process 🙂

What Do I need To Know About Production Process?
The most important thing for us is to produce high quality products that will in turn make our customers happy and keep them coming to us, so we have developed a 100% satisfaction guaranteed ordering process, where you, the customer is in charge:
We receive your information. In order to properly quote  your project, we must know every single detail you can give us: from the basic quantity and size, as to the use or purpose of your project: will you use it as a giveaway? branding? recognition? What is the personality of your company? How do you want your customers to perceive you? Remember this custom keychain you are creating will create innnumerable brand impressions, and we want to do it right.
The design of your keychain. Is a very important factor for success. We welcome you to send us anything from a factory ready art, or a photoshop or picture, even a sketch: if we have your logo and the wording you want in it, we can put it together for you (and unless it is a very, very complex design, we will do that for free). So go ahead, snap a picture with your phone and send it to us!
Price and Artwork Approval. Using our online system (we also welcome emails and phone calls) as an open communication channel, you and your rep can discuss and review you design and your pricing, until you are satisfied with both of them and ready to order.
Pre-production Sample Approval. This is our favorite part of the ordering process, it is when our customers get to see what their product will look like before full production is done. We get so excited with the anticipation of having an amazing product in our hands, and you will too!.
Full Production. In about 10 working days from your pre-production sample approval, we complete the order and send it to our office in Carlsbad, California, and we will ship it to you as soon as we get it in.
If you have an event. If you have an event or a specific date when you MUST have the keychains in your hands, please let us know as in some cases we can try and speed up our times and make it happen to you, but because the products are made overseas, there are many steps in transport that could possibly impact our delivery dates so we are very careful as to not to commit on what we cannot control. Always talk to your rep.