Custom Croc Charms
Make with us your next Custom Croc Charms with your logo or with any art design you have. We offer High Quality Shoe Charms made out of soft rubber PVC ideal for wearing on your Croc shoes.
You have plenty of options to personalize your own. From the little sizes (as tiny as 3/4″) to the bigger ones, of up to 1 3/4″, use up to 6 colors (no gradients).
Our minimum quantity is 50 pieces only. Find the best wholesale prices here with Sienna Pacific.
Shoe Charms: What are they?
Our special shoe charms, are made out of Polyvinyl Chloride, better know as PVC. The advantage of PVC products is that they are built with layers allowing 2D and 3D shapes. They are flexible, bendable and soft as a cloud. Additionally they come with an ergonomic button at the back that makes it quite easy to put on or take off (…and without any hazardous pin by the way).
The so called Croc charms are the result of the conjunction of two fascinating fashion trends: the clogs and the use of fabric stickers or patches applied on shoes for decoration.
A short history of Crocs and Croc Charms
Everything started with the all fashioned clogs, a traditional type of shoe made out of wood, tipical from many countries, although the ones from Sweden, Holland, Germany and Japan had the similar curved shape that we recognize today as clogs.
As the time passed, many shoe makers adapted the same design using different materials, leather and rubber mainly. However, near the year 2000 a smart guy occurs to make them out of a special foam resin called Croslite. Lyndon "Duke" Hanson, and George Boedecker Jr., founders of the Crocs company, saw the potential of this product and started commercializing it with a huge success.
Nowadays almost everyone have, or have had Crocs, or at least have heard about them. Nevertheless, as you cannot iron on fabric patches or fabric stickers on to a rubber like surface (as the one of Crocs) you need a special kind of pin, without clutch and certainly not a metal one (that would be quite uncomfortable). This is how shoe charms came to life, as a shoe charm adapted perfectly to a croc shoe.
Shoe Charms for Crocs Gallery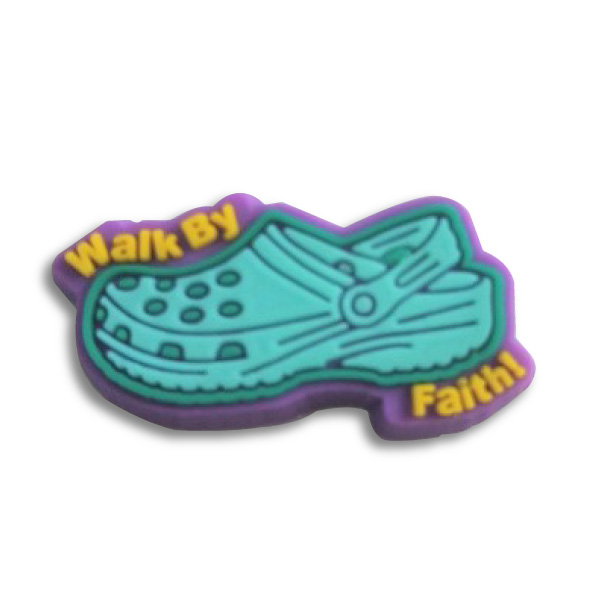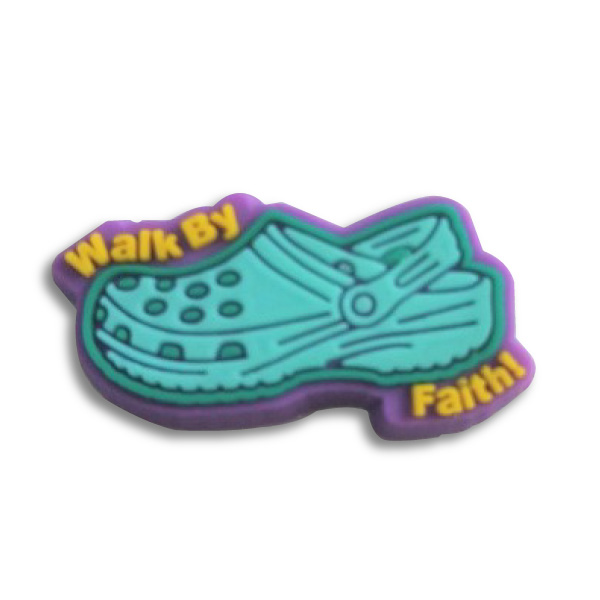 The Custom Croc Shoe Charms Market
Why to invest in Croc Charms? Isn't that a season trend? How many people is using these kind of shoes for real nowadays? Let us tell you a little more about this type of footwear and its market.
Only from 2004 to 2017 they sold 300 million pairs of shoes. That's 3/4 of the US population. That's 23 million sales per year in average
Are Croc shoes healthy?
Moreover, some Croc models have been endorsed by several health institutions such as the U.S. Ergonomics company, the American Podiatric Medical Association and the U.S. Government Centers for Medicare and Medicaid Services that approved a model of Crocs as diabetic footwear, "to help reduce foot injuries".
The above mentioned facts are telling us that Crocs are here to stay, it is not just a fever. Many companies have started copying this model.
The need for according decoration
People love them because they are very comfortable, which means people will keep using them, so you can trust that your charms will be sold as fast as this market grows up.
Decorating crocs with PVC charms is a big trend you can take advantage of today, not only if you are thinking in selling your own designs but more importantly if you are thinking in promoting or boosting your products and services as a giveaway.
Easy and stress free ordering process


1 Quote Request. Submit your project's details. Make sure to include your logo, quantity, size needed.
2 Approve. Review & Approve Artwork Proof and Price Quote.
3 Confirm. Billing, Shipping Information & Pre-Production Sample.
4 Order. Final order submitted for production.
Get Started!
Customer reviews
Croc Charms


5 out of 5 stars

01/19/2021

"Yes you did a beautiful job. I'm going to send you some customers."

Grind Stack Repeat LLC

PVC Patches


5 out of 5 stars

12/02/2020

"Everything looks good, thank you for getting this done."

Franklin County Sheriff's Office

Shoe Charm


5 out of 5 stars

10/28/2020

"Fantastic product, couldn't be happier. I will definitely do business with you again"

4 Wheel Adventures