"Say Yes to the Labels for Wedding Dresses.."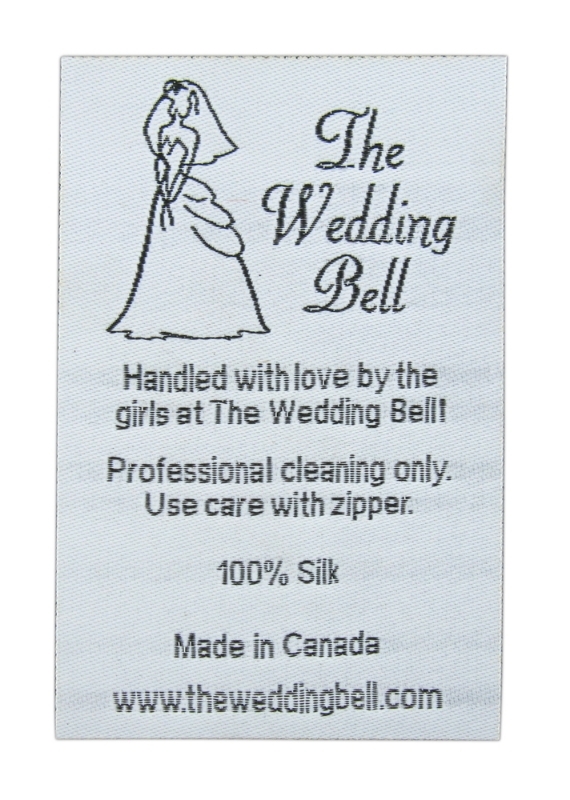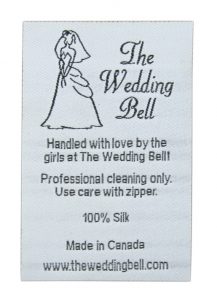 Proper manufacturers of products have attached their label to the underside of furniture, hanging off the edge of cushions, and dangling from the collars of most clothing hanging in a closet.
Wedding dress labels would be a welcome addition to the labeling tradition of many higher and more reputable corporations.
There are so many options of elegant and beautiful labels available. Choosing a label that is woven with delicate silver thread on satin labels, selecting woven gown labels that are personalized or monogrammed, or labels that are tastefully sophisticates will not only complete the beautiful gown, but also allow others to know who the craftsman was who created such a beautiful wedding dress for such a beautiful bride.
After all, to put one's name on a product is to tell others you stand behind your work. The quality of a product, from a tablecloth to a wedding gown, can be given validity by the mere existence of an acknowledged label indicating the maker is not afraid to endorse their own product.
A wedding dress is timeless…
The woman who walks down the aisle with your creation on may get questions from her bridesmaids on who designed such a lovely frock. If she is too excited to think about anything other than her wedding day, a label strategically placed inside the zipper, at the waist, or even tacked to the bottom of the gown will help the bride to inform others who made the beautiful dress.
Monogrammed labels can be special in that it will allow the bride to say that the dress was made just for her. Personalized labels made of satin and woven with a beautiful message of love will be a timeless message that this bride can pass down to her daughter when she gets married.
The professionalism of wedding dress labels. Dressmakers should be given credit for their work, and sewing a simple, small, elegant, and tasteful label into the seam of a wedding dress will add the finishing touch that shows that the wedding dress tailor or seamstress is a true professional who takes pride in the work that is done.
To be professional, one must be willing to put their name on their product to advertise to the world that the dress was made with the utmost care.
Sometimes the perception that a label is a tacky addition to such a formal piece of clothing keeps a seamstress from putting their label on the gown. After all, the woven gown label is not supposed to be the defining characteristic of a woman's wedding.
But consider that it is an integral part of the wedding experience to visit dress shops and find the perfect gown.
Mothers are also very involved in the decision to purchase a wedding gown for her daughter and they will be very interested in sharing information about the seamstress or tailor who made her beautiful daughter's dress. A woven gown label will give mothers the name so she can tell her friends.
Women will look at the label and determine by reputation whether the gown will hold up to whatever her wedding day requires. If she sees a lovely personalized message monogrammed into the woven label she can feel more comfortable with choosing the gown for her own special day.
Let's Get Started
If you are thinking about ordering your custom products, just click on the button below, our expert Sales Reps will get back to you within 24 business hours and guide you through every step of the process.