If you are looking for a professional and modern hang tag design, look no further! In this blog post, we are providing 3 free PDF vector files for download. These templates are easy to use and can be customized to fit your needs. Whether you are a small business or large corporation, these templates will help you create high-quality hang tags that represent your brand in a positive light.
Hang Tag Design Templates
To get started, simply download the template of your choice and open it in any kind of vector editor app. There are paid ones (as Adobe Illustrator and Corel Draw) and free ones (as Inkscape).
Customize the text, colors, and images to match your brand. When you are finished, save the file as a PDF, come back to Sienna Pacific and request a Free Quote. Remember to Upload your design when filling out the web form. We are custom products manufacturers and suppliers based in Carlsbad, California.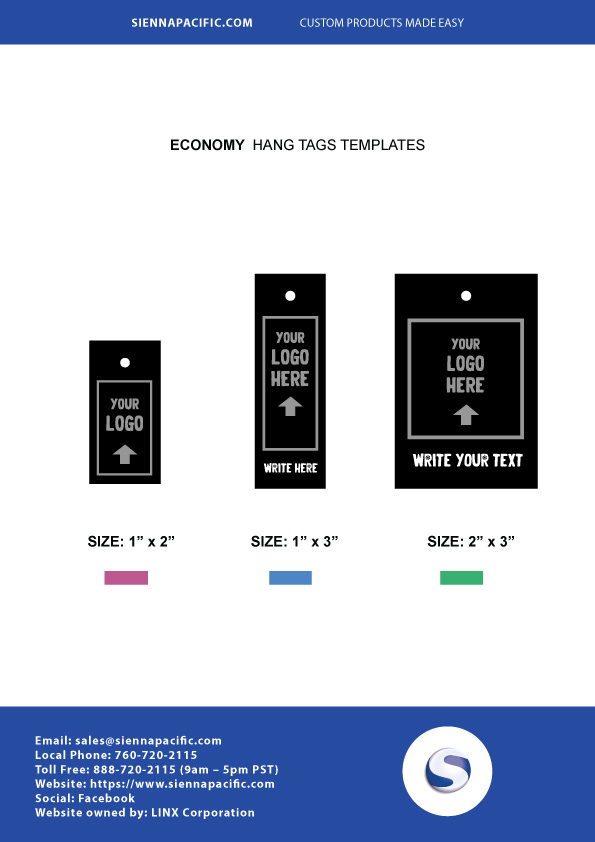 Economy Hang Tag Designs Templates
Looking for a cost-effective hang tag that doesn't require elaborate colors or details? Our Economy Hang Tags are perfect for you! Made with high quality card stock, these tags are not subject to smudging or print wear. You have the option of choosing between a matt and glossy finish, so you can customize your tags however you want. Plus, there's a minimum order quantity of just 100 tags – perfect for startup businesses or those on a tight budget. Order yours today!
Vertical layout. Image or Logo field and Text line 1 (website / slogan)
The template include 3 sizes:
1" x 2" (Short)
1" x 3" (large)
2" x 3" inches
---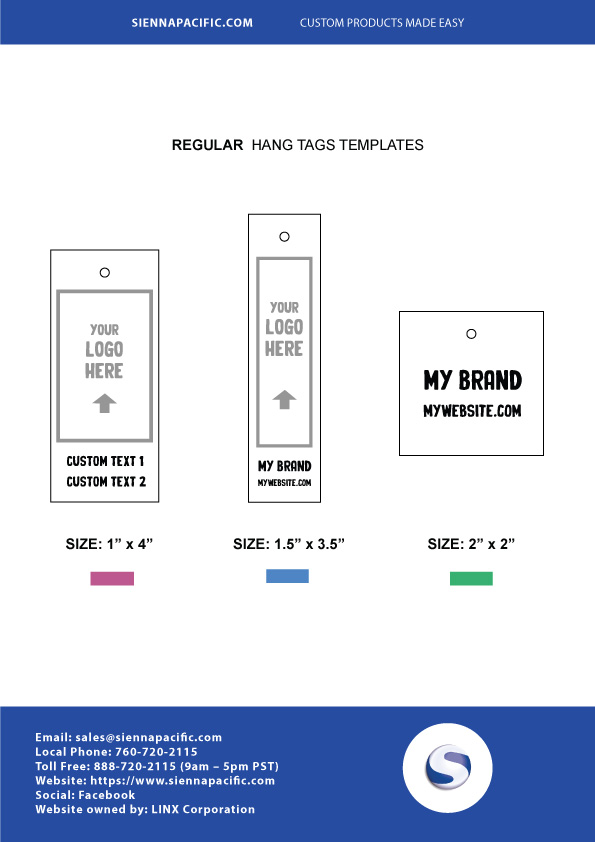 Hang Tag Design Templates
This template includes 3 Sizes:
1.5" x 3.5" (Short vertical),
1" x 4" (Large vertical)
2" x 2" (Square)
2 Fields: Image or Logo, and Text line (website / slogan).
---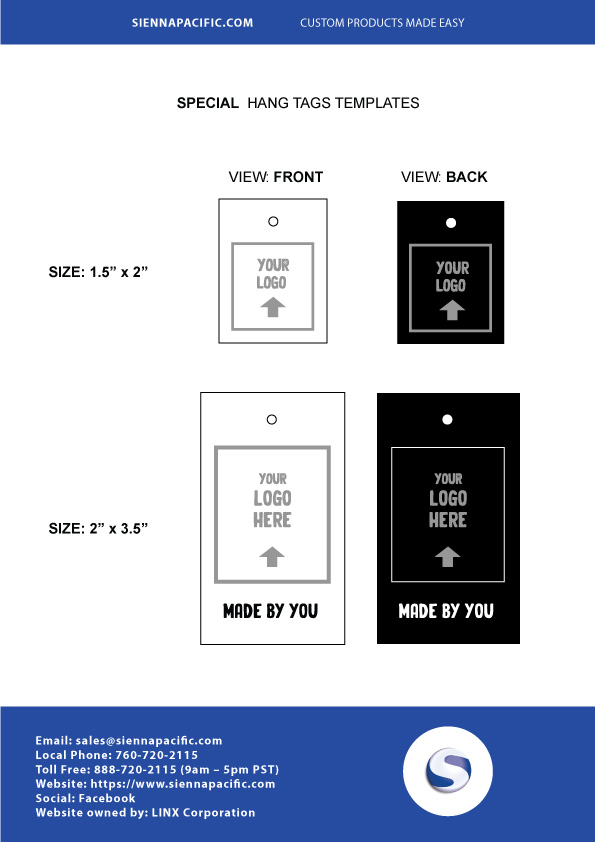 Special Hang Tags Templates
Looking for a tag that will really stand out? Look no further! Our Special Hang Tags are printed on top-quality cardstock, in up to 18pt thickness. They also come with a matte or glossy finish, and can be UV coated for extra protection. Plus, we offer four different shapes (Square, Rectangular, Round, Oval) and six different edges (Beveled, Rounded Corners, Square Cut Corners, Diamond Cut Corners), so you can create a tag that perfectly suits your needs. And if you need it folded? No problem! We can fold them in half or tri-fold them for easy access to the contents.
The template includes 2 Sizes:
---
Why using Hang Tags
Here are four reasons why hang tags are a must for your line:
1. They're an easy way to promote your brand.
2. They help customers identify your clothes.
3. They make your products look more professional.
4. They can improve sales outcomes.
Hang Tags Design Tips
Your hangtag should:
Stir up Interest. You want it to stand out and help you develop brand recognition.
Create a Powerful Branding Image. You want it to represent what your firm's about. They should be able to grasp your company's concept right away.
When someone sees your tag, they need to know that it is immediately connected with the product.
Design considerations
What is the best printing size for my hangtag? Your hangtag should be difficult to overlook. What you must consider is the product it will be linked to; what type of tag would work best with my business. The bigger the impact, the larger the tag.
Should I keep it simple or go bold? Hang tags are available in a variety of styles and colors. From as simple as two hues to as elaborate as a picture, they offer you great creative possibilities. Just bear in mind how your company's image will be portrayed.
What should I put on my hangtag? Many businesses place product and distinctiveness details on the back of their tags. The back of your tag should be used to explain what makes your products unique, in addition to your logo and content information.
Other uses of hang tags
Hang tags are not only limited to apparel and accessories. If you comb through everything, there's a good chance you'll come across a hang tag. They're common on handbags, toys, games, equipment, motorcycles, shoes, furniture, electronics, and just about anything else you can put on an online store or shop shelf.
Hang tags are a great way to promote your products or services, so don't wait any longer! Download one of our free templates today and start designing. If you have any questions, please feel free to contact us for help.
Thanks for reading!
Subscribe to our Email List and receive our 3 Hang Tag Design Template for Free
Fill out this simple form with your Name and Email, click on submit and you will receive an email with a link to the template in PDF format suitable to be opened and edit with any vector design app such as Adobe Illustrator, Corel Draw or Inkscape.
[contact-form-7 id="34510″ title="3 Hang Tag Design Templates Download after subscription"]
Custom Clothing Labels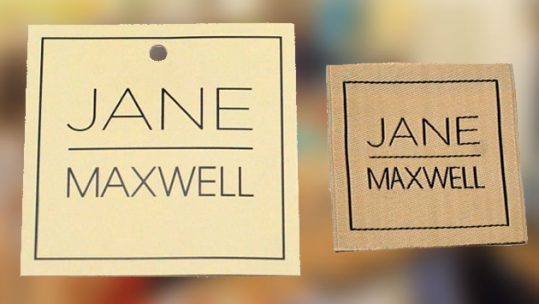 Hang Tag Samples